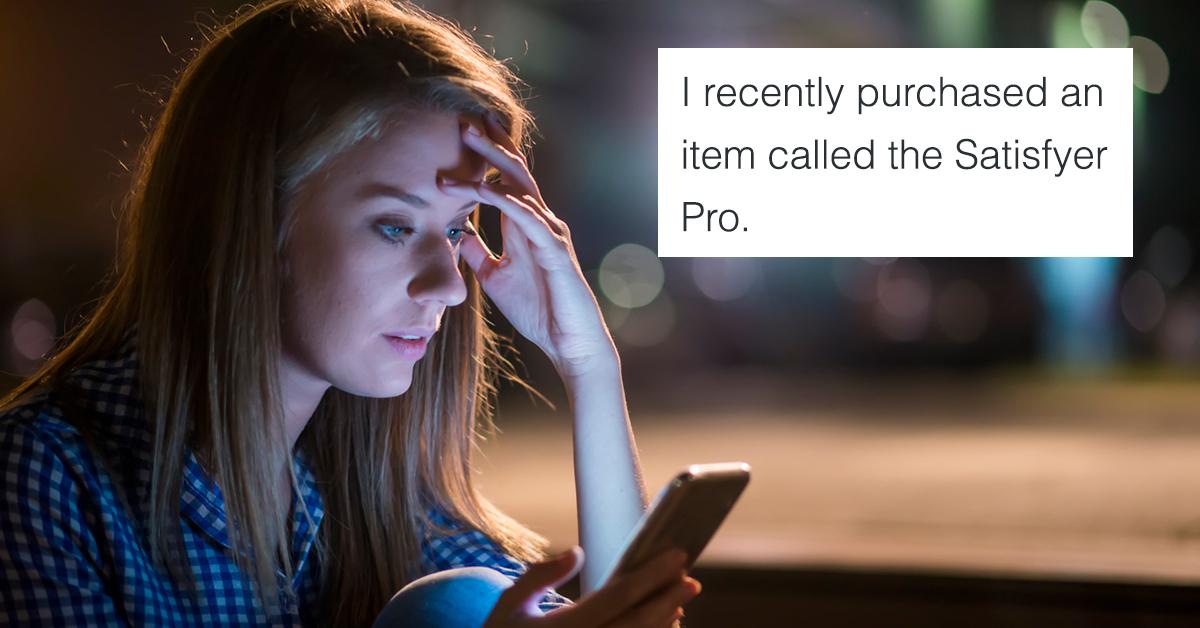 Woman Complains After Adult Toy Gets Lost In Mail And We Can't Stop Laughing
By Mark Pygas
We've all lost something we ordered online to the postal service. And when they're delivering millions of packages a day, a few are bound to get lost, but that doesn't make it any less annoying. Why is it annoying? Because usually you have to spend days complaining to get it back.
Apparently nothing is different in Australia. Clara Compton, a 29-year-old from Port Augusta, Australia, recently ordered something online and got worried when the package didn't arrive within the estimated time of delivery
The problem? The thing she ordered was a Satisfyer Pro sex toy. Nevertheless, Compton wasn't going to let a little embarrassment get in the way of her enjoyment. So she decided to take to Australia Post's Facebook page to complain in a hilarious post.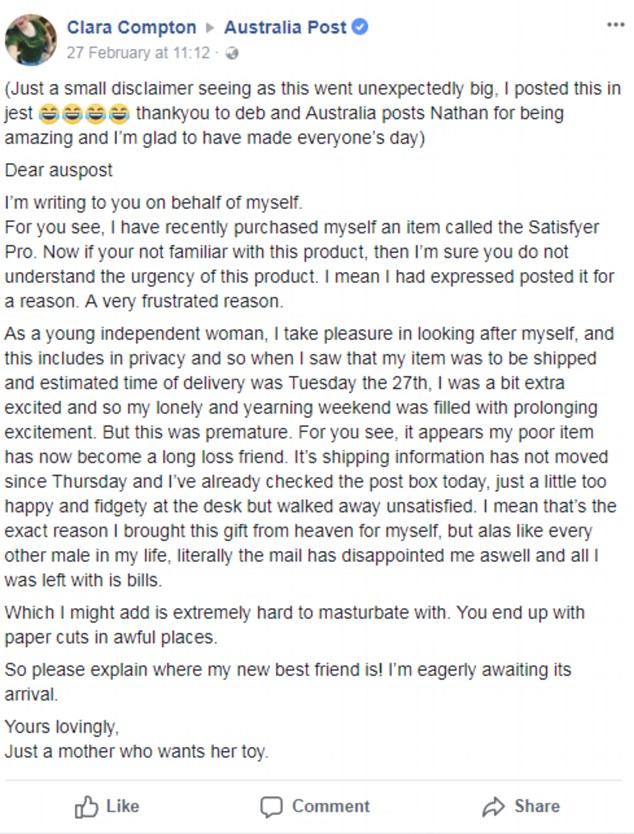 "Dear Austpost"
"I'm writing to you on behalf of myself. For you see, I have recently purchased myself an item called the Satisfyer Pro. Now if your not familiar with this product, then i'm sure you do not understand the urgency of this product. I mean I have expressed posted it for a reason. A very frustrated reason."
"As a young independent woman, I take pleasure in looking after myself, and that includes in privacy and so when I saw that my item was to be shipped and estimated time of delivery was Tuesday the 27th, I was a bit extra excited and so my lonely and yearning weekend was filled with prolonging excitement."
"But this was premature. For you see, it appears my poor item has now become a long lost friend. It's shipping information has not moved since Thursday and I've already checked the post box today, just a little too happy and fidgety at the desk but walked away unsatisfied."
"I mean that's the exact reason I brought this gift from heaven for myself, but alas like every other male in my life, literally the mail has disappointed me as well and all I was left with is bills."
We'd be sad too, Clara, we'd be sad too. Unsurprisingly, the hilarious post quickly went viral, with thousands of likes and comments.
"I thought maybe my mum and family would see it not thousands of people, I'm so embarrassed. I just wanted Australia Post to know my present-to-myself hadn't arrived yet," Compton told Daily Mail Australia.
"There's no way I thought it would actually blow up, I was just trying to be funny. This is so awkward."
Australia Post did reply, with a social media representative called Nate replying:
"We're all about good vibes here at Australia Post and never want any of our customers to feel anything but the happiness a speedy package can provide."
Compton says the company reached out by social media, but as of yet...
You can't leave someone hanging like this, Australia Post. Luckily for Campton, this isn't even the most embarrassing thing someone has posted on social media only for it to go viral.
Be careful what you post, people!