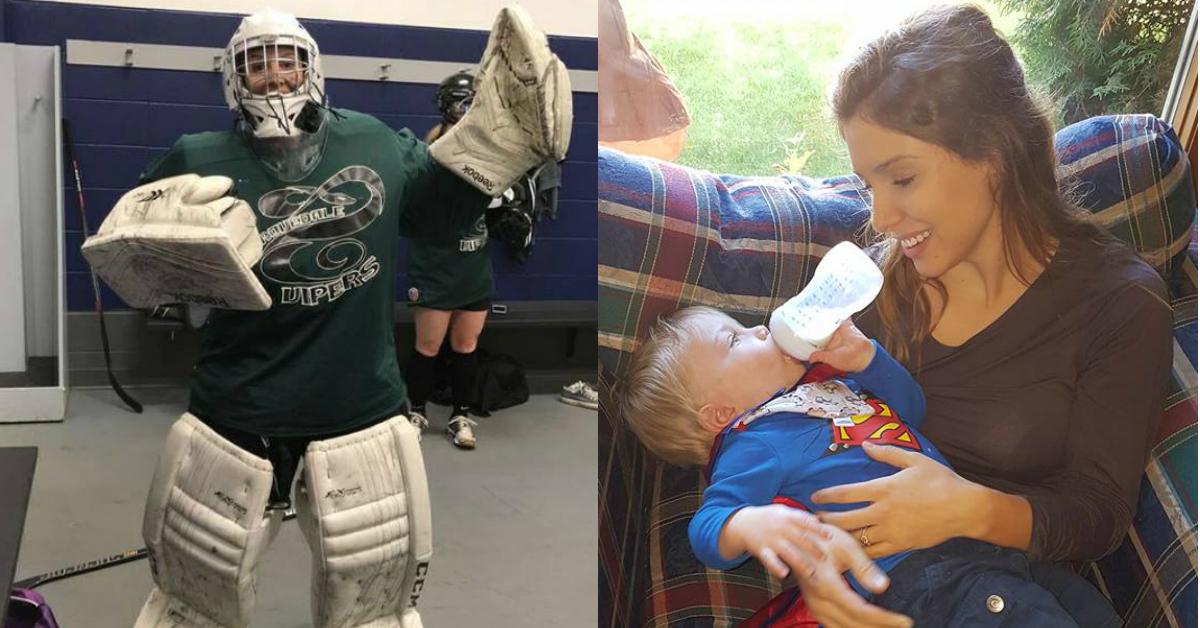 Hockey Mom Gets Tons Of Respect For Breastfeeding Baby Between Game Periods
By Mustafa Gatollari

Updated
Because women's breasts have been so sexualized and America's got a seriously problematic and puritanical view on women's bodies, the image of a mother naturally breastfeeding her child upsets some people.
But even the stodgiest of prudes who can't stand the sight of moms providing their babies with sustenance, can't deny how incredible breastfeeding is. Yes, it's an act pretty much all mammals are capable of, but it's still amazing that a baby can grow and live purely off of milk that a woman's body naturally produces.
It's even more amazing when women don't allow the fact that they're "a mom now" get in the way of their other interests, pursuits, or activities. And Serah Small is one such mom.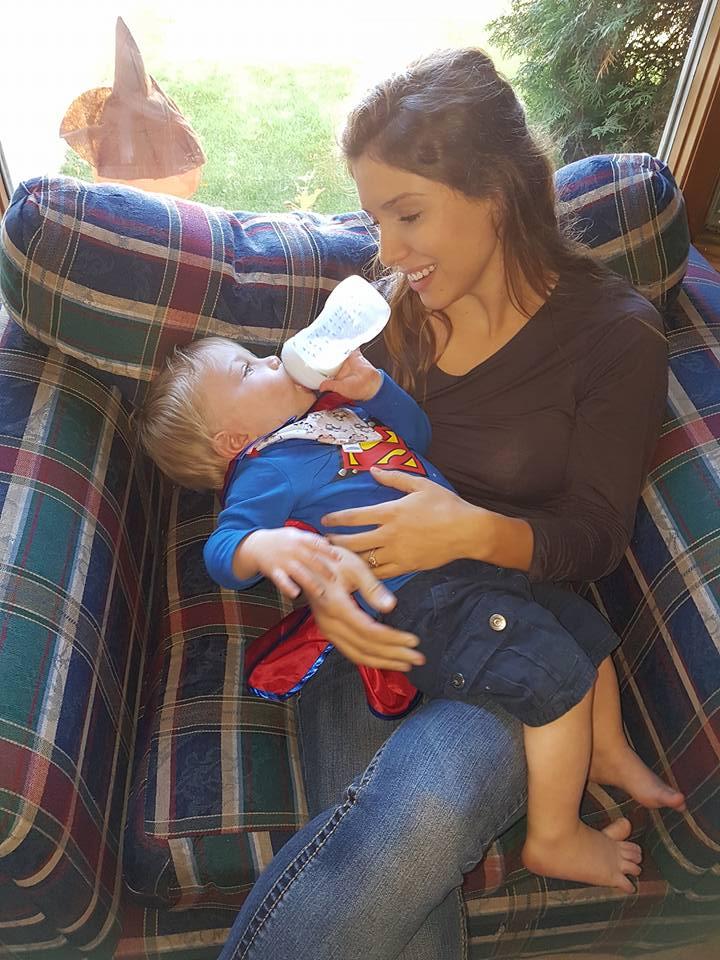 Small's a teacher and hockey player from Alberta, Canada, who signed up for a late-March tournament because she was expecting to bounce quickly back from her pregnancy and get into the thick of things.
She quickly learned, however, that she needed a bit more time to recover:  "This weekend I played four games with a short bench and really learnt how different my body really is. I felt slower and lost at first on the ice. My body wasn't doing the things my brain thought it could. But I have never been more proud of myself and my body."
She also discovered that she left her breast pump at home and during the game, she felt milk dripping from her breasts while she was skating out on the ice. Now if you, or anyone close to you, ever got candid enough about what it's like to nurse a child, you'll know that a chest engorged with milk isn't exactly the most comfortable feeling. You either need to pump and save the precious milk for later, or feed your child to give the two of you some relief.
So Small decided to simply feed her baby girl, Ellie, in between periods of the game, and it was in those moments that she gained a totally new appreciation of her body. Thankfully, Ellie's grandma was there to snap a few pictures of Small in the locker room, half in her hockey gear, feeding her daughter.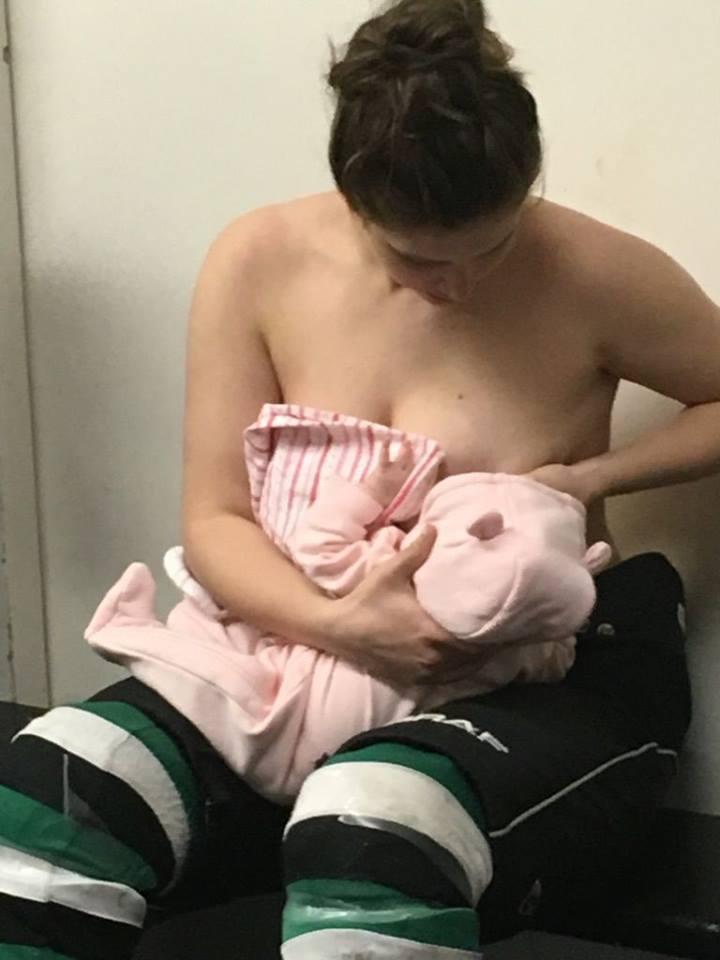 Initially, Small was afraid to share the picture, due to breasts being sexualized and considered "naughty" by some. 
However, because she loved the awesome photos, she allowed Milky Way Lactation Services to share it on their Facebook page. After seeing the outpour of support the photo received and the overwhelming number of shares, comments, and likes, Small embraced the beauty she saw in the pictures and posted them up on her own Facebook profile.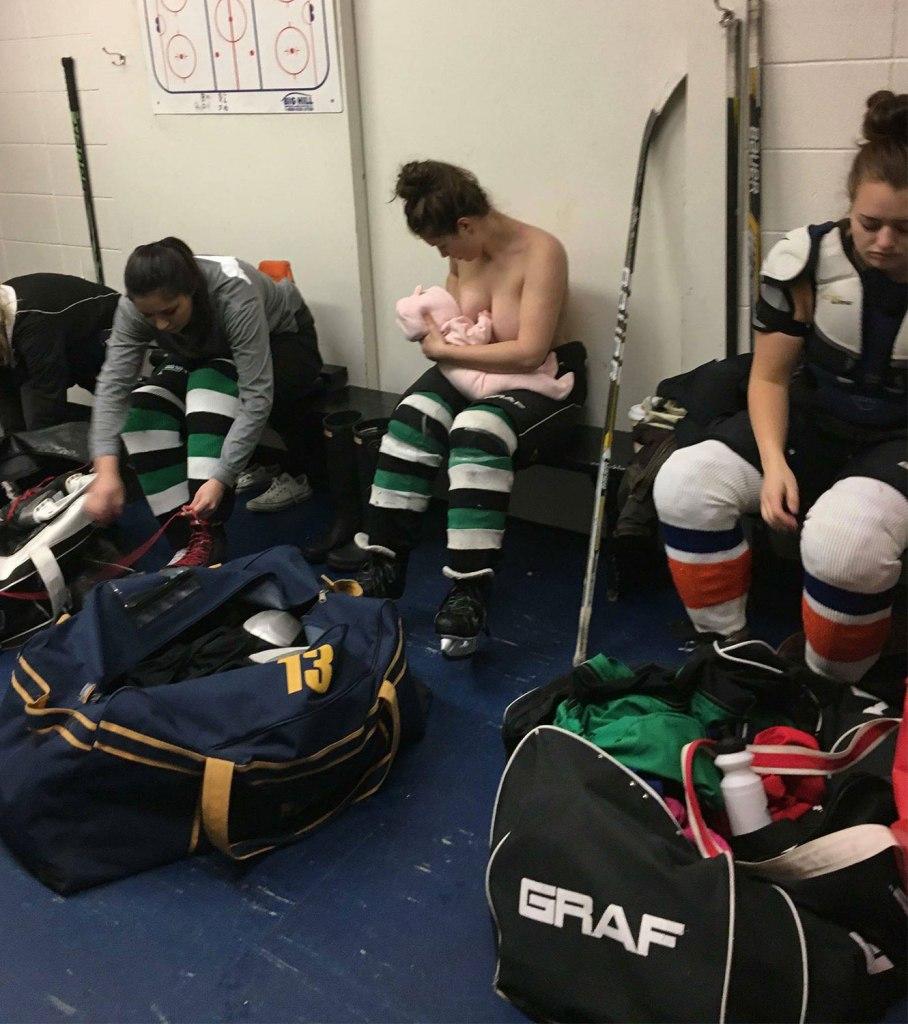 In an open letter on Facebook, she shared the mixed bag of emotions she had when finally deciding to post the photo, along with repping the fact that she's a #CanadianMama.
I have been so scared to post this photo that I absolutely adore. Why? Because society has made breast sexual. After sharing the photo with a lactation consultant that has help me and Ellie I have come to realize that it should not be something to be ashamed of but proud of. I have a really hard time feeding Ellie covered and have chose not to cover her at all. Although at times I feel the burn of judgemental eyes I feel more empowered than anything to be able to meet my babies needs the way my body intended. I have really struggled with accepting my new body as I have always had that athletic build. I have played hockey my whole life and when I found out I was pregnant I signed up to play in two tournaments in March trusting that my body would just "bounce back". Well this weekend I played 4 games with a short bench and really learnt how different my body really is I felt slower and lost at first on the ice. My body wasn't doing the things my brain thought it could. But I have never been more proud of myself and my body. Forgetting my pump created all new challenges for me as well. I felt my milk come in and leak as I played and between periods I would strip down to feed my 8 week old babe. Being a mom is absolutely amazing and I'm so happy I got to do something I absolutely love while still meeting my babies needs. Our bodies are amazing and this weekend was the first time I truly appreciated mine.
Feel free to share the only way to normalize breastfeeding is to show that it can be done anywhere, anytime!
For Small, all of the attention she's receiving for the photo is a step closer to normalizing breastfeeding, because it is perfectly normal.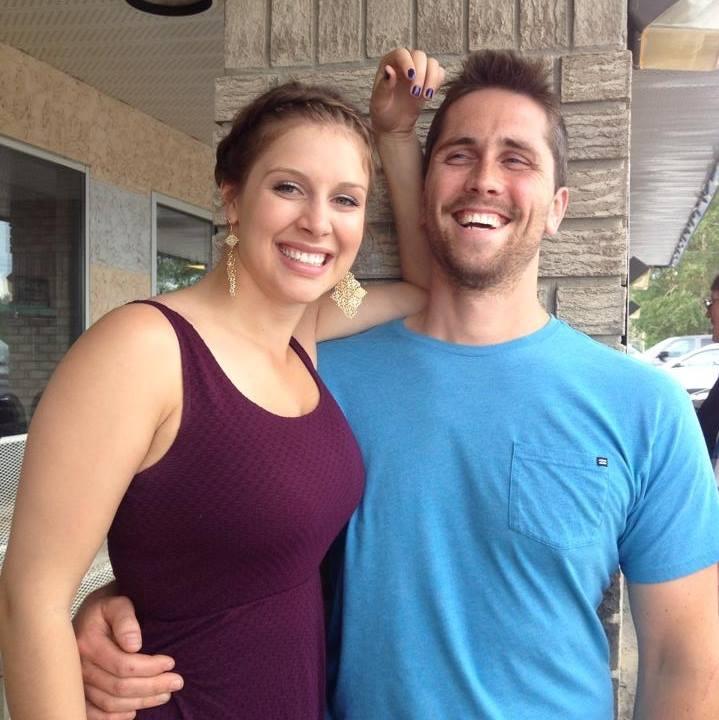 So many people have asked me how I feel and shared encouraging words and my heart is filled with all the support. Personally I stay clear of all the comments and articles for my own mental health, but I know through friends and family that I have amazing people in my corner. It blows my mind how something so natural has caused such an uproar. All I really did was something millions of moms have done before me the only difference is a proud grandma took a photo of her daughter and grandbaby to cherish. When I saw that photo I had to share it. So I shared it with someone I knew would appreciate it. Tara the lactation consultant that gave me great advice. She asked for permission to post it on her lactation page and after seeing the support I decided to post my own. Then boom my inbox is filled with reporters, supports and of course the haters. I feel very lucky to have such amazing friends amd family who are so supportive. I had no idea that the photo would go viral or even leave that lactation page at all. Although my photo may have gone viral I don't think I'm any different than any other mom. Even if I encourage one struggling mom who is battling a breastfeeding journey of her own then it's all worth it. Moms are amazing and our bodies are incredible! Us women need to stick together and support each other! Now I'm just waiting for Ellen to call! Just kidding, but not really. 
The response to Small's post has been overwhelmingly positive.
Other moms even began sharing their own bad-ass breastfeeding stories. Like this forest fire-fighter.
And there are tons of people who echoed Small's sentiment that yes, the oversexualization of breasts is indeed the problem, and not breastfeeding itself. 
Of course, people were more than happy to crack jokes, too.
Small's one of many moms to get props for embracing her breastfeeding. There was this Mama at Disney Land who had her husband snap a photo to "peep the haters" who weren't happy with her feeding her kid out in the open.
I mean, the park was designed for kids, and it's only natural for a kid to be accompanied by their mom, right? So why should mothers be ashamed of feeding them at an amusement park designed for children?
There aren't enough props in the world to give to moms, seriously.