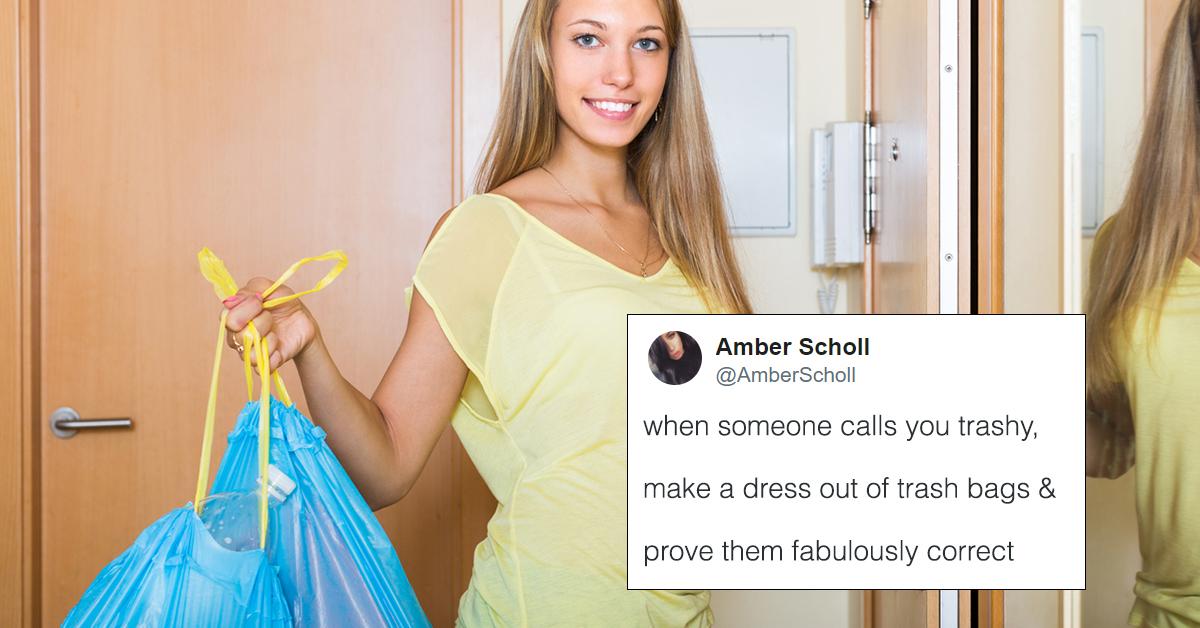 Woman Makes Prom Dress Out Of Garbage Bags After Being Called "Trashy"
By Mark Pygas

Updated
Prom season is upon us, and along with it, elaborate promposals and handcrafted dresses are going viral all over the place. Then there's Twitter user Amber Scholl, who's definitely taking the number one spot. When Scholl's YouTube followers asked her to make a prom-themed video, she decided to make a dress entirely out of trash bags. 
"When someone calls you trashy, make a dress out of trash bags and prove them fabulously correct," Scholl wrote in a caption alongside photos of the dress. Haters gonna hate. 
Scholl's tweet has received over 35,000 likes and 8,000 retweets as of the time of writing, and it's easy to see why. 
Scholl told Teen Vogue that she made the dress by "restitching and gluing stuff onto a dress I bought at a thrift store." 
As for the response, School said, "I feel so loved and am amazed by the Internet — how many people you can reach is amazing." Scholl also provided some prom tips for those who have it soon: 
"Have fun, and don't take it too seriously — the whole point is to have a great night and feel beautiful, whatever that means to you." 
But Scholl isn't the only person to go above and beyond in the name of prom this year. This guy decided to prompose to himself after no one asked him. 
This woman arrived in a casket. Why? We don't know. 
This teenager took his mom for the cutest reason ever. 
My mom had me at the age of 17 she dropped out of high school to focus on giving me her all. Last night I gave her the prom night she never had. pic.twitter.com/obsGzYxX8K

— Joe Angel⁶𓅓 (@joeamoreno8) April 14, 2018
This entire room of teenagers decided to play Fortnite at their prom...
49ers DB Don Jones took a family friend with Down syndrome to her prom in style. 
This girl took a cardboard cutout of Elon Musk. 
Michael B. Jordan also went on a date. 
Did you go to your prom with this kind of style?