Mayonnaise Is Alive and Well With Millennials, so Everyone Just Shut Up
Mayonnaise is actually the best-selling condiment of 2017.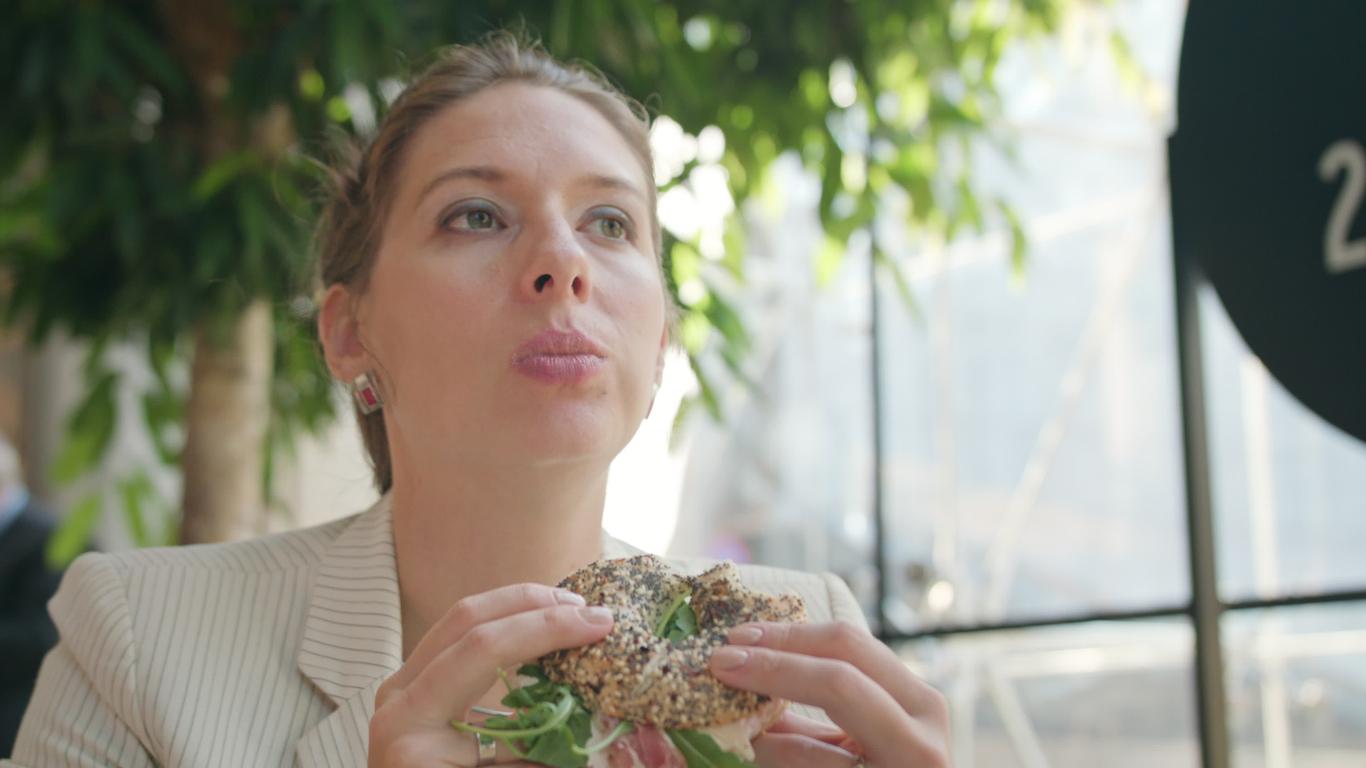 Stop it. Just shut up about the millennial killing stuff already, especially mayonnaise. Industries fade. Products go in and out of fashion. That's why there's re-branding. That's why there are products that are strategically marketed and offered in some areas and not offered in others. If a product is no longer desired in the marketplace, it failed for a number of reasons. Some fair, some unfair.
Article continues below advertisement
In the case of mayonnaise, however, millennials aren't killing it. It's not going anywhere. There are still shelves of them in every supermarket in the country. Go to a supermarket or bodega, or heck, even a gas station, and tell me you can't find a jar of mayonnaise. You'll find it, so shut up, buy a jar, and make a sandwich with it.
What has happened, however, is that thanks to the advent of the internet, people can voice their opinions about things more openly. If someone doesn't like something, the entire world can potentially know about it. And the truth about mayonnaise, like any friggin' condiment, is that there are some people who like it, some people who are indifferent to it, and some people who hate it.
Article continues below advertisement
Mayonnaise, however, is delicious and can be used in a variety of ways on tons of different foods (pizza, however, isn't one of them). Have you ever mixed 40% ketchup with 60% mayonnaise (the Chris Conroy ratio)? Of course you have, because I'm assuming you're a person of consummate taste and elegance. Someone with a refined palate. Why wouldn't you enjoy the deliciousness that is fancy sauce?
Article continues below advertisement
A recent, excellently written article (of a dubious premise) in Philly Mag discussed how millennials destroyed mayonnaise. And while I'm convinced that the "Millennials Killing" headlines are intentionally used to get as many rage clicks and rage shares from individuals calling malarkey than people who honest-to-goodness believe that millennials are responsible for the downfall of a specific condiment industry, the article points to certain old-school recipes falling out of favor as the reasoning behind our condiment in question's imminent doom.
Article continues below advertisement
Years ago, while working as a production assistant on an independent film for a small travel stipend and lunch (yay), while queuing up to get my 5-dollar foot long at a Subway, I watched in horror as the woman ahead of me instructed the nonplussed service employee to slather her plain ham sandwich, on white bread, with mayonnaise.
I had to look away in horror. I like a little bit of mayo on my sandwiches, but the amount she kept having this man pour onto her white bread and lunch meat was nauseating. I couldn't watch her eat it. But I think that image of generic meat product, white bread, and globs of gooey mayonnaise is the image that has become associated with the condiment.
Article continues below advertisement

I could understand why this would turn some people off of mayonnaise entirely, especially with that picture seared into my mind, because it intones you've got no flavor. No love. No vivacity, no passion. Luis Fonsi wouldn't be caught dead eating a sandwich like that, so why should you? (More like Despaci-NO, amirite?)
Article continues below advertisement
But the author of the Philly Mag article does have somewhat of a point, and again, I bring it back to this unfortunate Subway woman: anything slathered in mayonnaise in disgusting. Just like anything slathered in pretty much anything is disgusting. Unless we're talking about being slathered in a bunch of Helen Mirrens because, let's be honest, one of her is idyllic, multiple Helen Mirrens fixing your collar or moving a hair out your eyes and calling you darling, is probably what attaining Nirvana is like.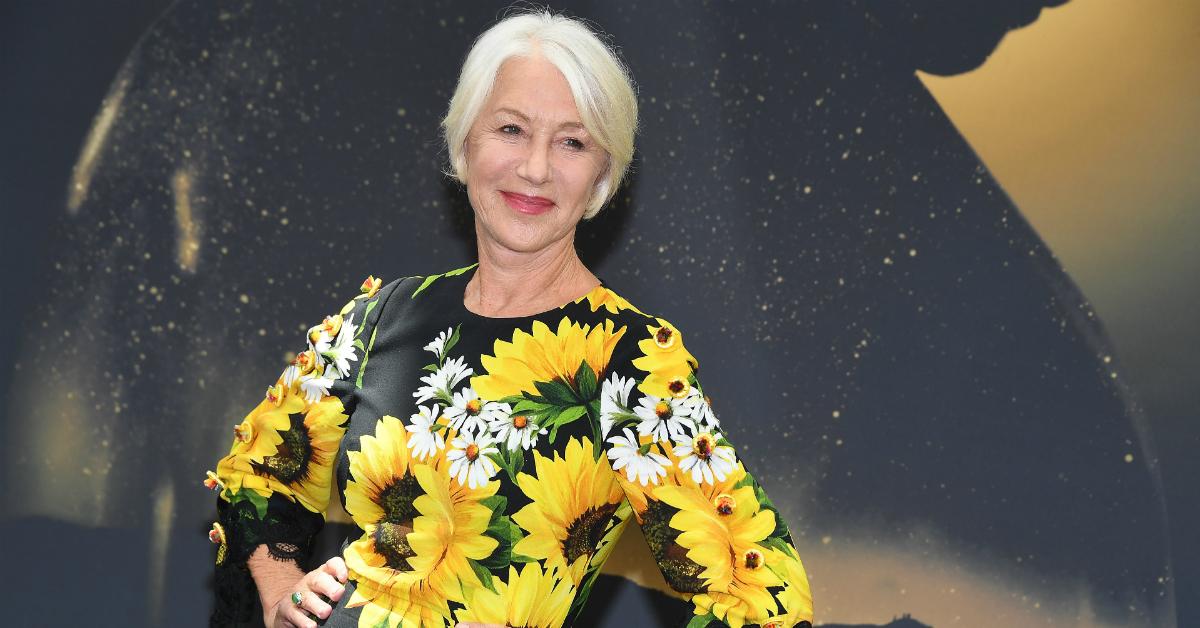 Article continues below advertisement
There are plenty of people on the internet who are way smarter than I am making important points that prove how much mayonnaise people are actually eating. Like dipping your thin-cut, shredded potato ribbons into aioli? Yeah of course you do, you kobe-beef-slider-eating slob (I'm joking, this is like one of my favorite meals).
What did you think aioli was made out of? Coconut oil? No, it's good old fashioned mayonnaise. I'm not even going to get started on spicy mayonnaise, AKA, the best thing to eat empanadas with. Yeah, that's right, I said it.
Article continues below advertisement

Naturally, there are some people who enjoyed the points that were brought up in the Philly Mag piece. I mean, there are some really great portions in there that deserve a read.
Article continues below advertisement
Pretty soon, an all-out war occurred on Twitter, with people taking sides: either mayo is a disgusting, sorry excuse for a condiment, or it's a delicious, versatile culinary accouterments that you're obligated to respect.
Article continues below advertisement


Article continues below advertisement
But I'm going to draw a line in the sand here and just say it outright: Mayonnaise is awesome and I've got the facts to back it up. OK, first, a history lesson into what makes this longstanding condiment such a wonderful culinary concoction.

Article continues below advertisement
Yoni Applebaum hopped on Twitter to explain just why mayonnaise is the G.O.A.T. when it comes to food products. His breakdown of how mayonnaise even came to America, and the sheer fact that it's difficult to even pull off a great mayo from scratch, is something to be admired.

Article continues below advertisement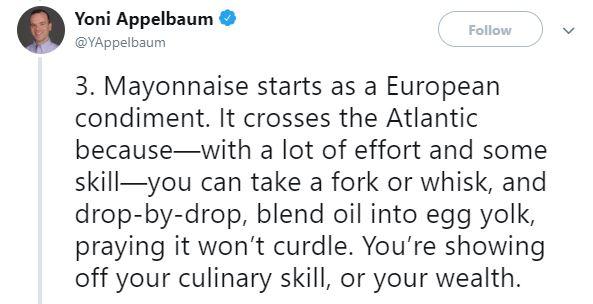 The enemy of mayonnaise isn't its flavoring or the way its made or the fact that people don't like it (the majority of people actually do, but more on that in a bit). Industrialization and the "cheapening" of the product is eventually what did our old fat-and-oil concoction "in." Even though it hasn't really been "done in."
Article continues below advertisement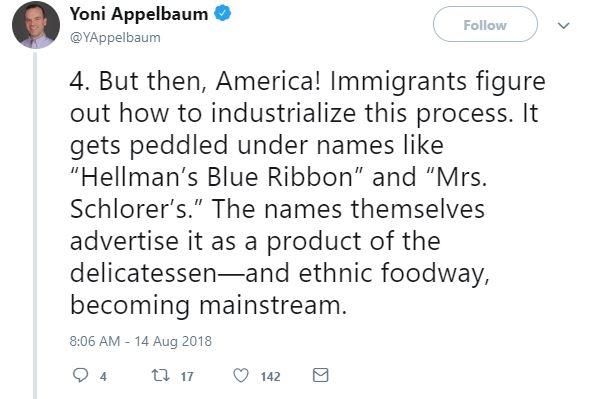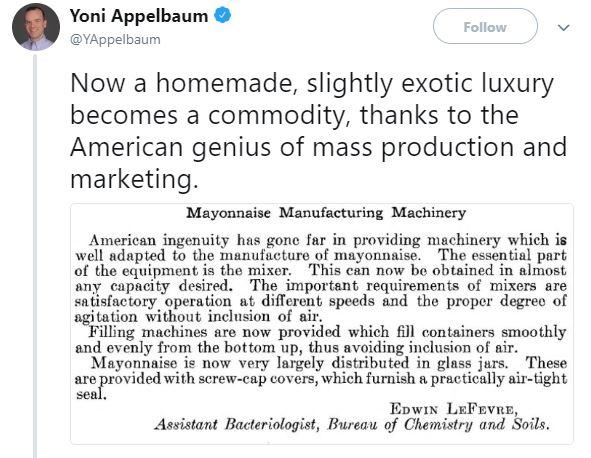 Article continues below advertisement
That's right, mass-produced mayonnaise was such a big deal that people were writing about it in newspapers back then. And here we are, in this current news cycle, declaring that this culinary masterpiece is being killed off by millennials? I call hogwash. Shenanigans and absolutely hogwash.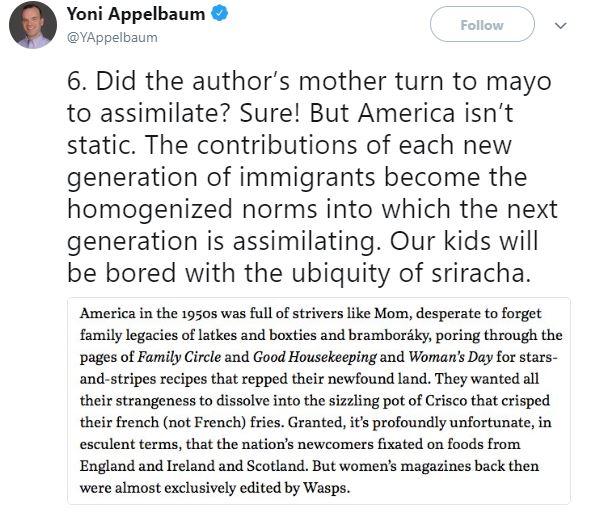 Article continues below advertisement
Now here's the thing: Even though there are tons of people who are claiming that they don't like mayonnaise, I'd like to take a look at the other foods that they like, because chances are very high that they actually love mayonnaise. They just think they don't or like to say they don't for fear of being associated with Missus-Subway-Slather and what she represents.

Article continues below advertisement
In fact, this Business Insider article points out a bunch of foods, condiments and sauces that contain mayo (creamy sriracha, mac sauce, or basically any "spread" that can be stored in room temperature). If you're eating any type of sauce that contains egg yolk, vinegar, and oil, then yeah, you're eating mayonnaise.
Now if all of that still hasn't convinced you, and you're still of the belief or opinion that millennials are somehow "killing" mayonnaise, I've just got one other piece of evidence to show you: it's the BEST-SELLING CONDIMENT IN AMERICA.