Nintendo Just Gave This Guy the Surprise of His Lifetime, Days Before He Passed Away
Chris Taylor feared he wouldn't live to see the Super Smash Bros. Ultimate release in December. Luckily for him, he didn't have to wait.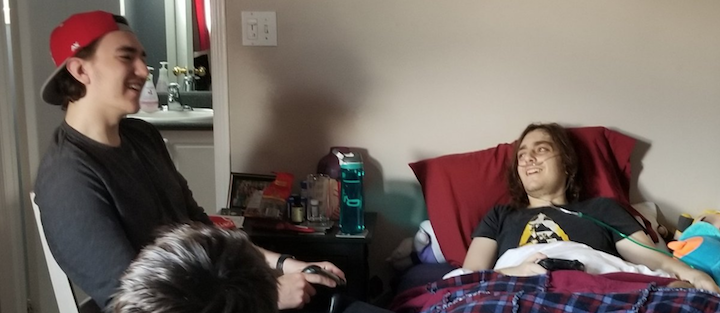 Three-time cancer survivor Chris Taylor decided not to pursue treatment when the illness reared its ugly head a fourth time around. However, he feared that one of his biggest dreams would remain unfulfilled, as he might not live to see Nintendo's upcoming release of Super Smash Bros. Ultimate in December.
Article continues below advertisement
He began to tweet to his 12K followers earlier this month, writing "I am a little worried that Smash'll be out of reach for my lifespan though and that mega sucks if I'm being real with y'all." Though the message only got two retweets and 22 likes at the moment, one clairvoyant user predicted "They gonna find a way to get it for you.. I feel it."
And they did. The next day, Chris took to Twitter again, this time posting, "I'm really scared I won't be able to play Ultimate, December is a long way away for someone who is already bedridden..." and the universe heard his pleas.
Article continues below advertisement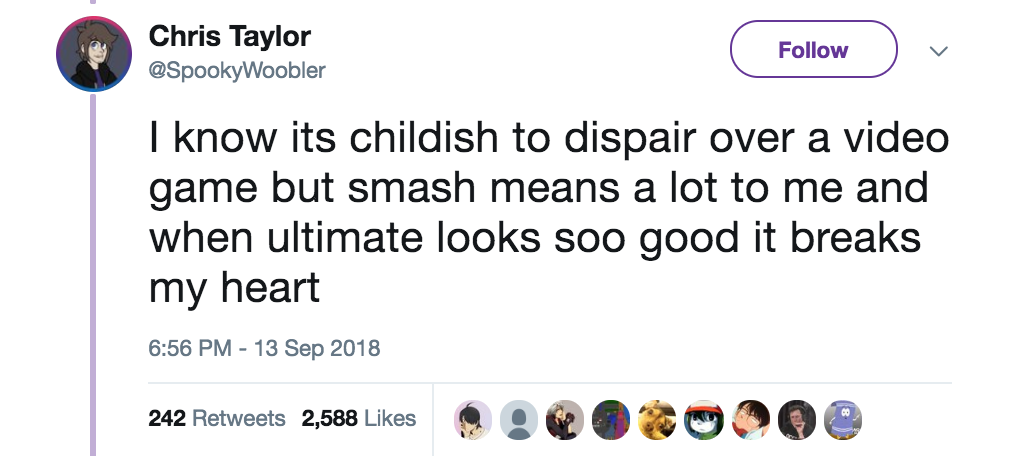 Racking up over three thousand retweets and nine thousand likes, Chris' message soon made a wave across the internet. Not only did his friends retweet it plentifully, catching the attention of reddit, his plea was also amplified by Nintendo Life — turning this young man's wish into a viral internet campaign.
Article continues below advertisement
But this wasn't your average crowd-funding Kickstarter. Unlike the usual viral campaigns that have people from all corners of the internet chipping in for a larger fund, this operation was meant to catch the attention of a few people, namely anyone who might have access to this much-anticipated game.
Before long, word of this popular crusade made its way to the higher-ups at Nintendo, who promptly sent some representatives over to Chris' house.
Alongside a neighborhood friend, his brother and mom, Chris was able to enjoy playing a few hours of Ultimate straight from his bed.
Article continues below advertisement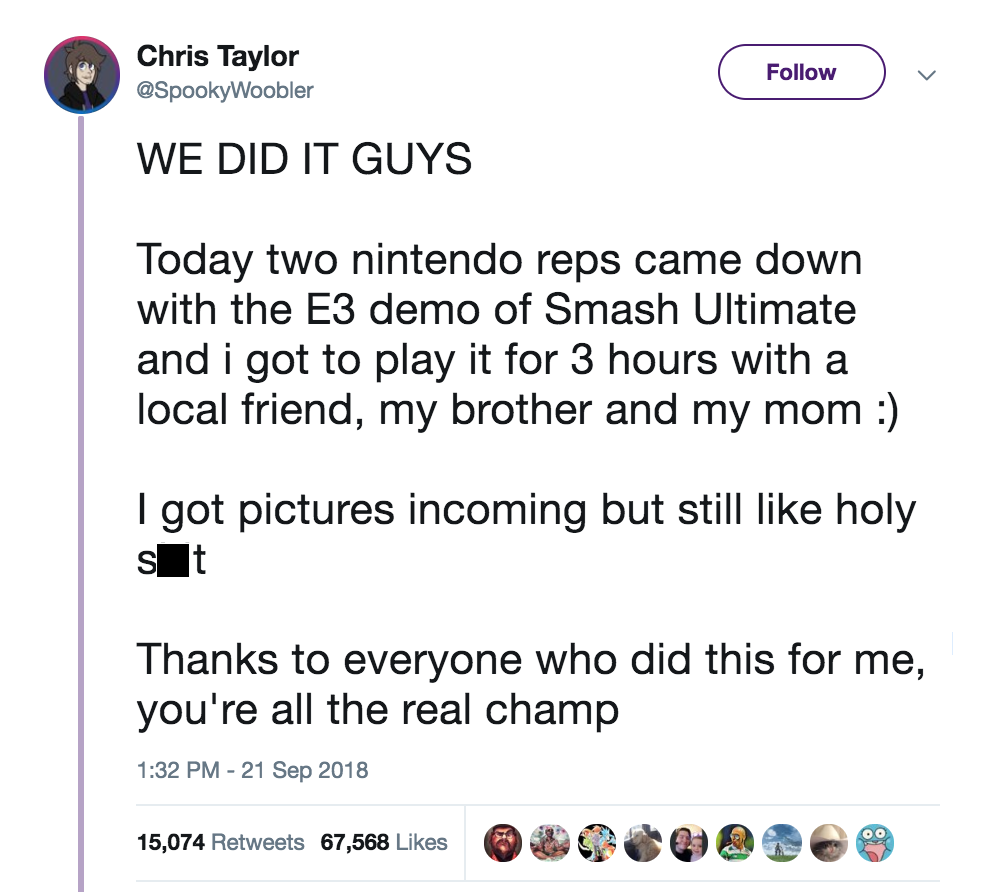 Following the unforgettable afternoon, Chris tweeted, "WE DID IT GUYS. Today two Nintendo reps came down with the E3 demo of Smash Ultimate and I got to play it for 3 hours with a local friend, my brother and my mom :) I got pictures incoming but still like holy s--t. Thanks to everyone who did this for me, you're all the real champ."
Article continues below advertisement
He followed up this tweet with some more information about how the gaming all went down, to the request of his followers: "I found out they were coming around Tuesday and couldn't say cause even a switch with a demo on it is a high value target to be stolen, same for as why I didn't get to keep the demo (though I absolutely expected that) Seriously though, thank you all so much, you all did this."
And he also shared some images of the afternoon, captioning them, "Some pics from me, local Benjamin, and Zach playing. Thanks so much guys, this means so much to me."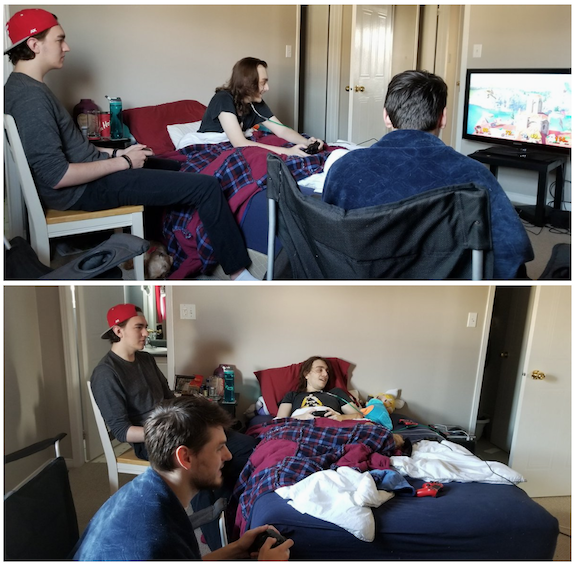 Article continues below advertisement
People on Twitter, many of whom helped Chris realize his dream through their tireless retweets and support, were delighted by this update. People took to the platform to share memes accompanied by messages like "Man this warms my heart so much" and "Yes! I'm so happy this got to happen for you! I hope you're enjoying the hell out of it!"
A few days after he was able to play the unreleased Smash Ultimate game, his brother shared a message on reddit announcing Chris' death. It read:
Today Chris passed away at around 5 pm est. He was surrounded by friends and family when it happened in the comfort of his own home. On behalf of him and our family we are extremely thankful for all the love and support Chris has gotten. You guys made it possible for his wish to come true. I hope Chris' memory lives on through all of us when we game. Just remember this once... everybody got together for the most genuine man I've ever known. He just wanted to get out there, meet some people, and play some games. Unfortunately, he can't do that anymore so let's continue his legacy for him.
Article continues below advertisement
This isn't the first time a gaming company has banded together to fulfill the last wishes of their dying fans.
Twelve-year-old Wes' story recently went viral when the young boy's family shared his woes of not being able to play the Power Armor Edition of the new Fallout 76 game, which is set to release in November.
The family took to Facebook to share the heartwarming news on their group, Wes' Fight Against Neuroblastoma, writing, "Days after Wes had been told that Sloan wanted to stop treatment, he cried to us that he just realized that he probably would never get to play the Power Armor Edition of the new Fallout 76 game he had preordered as soon as it was announced back in June, which isn't set to be released until this November. He brought it up multiple times in the following days."
Article continues below advertisement
"Thanks to Martino Cartier, Wes didn't have to wait. Bethesda's (the company that makes the game) very own Matt Grandstaff drove four hours from Maryland to our home to hand deliver this surprise. He spent the day at our house watching Wes play, making him the first person in the world outside of the video game industry employees to play.
"He also received the first prototype of the Power Armor helmet that will be included in the new release, only his was signed by Todd Howard of Bethesda himself. While he doesn't get to keep the game because it's too early, just those hours of playtime made him happier than you know... HUGE thank you to Martino and the team at Bethesda for jumping through hoops to make this happen for him. It means the world to us and him."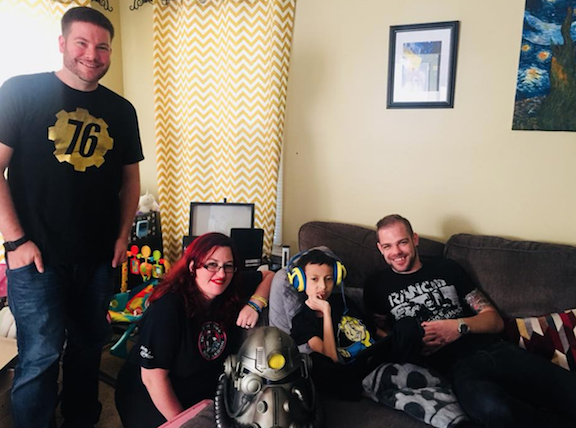 We're so happy that these guys' last wishes were granted by the makers of the games. We wish Wes and Chris' family all the best in this tough time.