This Talent Agent's Work Fail Story Will Make You Feel Better About Your Week
This woman's well-intentioned work gaffe will make you feel better about anything you've done wrong at work this week.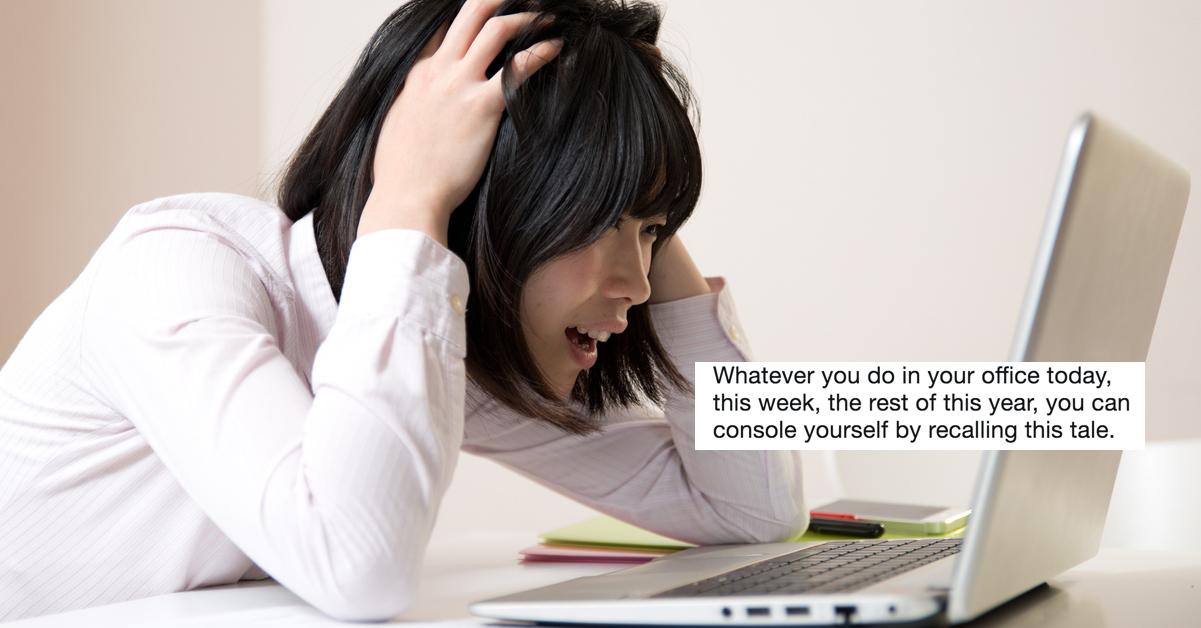 If you're having a rough week at work, you're definitely not alone. And if you're anything like me, you might take comfort in other people's work struggles in order to feel better about your own day in the office. After all, who hasn't let out an audible giggle after hearing about (or receiving) a coworker's disastrous reply-all email?
Article continues below advertisement
I'm not saying to revel in their total misfortune, but oftentimes when people screw up so crucially at work that you can feel the cringe through the screen, it can put the rest of your own office life into perspective. And that, in turn, can make your day feel less pointless, and ultimately even instill you with motivation to end your week with a bang.
At least, that's how this story of one woman's hilarious work anecdote made me, and much of the internet, feel. An author and actress named Quinn Cummings took to Twitter to tell the story of the worst mistake she's ever made at work, and welcomes readers to recall this tale any time they need consolation from "whatever you do in your office today, this week, [or] the rest of this year."
Buckle up. It's definitely a doozy.
Article continues below advertisement
"A long time ago, I was a talent agent," Quinn begins. "I worked for a woman named Susan Smith, who had her own small boutique agency. She was known for three things:
1. She had fantastic taste in clients. If there is someone you admire, odds are good that at some point, she was their agent.
2. She could negotiate a deal like few who have ever trod the earth. Casting would give her all the money they had budgeted for that part, plus a little more, plus promising to get her dog Barnaby groomed. She was magnificent to watch.
3. She was insane."
Article continues below advertisement
I looked this woman up just for a bit of context, and learned that she does, in fact, sound pretty wild. In the sense that she was the youngest woman to start her own agency, represented amazing actors and even convinced some of them to stop acting and become managers too. Some of her obituaries (she passed in 2013) surprisingly mention how notoriously "tough" she was to work for. I guess she had to be. But back to Quinn.
"I'm sure you're thinking, 'Quinn, it's the entertainment industry, they are all insane,'" she continues, pretty much reading our minds. "Yes, many are. So consider this; if you told someone you worked for Susan, people who worked for insane people would look [at] you and whisper, 'I hear she's insane.'"
Article continues below advertisement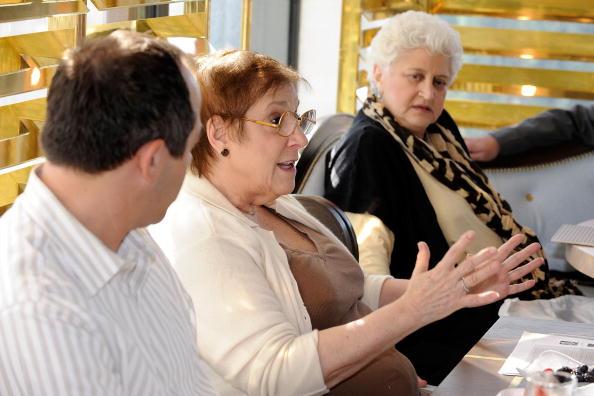 "Volatile, capable [of] toggling between rage-screaming and whispered tears in 90 seconds," as Quinn describes her. "An unerring instinct at knowing exactly what you doubted about yourself and musing aloud about it. A level of vitriol to subordinates that was outlawed by the 13th Amendment." Yikes!
Article continues below advertisement
So, picture your boss. Then picture them again, but this time, ten times worse. That's what working with Susan sounds like.
"She went through assistants with comical speed," per Quinn. "One young man — who had endured the rigors of law school — went to 'move his car' after ninety minutes on her desk and never came back."
Quinn even got her own turn at the not-at-all-coveted assistant spot. "I was her assistant for six months," she recalls. "If I hear a phone that sounds like the one we had in the office, I still get nauseated."
"But oh, did she love her clients. She had no husband, no children; her clients were everything," she continues. "Specifically, Kathy Bates and Brian Dennehy. She had discovered both of them when they were doing off-off-off-Near Hackensack-Broadway. She adored them. One could argue she made them."
Article continues below advertisement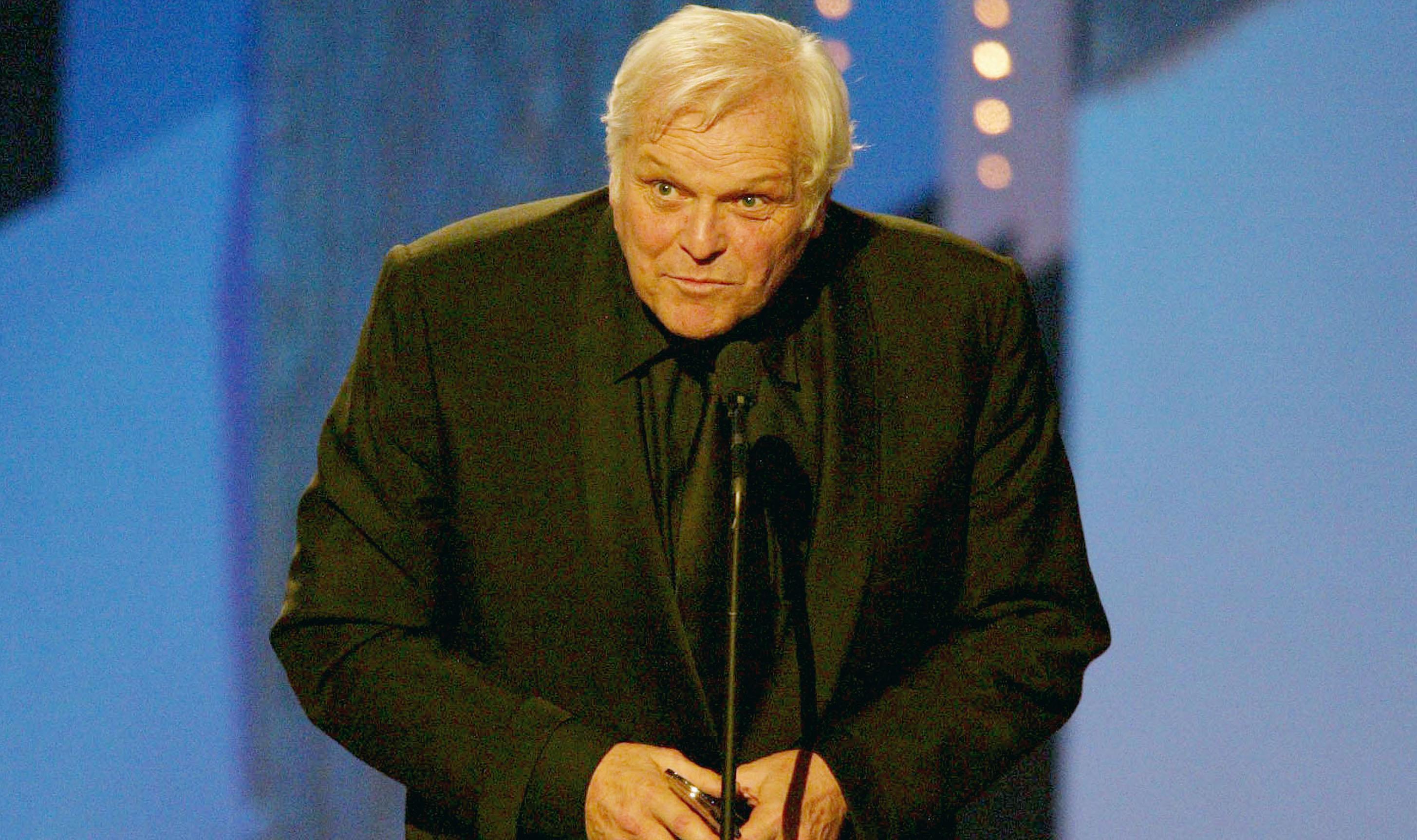 So, Susan's the real deal. It's impressive. This is where the story picks up. Bear with us, we promise it's worth it:
"For years, Brian had wanted to do Death of a Salesman on the stage, in Chicago. For years, for a number of reasons, it hadn't happened. Finally, with superhuman strength and negotiating prowess on Susan's part, Death, with the perfect director on the stage Brian wanted, went up," Quinn tweets.
Article continues below advertisement
"Brian got the kinds of reviews he deserved. The play was a huge hit. So huge, in fact, that it went to Broadway. Again, Susan hammered out the seemingly endless details of moving a production to a Broadway theater. She went to the opening. The reviews were love letters to Brian," she recalls. "Susan was ecstatic. But the real joy came when Brian won the Tony for his performance. I watched it at home and I was 99% thrilled for Brian and 1% thrilled for us at the office. Susan had a tendency to walk in the door screaming instructions and grievances."
"I was now an agent, not her assistant," Quinn continues, "but Susan didn't hold with such distinctions. We all got screamed at, we all became miserable, we all started whatever self-soothing behavior allowed us to not cry in the hallway. At the very least, Brian's win would delight her."
EXCEPT IT WOULDN'T. Why wouldn't it, you ask?
Article continues below advertisement

Because Brian forgot to thank her. This story kind of sheds some light on the endless list of thanks we, as a public, have to endure every time there's an award ceremony. Actors are always trying to mention every single person on the planet, and it's like — relax. Or at least, that's how I used to feel before reading this story.
Article continues below advertisement
"The next morning, we walked around with the resigned despair of a tank of sentient lobsters," writes Quinn. "We were all to be boiled alive, it was just a matter of when. Susan flew in the door, raced to her office, slammed the door shut. The quiet was actually worse."
"At lunch, her assistant 'Chet' slid into my office. He had the look of a man who had been screamed at for five hours. He asked a favor. Brian had called him; he was aghast he had forgotten to thank Susan, the woman who had made his dream come true. He thought he had a solution," she continues.
And the solution sounded pretty foolproof.
Article continues below advertisement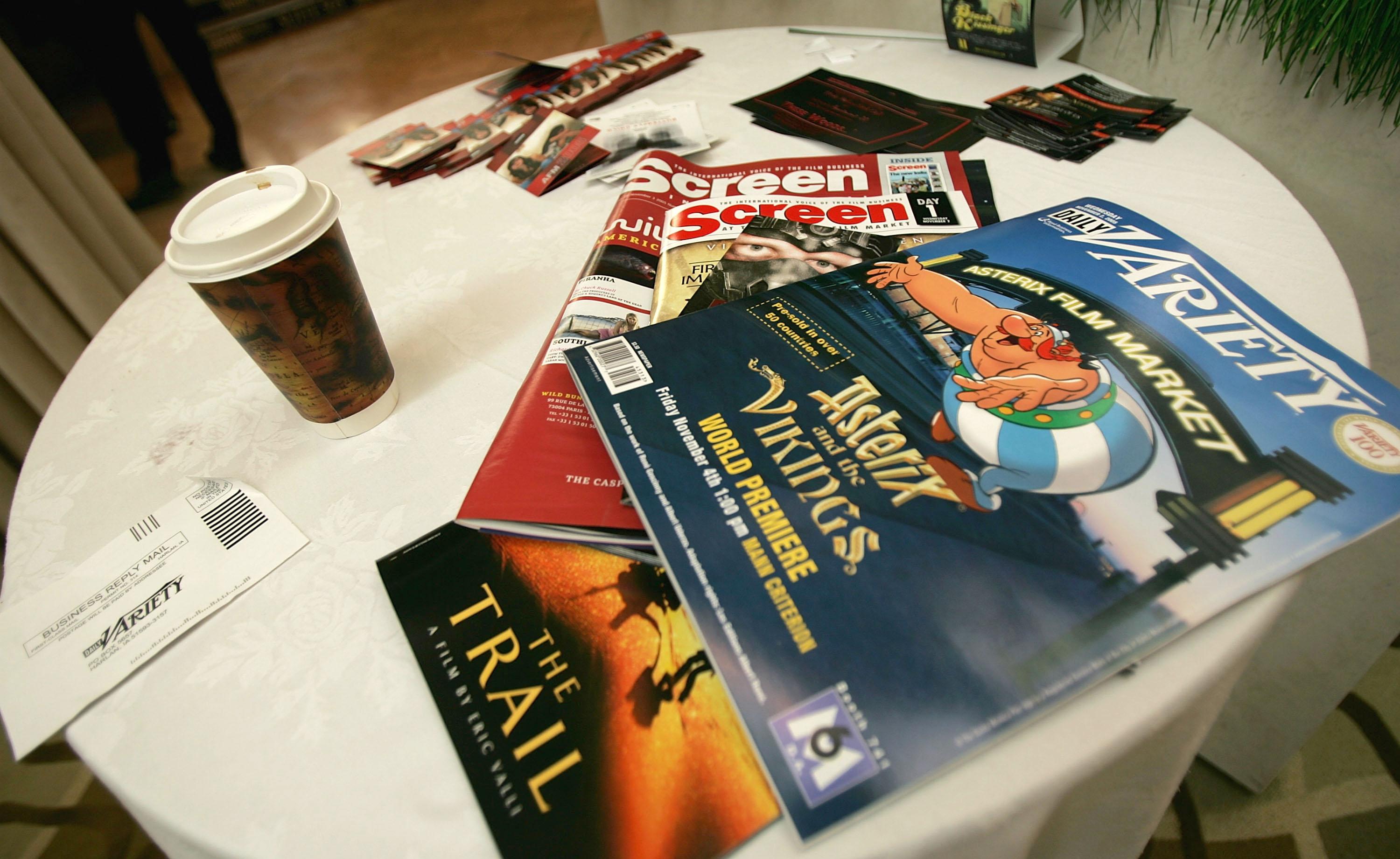 Brian would "put a full-page ad in both Variety and Hollywood Reporter, the daily trade papers read by everyone, thanking her. It was to be a surprise. The only thing Brian needed from Chet was a picture of her to put in the ad. Problem was, Chet couldn't find one."
I share his pain, there don't seem to be many photos of her online, and I've tried to find these full-page ads to share with you too, to no avail.
Article continues below advertisement
Chet then asks Quinn if she could possibly help him out by finding a picture of their boss, to cover up Brian's big mistake.
"I smiled, because I did," she tweets. "Susan, like many women of a certain age, wasn't terribly fond of having her picture taken but it so happened there was a picture of her on the side-table in her office. Susan loved decorating, nothing was by chance, she must have liked that picture."
Mission accomplished! "We got it, Chet slid it out, overnighted it to Brian," Quinn recalls. "We crossed our fingers she wouldn't notice the picture was gone for a day. Even if she did, the ad was to appear the following day; after such a loving gesture, who could be angry with us?"
Article continues below advertisement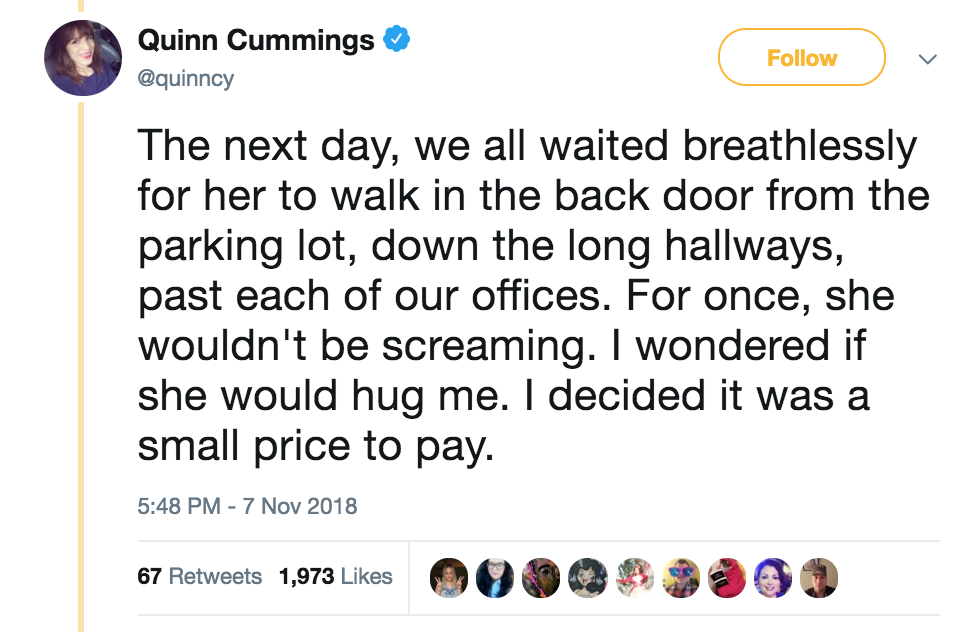 An elated Quinn awaited her boss "breathlessly" — chuffed in that silly way we all get when we think we've done really good by our superiors that regresses us back to middle school.
Then, the moment of truth.
Article continues below advertisement
"The door opened," she posts as a standalone tweet, slowing down the pace of this already crazy story. "I swear to you, even the phones stopped ringing for a second."
I feel like my heart is stopping for a second, so invested I am in this tale now. "Susan inhaled," Quinn writes.
Article continues below advertisement

WOW. I'm speechless at this work gaffe, and will say it's making my drag of a Thursday feel significantly less like a total fail.
People on Twitter were dying over this story, so much so that they shared it over 12,000 times on the platform. While many commented versions of "I love everything about this" and "this made my day," some celebrities chimed into the conversation, too.
"Having known several of those mentioned, this was extra delicious," writes Evan Handler AKA Harry from Sex and the City. Kathy Griffin enjoyed the thread as well.
Even Brian Dennehy's daughters replied to Quinn. One praised her for describing Susan "perfectly" and shared that Susan and her mother "hated each other," which added another level of hilarity to this incredible story.
Another daughter wrote, "This is the most perfect story ever. Hilarious, nerve wracking, slam dunk ending. THANK YOU for the chuckle we'll all be having over Thanksgiving."
Famous people and their families are just like us. They like to feel better about their days through social media, too.