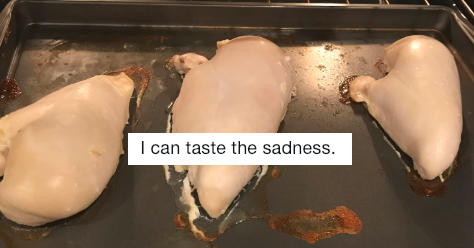 This Tragic Chicken Got the Whole Internet to Finally Agree on One Thing
How do you prepare your chicken? Almost a month ago, writer Spencer Althouse unearthed a decades-old video of Oprah Winfrey more than mildly disapproving of one woman's "million dollar" baked chicken recipe for not seasoning it, like, at all.
"I, I, I— I do like it," Oprah forces herself to say before launching into "did we add salt and pepper? I think we need salt and pepper."
Article continues below advertisement
Spencer captioned the video, "I often think about the time Oprah did a cooking segment with a woman whose chicken recipe won $1 million, and Oprah's jaw dropped when she tasted it and realized the lady didn't even add seasoning." As the tweet made the rounds, it gained over-70,000 retweets and even caused the talk show queen to chime in on this nostalgic throwback. "I am used to having salt and pepper on my chicken," she said in a video response to Spencer. "That's just the truth, that's what I was thinking. This chicken needs some salt and pepper."
Article continues below advertisement
Oprah's not the only one with strong opinions when it comes to poultry. Just recently, someone on Twitter photographed this monstrosity her boyfriend's roommate prepared.
"Y'all wanna get upset by the lack of seasoning on my boyfriend's roommate's chicken with me?" wrote @corihealey in a caption that accompanied this terrible image. Reader, beware.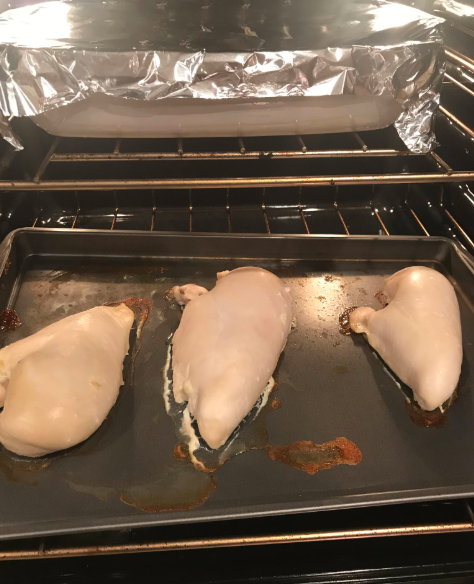 Article continues below advertisement
"I am DISTRAUGHT," she continues, as others reply to her photo with thoughts and prayers. "Girl. get outta the house. now," writes one concerned viewer. Another responded, "It's horrifying it's like watching sponges bake," then launched into this diatribe: "At least add some goddamn sauce to it if you've got an aversion to dry seasonings. Like, Barbecue, Garlic butter, balsamic vinaigrette. Just. Anything. Eating plain meat is just terrible."
They continue, "I still can't believe there's nothing on it. Not even spray on PAM so it won't stick to the pan. You have to work twice as hard to scrub baked-in chicken viscera. This isn't the work of someone with dietary needs. This is the hallmarks of someone that ain't trying." Slow clap for this guy who couldn't contain how this chicken made him feel.
Article continues below advertisement
The abomination even gave way to some choice memes, featuring everyone's fave du jour, Bird Box. But most people agree seasoning one's chicken has nothing to do with one's ancestry, though if I had to guess, I'd probably say the offending chef from the photo above is almost certainly Caucasian.
Article continues below advertisement
Article continues below advertisement
"I'm almost comically white, and even I know that's not how you do chicken," wrote one person on Twitter. " You can do some wonderful things with stock and/or wine, honey, herbs and garlic."
In response to Roxane Gay, who also enjoyed Oprah's video, another person responded, "Im a white lady who cooks. I am all for seasoning as long as the seasoning doesn't 100 percent cover up the taste of the food being seasoned!" And I think we can all agree, that's not an issue when it comes to chicken.
Article continues below advertisement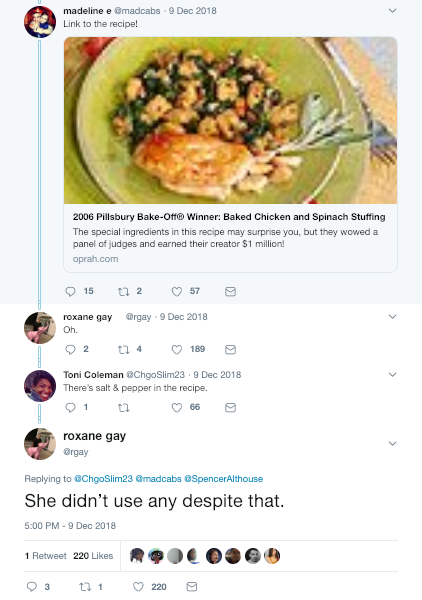 In fact, the atrociously unseasoned dish had the shocking effect of bringing almost everyone on Twitter together, no matter their ethnicity or dietary restrictions. In this way, I suppose there was some beauty to the chicken after all.
Article continues below advertisement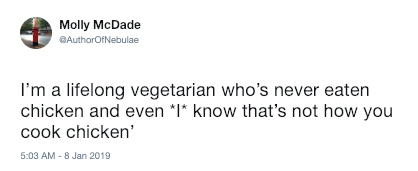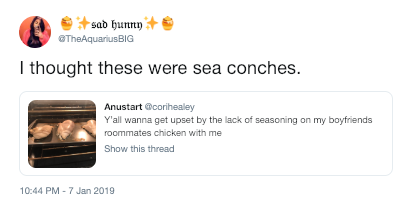 Article continues below advertisement
"No seasoning, no sauce, not even any butter. This is a crime against poultry," writes one person on Twitter. "It's not even clean!" responded another.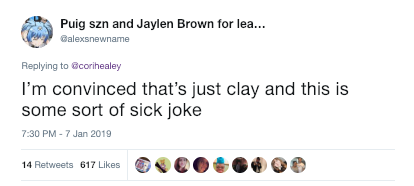 Article continues below advertisement
At the end of the day, I think we can all agree that, until this woman's boyfriend's roommate sees the light and invests in some butter, salt, and pepper, the entire household might be better off ordering pizza.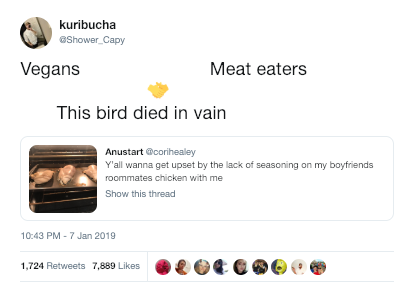 Because the internet finally agrees on one thing: the chicken above died for nothing.