This Story About a Kidnapper Stalking a Supermarket Parking Lot Is Terrifying
It's every parent's nightmare: seeing your child being taken right in front of you and you being powerless to stop it.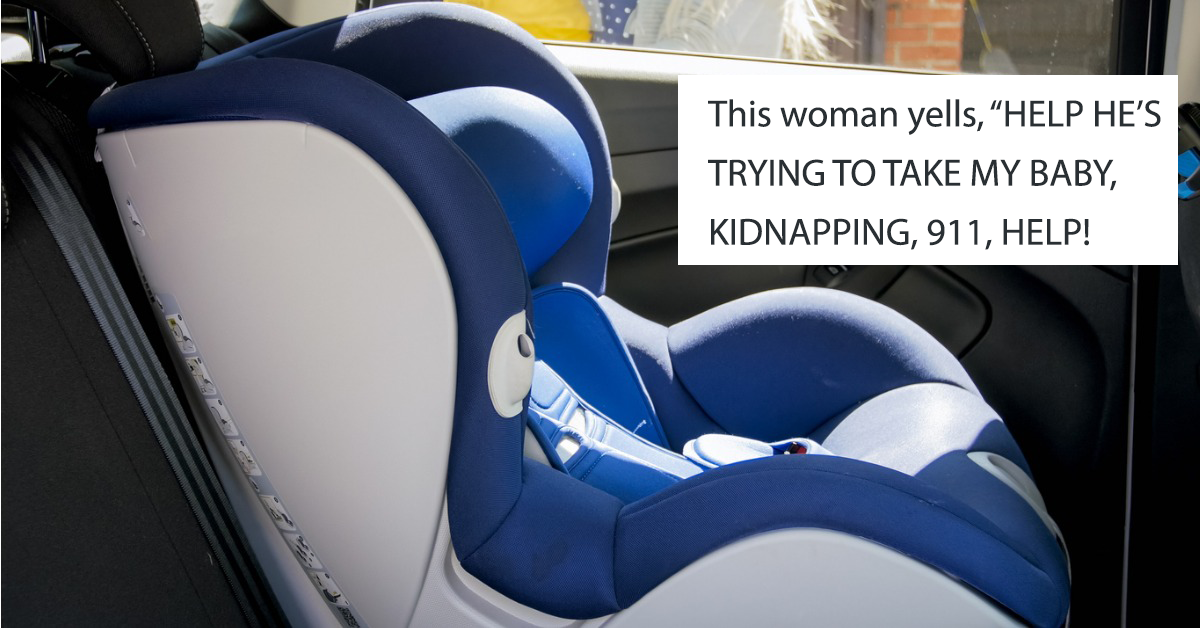 I didn't always want kids. In fact, I was staunchly opposed to ever having them. However, something happens when you meet someone who's an absolute dime who does want kids: you do anything you can to keep them in your life. With me, from the moment I first talked to the woman who's now my wife, I knew she'd be an amazing mom. So I thought, "Ehh, I could do kids."
Article continues below advertisement
Nearly five years later, we've got two little ones and I don't even want to think about life without them. They're incredible, beautiful, and I'd post a bunch of pictures of them right here if the internet wasn't full of a bunch of creepers. More importantly though, I don't want to be that annoying parent who's constantly shoving photos of their children in people's faces. Nobody likes those people (except me now because I'm a big dorky parent).
As a proud papa bear, the thought of anyone even thinking about harming my children fills me with immeasurable rage and dread. I have nightmares about not being able to protect them, and feel guilty every time the little nuggets so much as bump their head.
Which is why this mother's story about witnessing her baby being stolen right out of her and her husband's grasp is terrifying.
Article continues below advertisement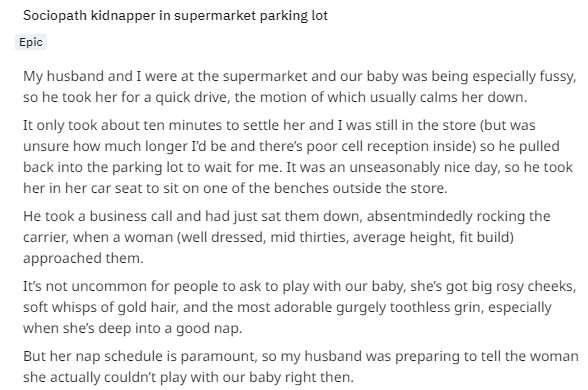 It all started as a normal day: parents take their kiddo out for a ride in the car to help them fall asleep. The baby's chilling in a carrier, asleep. It was a nice day, so daddy decides to go and sit on a bench outside the store while mommy goes inside to buy some stuff.
Out of nowhere, however, a strange woman walks by the dad and snatches the baby out of the carrier. Dad, at first confused, chases after the woman and tackles her the ground to save his baby.
Article continues below advertisement


Article continues below advertisement
This is when things start taking a turn for the nightmarish. The woman, obviously realizing a lone man would immediately be the perceived aggressor in a situation like this, uses that to her advantage and tries to pepper spray him as she calls for help, pretending to be shaken by the fact that she nearly had her baby stolen from her.

Article continues below advertisement

A gang of people surrounded the father, subduing him and even kicking him in the ribs. The mom thought her husband was getting robbed, and even thought the baby thief was a kind Samaritan keeping their child safe.
However, it quickly dawned on her that her husband was trying to protect their child and the mob was keeping him from rescuing their kid.
That's when she went into fight mode.
Article continues below advertisement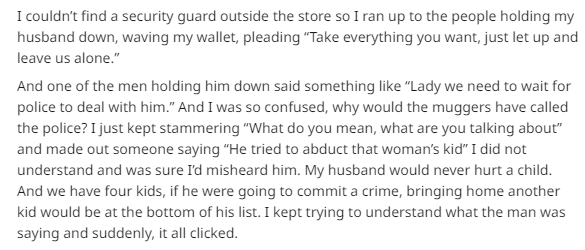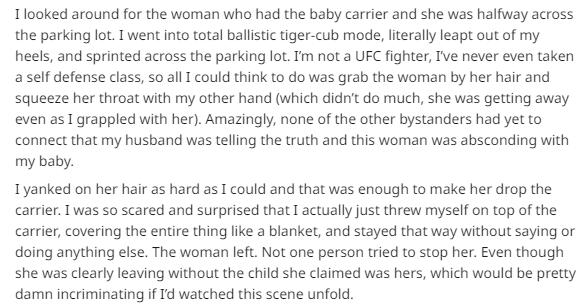 Article continues below advertisement
Scarily enough, the woman almost made it to her car as this mama bear managed to wrestle her child away. Strangely enough, no one in the crowd noticed the woman casually left her child on the ground as the actual mother covered her baby to protect her in the carrier.
No one tried to stop the would-be kidnapper. I don't want to coulda, shoulda, woulda, but if I witnessed that, man or woman, a kidnapper is getting tombstone piledrivered right on the pavement. You best believe that.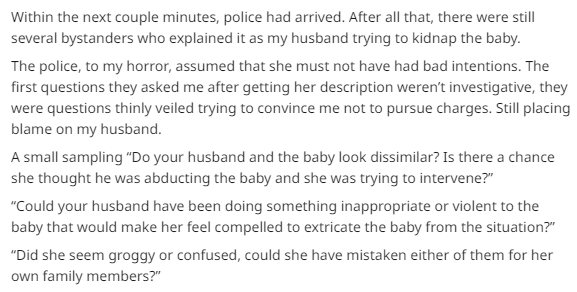 Article continues below advertisement

Frustratingly, when cops arrived on the scene they seemed more preoccupied with confirming the distraught parents' identities (as if a mother would just leave her kid to a kidnapper like that and drive away) than investigating the attempted kidnapping.
Once cops verified what went down, they asked if the father wanted to press charges against the person who kicked him. Even though his ribs were cracked, he demurred, since the assailant genuinely thought he was attacking a baby snatcher.
Article continues below advertisement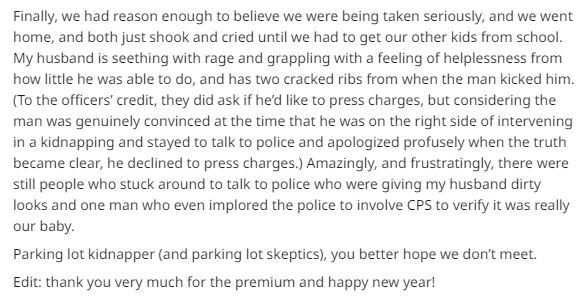 Mommy ended her horrifying tale with a warning to the parking lot kidnapper. Something tells me that if they cross paths again, she's going to get a lot more than just a tug on her hair.