This Teacher Was Fired After She Dragged a Pleading Autistic Student Across the Floor
The web was horrified to see this video of a special education teacher dragging an autistic student through a hallway.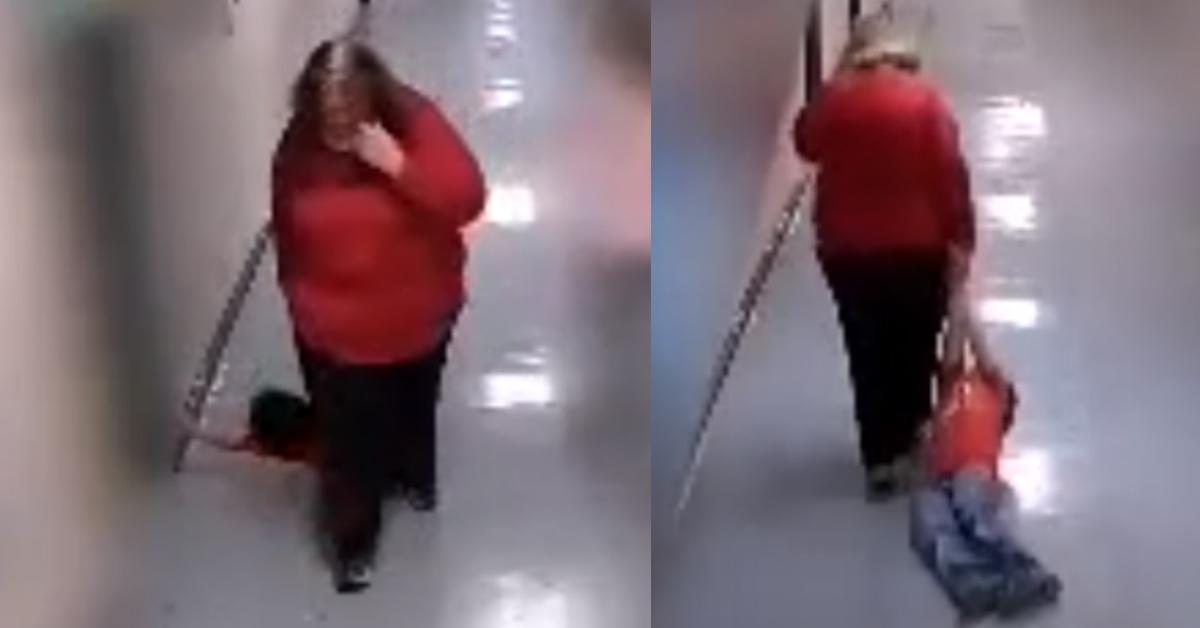 A video of how a special education teacher dealt with a student during a tantrum has people up in arms.
Taking care of children can be frustrating, and they require you to become the best version of yourself at all times. Quite frankly, it can become a bit exhausting. So in a way I understand when parents and teachers fall short of the ideal.
Article continues below advertisement
Though we can't expect perfect patience at all times, this virtue is especially important when caring for kids with behavioral or developmental disabilities.
However, this incident involving teacher Train Abrams and a 9-year-old autistic student seems far more serious than a teacher losing her patience and snapping at a misbehaving student.
Article continues below advertisement
In security camera footage from the school taken on October 24th from Wurtland Elementary School in Greenup County, Kentucky, Ms. Abrams can be seen dragging the young boy through the hall by his arms. When he refuses to comply with her, she jerks his body up off the ground and continues to drag the boy on his knees for over a minute.
At one point in the video, young students looked on at the crying boy, unsure of how to react.
What's most disturbing about the incident is that Ms. Abrams works regularly with special needs students and is aware of the 9-year-old's condition. He is diagnosed with autism, ADHD, and PTSD, and emotional "meltdown[s]" as his mother categorizes them, are a reality of his condition.
Article continues below advertisement
His mother, Angel Nelson, shared the video on her Facebook page, along with a description of what occurred that day. She believes he has a fractured left wrist as a result of the abuse he suffered.
"Mrs. Abrams forcefully grabbed my son by the wrist and bent it backward while he was experiencing a meltdown (which he sometimes experiences as part of his diagnoses)," she wrote.
"After he let go of the chair, she grabbed him by the wrist and drug him down the hallway from one classroom into another," Angel wrote in her Facebook post. She also added that due to the limitations in her son's speech, she's unsure of what occurred before and after the incident.
Article continues below advertisement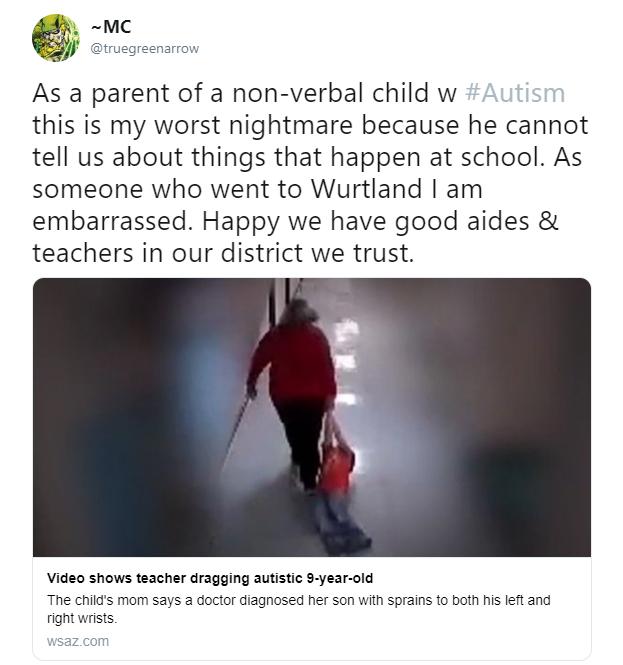 In an interview with The Daily Dot, Angel said the school's principal reported the incident to her right away. "The school seemed very apologetic, but there were so many questions left unanswered. My son was in pain, and everyone let him down that day."
The district immediately fired Ms. Abrams, and she will be charged with fourth-degree assault, per WSAZ3.
Nelson's son has since been transferred to a new school, and she says that "he seems to be adapting but is still reluctant," - they had just moved to Wurtland right before the attack occurred.
The 9-year-old's stepfather told the local news station that Ms. Abrams had assured them their son would be safe in her hands.
"This was the same lady that looked us straight in the eye and said, 'Listen, your son is safe with me, I've got several years of experience, he's safe.'"