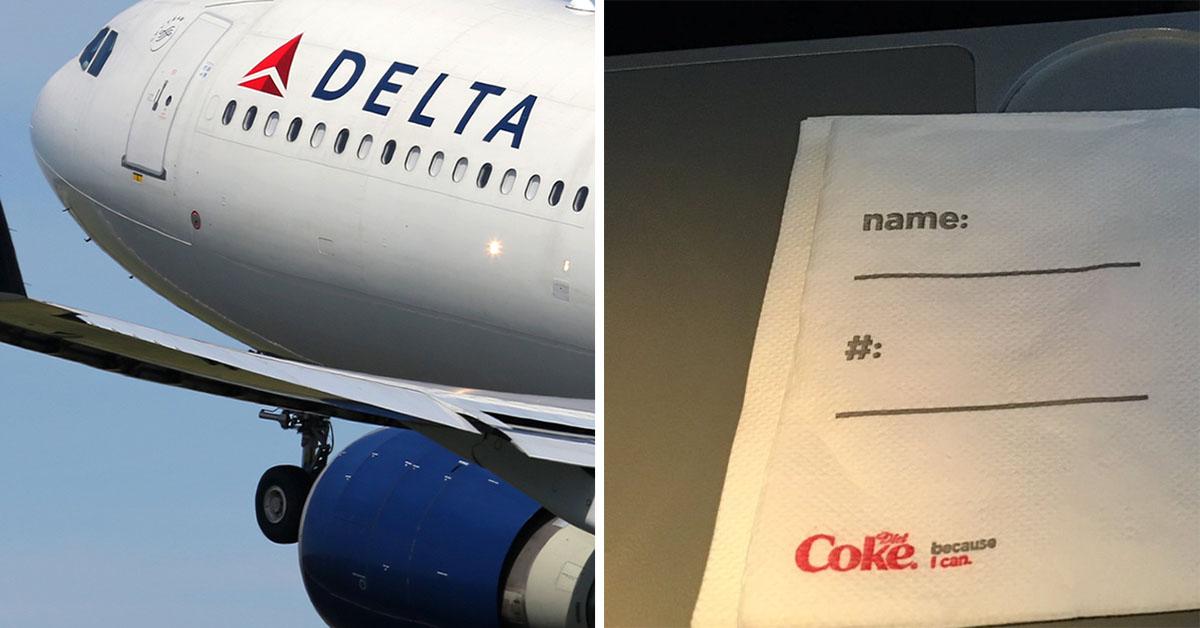 Delta Hands out Coke Napkins That Encourage Passengers to Hit on Each Other
It's fair to say that dating has changed a great deal in the last 10 years or so. We live in an age where you can find true love on your phone, gone are the days when you'd have to approach a total stranger in a bar.
Article continues below advertisement
Which makes the trouble that airline Delta and soft drinks company Coca Cola got into recently even more confusing. A passenger recently took to Twitter mid-flight to share the napkins they'd been given alongside their Diet Coke on a Delta flight.
Article continues below advertisement
"Because you're on a plane with interesting people and hey... you never know," the napkins read. On the reverse side is a place to leave a name and number. There was also the following fine print: "Be a little old school. Write down your number and give it to your plane crush. You never know... "
The napkins are a partnership between Delta and Coca Cola, handed out on flights as a promotion for Diet Coke. We don't know what's more old school — these napkins or Coca Cola thinking that people actually carry a pen with them in 2019.
Article continues below advertisement
Unsurprisingly, the pen proved a bit of a flop, with plenty of customers complaining on social media. Delta told USA Today that it was already in the process of removing the napkins before the outcry from social media:
"We rotate Coke products regularly as part of our brand partnership, but missed the mark with this one. We are sorry for that and began removing the napkins from our aircraft in January."
The napkins will be replaced by "standard Diet Coke branded napkins found regularly on Delta flights," according to the airline.
Article continues below advertisement
Coca Cola also apologized for the napkins, saying:
"We sincerely apologize to anyone we may have offended. We worked with our partners at Delta to begin removing the napkins last month and are replacing them with other designs."
Social media users seemed to have a mixed opinion on the napkins, with many praising Coca Cola and Delta on the marketing campaign:
"Seriously why would someone actually be mad about this?" one user asked. "Maybe they have nothing else to worry about." Another added: "This is hilarious! I find it funny. Carry on Coca Cola...."
Others were less thrilled by the napkins, and plan to stick to their dating apps:
"Dating apps assume availability/interest—click away (with class)," one Twitter user pointed out. "On a flight, expect to find many business travelers with families at home. Ask before you hand someone a love napkin. It's not a singles' cruise."
What do you make of the napkins?