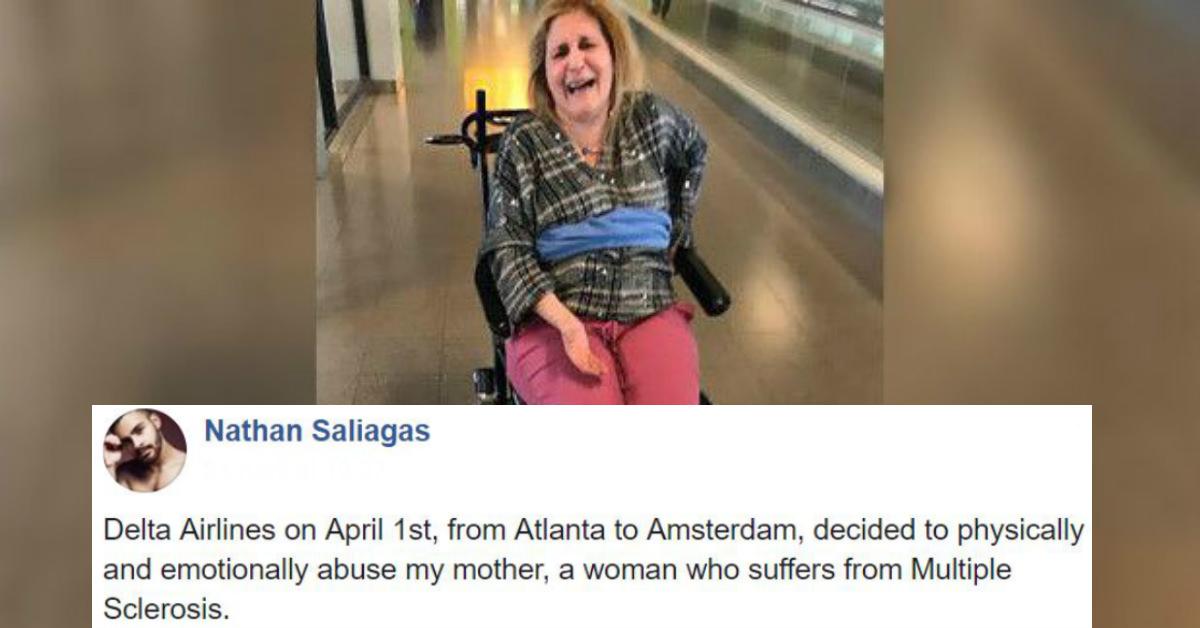 Woman With MS Tied To Wheelchair By Delta Staff, According To Family
By Mustafa Gatollari
Airlines haven't been known to treat people with the utmost respect these days, have they?
There was the United fiasco where a doctor was forcefully dragged from an overbooked flight.
Delta may have yet another scandal on its hands for how they allegedly treated a disabled passenger aboard a recent flight. The family alleges Delta staff tied her to her wheelchair and told her to "shut the f*** up" when she cried out in pain. Probably not something they're going to want to put on their customer service pamphlets.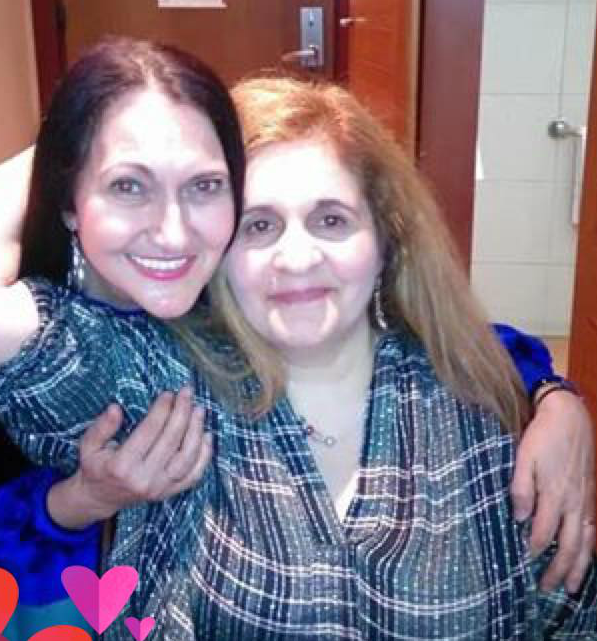 Maria Saliagas was diagnosed with multiple sclerosis 5 years ago, a condition that requires she travel in a wheelchair. Every year, she travels to Europe with her husband - and they usually fly Delta.
In the past, the airline provided Maria with straps that help keep her upright when she's sitting in her chair, an accommodation that many airlines are prepared to make, as travelers with disabilities are legally not required to notify airlines ahead of time of their condition before traveling. It's on the airline to reasonably accommodate individuals with disabilities at any given time.
Delta's idea of an accommodation, in this instance, was allegedly to tie Maria to her chair with a dirty blanket since they didn't have any special wheelchairs on hand to help her travel.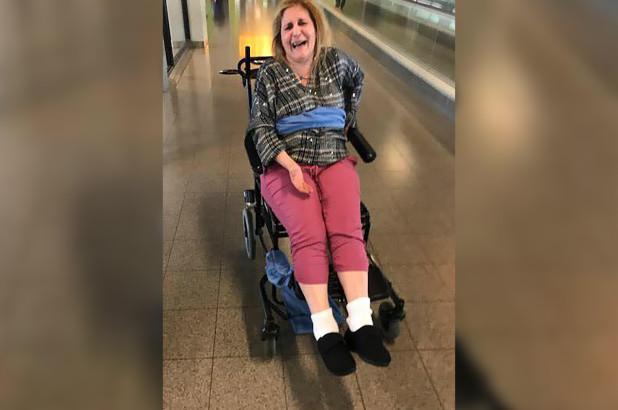 Saliagas reportedly suffered bruises to her arms, injuries she sustained because she alleges the Delta attendant tied the blanket so tightly. Her son, Nathan, was outraged by the treatment his mother received on her flight to Amsterdam.
He shared the story on his Facebook page, adding that when his mother complained, she was reportedly told to "shut the f*** up" or she would be "left there," tied to her chair.
When the family complained to Delta about Maria's treatment, they claim the airline apologized and offered up 20,000 free SkyMiles for their unsatisfying travel experience. A gesture that the family is saying isn't enough.
They're calling for the airline to implement policy changes that are more considerate towards disabled passengers.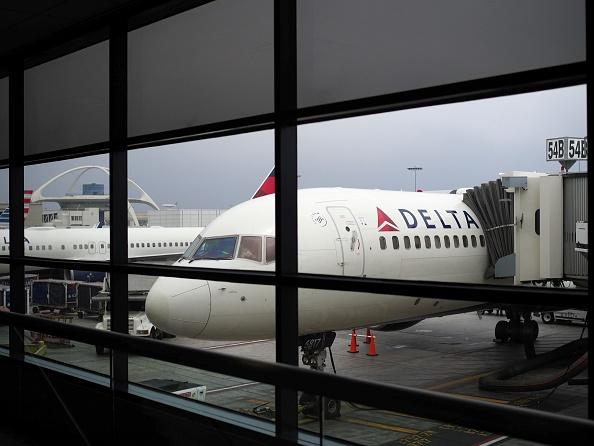 Newsweek questioned Delta about the treatment of Saliagas and a spokesperson for the airline responded that while their findings "did not align" with the family's regarding the incident, they were still "disappointed" she didn't have a "satisfying travel experience."
"We are disappointed that our customers didn't have a satisfying travel experience and will ensure that their return flight exceeds expectations. While Delta always looks for ways to improve the overall customer experience, our findings do not align with details shared by the customer's family."
Currently, Maria and her husband are still traveling abroad and will return on April 30th, but they haven't said whether or not they will return on a Delta plane to do so.
This isn't the first time someone with disabilities has been traumatized by treatment while flying.
People aren't the only ones suffering from poor treatment from airports and airlines. United recently got in a bunch of hot water for reportedly forcing a passenger to put their dog in the overhead compartment during a flight. A decision that unfortunately killed the little guy.
There have been instances where airlines try to accommodate people, but end up screwing up other passengers in the process.
Like this epic saga where a woman sitting next to a passenger put her feet up on a meal tray while they were trying to eat. When the passenger explained to the flight attendant that the situation was kind of crazy, the attendant offered to compensate the offensive passenger with a $1,000 travel voucher. The story only gets worse from there.