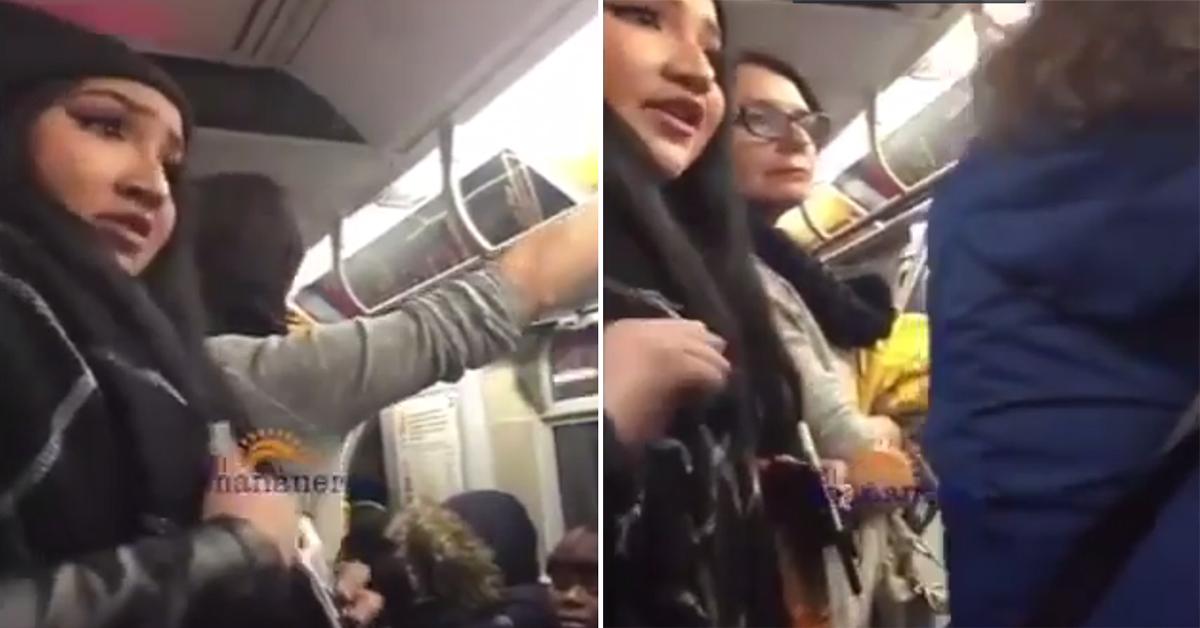 Young Woman Stands Against Hate In NYC Subway And We're All Feeling Inspired
By Mark Pygas
People are applauding a young Latina woman who intervened after she witnessed a woman in a headscarf being harassed by another woman. Footage of the exchange was first posted to Live Leak, before it was shared again on Facebook by the I'm Still So NYC Facebook page, where it's since been viewed over 1.5 million times.
The footage begins with an older woman yelling at a black woman wearing a headscarf and carrying a briefcase.
"Why are you here? Why are you in this country?" the older woman starts by asking. A man and a woman attempt to calm the woman down before 23-year-old Tracey Tong intervenes.
Tong told Buzzfeed that just before the footage begins, she had also heard the older woman asking the woman in a headscarf what was inside her briefcase.
"You're not with us," the older woman continues. "And maybe they're not taking my back, and that's a shame. But I will take my own back."
A woman standing nearby asks the woman to stop. "Would you mind stopping? We don't want to listen anymore." The older woman then lashes out at her, saying, "No. You don't understand. You're not even from here."
Tong then steps in, asking the older woman where she's from. The older woman states that she's from Puerto Rico. Tong says that she's half Peruvian and starts talking to the woman in Spanish.
Tong tells the woman: "I think you're being really unfair. We all have to work together," Tong told the woman. "We can't be against one person. This is absolutely ridiculous and disrespectful."
The older woman says that it's ridiculous "that we are in this situation." To which Tong replied: "Exactly, so why should we fight with people and start more problems, and be against each other?"
Tong continues:
"I'm not scolding you. I'm not telling you to be quiet. I'm asking you to please respect her," she said. "In Spanish, in English, in Chinese, in French, whatever language you want me to say it, I will say it to you. Whether you're born from here, Puerto Rico, wherever you are from."
"We're all in this together. Whether we like what's going on in the government or not. Fuck it. We gotta deal with it. You're a grown woman. Suck it up, and you defend your brothers and sisters."
Tong told Buzzfeed that she'd read about the recent rise in mistreatment of groups in the United States and decided that if she saw it happening herself, she'd intervene.
Tong was praised for her behavior by users on Facebook.
One commenter wrote:
"As a man of Puerto Rican decent, she's an embarrassment and does not speak for all Puerto Rican people who live and work in diverse NYC no matter what the politics are, no excuse for this type of ignorance."
Another added:
"To the young woman standing up for that couple, I applaud you. Your courageous and brilliant voice spoke very highly of your values and morales."
"To the ignorant woman, you are shameful. Your vile words and ignorance towards others is distasteful."
A Puerto Rican commenter added:
"I'm Puerto Rican and this woman has made me and my brothers/sisters look so bad, shame on her for her IGNORANCE!!! Not all Puerto Ricans think like her. And I'm glad for the MATURE younger woman who put her in her place but with CLASS."
Hopefully this act will inspire others to stand up for fellow Americans in the face of rising hate crimes across the nation.