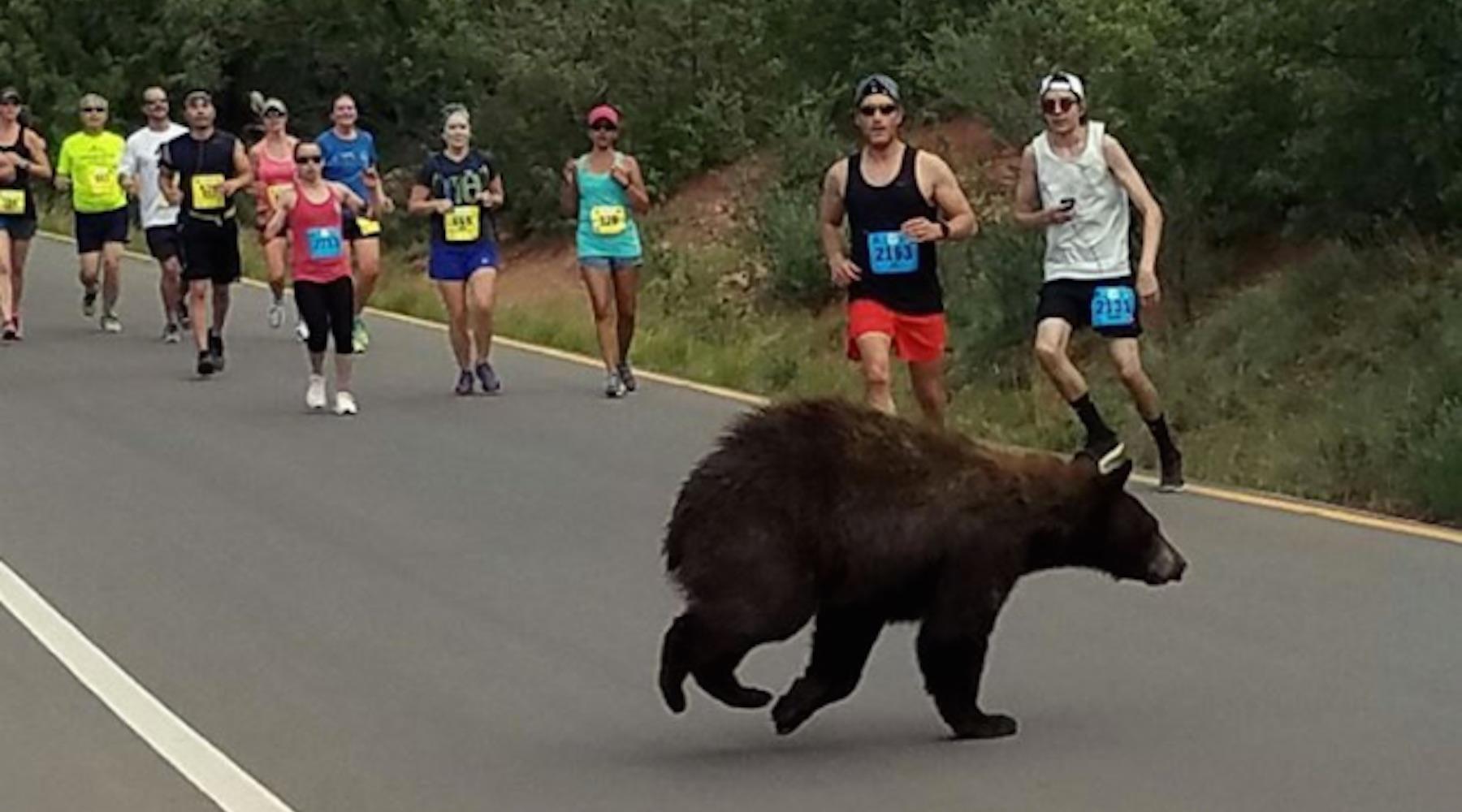 This Bear Got Caught Up In A Fun Run And Decided To Join In
By Aimee Lutkin
You know how it is towards the end of a race, when your energy is flagging and you're not sure you're going to make it. Then suddenly a bear runs by to motivate you! You might run in the wrong direction, but it definitely gets your adrenaline pumping:
Donald Sanborn told Fox News that he was about 5 miles into the Garden of the Gods 10 Mile Run in Colorado on Sunday when a small brown bear decided to turn it into a relay race. He shared an incredible image of a bunch of runners losing their minds with local news station KRDO 13 on Facebook, captioning it:
"Why did the bear cross the road? To scare a few runners in the Garden of the Gods 10 Mile Run," the caption reads.
Sanborn said he'd seen the bear along the edges of the road looking for a wide enough gap between runners to get across, and the bear finally went for it. That doesn't explain why Sanborn didn't warn anyone, but maybe he felt the humans had the bear outnumbered.
The competition winds through Garden of the Gods Park in west Colorado Springs, and a bear isn't an unexpected sight around the area, though runners seemed socked when they realized one of their competitors was running on all fours.
Plus, the picture was worth it, as everyone agreed in the comments:
But he did tell the Denver Post that he was hoping the bear would get across so he could get on with his race.
He also grabbed a few more of the little (for a bear) creature making its journey as other folks grabbed a snapshot:
Glad no one got hurt, especially the bear who probably doesn't understand why people run for fun anymore than I do.