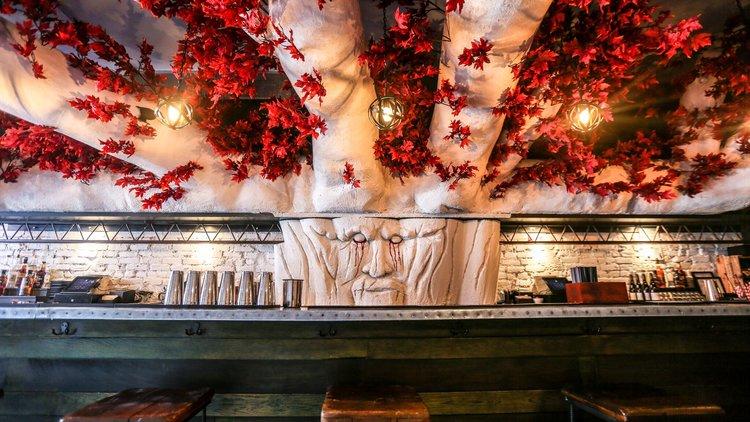 There's Now A Pop-Up 'Game Of Thrones' Bar So You Can Get As Drunk As Cersei
By Jaime Lutz
Game of Thrones has inspired many things. Prequels, spin-offs, endless discussion and debating over the future of the show and the characters. But now, it seems, that the show will finally evoke a timeless trend, and that is getting drunk the way the old timers did.
A Game of Thrones-inspired bar is coming to Washington, D.C., which is great news for everyone who has ever wanted to sip wine as menacingly as Cersei does.
The bar, which will serve cocktails with names like "Dracarys" and "Dothraquiri," will be slinging drinks through August 27. "We began by thinking about what these fictional characters from Game of Thrones would drink, what cocktails would epitomize them and what moments should be represented," says Bar Manager Paul Taylor. "We want our guests to connect the cocktails to elements of the show through name, ingredients, garnish, and glassware."
For instance, The North Remembers ($15)—a yummy-sounding scotch drink—is served in a horn tankard. A tequila and grapefruit tonic, meanwhile, gets you shamed—seriously. The drink is called Shame ($13) and it apparently comes with a little bell to ring so everyone can see your disgrace.
The pub, officially opened for business June 21, is decorated with Weirwood trees, dragons, and, of course, the Iron Throne itself.
The bar will specifically not be open on Sunday nights after July 16, however. "To watch it, of course," said Angie Fetherston, who heads the group running the pub, in a statement.
"To quote the great George R.R. Martin, 'there has to be a level of joy of what you're doing' and we believe Game of Thrones is the seminal show of this decade," Fetherston said. "We didn't have a choice; the three-eyed raven picked us. This PUB is our love letter to the Seven Kingdoms and we cannot wait to share it with fellow fans."