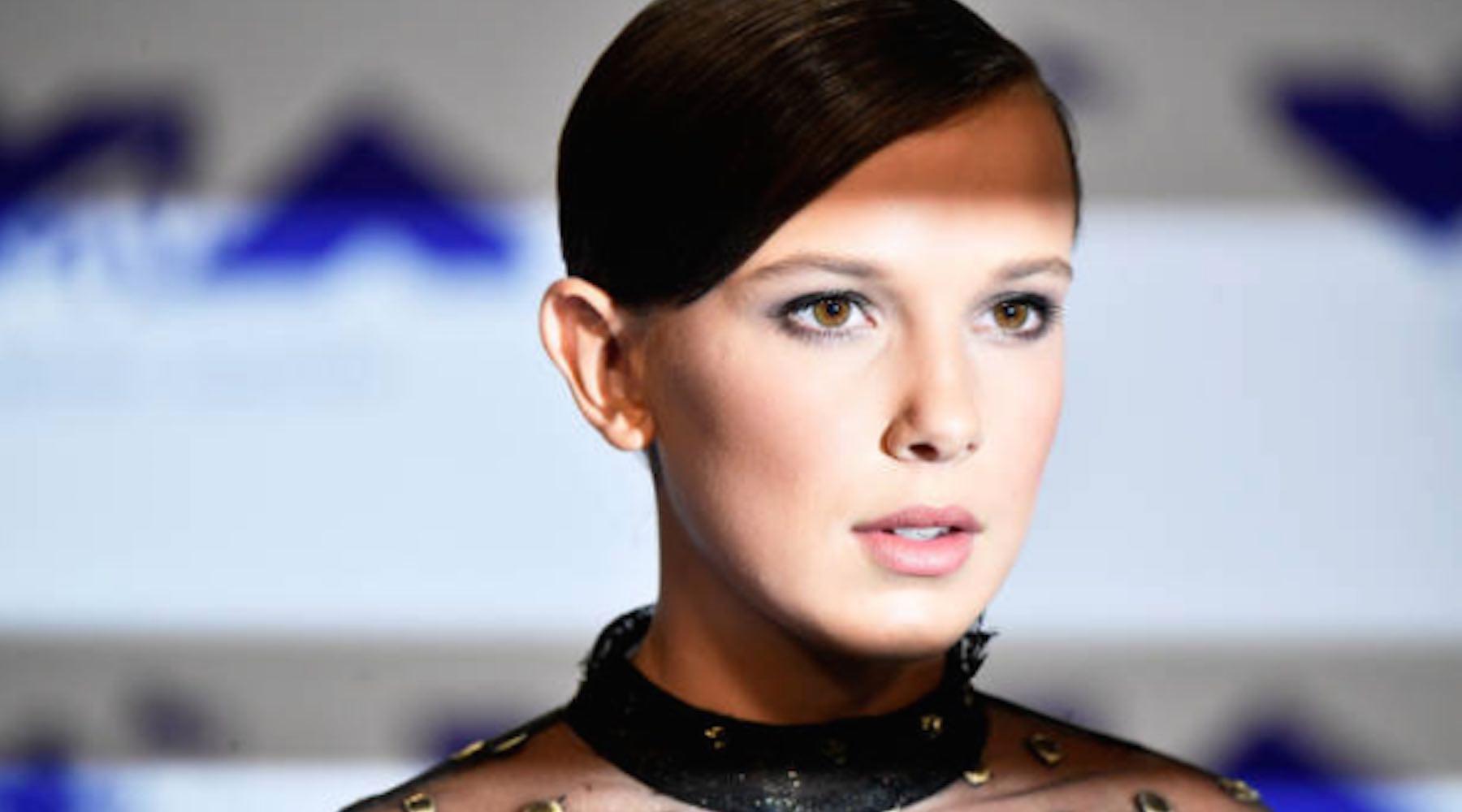 Millie Bobby Brown Deleted Her Twitter Account Because Everyone Is Calling Her A Homophobe
By Aimee Lutkin

Updated
Online bullying is rampant, even amongst people we tend to think of as being above all the Twitter and Instagram drama. Several celebrities have been driven off of social media for brief periods or even forever due to harassment, like Saturday Night Live's Leslie Jones and The Last Jedi actress Kelly Marie Tran.
There are just so many people out there without much to do who have a huge mental disconnect from their behavior online. 
That's how a certain meme has become popular that depicts Stranger Things actress Millie Bobby Brown as a horrible homophobe:
Not only is this meme extremely hateful, its creation is also incredibly convoluted. Brown deactivated her Twitter account because of the meme's prevalence, according to Vox.
There's a big divide over the meme, because it originated in the gay community. At first it was a response to a tweet from a girl who alleged Brown attacked her at an airport for wearing a hijab.
i think y'all aren't getting the point of the millie bobby brown meme?

it was made by the gays as pure satire and mock of people who are actually homophobic

and the entire idea and meme of mbb being homophobic originated from this iconic stan twitter moment.

y'all need 2 calm pic.twitter.com/Wlp49UqS44

— daniel ?¿ (@thelovelesscIub) June 13, 2018
In the original tweet being mocked from a troll account, @Kelsfiona, the user wrote, "I saw Millie Bobby Brown in the airport and asked for a pic and she said 'only if you remove the hijab' and I said its my faith and she aggressively pulled it off my head and stamped on it." 
At first people were making fun of this tweet, formulating similar tweets about Brown in the same tone:
it's time to share my story. one day i saw millie bobby brown in the mall and i asked for a selfie and she said "i don't take selfies with fags, homo sex is sin" and broke my iphone X. i couldn't stop crying i'm so ashamed. #TakeDownMillieBobbyBrown

— bash (@HlGHPRlNCESS) November 18, 2017
Originally, the joke was how stupid the troll's tweet was, but it soon transformed and latched onto Brown. It wasn't just stories of homophobia, but racism and transphobia ascribed to her, and it got ugly fast.
The homophobic ones took off. It seems like there's a group in the LGBTQ community who finds the jokes hilarious despite the virulent language in a lot of them and those who do not.
Uhhh yeah hi everyone that enjoys and is participating in the "Millie Bobby Brown is homophobic" ""meme"" has had their gay card revoked and is now straight

— berri @ happy pride! 🏳️‍🌈 P&T 😊 (@onesmilenow) June 11, 2018
Yikes. It's almost like memes are insane and a terrible way to communicate?
But it ended with Brown leaving Twitter. A lot of people are pointing out that it doesn't really matter if the meme is going too far or not—people shouldn't forget that their target is a real person and a child.
I'm like actually confused why do people keep typing "LMAOOO MILLIE BOBBY BROWN DEACTIVATED FJSKDNDJF" like was that your goal? To use a shit meme to run a 14 year old off of Twitter? Stan/white gay twitter has reached bottom feeder levels of comedy

— Lil Intro Vert #SOSNicaragua (@yonkerzbarz) June 13, 2018
it's weird how the homophobic millie bobby brown meme is... bad. for so many reasons. and all the people like "I'm gay, I find it funny!" it's not about you? it's the damage being done to this child's reputation and the stress it's putting her under

— ⏹⬆️ (@monckey64) June 13, 2018
The homophobic millie bobby brown 'meme' really isn't funny and being gay doesn't gives you a pass to harass an actual child to the point of deactivation. There's 30 year olds editing her selfies with violent homophobic captions and slurs. Its pride month, grow up.

— 🏳️‍🌈Radicles🏳️‍🌈 (@radicles_) June 14, 2018
Dear Millie Bobby Brown,
I am sorry. I am going to watch stranger things season 2 again to make it up to you.
Sincerely,
gay

— a dried up old hot pocket (@emmasszn) June 13, 2018
There are also of course people denying the memes are actually being perpetuated by gay people:
no gay person i know ever liked or rt'd those gross millie bobby brown memes and i didnt even know about them until it really blew up. all i see is a bunch of locals who seem waaay too excited to throw around the f-slur and give us a bad name... makes you think doesnt it?

— antarcticite love mail (@fierysunburst) June 13, 2018
All this makes me think is that the Internet is out of control and I hope Brown is somewhere nice right now, watching a movie and forgetting Twitter exists, as we all should.