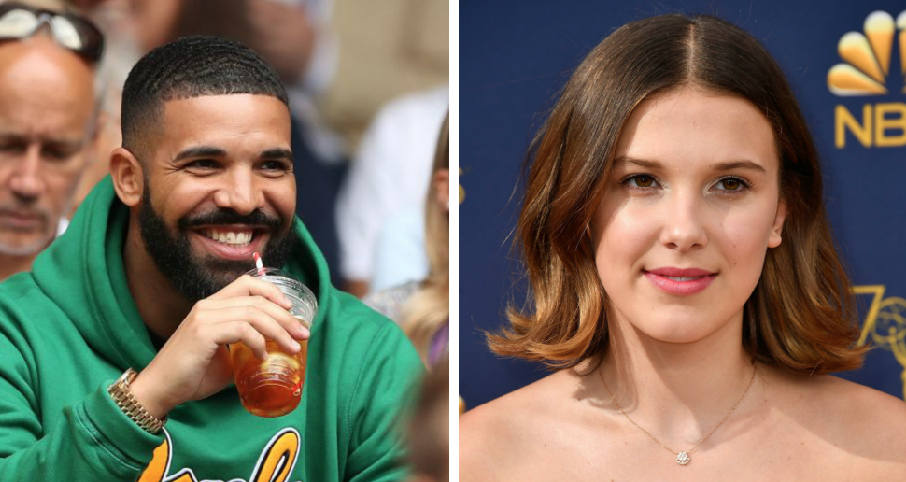 Drake Gave Millie Bobby Brown Dating Advice, and the Internet Is Grossed Out
Millie Bobby Brown reportedly goes to Drake for dating advice, and according to the internet, he's officially canceled.
On the red carpet leading up to Monday night's Emmy Awards, reporters asked Stranger Things actress Millie Bobby Brown about her relationship with rapper Drake, and the internet is now extremely confused.
Article continues below advertisement
In a video released by Access Hollywood, 14-year-old Millie (who's experienced her fair share of internet trolls) was asked to tell reporters about her friendship with the singer, and how it came about.
Dressed by Calvin Klein in a millennial pink gown suited for a princess, the young nominee responded, "I love him, I met him in Australia and he's honestly so fantastic, and a great friend and a great role model. You know, we text, we just texted each other the other day and he was like, 'I miss you so much,' and I was like, 'I miss you more.'"
Article continues below advertisement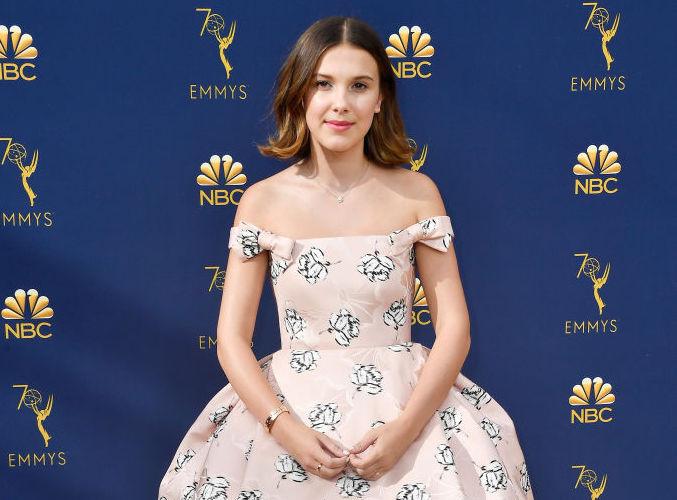 The reporters kept pressing for questions, presumably trying to wrap their minds around this budding friendship between the 31-year-old musician and barely teenage actress. "You and Drake?! That's — that's awesome," stuttered one of them, while the other asked Millie what kind of advice the musician gives her.
Article continues below advertisement
"About boys, he helps me. He's great, I love him," she answered. And while the reporters quickly moved on to compliment her dress, the internet decidedly did not move on, and wanted to unpack Millie's answer a little bit more.
Appalled by the fact that the musician, who has recently shut down rumors of dating 18-year-old Bella Harris, was giving a little girl advice on boys, many took to social media to voice their shock.
Article continues below advertisement
"Nope, this is a HUGE problem for me," shared one woman, following up her tweet with "He's grooming her. This is a HUGE PROBLEM." Others on the platform definitely agreed, writing, "Yuck, yuck, yuck. So not okay, this is textbook grooming," and saying that Drake has no business texting with a woman less than half his age: "Drake is OBVIOUSLY grooming Millie Bobby Brown... No 30-something-year-old man should be in a 14-year-old girl's text messages giving her.... 'dating advice.'"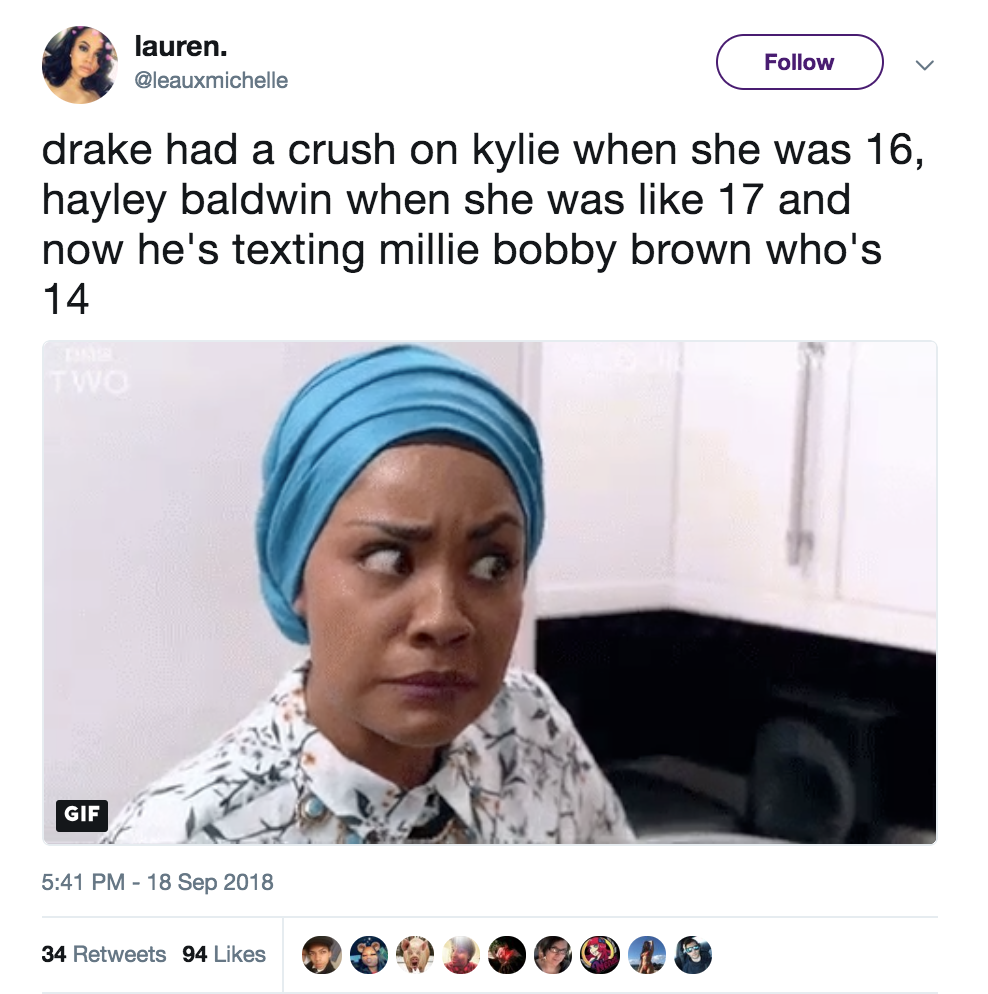 Article continues below advertisement
Another woman, by the name of Iman, went on to explain why Drake needs to be canceled immediately: "Between Jorja Smith, Bella Harris and now Millie Bobbie Brown, Drake is a full-blown predator and we should dead him off like we have all these other creeps."
"How disgusting!," she continues, "What the f--k is he doing hanging around girls who are more than 10 years younger than him?! He's so disgustingly pathetic and dangerous, nothing about what he's doing is coming from a good place.
Article continues below advertisement
"This is how it starts! This whole 'I'm just being friendly and helpful and trying to put her on' rubbish is lies. This is how the R. Kellys and Woody Allens of the world would get a free pass to do the sick sh-t they do... We're always complaining about how the older generation is letting R. Kelly slide, so let's not get complacent with Drake and his predatory shenanigans."
All grossness aside (and indeed it is very gross), a lot of social media was just appalled at the timing of this conversation with Millie, especially considering Drake was so recently under fire for allegedly dating a barely-legal aspiring model.
Article continues below advertisement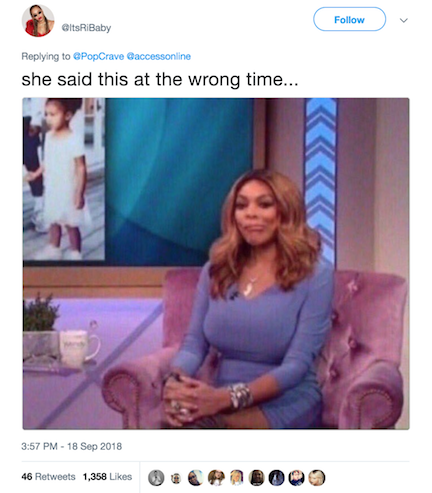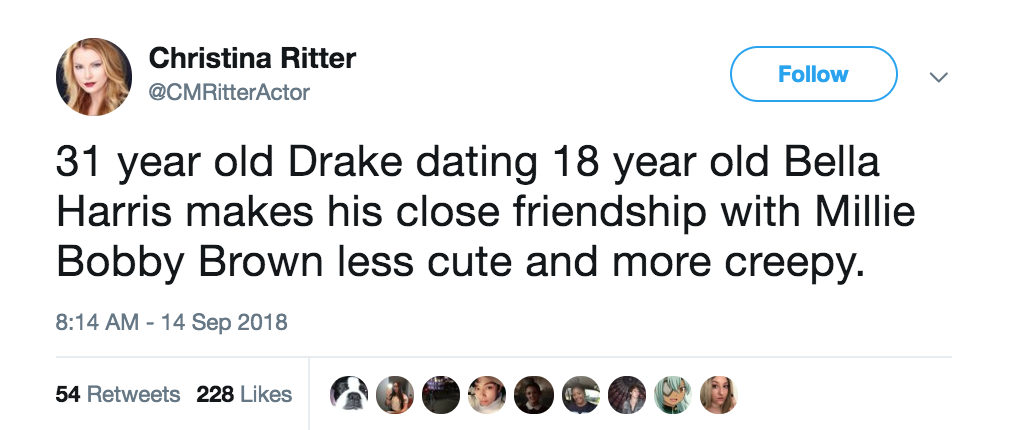 One guy said it best, "So wait — Drake went on a date with that 18-year-old after they'd 'known each other for two years'... And he's texting 14-year-old Millie Bobby Brown about boys and relationships... ...uh...."
Took the "uhhhh" right out of my mouth. Drake, what are you doing?!