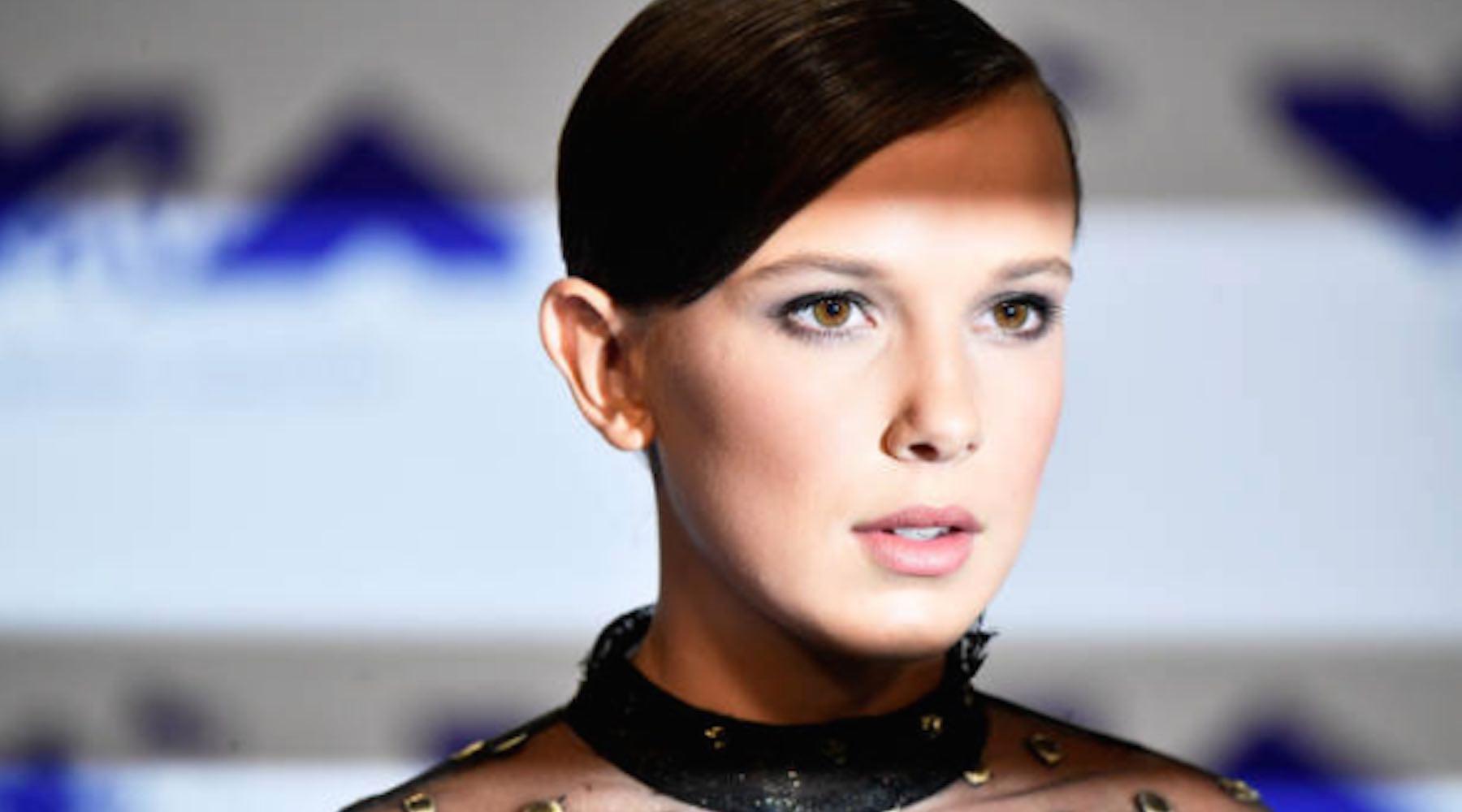 Millie Bobby Brown's Homophobia Accusations Are Resurfacing Due to a Misunderstanding
By Distractify Staff

Aug. 26 2020, Published 11:23 a.m. ET
Online bullying has been a serious issue for decades now, even amongst people we tend to think of as being above all Twitter drama. Several celebrities have been driven off social media channels for brief periods — or even forever — due to harassment, such as Saturday Night Live's Leslie Jones and The Last Jedi actress Kelly Marie Tran.
Article continues below advertisement
There are too many Twitter trolls to call out on the world wide web, but a large number of them seem to thoroughly enjoy accusing Stranger Things actress Millie Bobby Brown of being homophobic. It all started with a meme, which caused her to delete her Twitter account at the time. Now, the accusations are back, and they're worse than ever.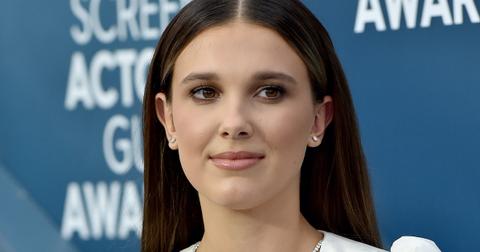 Article continues below advertisement
Millie Bobby Brown's latest homophobia accusations are due to a simple misunderstanding.
Millie's latest homophobia accusations are baseless because of something taken out of context. The teen actress was apparently recorded saying something that sounded like the "d-slur," which describes lesbian women in a hateful way. Twitter responded to this immediately, calling her a homophobe, and saying that she was officially 'canceled.'
However, that wasn't the case. Twitter user @levelofthehype, brought to light that Millie was simply combining the names of her co-stars in Stranger Things, Dustin and Mike, to name a non-existent ship. We don't know why this came up, but it seemed completely innocent. See the full explanation below.
Article continues below advertisement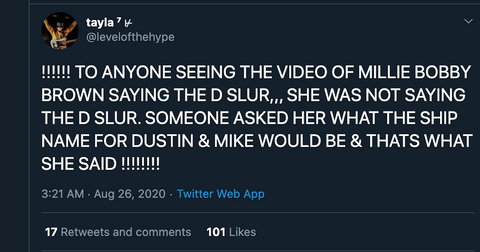 As previously mentioned, this wasn't Millie's first time of being baselessly accused of homophobia.
A few years back in 2018, a hateful and slanderous meme came to light that ended with Millie deactivating her Twitter account, according to Vox. The tweets originated in the gay community, accusing Millie of being homophobic after a girl tweeted that the actress allegedly attacked her in an airport for wearing a hijab.
Article continues below advertisement
This accusation seemed almost far too ridiculous to be real, so Twitter started making spinoffs, depicting Millie as a racist homophobe, but the memes were just as hateful as the original accusation, although they weren't true. See a few examples below.
Article continues below advertisement
Article continues below advertisement
it's time to share my story. one day i saw millie bobby brown in the mall and i asked for a selfie and she said "i don't take selfies with fags, homo sex is sin" and broke my iphone X. i couldn't stop crying i'm so ashamed. #TakeDownMillieBobbyBrown

— bash (@HlGHPRlNCESS) November 18, 2017
Article continues below advertisement
Some begun to recognize that memes were harmful and slanderous.
As we said, these memes ended with Millie leaving Twitter for good, which is sad, if you think about it. At the time, a lot of people pointed out that it didn't really matter if the meme was going too far, as people really shouldn't be targeting a real person — and a child, for that matter — in the first place.
Scroll down to see these enlightened Twitter folk had to say about how the meme was really just a heightened form of cyberbullying. We don't want to take sides, but they definitely had a point.
Article continues below advertisement
Uhhh yeah hi everyone that enjoys and is participating in the "Millie Bobby Brown is homophobic" ""meme"" has had their gay card revoked and is now straight

— berri @ happy pride! 🏳️‍🌈 P&T 😊 (@onesmilenow) June 11, 2018
I'm like actually confused why do people keep typing "LMAOOO MILLIE BOBBY BROWN DEACTIVATED FJSKDNDJF" like was that your goal? To use a shit meme to run a 14 year old off of Twitter? Stan/white gay twitter has reached bottom feeder levels of comedy

— Lil Intro Vert #SOSNicaragua (@yonkerzbarz) June 13, 2018
Article continues below advertisement
it's weird how the homophobic millie bobby brown meme is... bad. for so many reasons. and all the people like "I'm gay, I find it funny!" it's not about you? it's the damage being done to this child's reputation and the stress it's putting her under

— ⏹⬆️ (@monckey64) June 13, 2018
The homophobic millie bobby brown 'meme' really isn't funny and being gay doesn't gives you a pass to harass an actual child to the point of deactivation. There's 30 year olds editing her selfies with violent homophobic captions and slurs. Its pride month, grow up.

— 🏳️‍🌈Radicles🏳️‍🌈 (@radicles_) June 14, 2018
Article continues below advertisement
Dear Millie Bobby Brown,
I am sorry. I am going to watch stranger things season 2 again to make it up to you.
Sincerely,
gay

— a dried up old hot pocket (@emmasszn) June 13, 2018
Things on the internet can get seriously out of control, and needless to say, Millie Bobby Brown hasn't deserved any of these hateful accusations. While we wish we could formally extend an apology to Millie on behalf of all adults on Twitter, we're just going to give you all a simple reminder that there are people sitting behind their Twitter accounts, and most importantly, that words hurt.