Ariana Grande and Pete Davidson Split – and Fans Have Some Crazy Conspiracy Theories
Here are some fan theories on why Ariana Grande and Pete Davidson really broke up.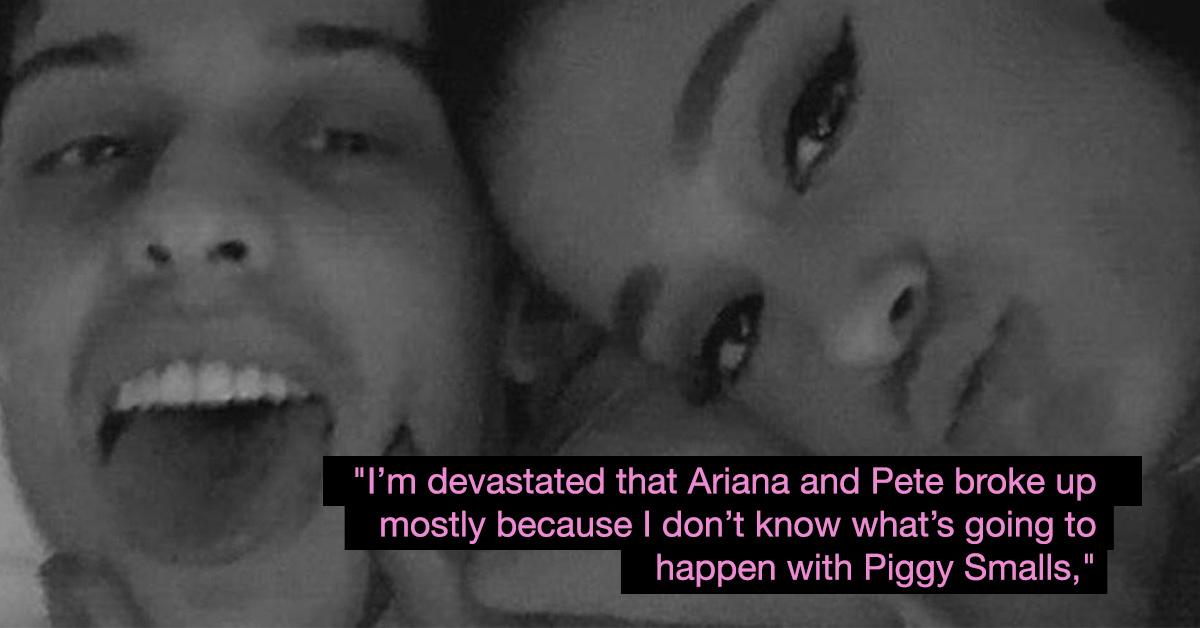 The internet had some crazy conspiracy theories about Ariana Grande and Pete Davidson's whirlwind relationship — like it was all just one big performance-art piece or that Pete used a love potion to get Ariana to say yes to his proposal.
Article continues below advertisement
So, it's no surprise that when TMZ announced that the couple had called off their engagement after five months of dating, the internet would come together to figure out exactly why the "No More Tears" singer and Pete broke up. Now, according to sources, the relationship "was way too much too soon," but "it's not shocking to anyone." Ariana did cancel a performance scheduled for this past weekend — another sign that the couple really did call it quits despite the fact that neither Ariana nor the SNL star has confirmed the news.
But is that really why Ariana and Pete called it quits? The internet has other theories...
Article continues below advertisement

Did Mac Miller fake his death? 
Several fans are convinced that the late rapper faked his death so Ariana would break up with Pete. Mac passed away just over a month ago on Sept. 7 — but we're going to have to call fake news on this particular theory. However, many are blaming the loss of her ex as a reason Ariana might have needed a break from Pete. "It sucks that Pete Davidson ever came into the picture with Ariana. I believe the results of this whole situation would be different if she didn't meet that loser, who btw was upset she was sad about Mac dying," one fan tweeted. "Dude was jealous over a dead human being."
Another added, "Ariana Grande and Pete Davidson were done the moment Mac Miller passed away. No matter how much you try, you can't replace the feeling of true love—even if you can't work things out with that person."
Article continues below advertisement
It was all a publicity stunt. 
The timing of their relationship was definitely convenient, as one Twitter user pointed out. "Ariana grande and Pete Davidson dated for mutual publicity and now that Sweetener is out and SNL is back, their relationship is unnecessary so they ended it and that's my conspiracy of the day," a fan wrote.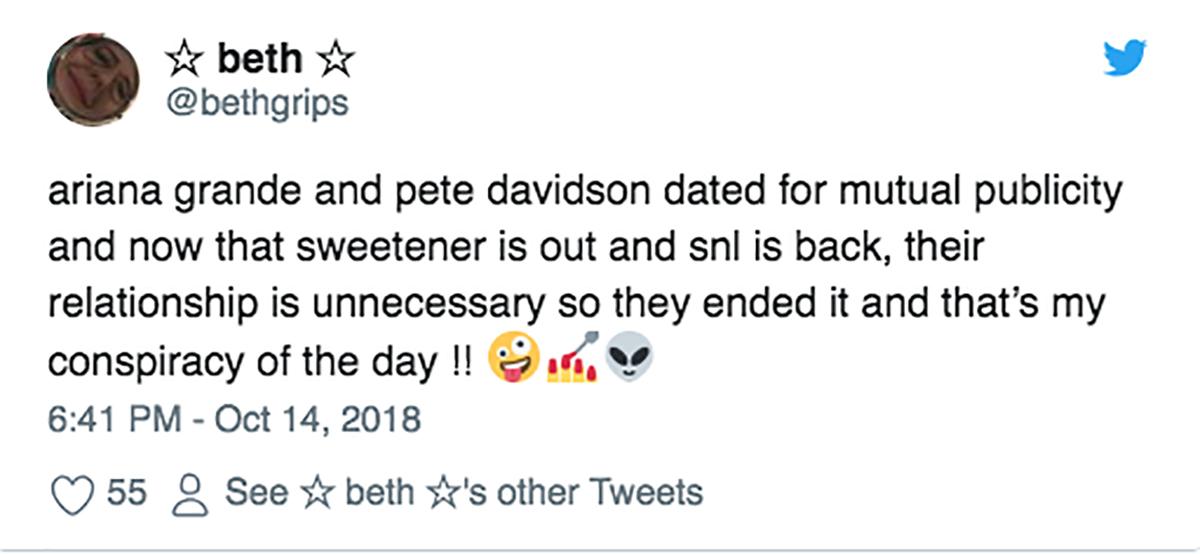 Article continues below advertisement
However, seeing as Ariana defended her relationship time and time again, this doesn't seem likely. "Forreal. the truth is I been the (#&$ thru it and life's too short to be cryptic... about something as beautiful as this love I'm in," Ariana tweeted this past June. Pete also gifted Ariana his late dad's FDNY badge, which is not something he would do if it was all just a publicity stunt. "For ur information that's not just some girl, that's my fiancée. She's the greatest person I know. I gave it to her because she has my heart and that is the most precious thing I own," he said at the time. "My dad would be so happy and love her so much."
Ariana dumped Pete for BTS singer Kim Nam-joon... 
It was recently announced that Ariana would be collaborating with the Korean pop group, so it is no surprise that fans of both Ariana and Kim Nam-joon would be 'shipping the couple just hours after she called off her engagement — or even convinced themselves that he was the reason behind the unexpected split. "Ariana stood next to Nam-joon and her mind cleared up and she realized how ain't &%$# Pete was. Don't ever question joon's impact," one stan explained before another added, "Ariana dumped Pete right after she was rumored to be working with BTS. Coincidence? I think not. Everyone say thank you Nam-joon."
Article continues below advertisement
Pete treated Ariana like an object, and she got tired of it. 
Many of Ariana's biggest fans pointed out that the 24-year-old comedian often spoke about the pop star like she was an object, and not a real human being — and are sure that is why Ariana finally pulled the plug on their short-lived relationship. "Pete Davidson may have made Ariana Grande happy but he also publicly treated her without any respect and acted as if he was dating the concept of a celebrity rather than an actual person who's been through a lot of [stuff] so yeah I'm gonna think it's a good thing they broke up," one fan explained.
Article continues below advertisement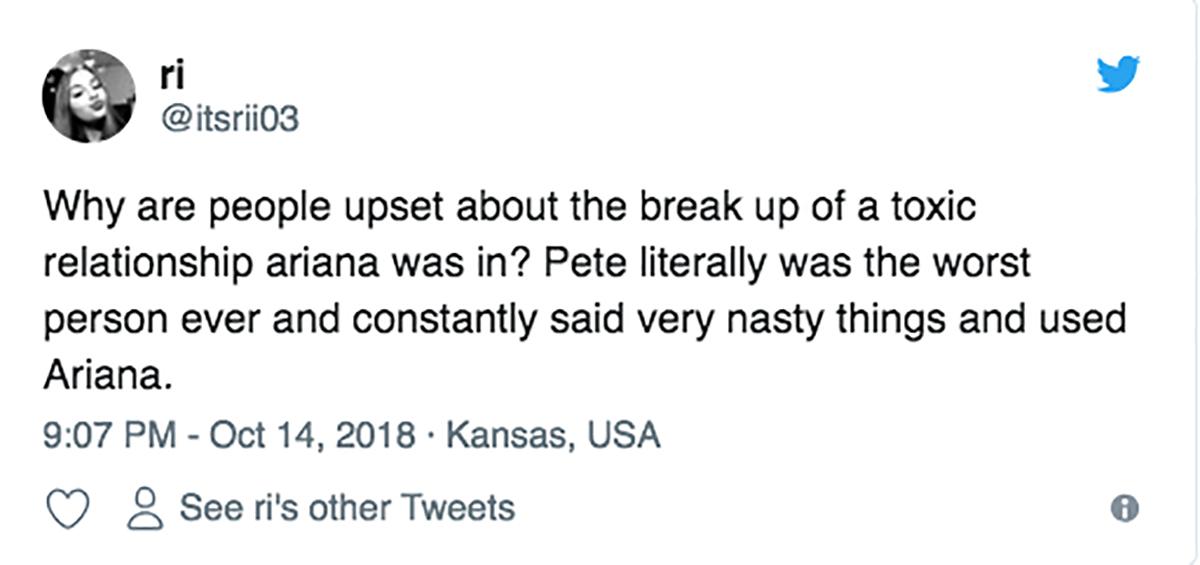 "I just really hope that Ariana actually did leave Pete because he was a toxic piece of trash that demeaned her and treated her like some sexual prize he won instead of a human and girls deserve better than that," another fan noted. Pete did say some crass things about his former fiancée during a recent interview with Howard Stern like, "Any time we're intimate I'm always apologizing and saying thank you. 'You're awesome for doing this, thank you so much,'" and "I was jerking off to her before I met her," so fans do kind of have a point.
Article continues below advertisement
So, what's going to happen to Piggy Smalls? 
It seems most fans agree that Ariana should get custody of the couple's shared pig. "I don't really care about the Ariana / Pete breakup... except in the context of Piggy Smalls because Ariana deserves custody," one tweet read. "I'm devastated that Ariana and Pete broke up mostly because I don't know what's going to happen with Piggy Smalls," shared another concerned Twitter user.
Same, girl. Same. RIP Grandson.