Fans Aren't Mad at Cardi B for Breaking up With Offset — And Here's Why
Rumors are that Offset cheated on Cardi B at least twice — here is a breakdown of their relationship.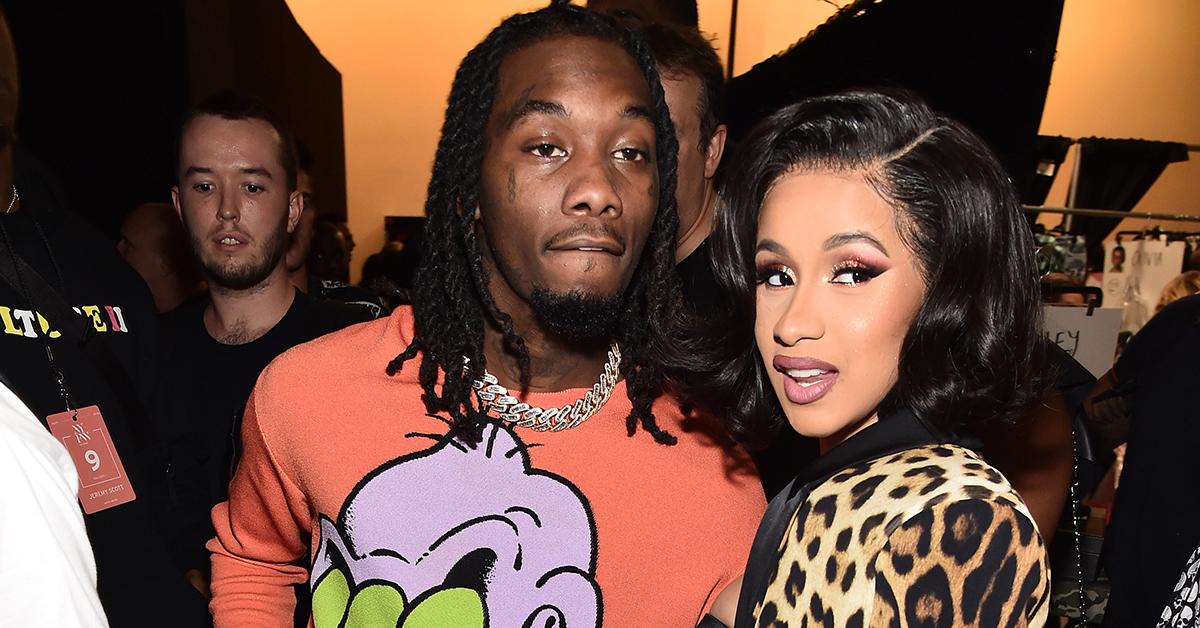 In typical Cardi B fashion, the "Bodak Yellow" rapper announced she was breaking up with her husband and baby daddy Offset in a candid Instagram video.
Article continues below advertisement
"We are really good friends and we are really good business partners — you know he's always somebody that I run to to talk to, and we got a lot of love for each other but things just haven't been working out between us for a long time," the 26-year-old told her 36 million fans in an uncharacteristically serious manner. "It's nobody fault. I guess we just grew out of love, but we are not together anymore. I don't know, it might take time to get a divorce and I'm going to always have a lot of love for him because he is my daughter's father."
Also unsurprisingly, Cardi's fans had her back when it came to her decision to split from the Migos rapper – especially given his tendency to be unfaithful. "Y'all won," Offset commented in response to the video, which set off Cardi's fans even more. "Cardi B posted a video announcing that her and Offset aren't together anymore and this dummy commented and said "y'all won" as if we told his dumb a-- to go out and cheat... typical man," one follower tweeted before another added, "Thank God. Cardi B finally realized she deserved better than Offset. She said they not together & it's gonna take time for a divorce & I hope she actually goes through with it. No one, whether it's a woman or a man, should put up with constant disrespect and infidelity." Preach.
Article continues below advertisement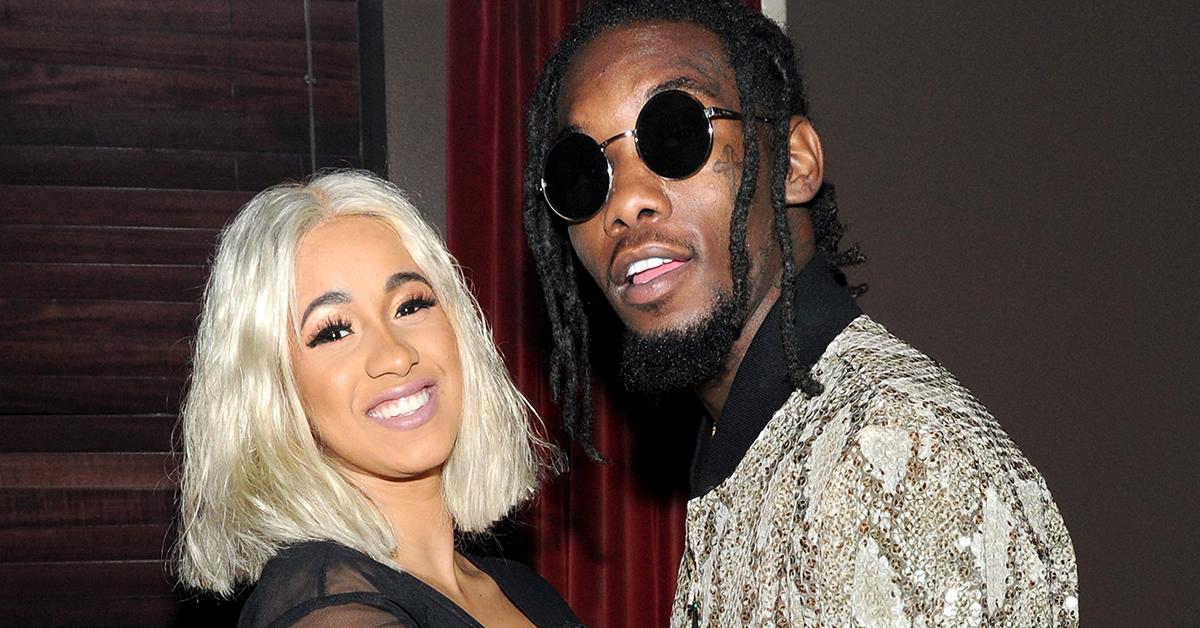 So, did Offset really cheat on the one and only Cardi (real name: Belcalis Almánzar) again? And will Cardi B get prison time for her part in the brawl that reportedly involved one of Offset's side chicks? We have a complete breakdown of Cardi and Offset's relationship — the good, the bad, and the ugly.
Article continues below advertisement
February 2017 
The couple first went public at last year's Super Bowl, where they were spotted holding hands. This was just one month after the release of their first collaboration, "Lick," featured on Cardi's Gangsta Bitch Music Vol. 2.
Later that month, she went Instagram official on Valentine's Day, calling Offset her "babe," in a video that has since been deleted. However, Cardi refused to confirm the relationship the following month. When asked about it in an interview with Fader, she told the magazine, "I'm not saying I'm dating an Atlanta guy."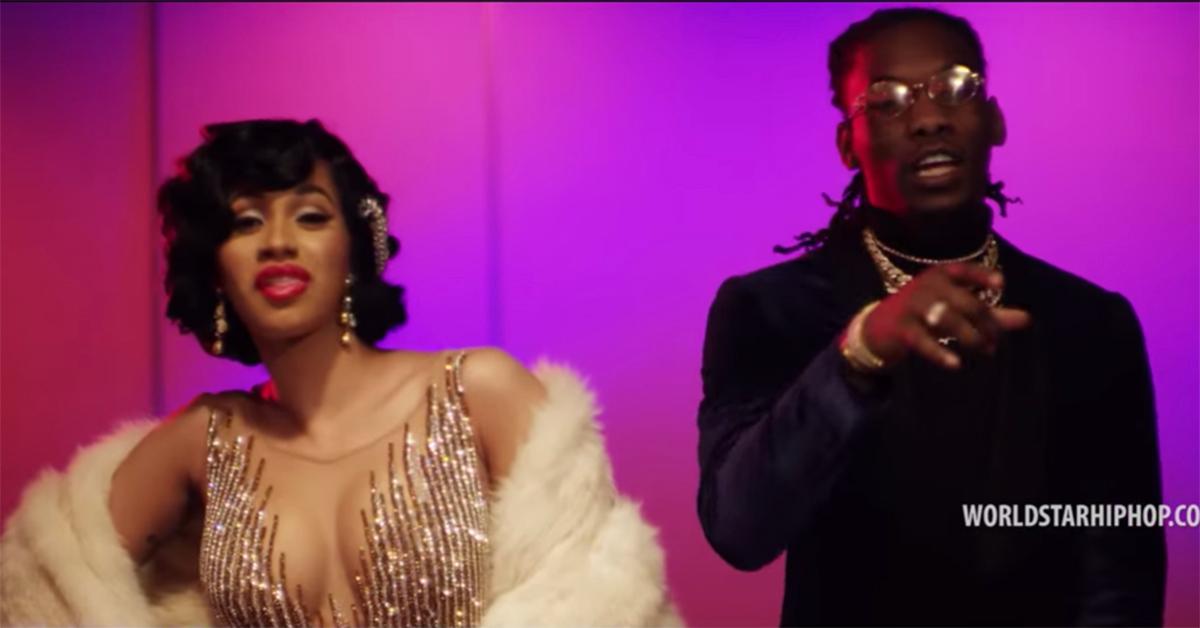 Article continues below advertisement
May 2017 
It doesn't get more official than the Met Gala, where Cardi and Offset appeared at an afterparty together. It was around this time that the first rumors of Offset's cheating surface, after he was spotted with Amber Rose — something Cardi did not like. "I'm a female," Cardi said, "I know when b----es do s--t trying to be f--king funny."
She continued, "B----es be doing funny s--t and when I act up, b----es want to act like the victim," she continued. "That's my f--king problem like I'm really the victim. I'm really the victim because I be peeping when b----es be f---king trying."
June 2017
Apparently, diamonds are a girl's best friend because, just a month after that incident, Cardi was spotted at a Meek Mill concert rocking a $60,000 diamond chain gifted by Offset. That summer, it was also reported that Offset and Cardi were spotted looking at engagement rings. "Offset and Cardi B shopped for bling in the ATL and they started looking at engagement rings," a source told Hollywood Life in August 2017. "They were goofing around and picking out yellow diamonds to celebrate the success of her song 'Bodak Yellow.' But, as far as him proposing to her, that has not happened, yet."
Article continues below advertisement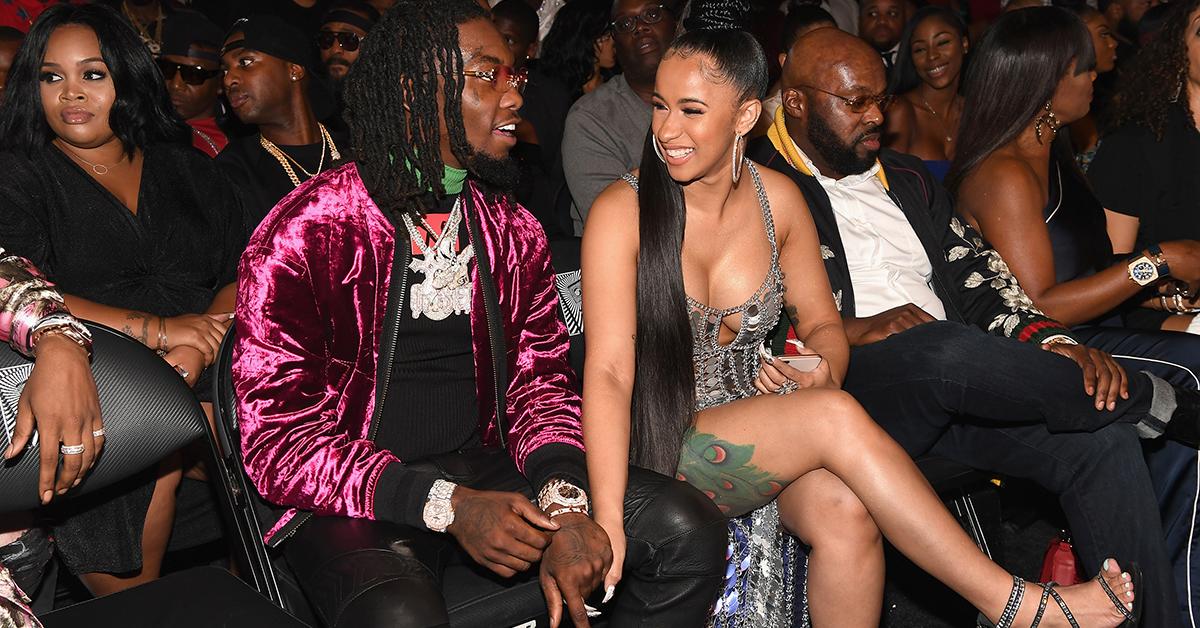 But that doesn't mean that Cardi wasn't thinking about settling down with her "MotorSport" beau. "I'm a woman. Every woman, I think, wants to get married and wants to have children," she said at the 2017 MTV Video Music Awards Pre-Show. "It's never too early to get married now. You know, if you want to propose to me, you can."
Article continues below advertisement
October 2017 
Finally, Offset showed some love for his girlfriend on Instagram, wishing Cardi a happy birthday on the social media platform. "H A P P Y B D A Y U ARE AMAZING TO ME YOU GOT IT OUT DA MUDD NO HELP NOBODY WAS BELIEVING AT FIRST BUT THAT MADE YOU GO HARDER U NOT WEAK U TAKE CARE YA WHOLE FAMILY AND ME ---- I L O V E Y O U," he wrote.
However, it wasn't long before breakup rumors started swirling around the couple once again. It all started when Cardi posted a selfie on social media with the caption "single," followed by another photo with a similar caption. But at the end of the day, it was all Cardi having a little fun. "Reasons why me and Offset got into it ...I think he stoled my purple blanket but it wasn't him so I'm still looking for the suspect," she tweeted to squash the rumors. "Naaa but on a serious note I really loveeeee my man he was gifted to me from Jesus."
Article continues below advertisement
October 29, 2017 
No one was expecting Offset to propose to Cardi B, but the rapper got down on one knee in front of thousands of fans during his performance at Power 99's Powerhouse. It wasn't long before Cardi was showing off her new massive bling on social media, gushing, "Jesus Christ I'm so emotional, @offsetyrn I loveee you so much. Thank you for seeing the potential in me since you met me. For giving me advice molding me and loving me. You're such an amazing man to me, your family, friends, kids and you are extremely talented. I can't wait to spend FOREVAAAA with you. Lets make a lot shmoney and love together."
December 2017 
The romance was short-lived after Offset was caught cheating on his bride-to-be. A video surfaced of Offset with multiple women in bed, but Cardi defended her man. "No, it's not right for a [n—-] to cheat… But what you want me to do?" she wrote. "Go f--k me another n—-? Start all over again and get cheated on again? This s--t happens to everyone and I bet too, you too… People handle they relationship different soo."
Article continues below advertisement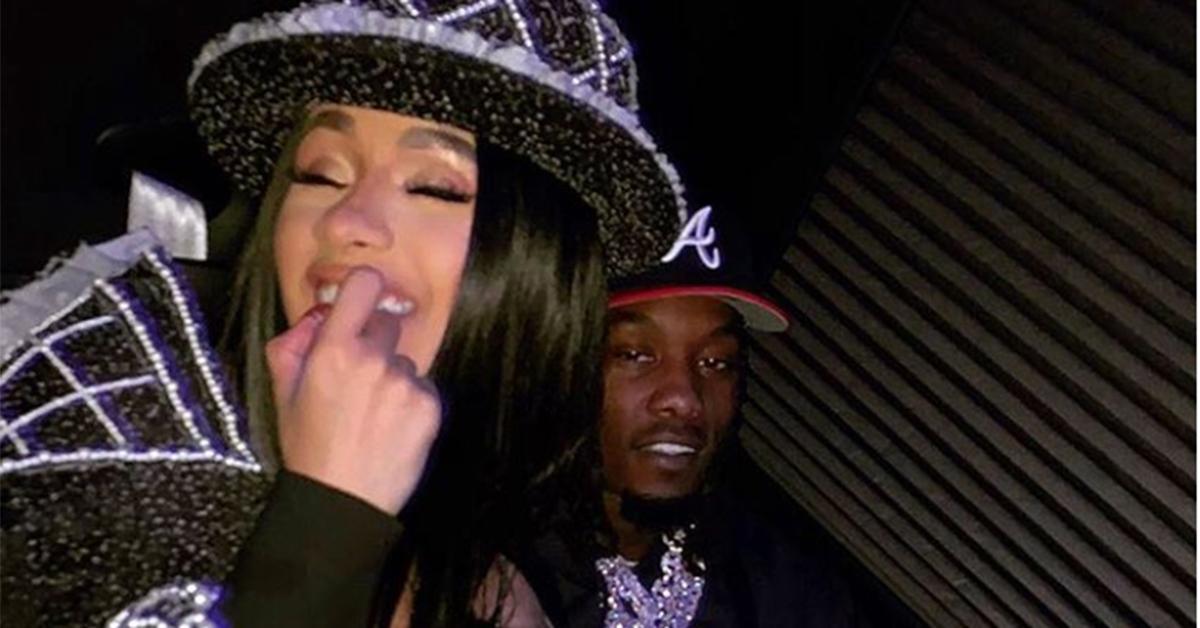 Offset refused to comment on the situation telling Rolling Stone in an interview, "It's my real life. It ain't no gig. It ain't no f–-king game, you know what I'm saying?" To prove he had changed, Offset surprised Cardi with a neck tattoo of her name...
Article continues below advertisement
February 2018 
Once again, Cardi defended Offset's cheating ways and her decision to stay with the Atlanta-based rapper. "I know I look good, I know I'm rich, I know I'm talented. I know I could get any man I want — any basketball player, football player," she told Cosmopolitan. "But I want to work out my s--t with my man, and I don't got to explain why."
April 2018 
Then the ultimate bombshell: Cardi B is pregnant with her first child! The Bronx beauty announced the news during a performance on Saturday Night Live — while singing her hit single inspired by Offset's cheating, "Be Careful With Me." The announcement also came just days after the release of her debut album Invasion of Privacy, which quickly jumped to the top of the charts.
Article continues below advertisement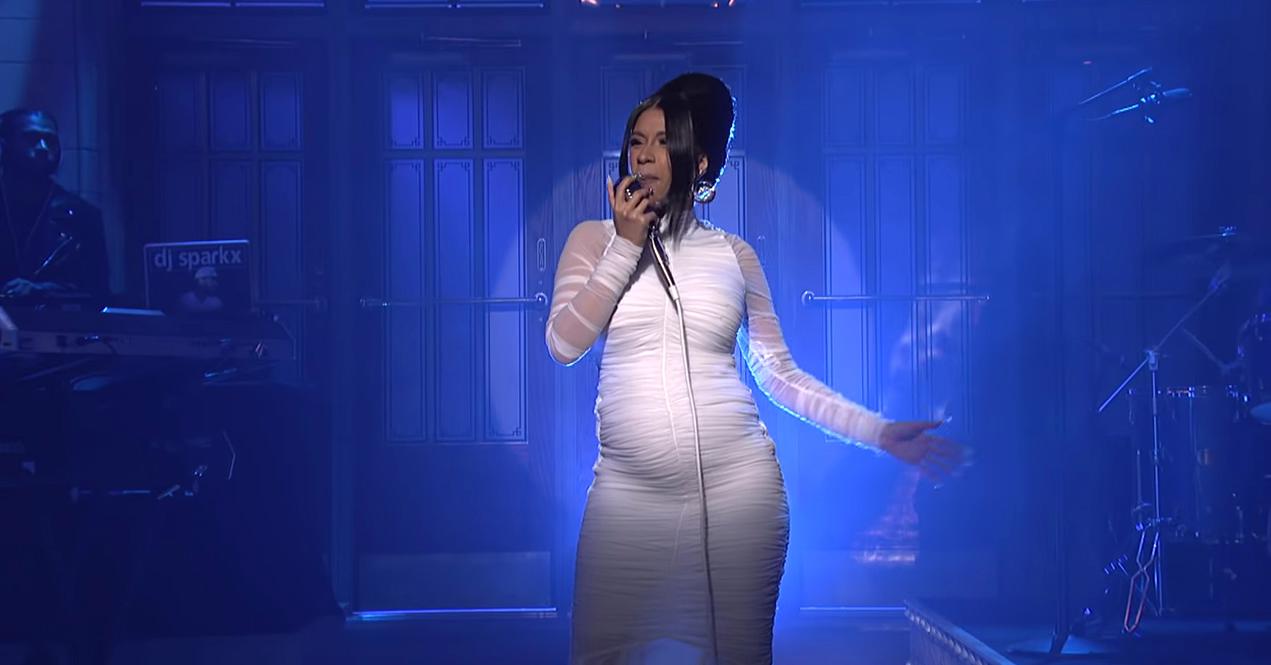 June 2018 
Cardi and Offset officially became hip-hop royalty when they landed the cover of June's Rolling Stone issue, where inside Cardi continued to defend Offset. "People want to make fun of me, saying I'm the fourth baby mom, [but] I know I'm not having a baby with a s---ty ass man," she told the magazine.
Offset went on to call Cardi his "wife" at the BET Awards later that month, which resulted in the ultimate plot twist when it was revealed that Cardi and Offset had been married since Sept. 20, 2017 — a month before their very public engagement.
Article continues below advertisement
Cardi confirmed the exciting news on Twitter and explained how the couple tied the knot in a very low-key way.
"There are so many moments that I share with the world and then there are moments that I want to keep for myself! Getting married was one of those moments! Our relationship was so new breaking up and making up and we had a lot of growing up to do but we was so in love we didn't want to lose each other, was one morning in September we woke up and decided to get married," she wrote. "We found someone to marry us, and she did, just the two of us and my cousin. I said I do, with no dress no make up and no ring! I appreciate and love my husband so much for still wanting for me [to] have that special moment that every girl dreams of when he got down on his knee and put a ring on my finger and he did that for me."
Article continues below advertisement
July 2018 
Cardi and Offset welcomed their daughter, Kulture Kiari Cephus, on July 10. Those happy times are short-lived because cheating rumors once again surface against Offset.
August 2018 
This time, a bartender at a Angel's Strip Club in Queens named Jade — who denied sleeping with Offset — claimed that five people associated with Cardi "viciously attacked her, grabbing her hair, punching her, and hitting her with an ashtray, causing serious damage."
A couple of weeks, later Jade, along with her sister, Baddie Gi, were allegedly attacked again when they ran into Cardi at the strip club, who was said to have thrown bottles and chairs at the ladies.
Article continues below advertisement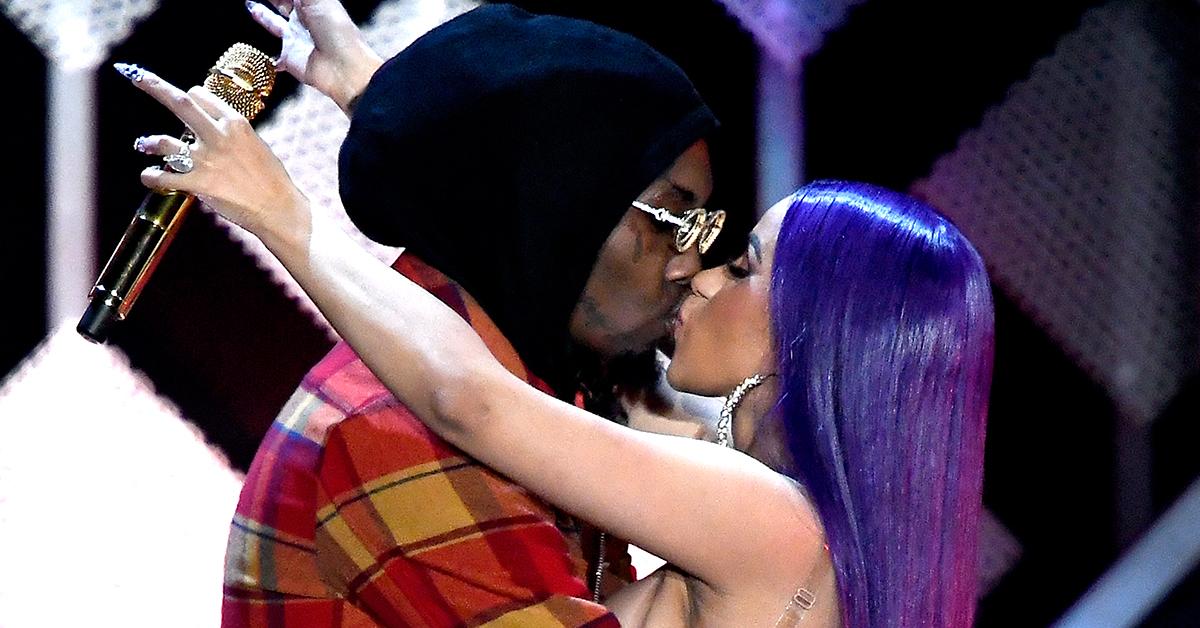 October 2018 
Cardi eventually turned herself in, and was charged with one count of assault and two counts of reckless endangerment on Oct. 1. "We're aware of no evidence that she caused anybody any harm on that night," the rapper's attorney Jeff Kern told press at the time. "We expect that the matter is going to be resolved expeditiously."
Will Cardi get a prison sentence for her part in the brawl? After missing her first court appearance on Dec. 3, the judge warned her that a bench warrant would be issued for her arrest if she is a no-show again.
December 2018 
Despite looking happier than ever just a few days before on stage at 102.7 KISS FM's Jingle Ball, Offset was accused of cheating on Cardi once again — this time with fellow rapper Cuban Doll and her friend. Shortly after, Cardi announced that the couple was splitting... and we have a feeling Cardi will be alright.
As she says herself, "Knock me down nine times but I get up 10."