Marie Kondo's New Netflix Show Will Help You Declutter Your 2019
If you're an organization freak, Marie Kondo's Netflix series and home tips will fill you with satisfaction.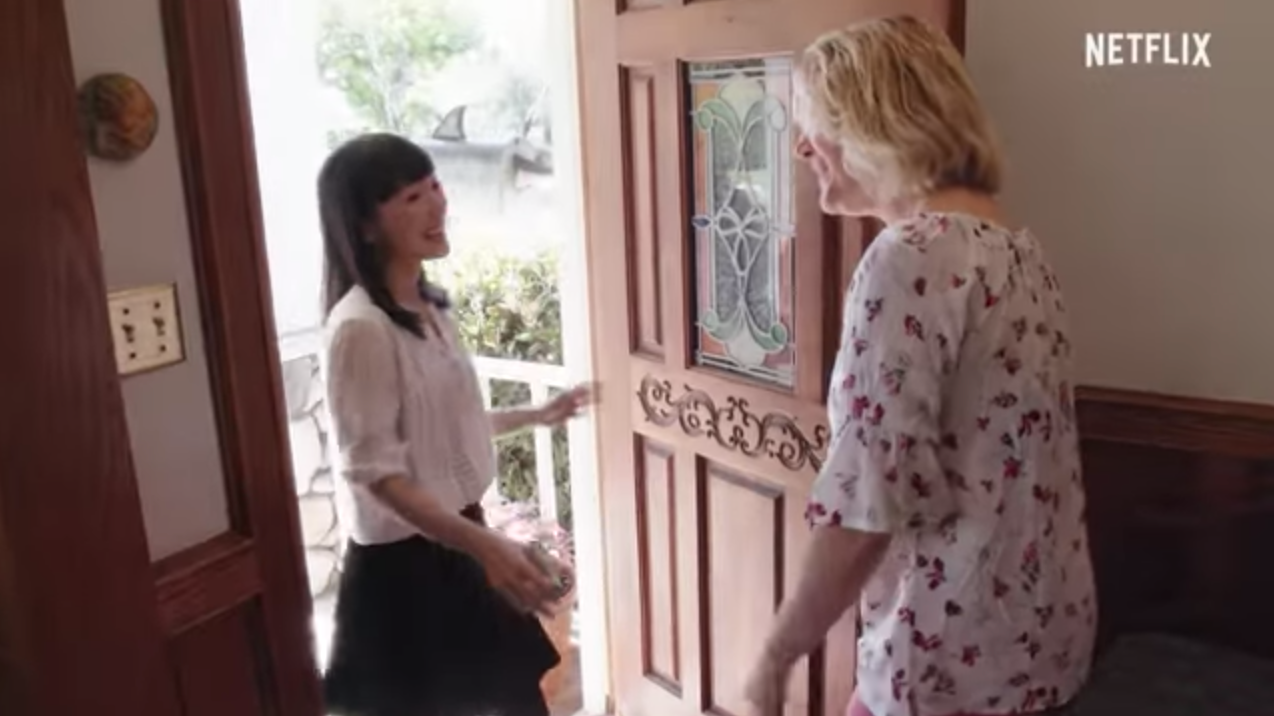 Organization freaks, rejoice! Marie Kondo is coming to Netflix to help you kiss your messy house goodbye. The renowned home organization expert who rose to world fame through her international best-seller, The Life Changing Art of Tidying Up, is finally coming to the small screen and her show promises to be something like a Japanese Queer Eye.
Which is to say, we cannot wait for Tidying Up With Marie Kondo to premiere on January 1st, just in time for the new year and right before all of our dreams of ambitious resolutions fall to the wayside. Keep reading for some of the things you'll want to keep in mind before the show airs on Tuesday.
Article continues below advertisement
First off, what is the Marie Kondo Method?
Marie Kondo's method has gained a cult-like following and has taken over the world of professional organizing since she detailed it in her book a few years ago. Also called the KonMari method, it revolves around one simple principle — "Does this item spark joy?"
Marie encourages her clients to hold their household items in their hands and really feel them, questioning the emotions each object instills within themselves.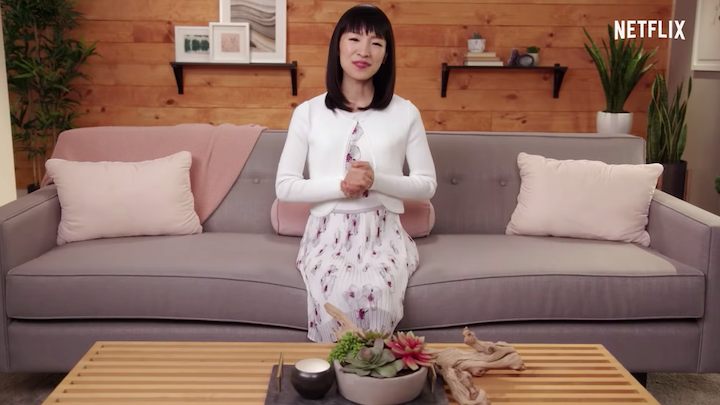 Article continues below advertisement
This can be particularly helpful when you find yourself drowning in clutter and have no idea how to begin to sort your mess. If you're looking at something you've been keeping around to "for sure" use at some unforeseen future date, it might not spark that much joy in you. Marie would encourage you to get rid of it.
If, on the other hand, the answer is yes, this old raggedy t-shirt brings me tremendous joy and I can't fathom a life without it, then find a dedicated place to keep the item where it will be tended to with care.
Being mindful of possessions and designating a mental and physical space for each and every item you own is central to the KonMari method. Each item in its rightful place and a place for every item in your soon-to-be tidy house.
So now that you're familiar with Marie Kondo's method, here are some of her most helpful decluttering tips to help you start 2019 off on the right foot.
Article continues below advertisement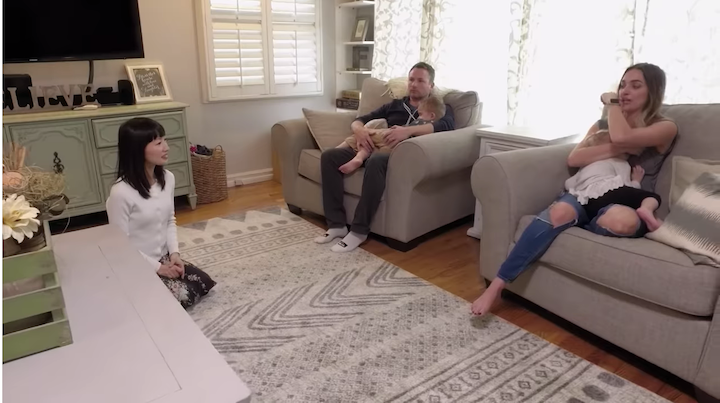 KonMari Tips for a Tidy 2019
1. Envision what your space will look like and what you'll do there.
Before you even embark on a whirlwind home renovation project, Marie stresses that it's important to be able to picture the "after" result of decluttering your space. Be as specific as possible when you're trying to imagine what you want from your home. Do you like to entertain and have friends over? Or do you want to come home after work, do yoga and drink a cup of tea to relax? This will be important in informing how you go about your plan.
Which brings us to the actual planning. Again, it's important to be as specific as possible here. Use a bullet journal and multiple lists with sub-categories (don't pretend like you don't already), and make a reasonable schedule that you can keep to.
Article continues below advertisement
3. Start to tidy by category.
Now that all the abstract envisioning and planning steps are over, it's time to get cleaning. Marie suggests that you start by putting your things, category by category, on the floor in front of you before tackling them one by one. People are often shocked at the sheer volume of items they've collected throughout the years and seeing everything laid out at the same time is easy way to get started with purging certain things.
4. Take before and after pics.
Marie suggests taking before and after pictures because the sense of accomplishment when you see the space you turned your mess into will be a reward in and of itself. Plus, it'll serve as inspiration for future cleaning sessions when you can remind yourself that you've done this all already.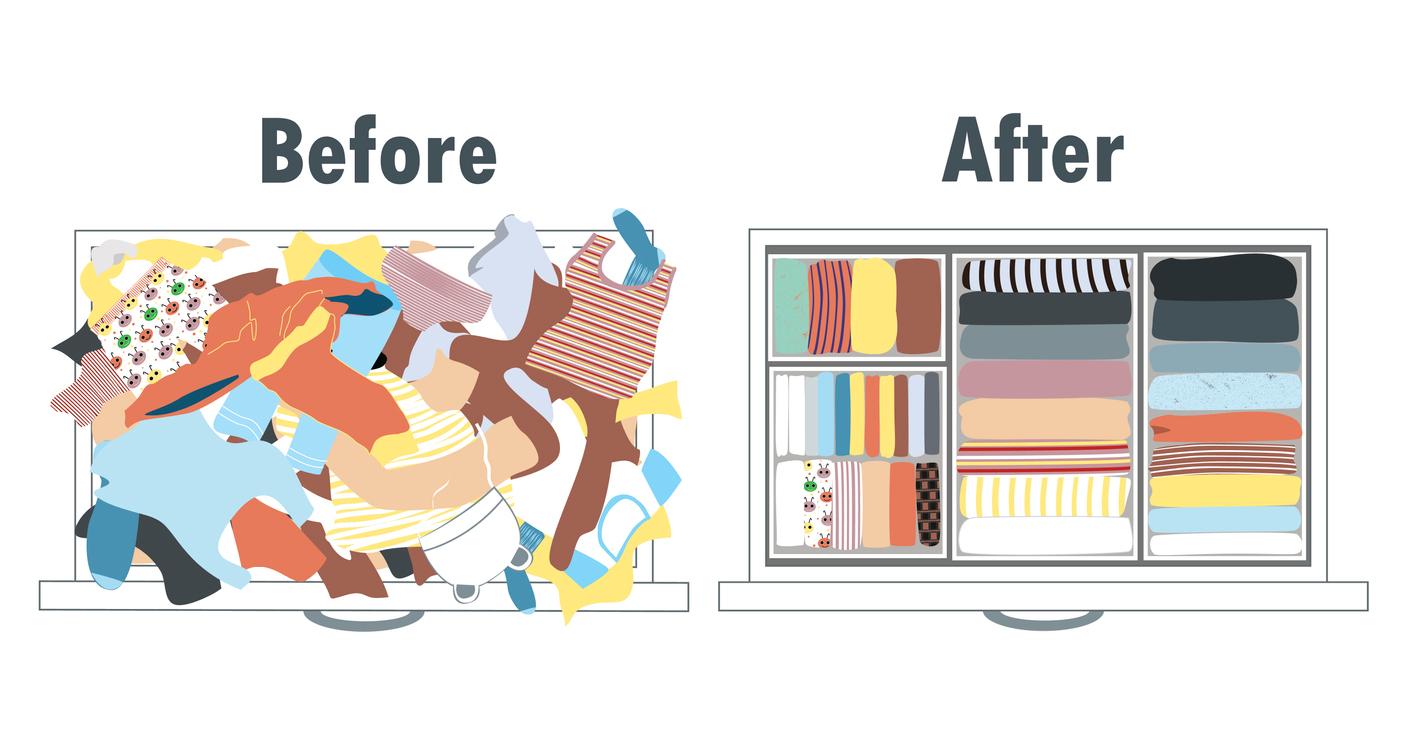 Article continues below advertisement
5. Learn how to fold your clothes and store your socks properly.
Marie Kondo's folding videos do for me what ASMR videos do for ASMR-ers. Basically, no matter what the item of clothing is, it should end up looking like a rectangle when you're done folding it. Once you achieve the rectangle shape, you can roll it or fold it further to fit it into your desired drawer.
Marie also highly recommends color-coordinating your clothes for better organizational results. And also, because things always look nicer that way.
6. For the kitchen, keep it simple.
My biggest takeaway from the way Marie Kondo approaches kitchens is to focus on how easy things are to clean. People usually tend to focus on how easy or accessible items or appliances are to use in the kitchen, but Marie's approach is actually much simpler. By ridding yourself of clutter on your counters (again, there's a place for everything and everything has its place), you'll have a much easier time cooking and cleaning afterward.
7. Tackling the work space.
I used Marie's method to revamp by home office and it didn't only make it look a lot lighter, it also made me worlds more productive. According to the KonMari method, don't just crowd your desk with practical items, add in objects that also spark joy so that you can feel relaxed and inspired to work when you sit down at your desk.
Article continues below advertisement
And what do I do with all my empty space now that I'm finished decluttering?
You might surprise yourself when you finally take a good look at the fruits of your cleaning labor. Just remind yourself of what a mess it all was before by taking a peek at your before pics! If you're trying to figure out what to do with all this newfound empty space, Marie suggests using it for items that "spark joy," obviously.
She suggests filling your space with photos, potted plants, and art objects that will radiate good vibes whenever you pass them. Follow these tips and start your 2019 off on a clean and joyful note.
And don't miss Tidying Up With Marie Kondo when it premieres on Netflix on January 1st.