11 Times People Dunked on Piers Morgan
Taking down Piers Morgan for his unpopular tweets seems to be an international pastime. Here are the most savage wallops he's taken, from everybody including Ariana Grande and Pizza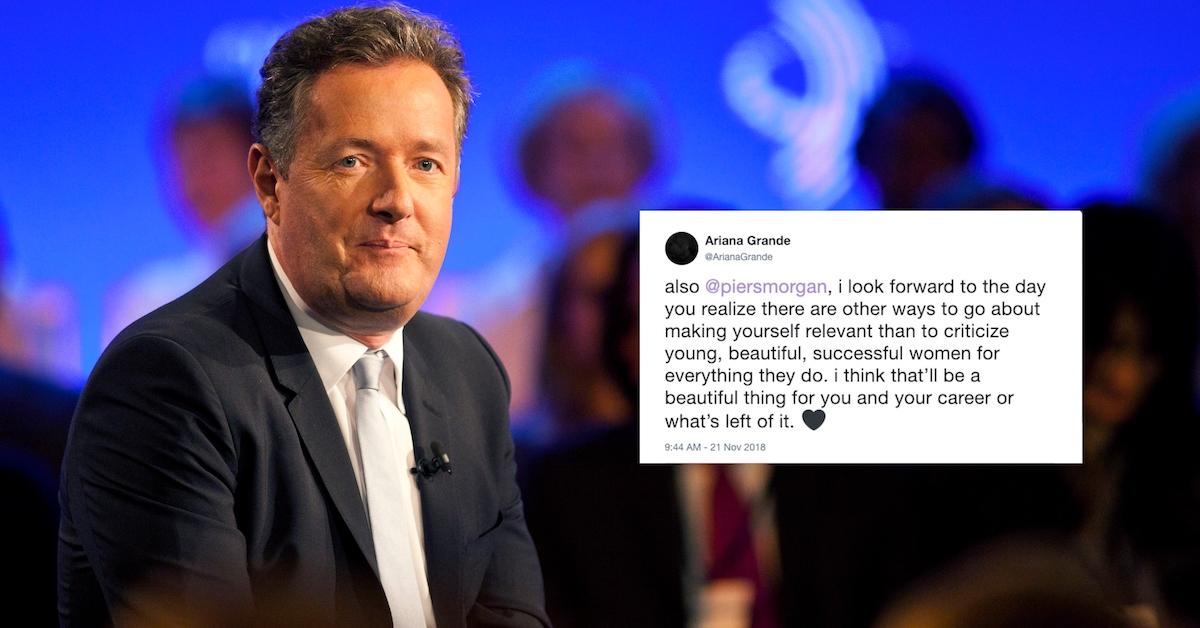 British TV host Piers Morgan is one of those personalities that thrives on negative attention. The more you fight him, the more powerful he grows. His curmudgeonly attitude and propensity for unpopular hot takes nobody was waiting to hear has made him more famous for being hated than anything else. In fact, you're probably scratching your head wondering why he's even famous. Good question — nobody knows!
He'd certainly fade into obscurity if people would stop feeding the troll, but the problem is, it seems like such fun. Everyone has had a go, from Ariana Grande to Pizza Hut.
So while I know I risk making him even more famous and powerful by even doing this, here are some of the best and most savage takedowns of Piers Morgan on the internet to date.
Article continues below advertisement
1. Ariana Grande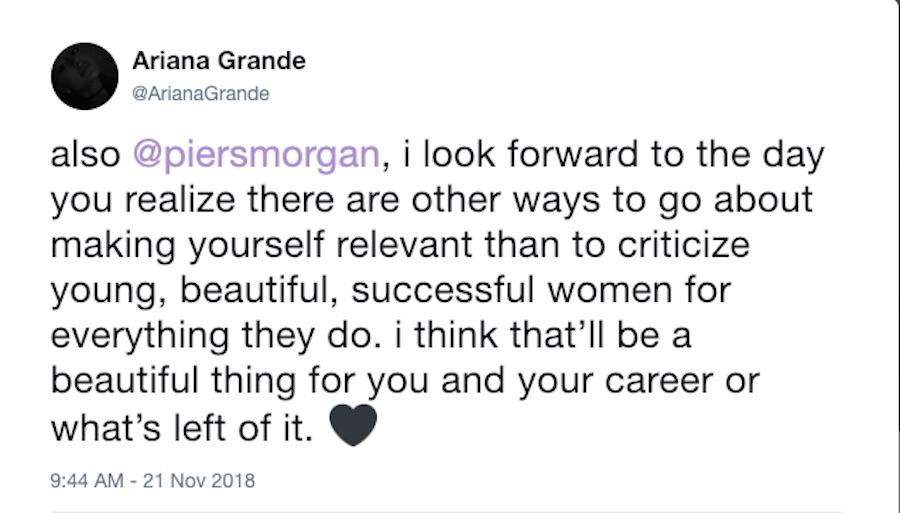 This third-degree burn from Ariana came on the heels of Piers coming first for Ellen DeGeneres and girl group Little Mix for reasons nobody quite understands. Ariana's mom Joan chimed in on Twitter asking, "Honestly what is wrong with you @piersmorgan? Didn't your mother ever teach you, if you have nothing nice to say, don't say it! You came for @TheEllenShow yesterday which was disgraceful, she is an angel. @LittleMix today, did you ever hear of paying homage?"
In response, Piers said, "Hi Joan, my mother taught me to speak my mind & never be afraid to express honestly held opinion. Ellen's a hypocrite - and as for Little Mix, I'd just prefer they use their talent to sell records rather than their nudity. As your own daughter does...!"
Ari then showed what her mother taught her about being an absolute boss.
2. Greggs and Mc Donald's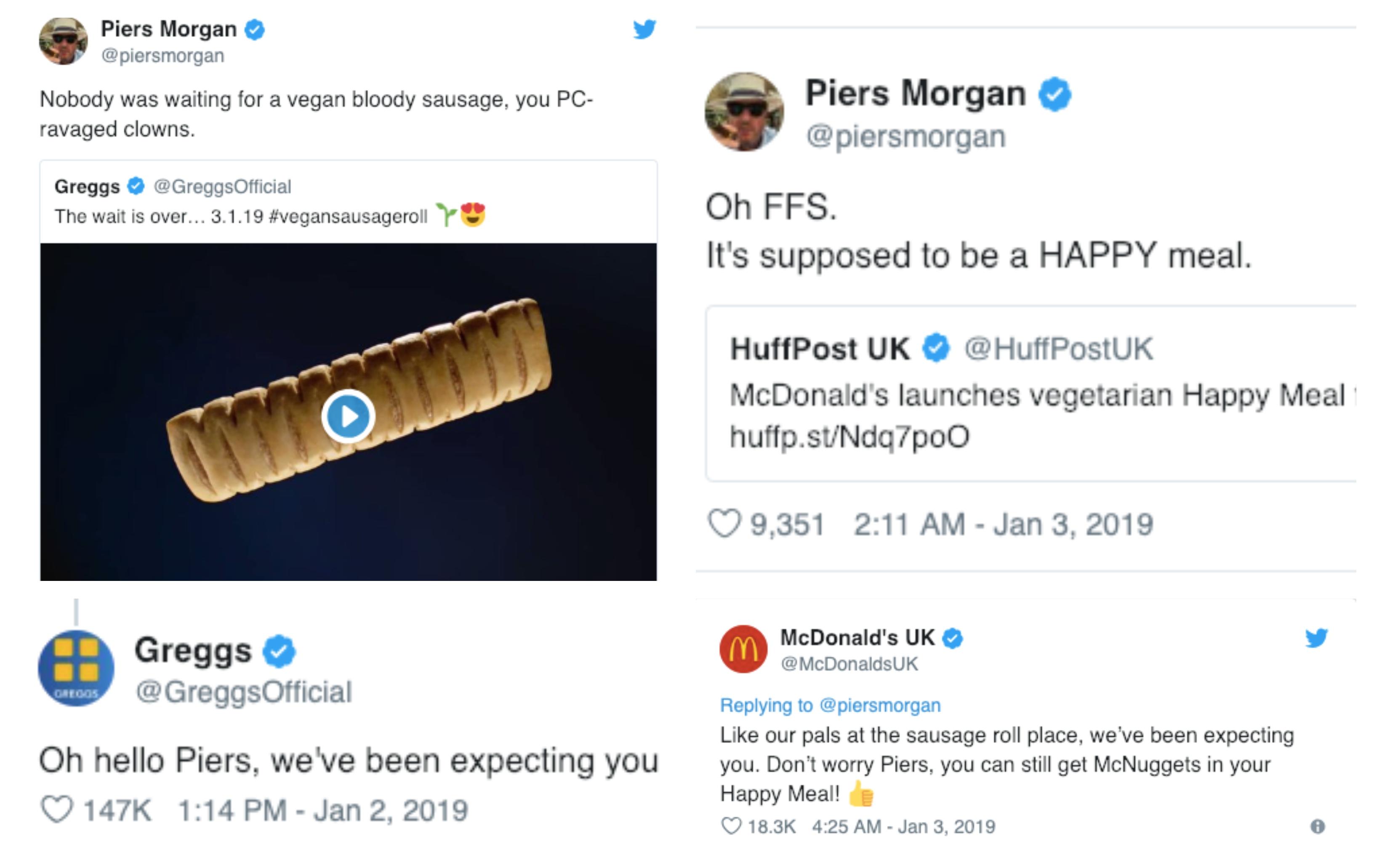 Veganism is another big trigger for Piers, who took to his Twitter to rage against fast food companies who dared to expand their menu. (He does realize adding a plant-based meal option doesn't mean he has to eat it, right?) Thankfully, these two purveyors were ready.
Article continues below advertisement
3. TGI Friday's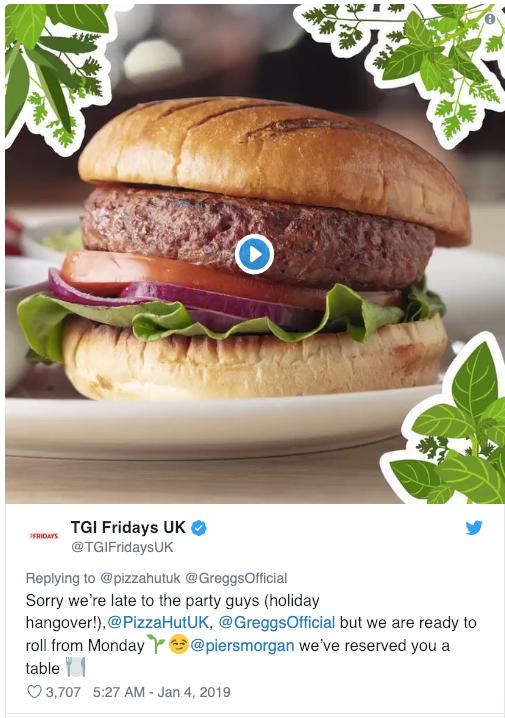 Not to be left out, TGI Friday's jumped in with their meatless burger options.
Article continues below advertisement
4. Pizza Hut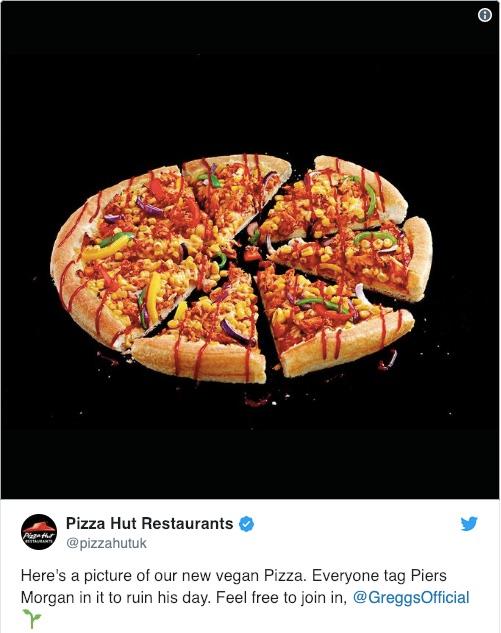 And then Pizza Hut piled on and did one better by encouraging other users on the platform to tag Piers, to which the Good Morning Britain host cried out (sarcastically we think), "This is corporate bullying specifically designed to damage my mental health. I'm now a vegan victim."
It's weird he's so against food chains serving healthier options given his "concern" over the weight of our next Piers roaster.
Article continues below advertisement
5. Tess Holliday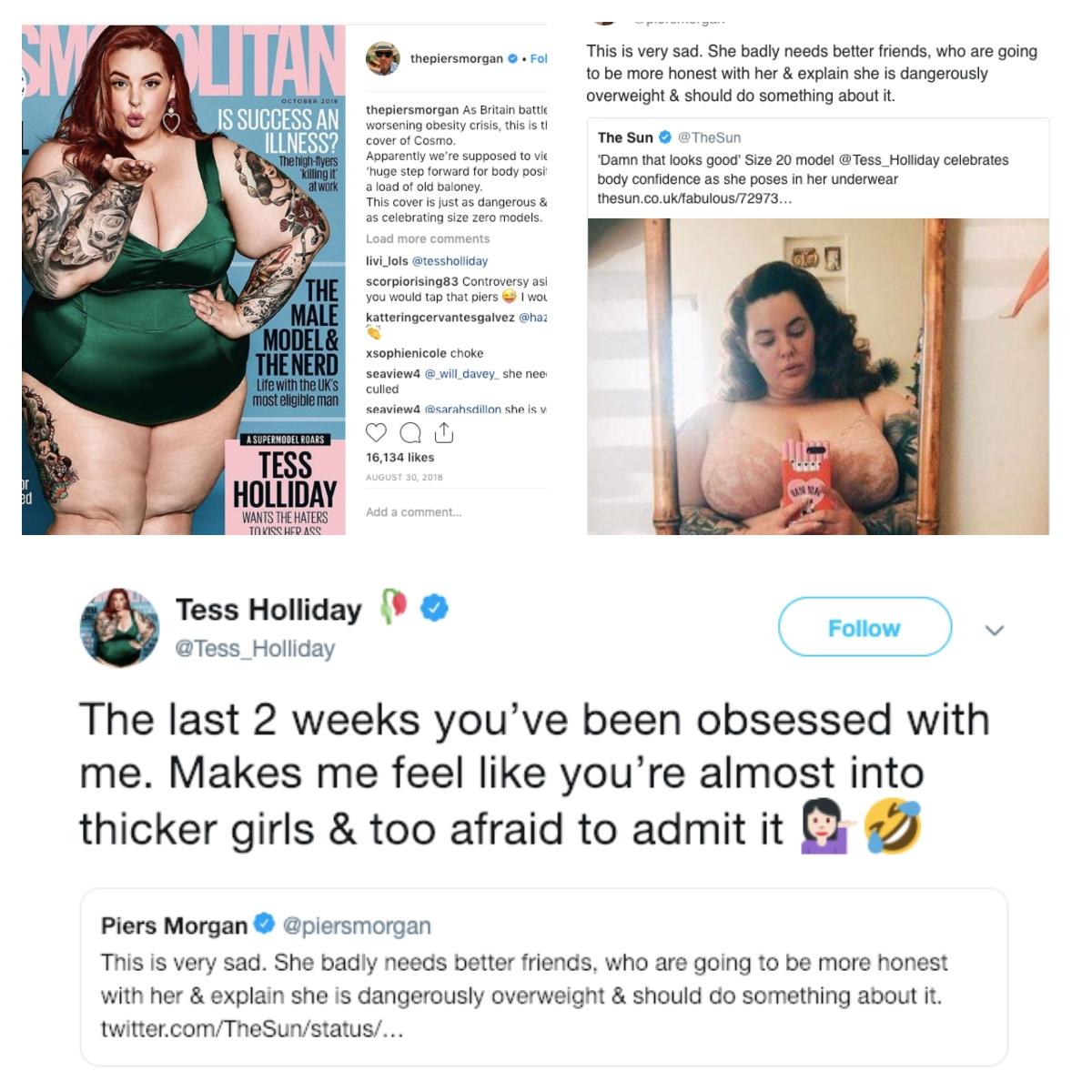 Piers has used his various platforms on several occasions to complain about body positivity/fat acceptance, with special attention to plus-size model Tess Holliday. The cover girl doesn't usually engage, but she did chime in on this occasion to point out her critic's weird fixation on her.
Article continues below advertisement
6. Dick van Dyke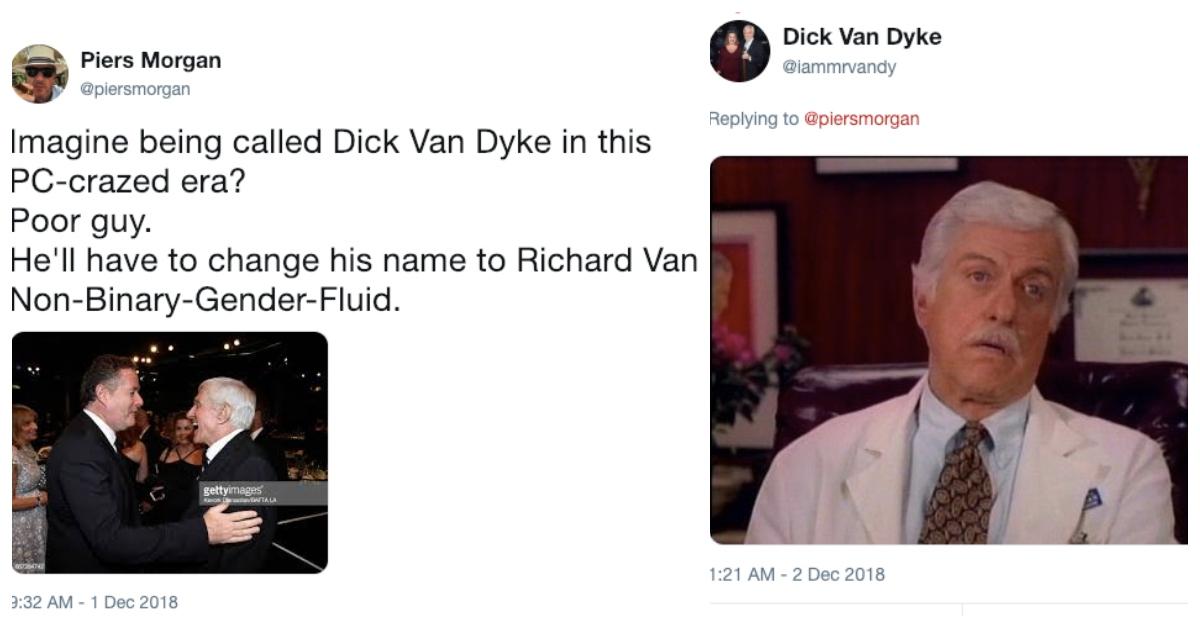 A picture is worth a thousand words, and this one speaks volumes for 93-year-old Dick van Dyke. In response to Piers's ridiculous joke about political correctness, the nonagenarian could only roll his eyes. Same, Dick. Same.
Article continues below advertisement
7. Chris Evans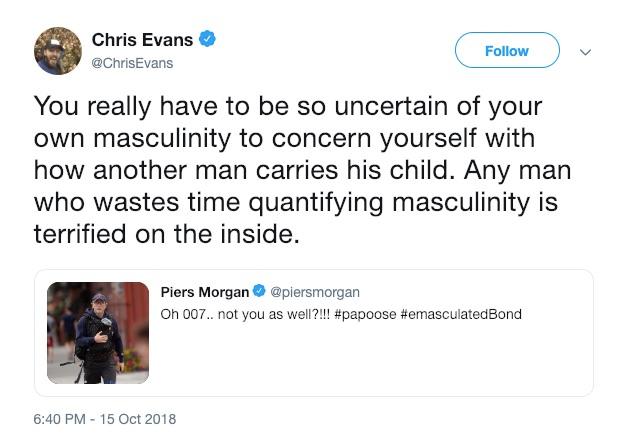 If Piers had it his way, child rearing would be like it was in the 1950s, where men smoked cigars in the maternity ward waiting room and had minimal contact with their children even after that. After he criticized Daniel Craig for wearing his baby — a practice common among parents of all genders who adhere to attachment parenting — Chris Evans came to his fellow action star's defense.
In reply, Piers asserted that Captain America would never wear a "papoose." OK, make this happen Marvel Studios.
Article continues below advertisement
8. John Legend and Chrissy Teigen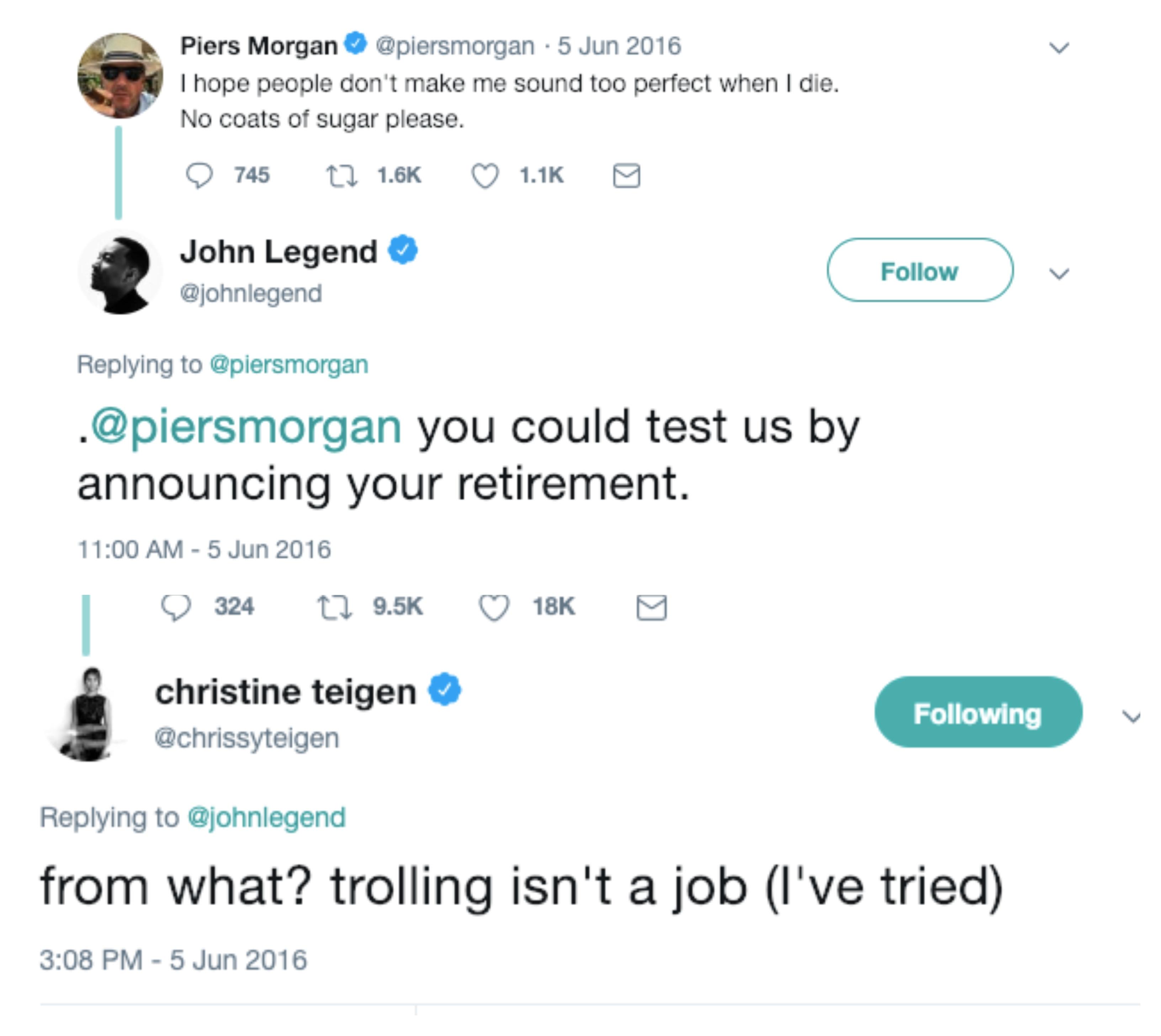 Chrissy and Piers have gone to the mattresses a few times, but here's one occasion where her husband John got the ball rolling.
Article continues below advertisement
9. Chrissy Teigen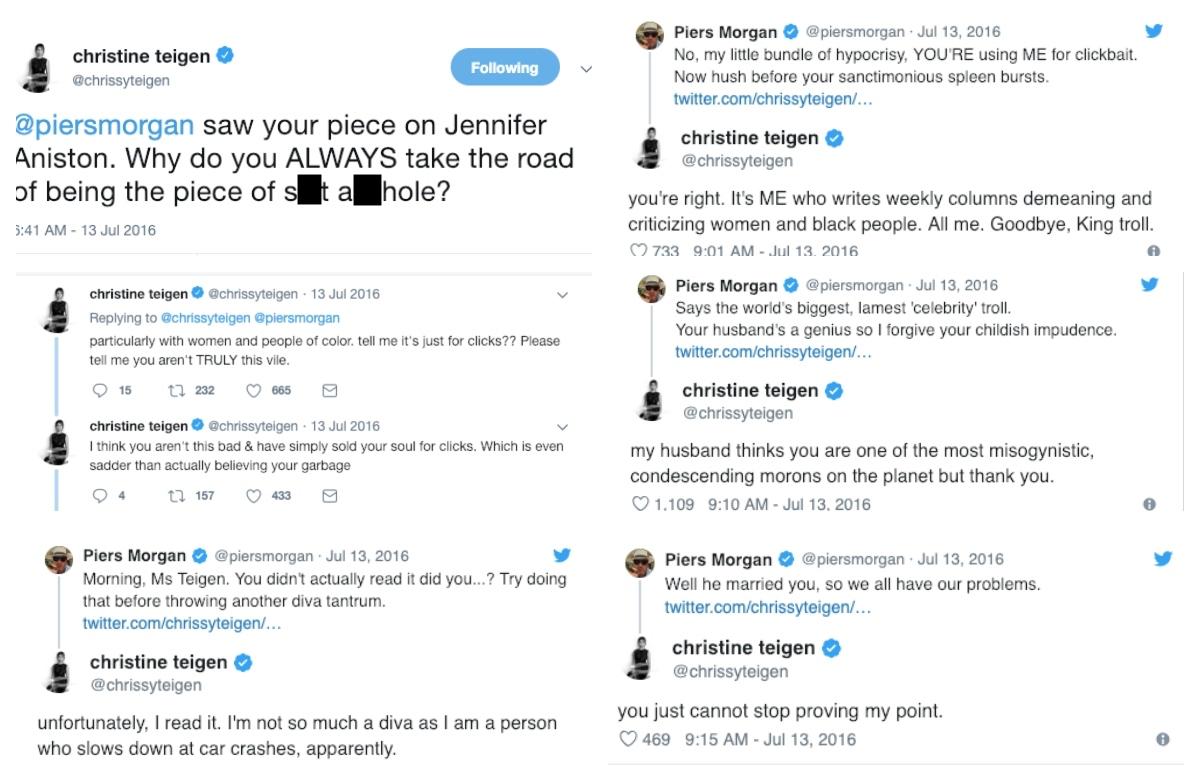 And the beautiful mother of two, model, and cookbook author can definitely hold her own. Here she takes on "King troll" solo.
Article continues below advertisement
10. Sarah Silverman

Rather than take him to task for being just being sort of miserable on Twitter, Sarah Silverman questioned the "journalist" for not really doing journalism very well. And his debate skills could use some polishing too, she points out.
Article continues below advertisement
11. JK Rowling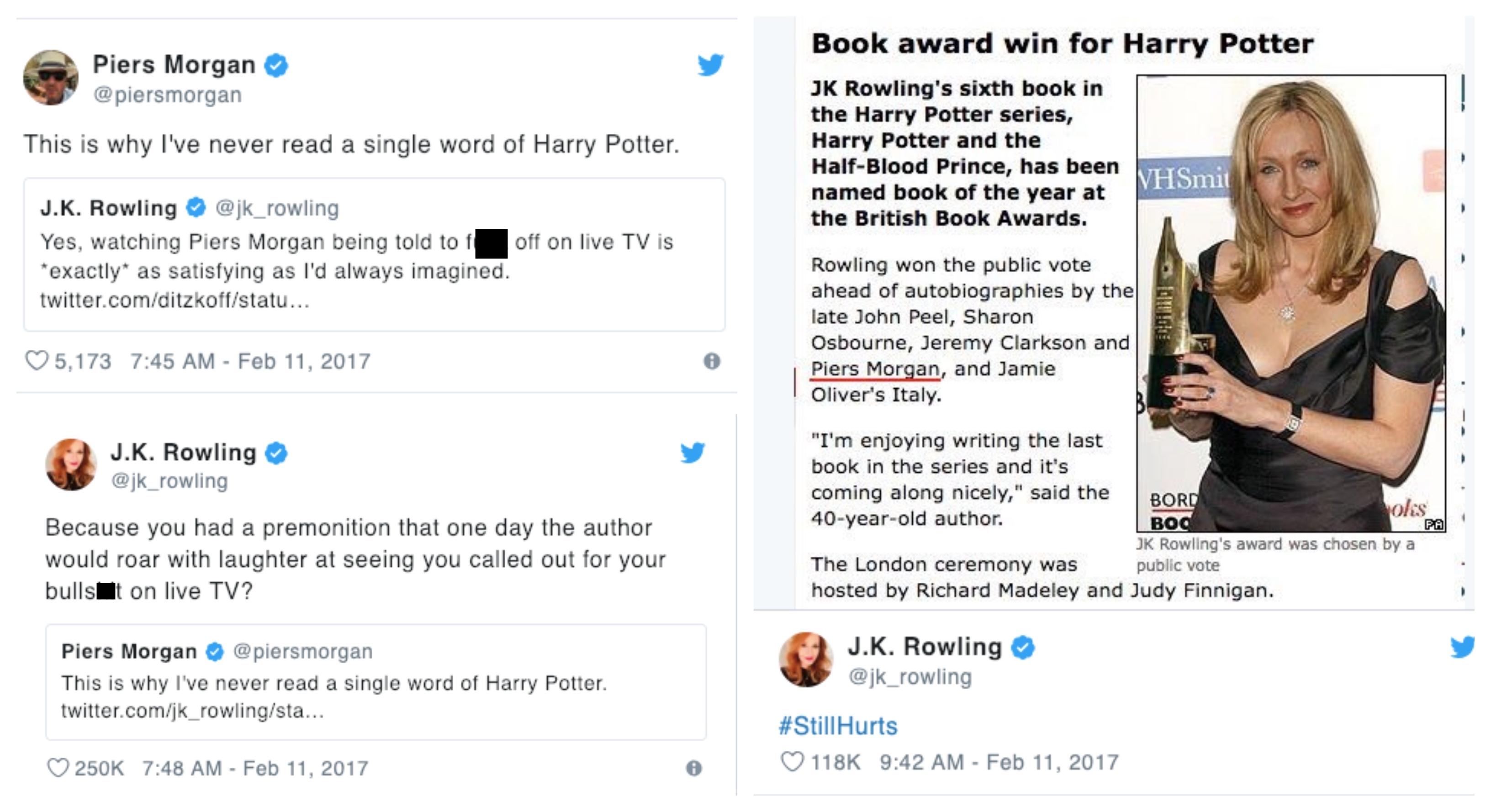 We doubt the richest woman in Britain (sorry about it, QE2) is crying any tears over not having Piers Morgan as a fan. Especially since her autobiography demolished his in sales.