Aristotle Polites Is Already Our Favorite 'Lindsay Lohan's Beach Club' Ambassador
Meet Aristotle, the people-pleasing host of 'Lindsay Lohan's Beach House' who will do anything to make a client happy.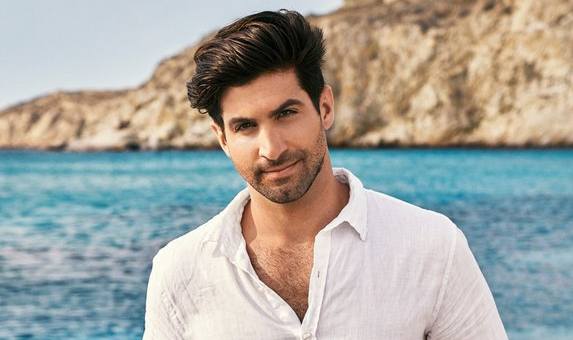 Partying at Lindsay Lohan's Beach Club isn't all bikinis and table service, as fans will know from last week's MTV premiere. "I am ashamed for watching, but can not stop," writes one new convert on reddit. We watched as Lindsay set up the Mykonos club with her right-hand man Panos, and welcomed the club's "ambassadors," but trailers for tonight's episode show just how complicated their interpersonal relationships will get.
Article continues below advertisement
For one, most of the male ambassadors to the Lohan brand (which is just a fancy name for servers and hosts) look kind of, a little bit the same. Brent Marks has managed to stand out by getting on the nerves of almost everyone, with Lindsay threatening to fire him because "it's not the Brent show, it's the Lindsay Lohan show." But the person we'll be looking out for this week is Aristotle Polites, the most likable (and hottest?) member of the male cast.
Article continues below advertisement
So, who is Aristotle Polites?
As a VIP host slash ambassador (Lindsay can't quite decide what to call them at the beginning of last week's ep), it's Aristotle's "job to represent the Lohan brand in everything," the Freaky Friday actress explains. From "how they look" to "how they talk," LiLo wants these people to embody "the energy [she] want[s] guests to feel while there."
And from the looks of a teaser ahead of tonight's episode, it looks like Aristotle is going above and beyond to make the Beach Club guests feel right at home. "I just want Panos to look at me as someone who will do whatever it takes to make a client happy," he admits to the camera.
Article continues below advertisement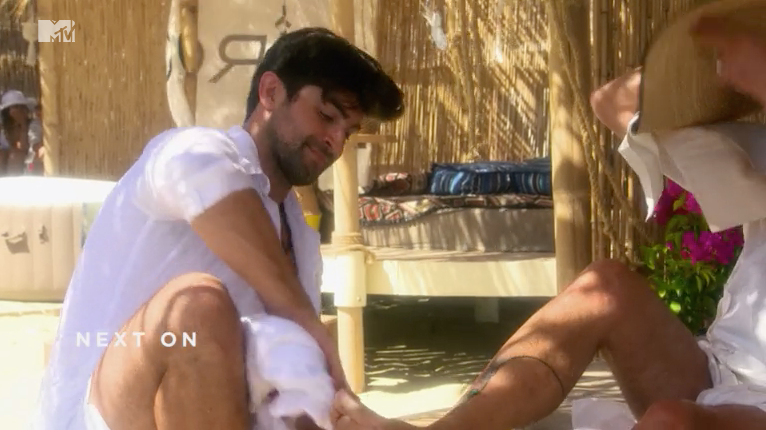 It looks like he found just the client in one older hotel guest who requests Aristotle clean his feet after he's done enjoying a swim on the Mykonos beach. "This client has a lot of odd requests and I'm a little shy so I've got to come out of my shell a bit more," he explains.
Article continues below advertisement
And it seems like he concedes to the client's strange request and makes sure his needs are met. Which sparks a debate between his co-hosts, who either think he's "degrading himself" and "making himself look so dumb" (Brent) or "applaud Aristotle for his great job." The latter goes on to sing Aristotle's praises, saying "Aristotle doesn't complain, he doesn't have to explain his masculinity to anyone, he just makes sure the client is well taken care of." After all, that's his job.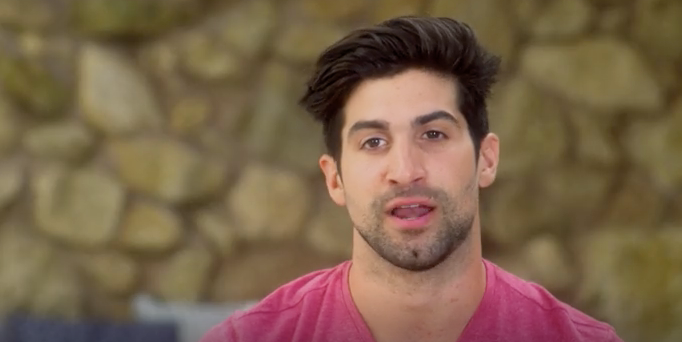 Article continues below advertisement
Where is Aristotle from?
With a name like Aristotle Polites, our new favorite Beach Club host is obviously Greek. He confirms as much on his website, saying "this really shouldn't be a surprise." But it's funny that he mentioned he needs to come out of his shell more, given his history.
When Lindsay and Panos are fielding host applications trying to decide who will be worthy enough to land a spot in their exclusive beach club, Aristotle immediately stands out because "he looks a bit like a Greek god," according to Panos.
We then flash to Aristotle, who explains his background first-hand. "In Los Angeles, we have events where celebrities are coming all the time," he says. "In Hollywood, I worked a gay nightclub. That's where I became an edgy bartender cuz I'm in my underwear, it put me out of my comfort zone."
Article continues below advertisement
This also might explain why he's not at all uncomfortable dealing with the feet of a strange older man. According to his bio, between being born in Greece and moving to LA, he also grew up in Pennsylvania, got a BS in Finance at the University of Maryland and lived in Philly and New York before packing his bags for Hollywood.
Article continues below advertisement
So, is Aristotle gay?
All signs point to yes, very. First, Panos' gaydar totally goes off when he sees Aristotle's picture. He first says Aristotle looks like a Greek God, then goes to say "that's what I like about him."
Then, Aristotle admits to being comfortable bartending in his underwear because he worked a gay nightclub in Hollywood.
Article continues below advertisement
Actually, he worked a gay nightclub in West Hollywood (the gay Hollywood), the very famously and "proudly gay owned and operated" Revolver Video Bar. In addition to being part of "the friendliest staff on the Boulevard," as Revolver's site raves, he also frequently shoots with very homo "male editorial" photographer, Will Simons.
Article continues below advertisement
If that's not telling enough, he's also tagged in a photo holding hands with (maybe?) boyfriend Alex, a comedian, podcaster and sports commentator.
Aristotle actually has a podcast of his own, called "Free Judgment Zone," which you can watch Episode 1 of here, on his YouTube page.
How to follow Aristotle on social media.
If you can't get enough of good guy Aristotle on MTV's Lindsay Lohan's Beach Club tonight at 8PM, follow him on Instagram, here. We can't wait for him to step up to center stage once Brent gets fiiiired (fingers crossed)!