Party Boy and Lindsay Lohan's Business Partner Panos Spentzos' Life Is Better Than Paradise
Lindsay Lohan might have faded into near oblivion stateside, but that's because she's focusing all of her energy on launching overseas clubs, as we'll all get to see when Lindsay Lohan's Beach Club premieres tonight on MTV. Though Lindsay lives in Dubai, where paparazzi are famously banned, the young entrepreneur has ventured into opening party spots in Athens, Rhodes, and now Mykonos with the help her of trusted right-hand man, Panos Spentzos.
Article continues below advertisement
The MTV show promises a "behind-the-scenes look" at how Lindsay's "empire" is run, which means that creative director and business partner Panos is going to be something of a protagonist in this upcoming season. He's also going to be the one handling all the day-to-day decisions and making sure the rest of the hosts are kept in line, since Lindsay only visits the club once or twice a month, according to what she told Wendy Williams over the summer.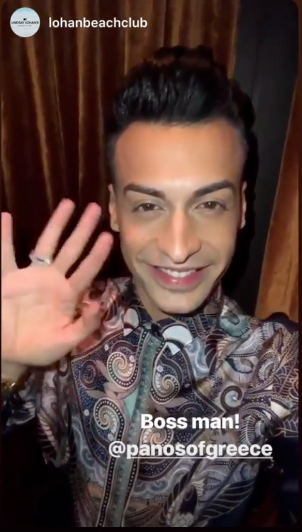 Article continues below advertisement
So, who is Panos Spentzos?
"To work for me, you have to be the best of the best," says Lindsay in a teaser for her MTV show, which launches tonight. I guess that makes Panos the crème de la crème, and totally not some thirsty Greek boy who latched onto Lindsay's fame to build his not-too-impressing follower count.
Although Panos' social media doesn't offer curious viewers much information on his life outside of Lindsay's clubs, we do know the socialite's a native of Athens, and according to Lindsay, "Panos is good with not only people, but he's also good at running people, and that's important to me." In other words, this queen is bossy AF.
How did Panos and Lindsay meet?
Lindsay and Panos met in Mykonos, so it seems only natural that that's the beach they'd choose as the setting for their MTV show. "Me and Lindsay actually met three years ago," he dishes in a preview. "We used to hang out a lot during the summers here in Mykonos."
But it doesn't seem like the two hit it off immediately. "When I first met Lindsay, I thought, 'what the f--k'," he reveals to the camera. "She was very diva-ish, she was a celebrity, I knew, and then I saw her at the airport. She was afraid of the paparazzi and everything that she's been through."
Article continues below advertisement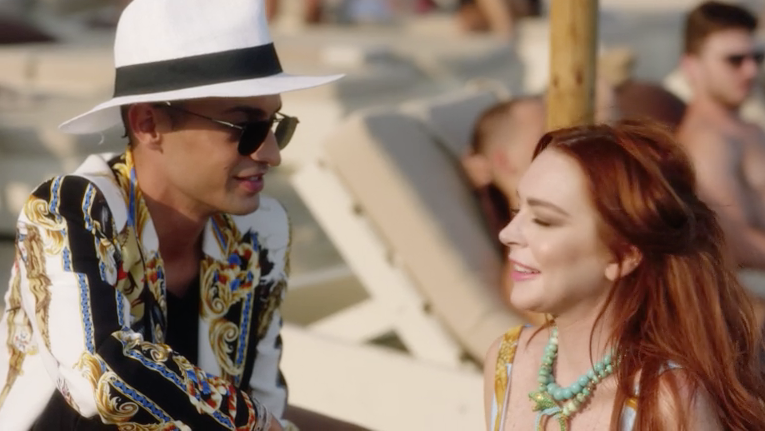 This prompted Panos to step in as her Greek guide and make it his responsibility to protect Lindsay at all costs. "I was like, 'Just relax, I'm going to take care of you and everything's going to be fine'," he says he told her. Which, understandably, made the Mean Girls star warm up to him and ultimately consider him one of her close friends.
"Then we started talking about everything, everything, everything," Panos explains. "She opened herself to me and then I saw the real Lindsay ... She's a sweetheart, she's vulnerable in every situation, she's kind, she'd generous, but sometimes she's difficult." More on her quirks later. Panos continued, "She's part of my family now, we're making everything right now, everything."
Article continues below advertisement
He's even had a hand in influencing her ever-changing accents.
You know exactly the accent I'm talking about, the one Lindsay's now added to her famously creaky register. It sounds very I'm-trying-to-be-foreign-but-no-country-in-the-world-talks-like-this, sort of a mix of Middle Eastern and British flourishings added to a mostly American vernacular.
In an interview with Entertainment Tonight, the Parent Trap actress disclosed the reason why she sounds so... funny. She chalks it up mostly to traveling all the time, but also gives some credit to her new sidekick, Panos. "Well, I think it's because actresses even, I think when I'm around certain dialects it changes each time -- Panos even -- and you just pick things up along the way," she said at the time.
Article continues below advertisement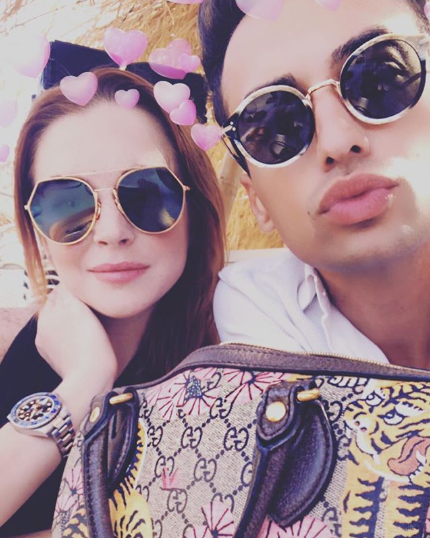 Panos dishes on what it's like working for Lindsay.
Panos alluded to Lindsay being "difficult" but later in the clip, he goes IN on what it's really like to have the Freaky Friday star as your boss. Hint: if you thought your boss was difficult, think again.
"Lindsay as a boss and a partner is very strict, very opinionated," Panos begins. "She wants her opinion to always matter, no matter what. She wants everything to be perfect all the time. Basically, she wants the place to be the most spectacular place in the world because it represents her name." We expect Beach House employees will suffer at the hands of their needy employer, and hope that MTV can deliver on co-working drama half as well as the Bravo crew does on Below Deck. After all, Lindsay Lohan's Beach Club already has the beach and the diva boss — all the pieces are there.
Here's how to follow Panos on Instagram.
If you want to add to Panos' modest social media following, here's where you can stay up-to-date with all of his fashion, selfies, and occasional memes. It looks like he's currently in New York on a "press day," probably fielding a bunch of interviews in Lindsay's stead. We do expect he'll get verified and break the hundred thousand follower count soon, so add him to your timeline before everyone else does.
Lindsay Lohan's Beach Club premieres tonight, Tuesday, January 8, at 8 p.m. on MTV.