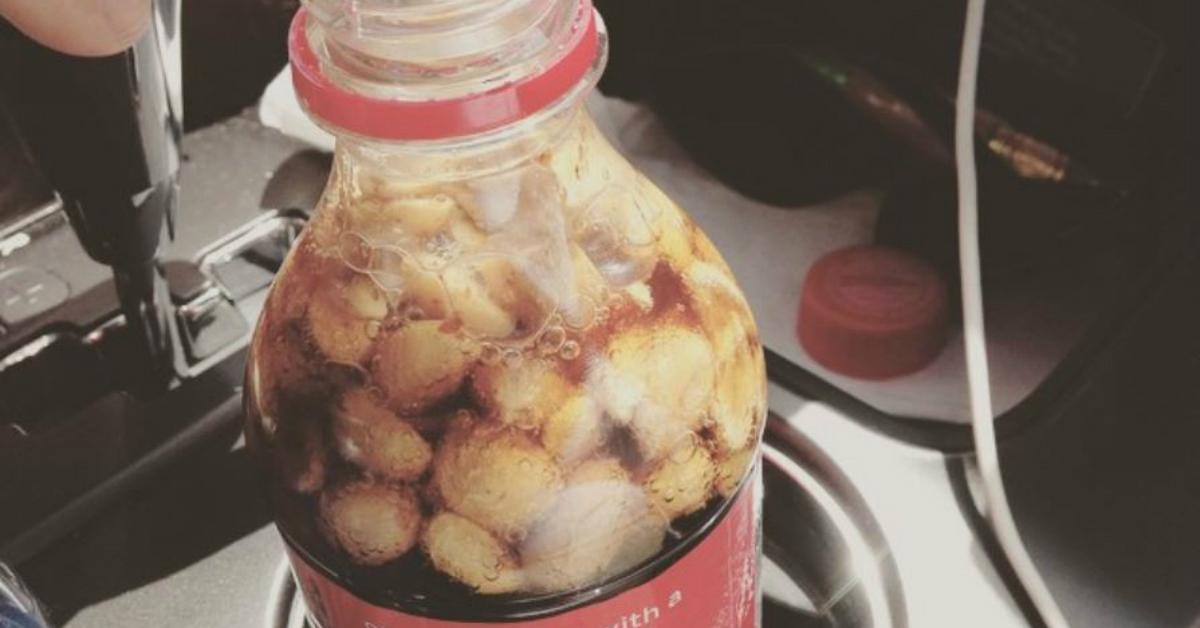 Peanuts in Coke Is Just One of Many Disgusting Food Combinations People Actually Like
By Mustafa Gatollari
The "tradition" of people putting peanuts in bottles of Coca-Cola has recently been trending with a variety of reactions to this unconventional food combination.
It's been called a Southern tradition, but judging from the gamut of different social media reactions to the phenomenon, it sounds like it isn't the widespread snack concoction many people are claiming it is.
And that's coming from the mouths of Southerners themselves.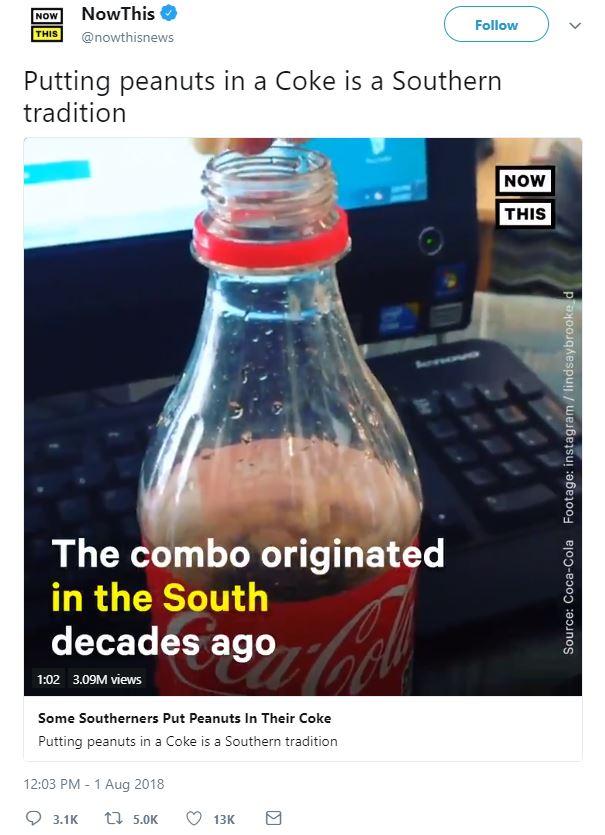 The Daily Show's Roy Wood Jr. had a few choice words about the bizarre food combination and I have to say, I agree with him.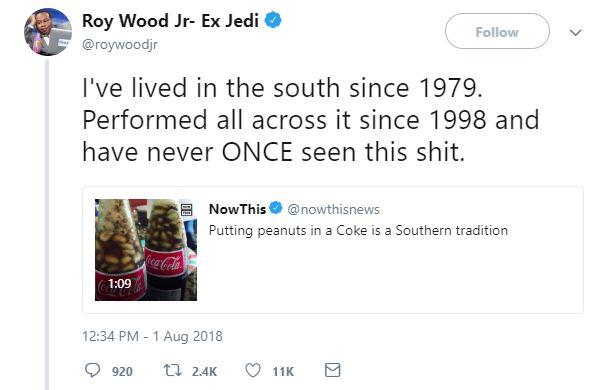 I can't really identify with the living in the South part, but what I can commiserate with is the idea of having floating bits of hard and salty bits of a legume floating around in your soda.
Imagine you're sitting in a restaurant and the waiter or waitress hands you a glass of Coca-Cola with your meal. Floating in your soda are bits of food. What would be your initial reaction? If it's anything other than extreme disgust, then I don't know what to tell you.
But there are tons of people who disagree. For some, I'm almost 100% they're joking.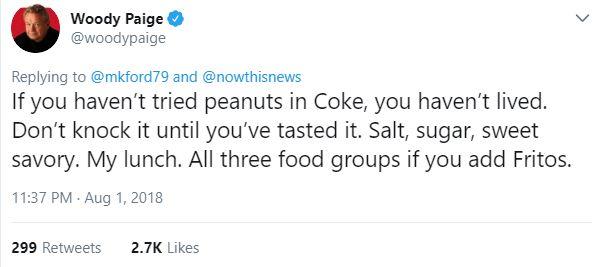 But then there are others who swear that the "tradition" is exactly that: a time-honored Southern practice that is bafflingly popular. And they weren't afraid to tell Wood.


I can't be the only one who thinks doing this is absolutely insane, but there are people who positively swear by it.

There were plenty of people who were more than willing to explain the "historical" significance behind the snack to Roy, as well as how it all began.
As it turns out, putting peanuts in your bottle of Coca-Cola was a prevalent practice in the 1920's.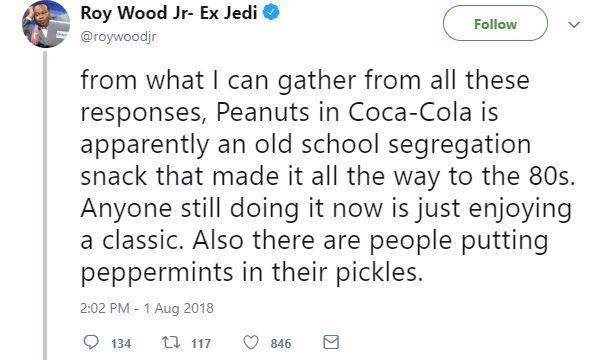 Mashing handfuls of nuts into your mouth with dirty hands really isn't all that sanitary, so what did workers do on a hot day when they had to squeeze their meal/drink/cigarette break into a few quick moments, without ingesting any of the muck or grime they got on their hands while working their fingers to the bone?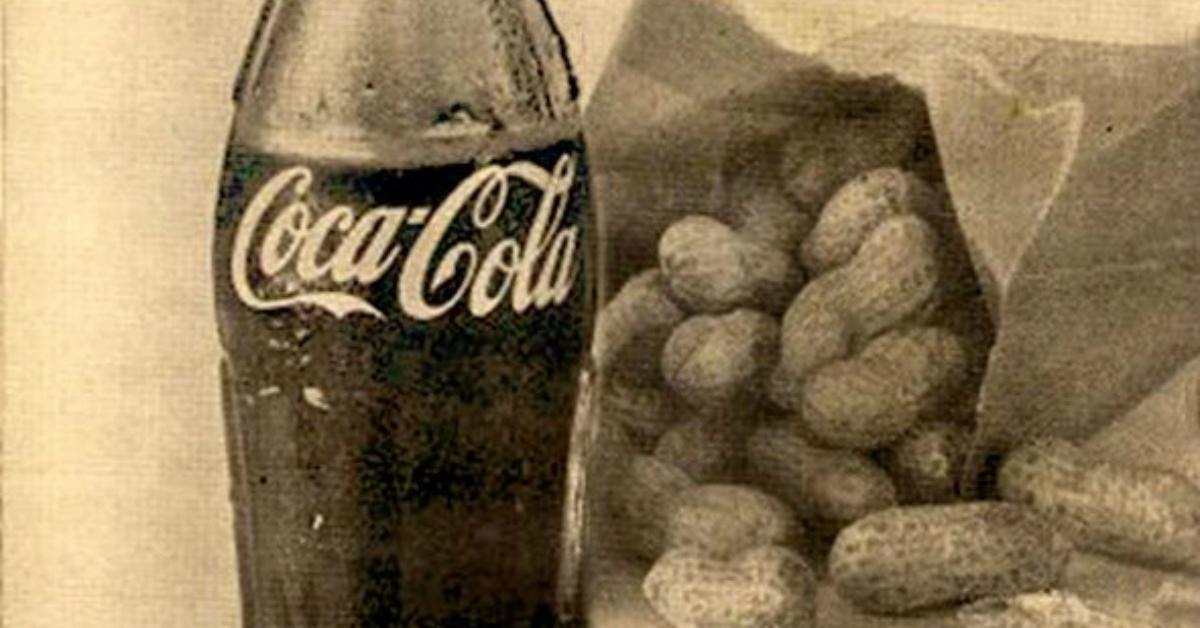 They'd simply pour their peanuts into their Coke bottle. This way, they could simultaneously drink and eat, while they had another hand free for working, smoking a cigarette, or flipping off anyone who told them they were gross for putting nuts into their soda.
Some historians also say that driving long distances on old country roads to get back home after a day's work might have had something to do with it. All the cars back in the day were pretty much manual, stick-shift cars. You needed a free hand to work the shifter, and after burning tons of calories all day, a carbonated, caffeinated, sugar+protein+fat-packed snack you could eat and drink with one hand was just the thing to tide you over until you were able to get home and wash up before dinner.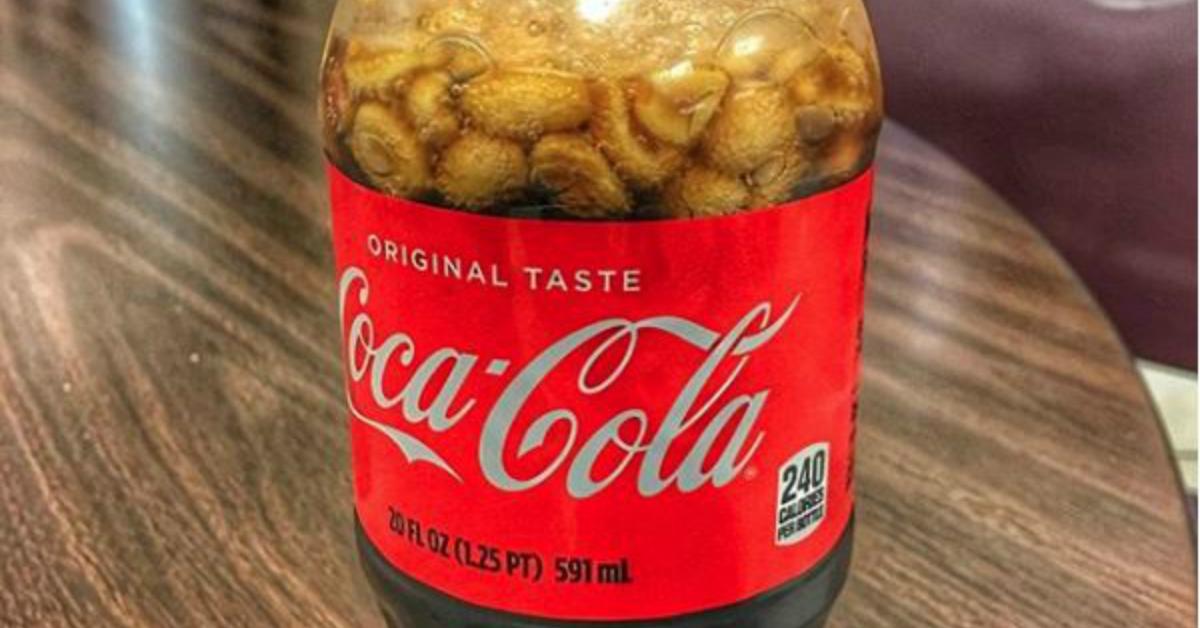 Wood finally decided to put an end to the "Is it disgusting or not?" debate by trying it himself. He wasn't too happy with the results.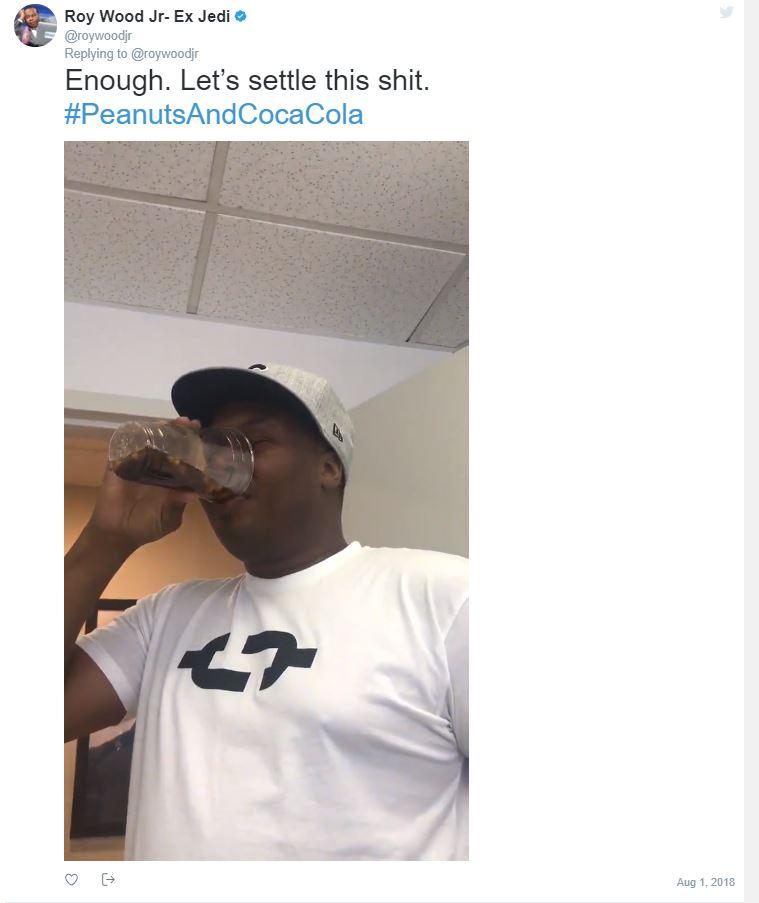 Then, he decided to get silly and show people what's really been missing from their high-fructose corn-syrup beverages.
Since the comedian broached the topic and started a discussion on Twitter about it, other weird food combos started coming out of the woodwork.
Like chocolate gravy with sausage and biscuits. I don't know about you, but sausages with chocolate sounds gross enough. To make a gravy out of chocolate pushes it over the edge of nastiness for me.

Apparently there's a large number of people who pickle their cucumbers with kool-aid dust as well. Umm, what?!
Wood also came across the very bizarre tradition of putting chili, yes, beef chili with beans and savory spices and peppers and all, on cinnamon buns.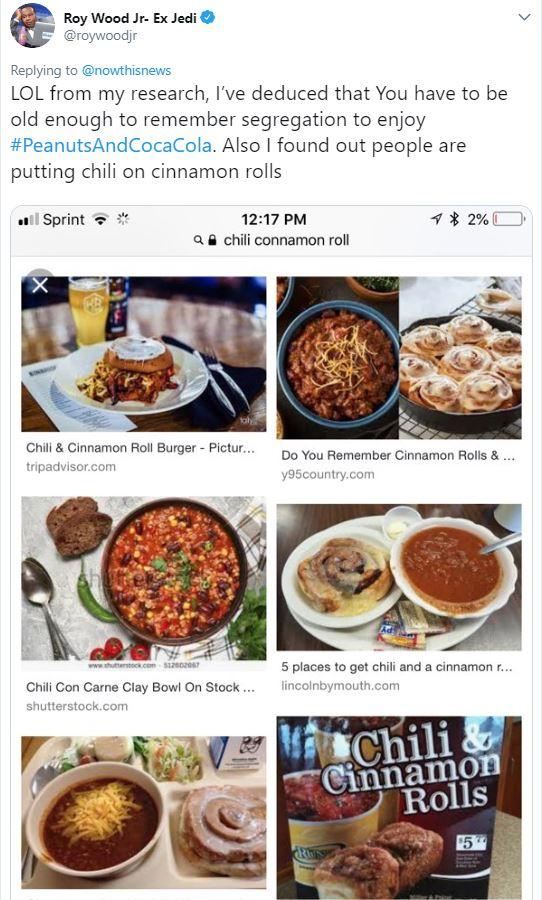 I don't care how widespread of a practice this is, something's telling me that you won't be seeing this on Cinnabon's menu anytime soon.
The holy grail of nasty food combinations has to be cheetos, any variety, in milk. No, I'm not joking.