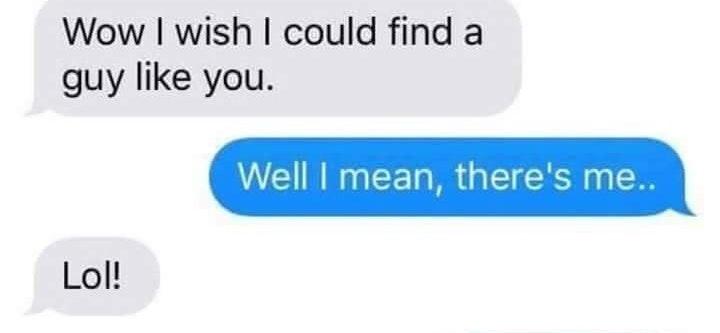 27 Awkward Text Messages That Are Bound To Make You Cringe
By Zachary Brenner

Updated
Text messages are a powerful tool. You no longer have to speak to describe your feelings. For some, its very easy because it takes the nerves out. For others, its very frustrating because things get taken out of context.
There's a fine line between funny and sad. Pain is funny, but also pain is sad. What is considered funny and what is considered sad will differ from person to person.
I just bring this up because, man, I really don't know how to feel about this one, guys. Sometimes watching a kid get his heartbroken is funny to me, but other times my hearts breaks, too. It's tempting to say that context is key, but I'm not even sure that is true anymore. Sometimes a cruel person just doesn't know any better and deserves our pity. Other times the nicest person in the world can fail so spectacularly we can't help but laugh.
So feel how you feel while looking at these text messages. It is all correct.
1. Glad he's okay. That was a close one.
2. Get it together, Diego!
3. It's been so long since I last saw you.
5. How to tell if you are lonely.
7. Haha! What a hilarious misunderstanding!
9. That last line is kicker.
11. I don't know. This doesn't seem legit.
12. I don't know what else you were expecting.
13. Because you put "Haha" I know you are telling the truth.
15. Don't really understand how this is a prank.
16. Love can be very one sided.
17. Is there anyone else you can talk to?
18. I agree that the grammar is the most offensive thing here.
20. Hannah, do NOT unblock him.
21. I love it when you treat me poorly.
22. You made a lot of mistakes, kid.
23. The modern equivalent of sending flowers to yourself.
25. Machine programed to love does not love.
26. I mean, I guess that is the right response.
27. Never joke about this kind of stuff.