Guy Finally Breaks It to His Booty Call That She Has a Roach Problem
When this guy's booty call hit him up for some late night loving, he just couldn't hold his tongue about the state of her apartment any longer.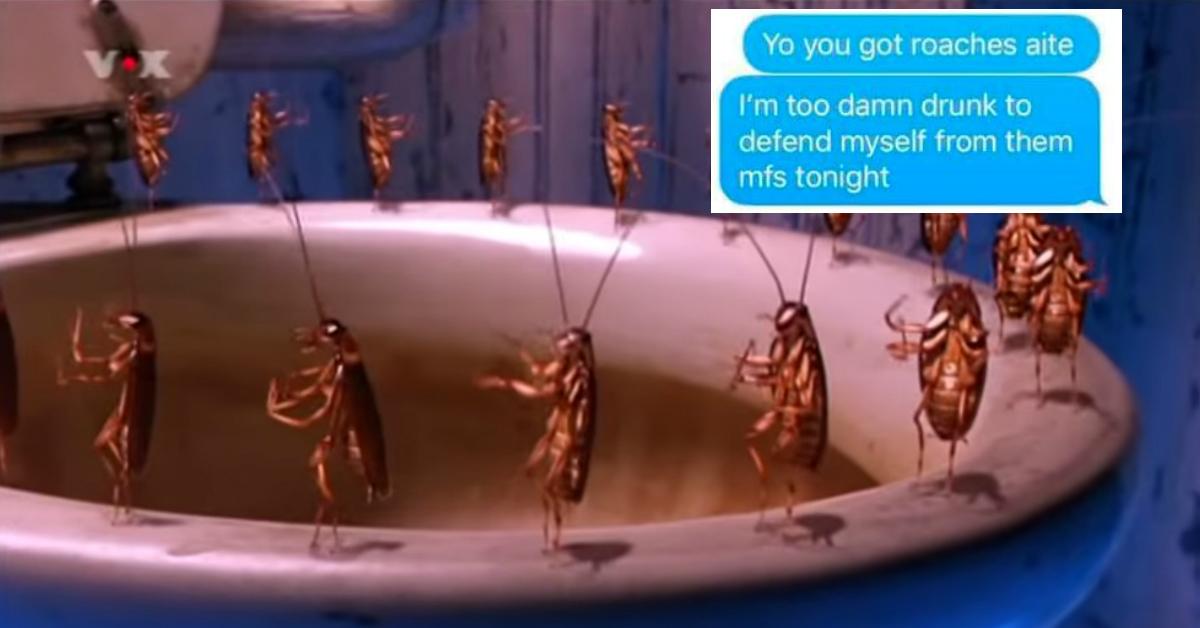 It's a tale as old as time — You're fooling around with someone who is supremely fine, but they've got one fatal flaw: a roach infestation in their apartment.
Article continues below advertisement
You try to overlook it, even try to focus on something else, yet you could swear you saw something crawling around on the sheet and it's no use.
If you don't think this is that widespread of an issue, then boy, are you mistaken. It's such a big problem that Kindle literary powerhouse Quan Millz wrote about it in his epic, This Hoe Got Roaches in her Crib.
Article continues below advertisement
There's also this wonderful screencaptured text interaction between a booty call and her partner-in-late-night, showing the instant gratification he got when he finally broke to her that he wouldn't be visiting her apartment anymore.
Article continues below advertisement
Why? Because she's got a bit of a roach problem in her place. OK, a bit is an understatement, because the more you read this hilarious conversation play out, the more you realize she's actually got a huge roach issue.
It all starts with the text that pretty much everyone wants to receive after a night of going out and partying. Except for our friend on the receiving end of that text, Risha with the Roaches.
Article continues below advertisement
At first, he tries to play it cool and not hit her with the truth right away. At this point I would've offered to pay for her Uber or Lyft to come to my crib and then hit her with the roach talk afterwards.
Article continues below advertisement
But our man in the story just had to let the ball drop right away. You've heard of funny and mean drunks, but it sounds like this dude is just a blunt drunk. He was in no mood to be political, and who could blame him? Roaches are gross.
Article continues below advertisement
This is where defensiveness and denial comes in. Risha is A) either lying about not seeing any roaches in her place. Because I know whenever I had bugs in any of the places I lived in, whether it was fruit flies or the odd roach, I saw them.
Or B) She really hasn't seen the roaches, but has to consider this dude is telling the truth because it's not like someone is going to ruin a nice booty call arrangement on some bogus roach charges.
Article continues below advertisement
I'm starting to think it's straight-up denial on Risha's part about the roaches in her place at this point, I mean who steps on carpet during a late-night booty call to check how soft it is?
Article continues below advertisement
Then Risha starts arguing semantics by trying to catch our drunk-roach-hating man in a lie — didn't he say that he only stepped on one roach? But now, he comes back with a very vivid description and sound reasoning as to why he never made a bigger show out of her infestation before.
Article continues below advertisement
Can we just give it up to the guy here for coming up with some pretty good rejoinders on the spot here? Hes' really trying to say that the roaches have loyalty to this woman because she provides for them.
He also doesn't seem to care that he's "ruining" his chances of having a booty call at this point. I mean, he already let it all out about the roaches and got as irreverent as could be, so I think some late-night loving is out of the picture at this point.
Article continues below advertisement
The "bugging" line seems too perfectly lined up for him to knock it out of the park, and despite all of his constant jabs, Risha still persists in trying to get him to come over. We've all been there, and when that late night thirst hits, we get desperate.
Article continues below advertisement
Finally, Risha has had enough of the dude's roach jokes and tells him off, but the guy can't help himself and ends the conversation with another bug reference. Extra points for his use of emojis, that little wave at the end is just *kisses fingers* molto bene.
Article continues below advertisement
Although it's hard to imagine she's going to want to have anything to do with this guy after he put her on blast, at least he's got a valid reason for not wanting to visit her place.
Article continues below advertisement
Article continues below advertisement
Article continues below advertisement