11 Oddly Philosophical Tweets From Celebs That Are Honestly Trippy to Read
Here are 11 oddly philosophical tweets from celebs that made us respect the famous people who wrote them even more.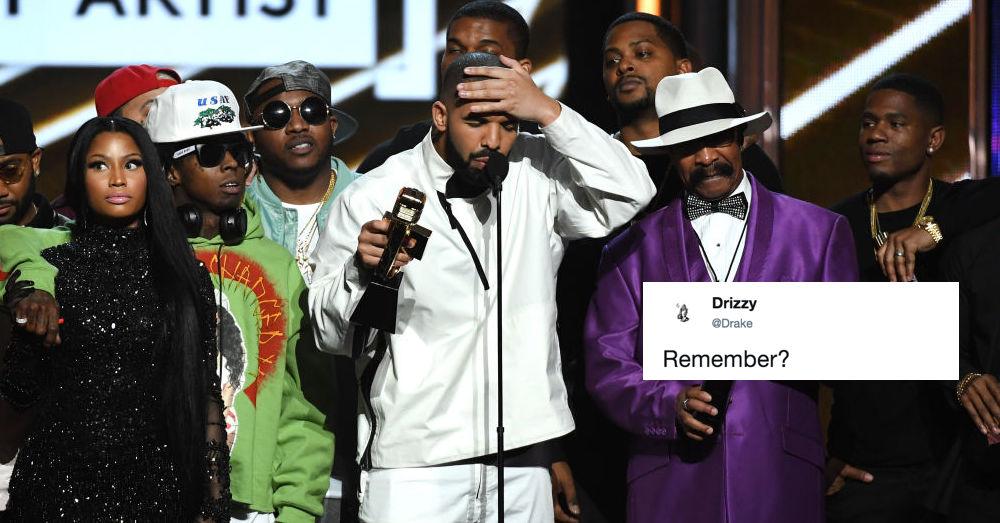 There's come a time in every tweeter's life when you're scrolling through your feed, read a tweet next to a "verified" blue checkmark, and just have to do a double take.
Whether it's because the tweet is curiously cryptic — like the time Martha Stewart tweeted the lone letter 'r' — or because we're not expecting to be served spoonfuls of philosophy with our morning cup of entertainment gossip, celebrity Twitter is nothing short of mind-blowing.
Below, 11 celebrity tweets that were so trippy, they've made us respect the famous people who wrote them even more.
Article continues below advertisement
1. The time T-Pain was stuck in traffic.

The other day, T-Pain asked his Twitter following, "Ever wonder how many ghosts you've hit with your car?"
Gee, I hadn't given it too much thought until just now, but considering I'm already terrified of being behind the wheel, this is definitely not a spiral I needed to be sent on.
T-Pain even followed up his initial tweet with this message: "I got hit by a car when I was in the third grade but there was a girl across the street that I was trying to impress and her name was Bertha and her dad use to beat her up and scream at her all the time so I was playing with her in the street but I got hit got up and walked home."
Whaaaat?
2. While we're on the subject of scary drives...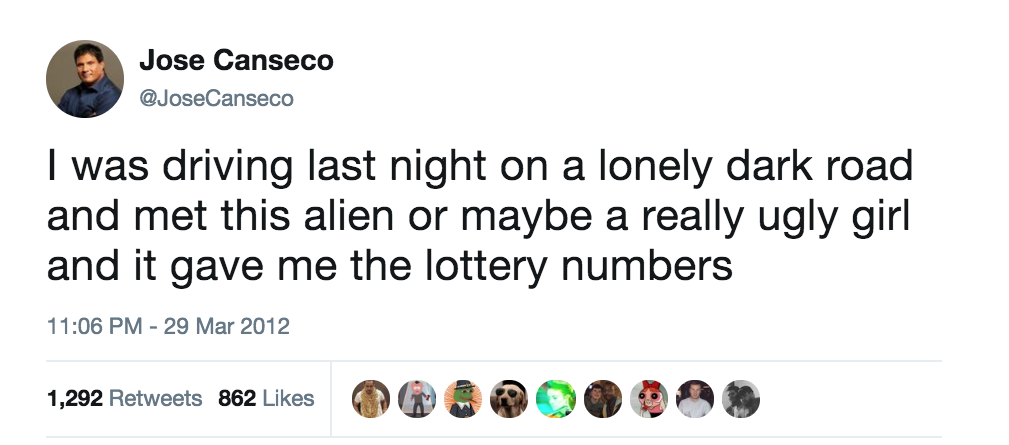 One has to wonder what in the world the MLB player's day looked like before he tweeted "I was driving last night on a lonely dark road and met this alien or maybe a really ugly girl and it gave me the lottery numbers" to his followers.
Also, no update on what kind of jackpot prize he took home after this seemingly paranormal encounter.
Article continues below advertisement
3. The time Norm Kelly had enough of all the "daddy" talk.

Unless you've been living under a rock, you know that everyone on social media is a "dad," "daddy" or "zaddy" these days.
But this Canadian politician's tweet struck an emotional chord with his following. "Have any of you thought about how your real dad feels when you call me dad?" he tweeted.
Welp. Now I feel like I need therapy.
Article continues below advertisement
4. The time Cher did the online equivalent of tapping on a mic and asking "Is this thing on?"

Full disclosure: This is my favorite tweet in the history of the platform. Maybe even my favorite thing a celebrity has said since I've been alive.
There's something so earnest and, honestly, mind-blowing about Cher asking her 3.5 million followers if anyone can "c" her.
And even though the tweet dates back to 2012, devoted fans seemingly reply to it every day. "Yes, I can. Can you c me?" and "<3 we see you Mama" are among some recent responses from her followers.
Article continues below advertisement
5. The time Rihanna asked the big questions.

You know how some concepts in life are so massive, thinking about them makes you feel like your head is about to explode?
That's how I feel whenever people talk about the butterfly effect and it's definitely how I feel after reading Rihanna's internal "What is life? Is there any?" monologue on Twitter.
Article continues below advertisement
6. Every single time Jaden opens the Twitter app.

I wouldn't feel like I was doing this list justice if I didn't include the Twitter-wisdom of Jaden Smith. But because every single one of his Title-Capitalized Tweets is immensely profound, I'm just choosing a recent random one as what scientists call "a sample."
Article continues below advertisement
7. The time Big Sean made us question the space-time continuum.

Maybe I'm extra fragile because of Daylight Saving Time, but rapper Big Sean's "I wish I could fast forward time just to slow it down with you" tweet is nothing short of pure poetry.
In fact, it's straight out of a philosophy textbook. St. Augustine, anyone?
Article continues below advertisement
8. The time Drake made us feel terribly uneasy.

In all fairness, it isn't the only time Drake's made us feel... unsettled at best. But, at least as far as social media goes, this tweet will be REMEMBERED (I see what he did there) as one of the deepest tidbits of our generation.
Article continues below advertisement
9. The time Anna Kendrick turned 30.

My favorite niche of celebrity Twitter is when stars have the same realization as the rest of us modest earthlings. And nothing says "I'm 30 now" like Anna tweeting "Oh God. I just realized I'm stuck with me my whole life."
Technically, girl, you're an actress. Which means you get paid to waltz in and out of other personas. So just imagine how the rest of us feel.
Article continues below advertisement
10. The time Kanye tweeted his philosophical manifesto.

Where were you last April when Kanye decided to pen his entire personal philosophy onto a Twitter thread?
I was pretty much where I am right now, sitting agog in front of my computer screen. The best part about the rant (OK, there are a few best parts) was when Kim replied "Wait...EVERYTHING?!?!?!" to this tweet.
Article continues below advertisement
11. The time Justin Bieber proved, without a shadow of a doubt, that he is definitely Canadian.

"Why is rhode island nor a road or an island" is a rhetorical question Justin posed to his 104 million followers back in 2009, but it definitely stands the test of time.
A few things about it: 1) I am living for his use of "nor" 2) it was named after the Greek island of Rhodes, you philistine and 3) someone let Justin Bieber teach a semiotics class. Please.