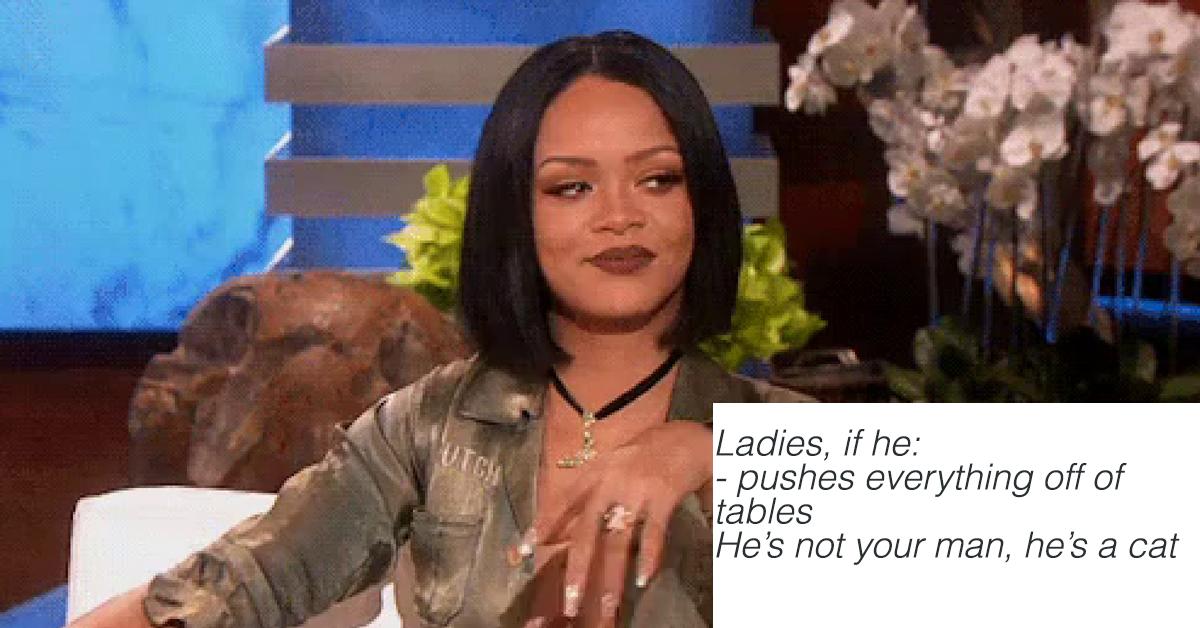 This "He's Not Your Man" Meme Has the Internet Cracking Up
By Mustafa Gatollari
One of the worst/best things about the internet is its "bandwagon nature." Whether it's opinions, jokes, or memes, people begin to pile on and add to the conversation like some kind of infinite echo chamber. But this is a prime example of the bandwagon at its best.
Over the weekend, the internet decided to use the powers of exhausting a meme to roast all the tired/generic/assumptive relationship advice out there by re-purposing a common format for said relationship advice into a hilarious ongoing joke.
For example: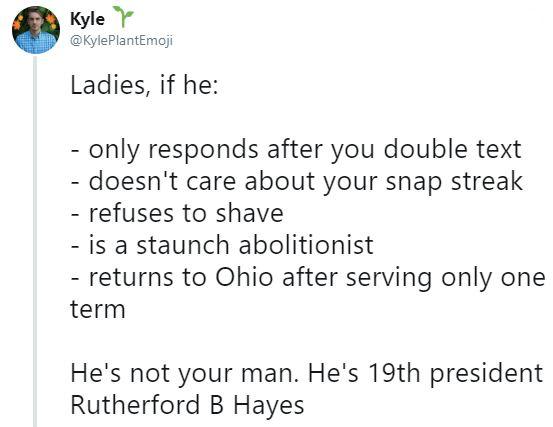 Some people begin the meme with the kind of self-affirming, wake-up-sister red flags that should let you know you're chasing the wrong man in a relationship, but then it quickly devolves into the absurd.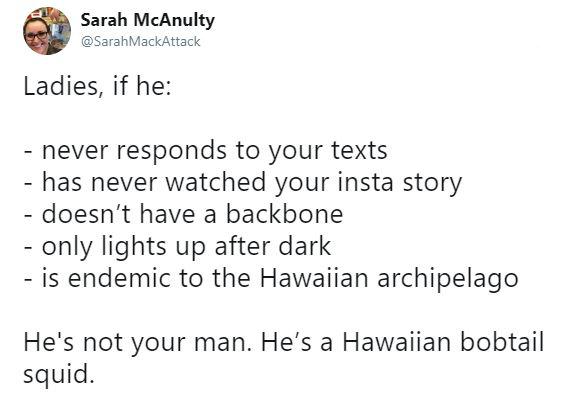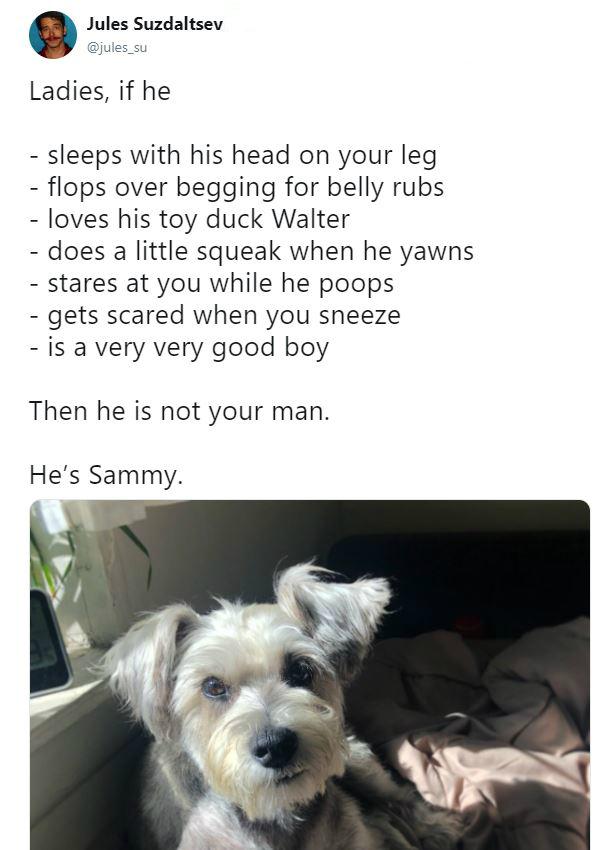 Then there are people who thankfully used the meme in very wholesome ways: like to show off their cute pets. Or to reference biblical figures, like St. Michael, slayer of dragons. What a swell dude.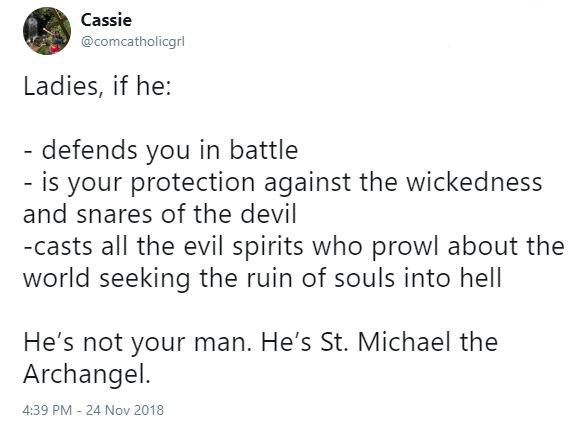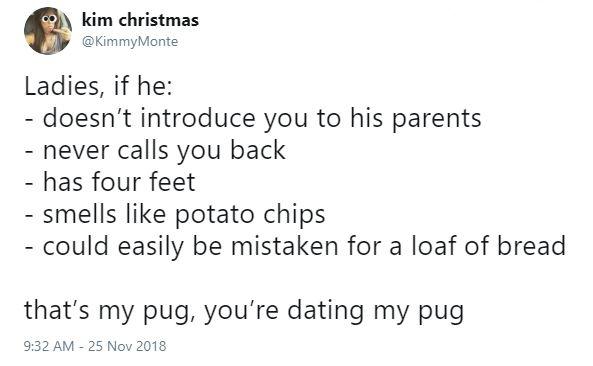 Although people were quick to reference their pets, they also opted to bring back some old-school, invasive personal assistants. Yes, before Siri, before Alexa, before "OK Google" and Cortana, there was Clippy.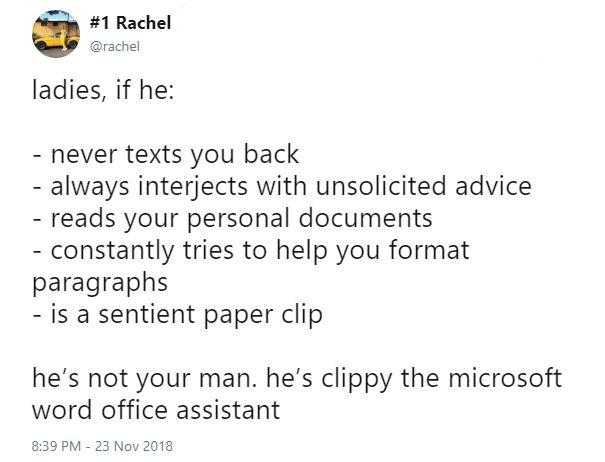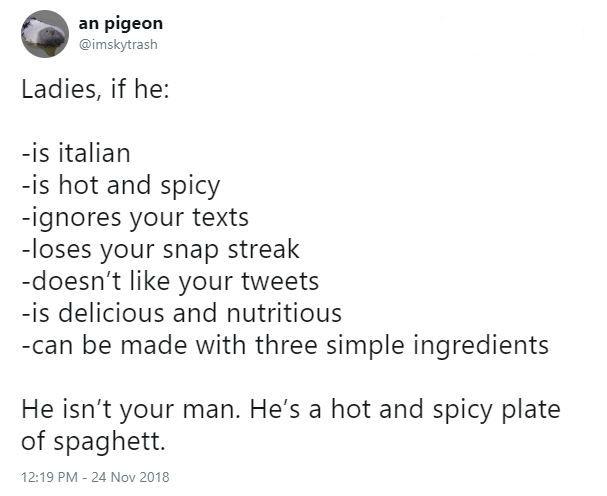 I'd argue that a hot plate of delicious spaghetti is better than having a man in some instances, but that's just me. Unless you have a man who can make a mean plate of pasta, then I stand totally corrected.
As for this manatee one, you can also add if "he's illegal to touch while you're vacationing in Key West," that's a clear warning sign.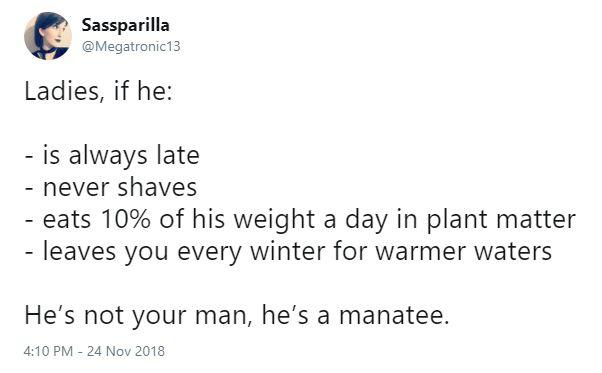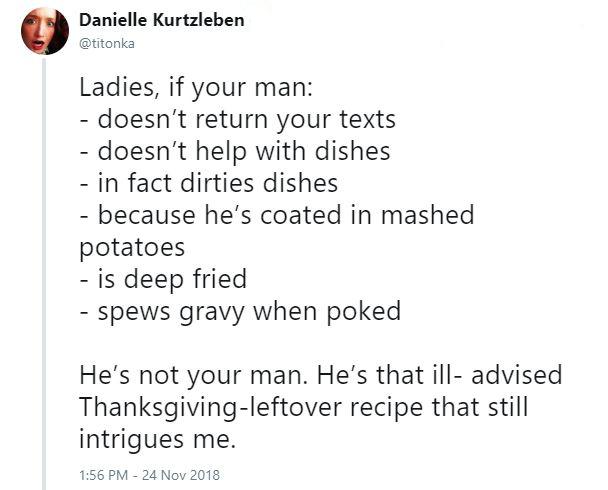 While I understand people mean well when spouting empowering messages about recognizing your self-worth, some of the well-intended messages just come off as preachy and eyeroll-inducing.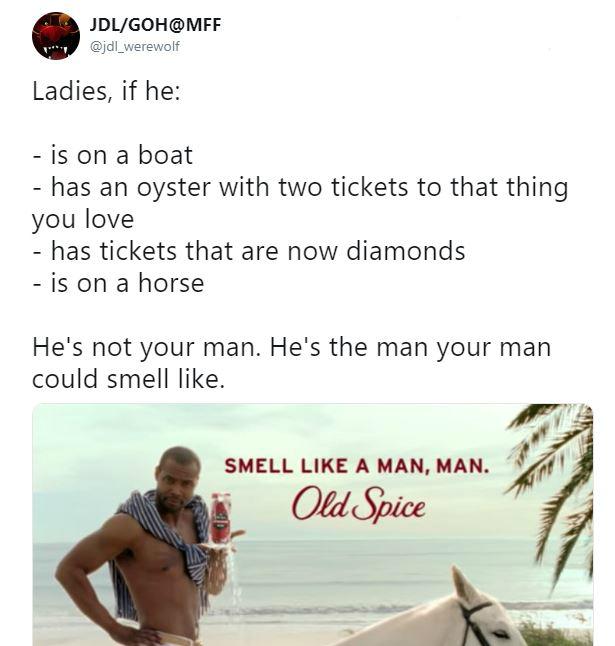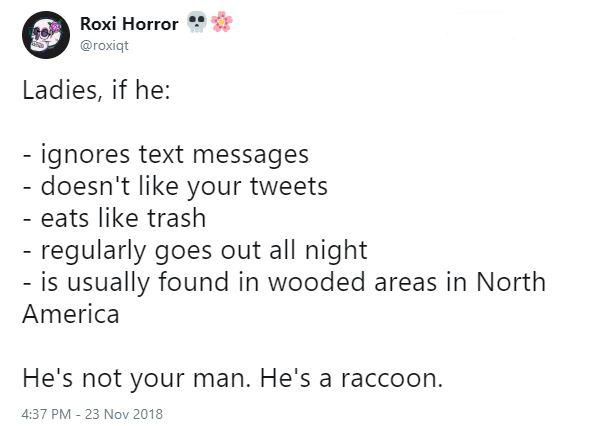 Which is why it's so satisfying to see people taking this whole "Ladies, if he:" format and turning it on its head with such obviously ridiculous memes. Even better is when the memes include defiling beloved mythical characters, like Santa Claus.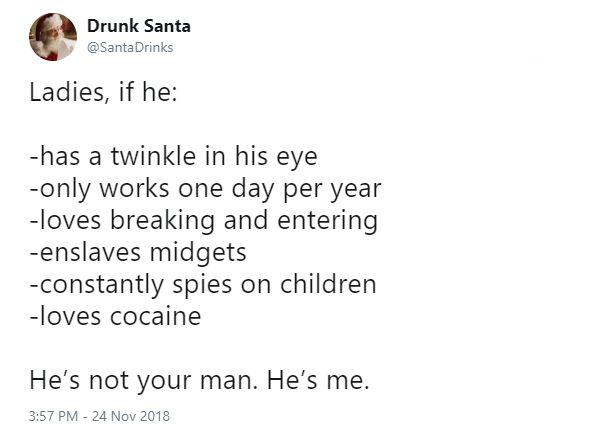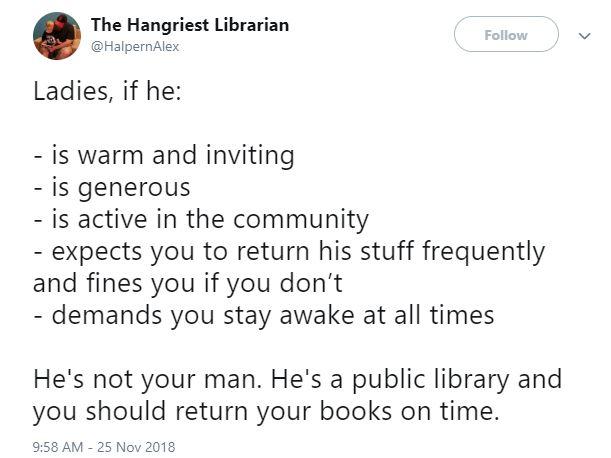 And look, the internet's full of amazing information: you can pretty much find the aggregate of all human knowledge, up until this point, online and it's accessible from a device that's probably in your pocket or on a table next to you right now.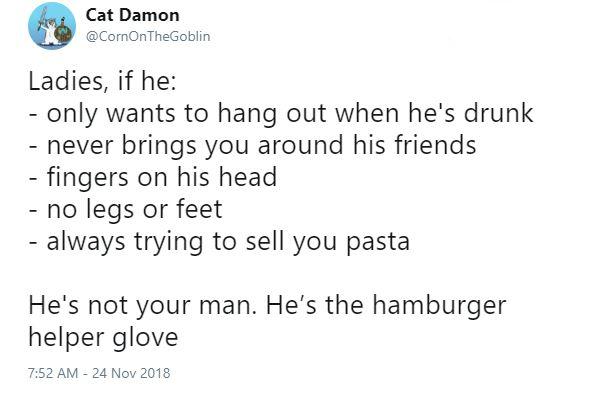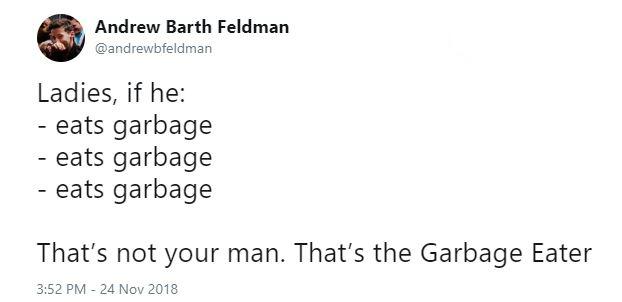 But if you're getting relationship advice from random memes on Twitter, you're probably looking for help in love in the wrong place, you know?
Besides, if you need a total stranger to tell you that a guy who never texts you back and is cold to you 99% of the time is bad news, you're ignoring a lot in your life.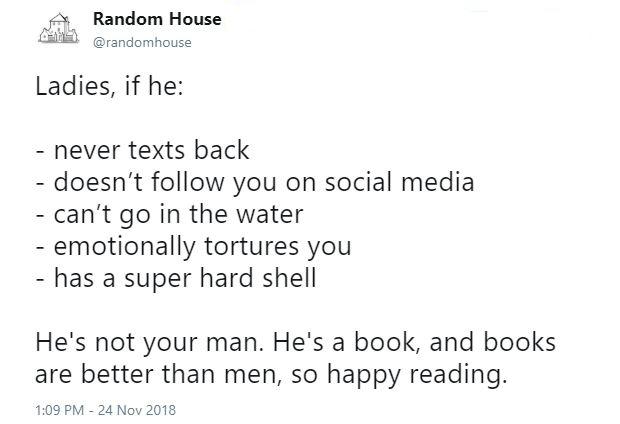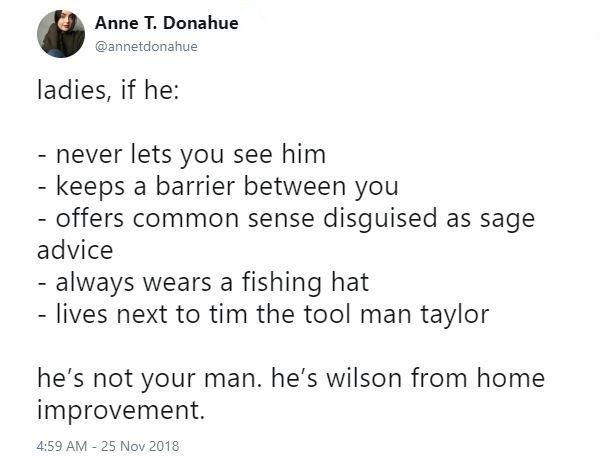 So my advice to you is to look inward, stop trying to make excuses for the person you're dating, and find out what really makes you happy. Because as fun and fancy free as Gritty, the Philadelphia Flyers' mascot appears to be...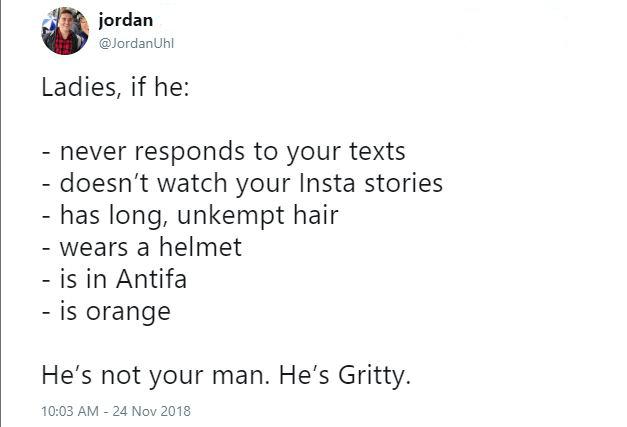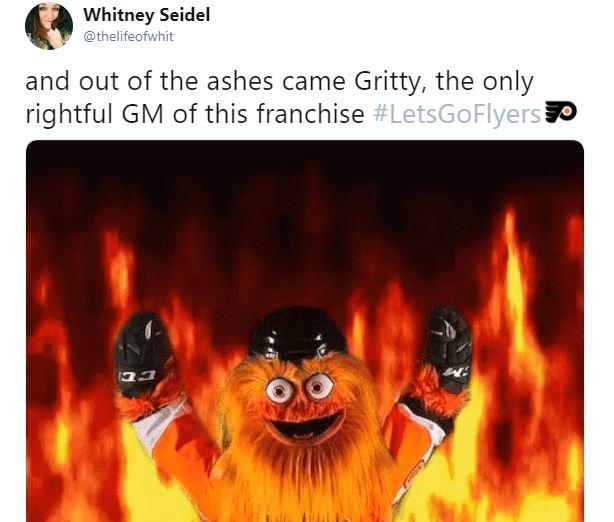 ...I can promise you he's an absolute madman who is incapable of love. Gritty only loves partying, and even that love only lasts for a short while before it turns to bloodlust. Fear Gritty. Please, that fear will keep you safe.
And since I don't want to end things on a scary note, here's another animal-themed one for you. Man these are so good.