These Internet Tough Guy Dads Might've Taken It a Bit Too Far
We've all seen a "tough love" parenting post in one form or another floating around Facebook or social media. But is public shaming that effective of a child-rearing tool?
Anyone who tells you that parenting is easy either doesn't have kids or is a bold-faced liar. Children are born with endless enthusiasm, drive, and passion, and they use all of these natural talents to obfuscate, confuse, and manipulate everyone around them into getting what they want.
So a line must be towed by parents who have the choice to either appease their kids or tough out the tantrum and correct their behavior.
Article continues below advertisement
Every parent would like to think they're doing a good job, but there's always those bouts of nervousness that creep up out of nowhere and you're wondering whether or not you're ultimately scarring your kid for life and setting them up for a lifetime of failure.
That feeling usually subsides by the time the mac n cheese cools down and it's time for them to eat, but it doesn't make it any less palpable.
That results in some parents going to some pretty extreme lengths to ensure their children don't grow up to be huge losers, which also results in some punishments many people find questionable, stupid, or downright abusive.
Take this dad, for example, who was furious to discover that his daughter was "messaging boys" on the school computer she brought home.
Understandably, most parents would be scared to discover their children are growing up and expressing romantic interests in other people.
Article continues below advertisement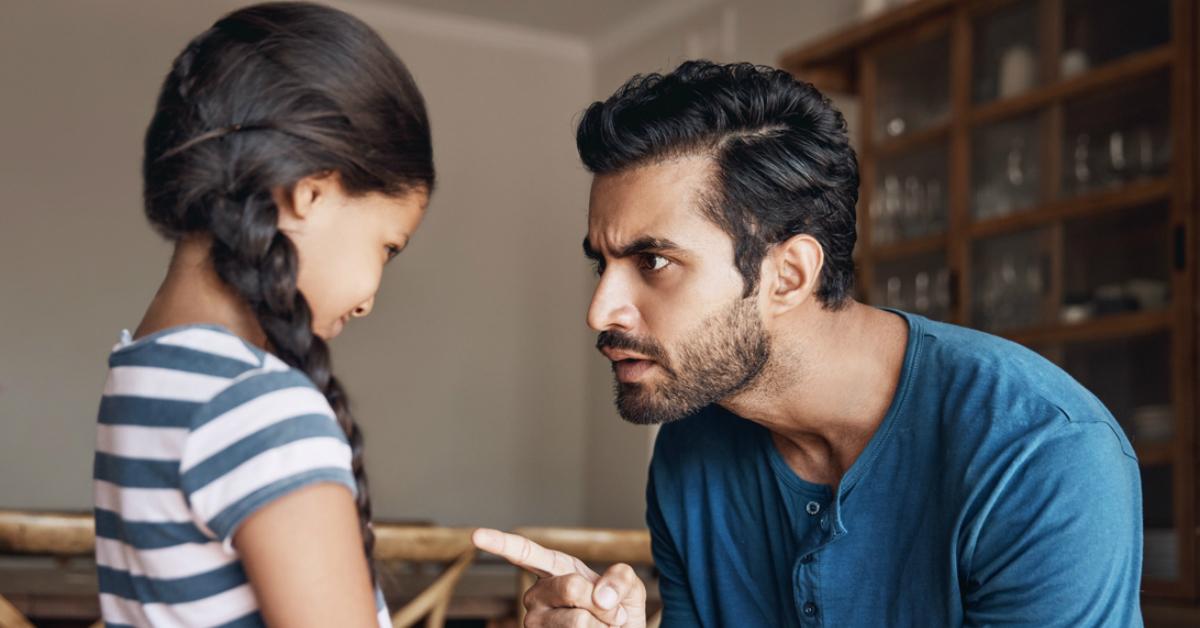 It freaks people out, especially if they're from extra-conservative backgrounds. I know my parents, growing up, would be livid if they discovered I was trying to dip my feet into the dating scene at 15 years old.
Now they'd probably chew me out and then bookend that scolding with a heartfelt lecture about the importance of making smart decisions when you're young and not getting someone pregnant before I'm even old enough to buy a lottery ticket.
Article continues below advertisement
What they probably wouldn't have done was use school property, like the $1,000+ Macbook this poor young girl brought home, for target practice.
I'm not sure what this father was trying to prove by utterly demolishing the computer. And I definitely have no idea why he'd think it was cool to boast about lighting it up on social media, with photo evidence.
Article continues below advertisement
People had their fair share of comments about this dad's attempt at "tough love," too. Like Reddit user ohioversuseveryone who said what was on everyone's minds when he wrote, "Hope that sweet Facebook post was worth $1,500."
Other users, like yogicycles pointed out another problem with this father's attempt at broadcasting his preferred mode of "extreme" punishment online for all of his friends and family to see.
That it's pretty much the height of attention-seeking behavior:
"That is what I was thinking. Must we film and post everything? I cringe when I see parents berating their kids in public, let alone on your facebook page like a badge of honor.
These parents that film punishments are seeking attention: usually in the same way the kids are for doing the "bad things" (like talking to boys or smoking or being a badass)."
Article continues below advertisement
Then there was the story of Matt Cox, who, after discovering his daughter was kicked off her school bus route for bullying, took matters into her own hands and taught her a lesson she'd never forget.
He made her walk five miles over the course of three days to and from school, as he followed behind in his truck, instead of being her personal chaperone. He received mixed responses from people online.
Article continues below advertisement
There were plenty of users on Facebook who applauded Cox's approach to punishing his daughter, Kirsten. They thought that his brand of "tough love" was just what was needed to ensure she doesn't bully other children again.
Kirsten, who was a victim of bullying herself, says she learned her lesson. That didn't stop people from criticizing Cox's approach and saying that publicly shaming his child was the wrong way to go about it.
It seems Cox may have gotten some inspiration from this other parent who, after discovering his son was bullying other children at school, hopped into his car and forced his boy to run to school while he followed behind.
People were shocked that Bryan Thornhill made his son, in his school clothes and backpack, jog outside in the rain to teach him a lesson about bullying others. A rude remark from his son, however, is what ultimately triggered the punishment.
Article continues below advertisement
In spite of critics online, Bryan said that his "old school, simple parenting" approach to raising his son did wonders for the 10-year-old's attitude and temperament:
"Ironically, since he's been running to school this week, his behavior's been much better. Teachers have approved of his behavior this week. He hasn't gotten in trouble this week, where last week, he was just absolutely out of his mind."
Article continues below advertisement
Bryan eventually took his Facebook video down after it amassed some 1.6 million views, perhaps in response to the blowback he received for the extreme punishment.
But dads publicly shaming their kids online, especially for bullying, is nothing new. And more than a few went the "sign route" to make their kids own up to their mistakes.
Like Timohy Robenhorst and his kid, Kayden.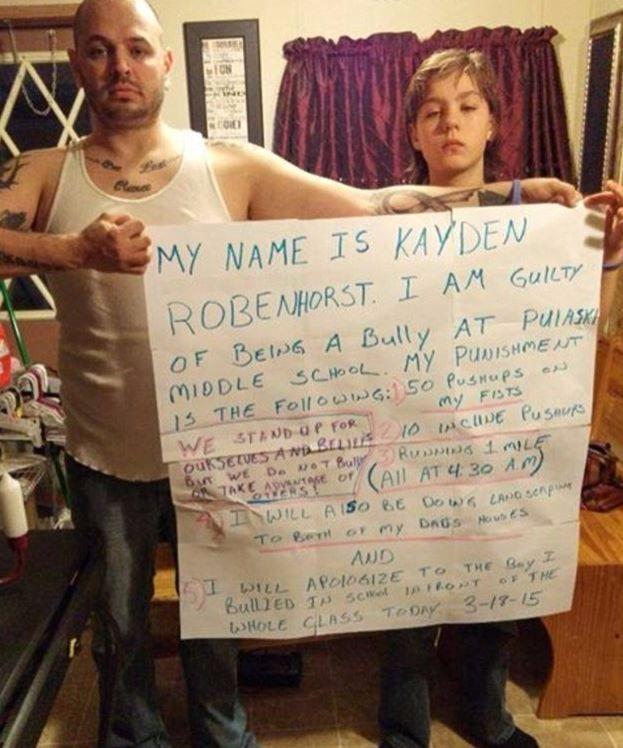 Article continues below advertisement
Timothy wrote in the post that accompanied this photo:
"This is what happens when dad finds out you are being a bully at school. My golden rule is you don't start fights or touch anyone unless they lay hands on you first. Feel free to tell Kayden how wrong it is to be a bully or share stories to help him understand the effects of these actions on the victoms [sic]. DO NOT ATTACK MY SON THIS IS TO BE A POSITIVE ACTION NOT NEGATIVE. *******PLEASE FEEL FREE TO SHARE THIS AS WELL TO HELP STOP THIS FROM HAPPENING OTHER PLACES AS WELL! THANK YOU!"
Michael Yager, of Volusia County, Florida, also thought that his son could use a good sign shaming. The 13-year-old was forced to stand at a busy intersection, holding the poster as people drove by, honking their horns. An indication that yes, they did hate bullies.
Article continues below advertisement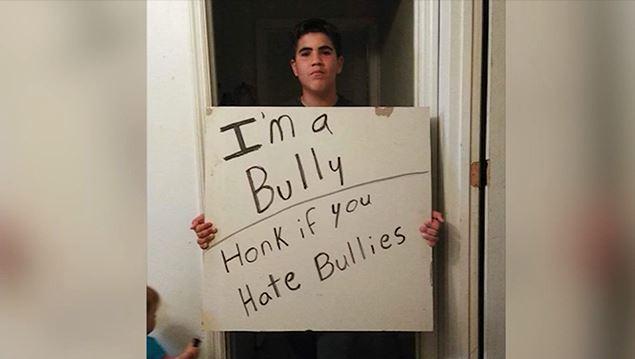 Some experts focus specifically on the phenomenon of shaming on social media and the problems associated with that. It's clearly becoming a growing trend.
A quick search online will yield tons of stories of parents forcing their kids to hold signs, or posts airing out the childrens' "bad behavior dirty laundry."
What do you think? Is public shaming an effective form of corrective behavior? Or are these parents who post about how great they are at changing their kids' behaviors just a bunch of narcissists, stroking their own egos?