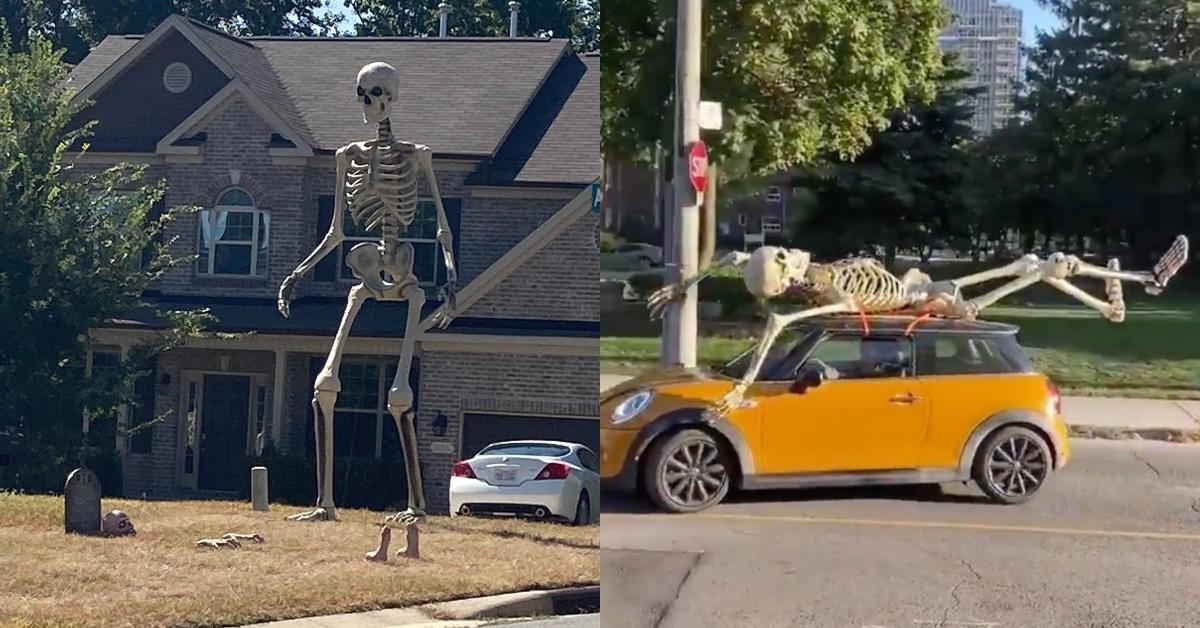 The Viral 12-Foot Tall Home Depot Skeleton Decoration Is Back
Home Depot's 12-foot tall skeleton decoration with blinking eyes took the world by storm in 2020, and now it's back for more Halloween fun.
When it comes to Halloween decorations, the bigger and scarier they are, the better. The holiday is all about delivering shock value, and what could spook a person more than coming face-to-face with a massive skeleton roughly double the height of the average human?
Article continues below advertisement
Indeed, home improvement chain Home Depot is upping the ante on terrifying Halloween decorations this year with the return of Skelly, a giant 12-foot-tall skeleton with moving, blinking eyes and adjustable limbs. Naturally, the internet cannot get enough of him.
Article continues below advertisement
Come on, just look at him! He's huge, he's unapologetic, and he's ready for Halloween fun. With this guy, all you need is some shriveled beans and you got yourself the world's most haunted "Jack and the Beanstalk" retelling.
Not only is he absolutely gigantic and not only will he make your neighbor's cheesy graveyard décor look like absolute trash, but he also comes with LCD eyes that actually blink and look around. They light up at night, making for a terrifying drive through your neighborhood.
Home Depot announced that Skelly is back in stock for a limited time as of July 15, 2022, while supplies last — so you better hurry if you want one!
Article continues below advertisement
Sure, he costs $299. But think of the possibilities.
We suggest finding the smallest car you possibly can and then strapping him to the top, like these people did in the TikTok below from when the skeleton was first released in 2020. It's truly something to behold.
Article continues below advertisement
For 2022, Home Depot is also offering 12-foot tall witches, werewolfs, and reapers.
Spring-boarding off of the success of Skelly, Home Depot has expanded its oversized Halloween decoration offerings for 2022. Where previously only the skeleton was an option, fans can now also purchase 12-foot tall hovering witches, immortal werewolves, smoldering reapers, and more. If you see online that items are sold out, the Home Depot Twitter account suggests refreshing or checking back as the company tries to release more inventory online.
And don't worry: The items will be back in the fall in stores.
So if you want to amuse your neighbors this year or absolutely scare the bejeezus out of some birds, get yourself one of these spooky 12-foot tall guys. But be sure to act fast, as competition is fierce and any upcoming restock of the massive figures is likely to sell out in minutes just like its initial release.