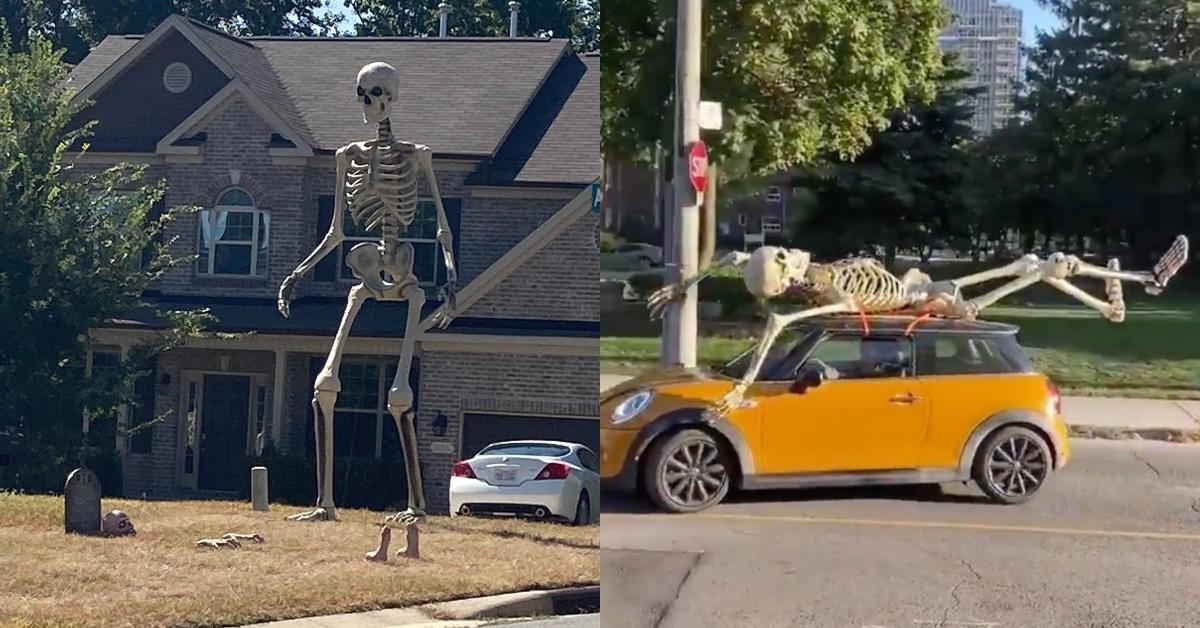 People Can't Get Enough of This 12-Foot Tall Skeleton Halloween Decoration
Halloween is far from canceled in 2020. In fact, this has been our scariest year yet! And one place that is contributing the absolute most to the spookiness this year, aside from our federal government, is — you probably didn't guess it — Home Depot! That's right.
Article continues below advertisement
The home improvement chain is upping the ante on terrifying Halloween decorations this year. You can now buy a giant 12-foot tall skeleton with moving, blinking eyes and adjustable limbs. And people simply cannot get enough of him.
Article continues below advertisement
I mean, look at him. He's huge. He's unapologetic. With this guy, all you need is some shriveled beans and you got yourself the world's most haunted "Jack and the Beanstalk" retelling.
Not only is he absolutely gigantic and not only will he make your neighbor's cheesy graveyard décor look like absolute trash, but he also comes with LCD eyes that actually blink and look around. They light up at night, making for a terrifying drive through your neighborhood.
Article continues below advertisement
Sure, he costs $299. But think of the possibilities. If you have a ladder and access to giant pilgrim hats and Santa clothes, you got yourself a multi-holiday lawn representative. I guarantee once you assemble him and put him up in your yard, you're going to want to keep him there year-round. He will certainly turn heads with bunny ears and a poofy tail on him for Easter, don't you think?
If you do want to purchase this massive monster from Home Depot, we suggest finding the smallest car you possibly can and then strapping him to the top, like these people did in their now-viral TikTok. It's truly something to behold.
Article continues below advertisement
The Mini Cooper is great, but a Smart Car would have been even better. And even better than that would have been one of those red and yellow kid's play cars where you run your feet Flintstone-style along the road to make it go.
Article continues below advertisement
Truly, the smaller the car for his journey home, the better. That's what we call straight-up comedy. No stand-up comedian can write a joke funnier than a 12-foot tall skeleton strapped to the top of a miniature car looking like he's having the time of his life on a roller coaster ride.
The 12-foot skeleton has made waves all over the nation, with people everywhere posting pics whenever they come across the giant monstrosity. In several Home Depot stores, he's been captured on film wearing his mask, because he may stand a full six feet over most people (the appropriate social distance), but he's still a responsible and courteous member of society.
Article continues below advertisement
Of course, a skeleton wearing a mask begs the question... How do skeletons breathe? They don't have lungs. They don't have any organs!
Article continues below advertisement
2020 is such a weird year that when someone was like, "Oh yeah, there's a giant 12-foot tall skeleton that you can buy and put on your lawn," I was like, "Yes, of course there is. Makes perfect sense. Nothing to question here. Carry on."
So if you want to amuse your neighbors this year or absolutely scare the bejeezus out of some birds, get yourself this guy. He's for sale at Home Depot and I for one think he would make a lovely addition to your family.