"Is This a Joke?" — Job Listing Only Paying $15 an Hour Wants 20 Years' Experience
One woman's job search came to a screeching halt when she saw a listing that offered $15 an hour for 20 years of experience. That can't be right.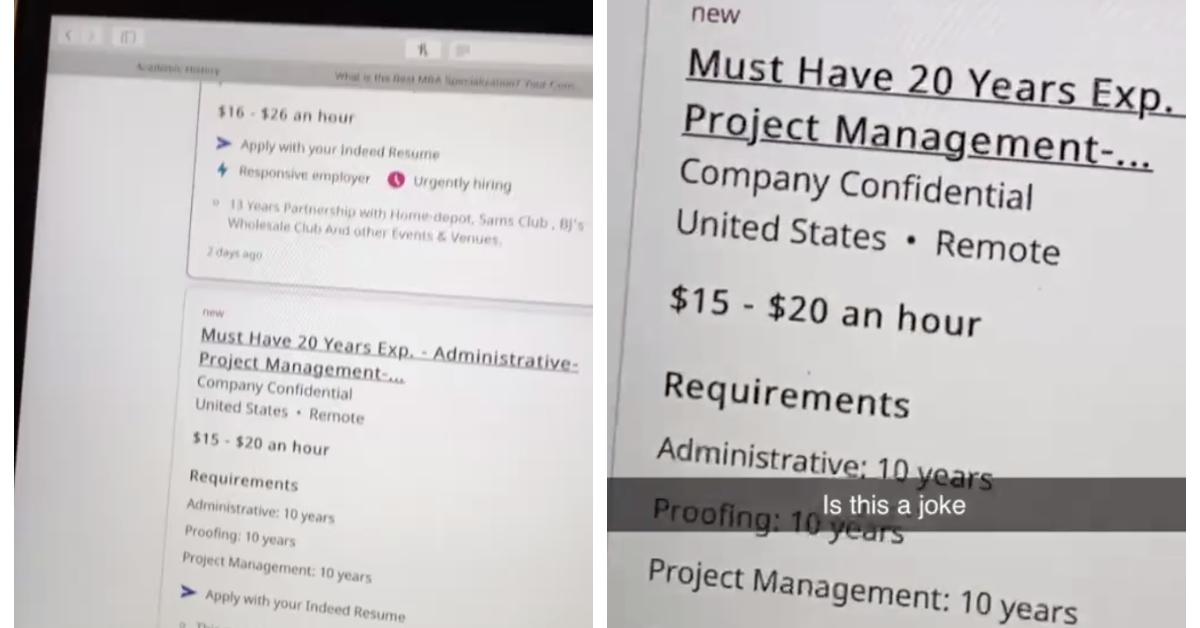 Absolutely nothing will break your spirit faster than a job search. Imagine having to send out your entire life, in job form, to strangers who will judge you on your perceived accomplishments and skills. That's assuming an actual human gets ahold of your resume. Many companies use applicant tracking systems (ATS) to sort through resumes using specific keywords you're not privy to.
Article continues below advertisement
The pain of new job hunting is compounded by the pain of recent job loss. If you're lucky enough to start looking while still employed, that's great, but most folks are looking for an unemployed reason. What a potential employer includes in a job posting varies but the thing everyone looks for is payment. One TikToker found quite the discrepancy in a job listing between what they were offering vs. the amount of experience needed. Surely they jest?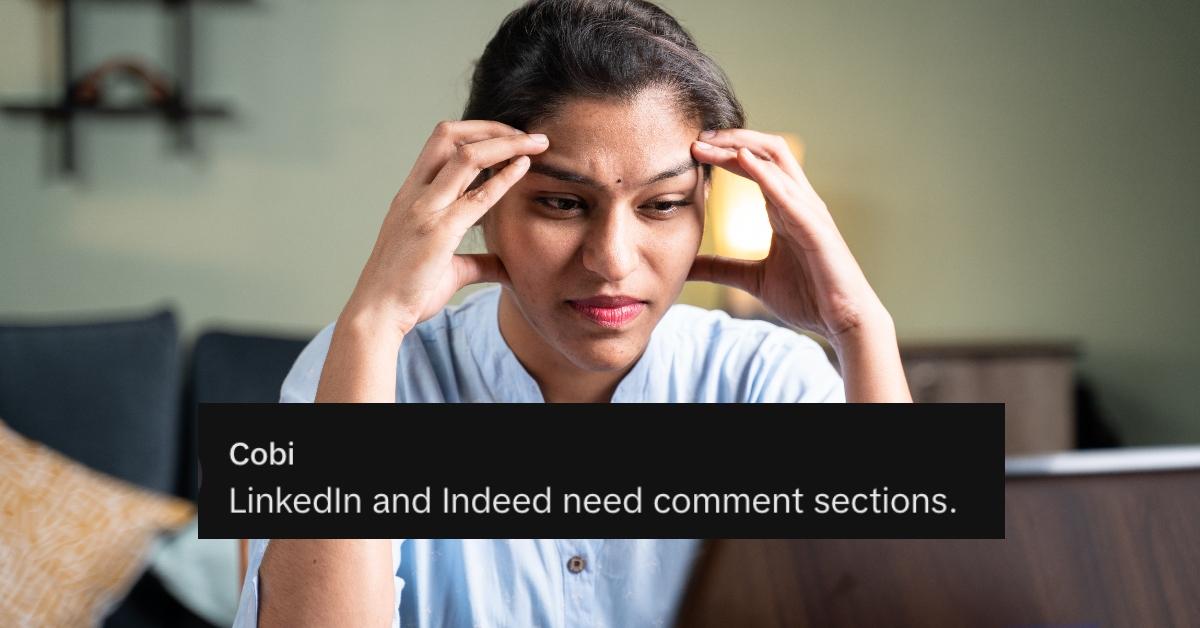 Article continues below advertisement
This company is asking for too much experience while paying not nearly enough.
In May 2021 my company dissolved due to the COVID-19 pandemic. Prior to that I was the creator and director of a festival which allowed me to hone a variety of skills. I wasn't as worried about finding a job as I should have been. Boy did I learn the hard way.
Going into my unemployment, I was irrationally confident. Despite the fact that events were not happening, I knew that I could apply my event production skills to any number of jobs. It took me 15 months to find work. During that time I learned how to read between the lines in job postings, as a great deal of them were not legit. I found that out the hard way.
Article continues below advertisement
While it was tempting to dive headfirst into a multilevel marketing scheme, if only to pass the time, I wasn't ready to be the subject of a Netflix true-crime documentary. One thing I never did was apply for jobs that didn't include the salary. Like Em, who goes by @em.hudss on TikTok, I wasn't going to waste my time.
Article continues below advertisement
However sometimes what an employer is offering can be an insult. Em was looking at a listing for an administrative project manager position. I'm familiar with administrative jobs and I've heard of project manager, but I didn't know the two could meet.
I feel like this job is for someone performing administrative duties for a project manager, because generally a project manager doesn't also do admin work, and an administrative assistant isn't managing anyone. That being said, the fact that it's asking for 20 years' experience while only offering $15 to $20 per hour is insane.
Article continues below advertisement
I can't see the full listing so I have no idea if this is full-time, or includes benefits, but I'm willing to bet healthcare is off the table. It's rare to see an hourly employee get healthcare, and who knows what time off looks like.
Article continues below advertisement
Could this be a typo?
More than one person suggested the 20 years was a typoe (see what I did there?). Surely the employer meant to write two years and not 20. If you've got 20 years of experience in anything, it's time to ask for the whole pie and not just a piece.
Although, under the requirements, it reads "administrative: 10 years, proofing: 10 years, and project management: 10 years." At the very least this company is looking for a decade's worth of experience.
Article continues below advertisement

From deep within the replies, a conspiracy theory arose like a phoenix from the flames. This is what happens "when a company is required to show proof they're attempting to hire, but make the requirements and salary so insane no one applies," said one commenter. That's villainous! Another person added this is usually due to the fact that they hired from within the company but are forced to advertise the job anyway.
Add that to the list. If you ever see an absolutely unhinged job post, it's probably because they don't actually need the position filled but are being forced to act as if they are offering. What I want to know is, who is enforcing this bizarre regulation? I think all job seekers would rather apply for a job they have a chance of getting instead of wasting their time. Someone needs to manage this project better.