TikTokers Claim the 75 Hard Challenge Will Change Your Life
The 75 Hard Challenge requires its participants to stick to some very rigid guidelines for 75 days, and TikTok users are sharing their journeys.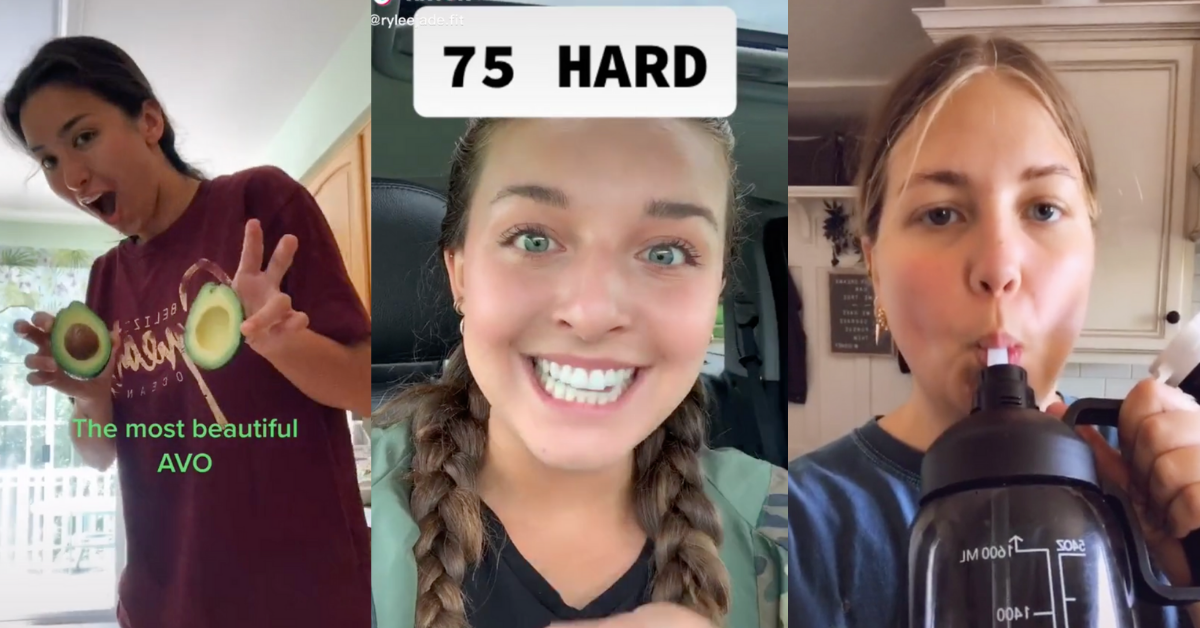 If you're an avid TikTok user, then there is a high chance you've stumbled across other users talking about doing the 75 Hard Challenge on your "For You" page. The hashtags #75HardChallenge and #75Hard have racked up over 33 million views collectively at this point.
Article continues below advertisement
There have been so many different weight loss trends and challenges that have taken over TikTok, like keto diets or Chloe Ting shred challenges. What's different and intriguing about this challenge is that it calls for much more than just a change in your diet and exercise routine.
Article continues below advertisement
The 75 Day Hard Challenge on TikTok was created by Andy Frisella.
In March 2019, Andy Frisella, a motivational speaker, podcaster, author, and supplement company owner, talked about the 75 Hard Challenge on his podcast, Real AF. He explained that the challenge is not only a way to lose weight, but also to change your entire mindset.
"I've spent more than 20 years figuring out how to master mental toughness and I'm putting everything I've learned into a program I call 75HARD," he wrote in the episode notes.
Article continues below advertisement
According to his website, 75 Hard is "not a regular fitness plan" but more of a "mental toughness program." While some may be skeptical of his credentials, considering he is not a certified personal trainer or dietitian, he says that he is qualified to teach this challenge based on his "20 years of intensive study and real-life experience."
Article continues below advertisement
The 75 Hard Challenge has five main points:
One of the aspects of the 75 Hard Challenge is the idea that you're not only working on your body, but you're also working on your mind and overall mental state. The basic principles of the 75 Hard include:
Follow a diet. There is no specific diet you need to follow. However, Andy does clearly state that the diet does not allow alcohol or "cheat meals."
Work out twice a day for at least 45 minutes. One of these workouts must be outdoors.
Drink 4 liters of water per day.
Read 10 pages of nonfiction a day.
Take progress photos every day.
Article continues below advertisement
Finally, if it wasn't obvious, these five principles need to be applied every single day for 75 days. If one or more is not completed, you start back at day one.
Article continues below advertisement
TikTok users are documenting their 75 Day Hard journeys.
The challenge has become wildly popular on TikTok with many users putting together short videos to show their progress each day, including what they ate, read, and did for exercise that day. Some say that showing their followers what they've been doing is helpful for accountability purposes.
Article continues below advertisement
While some are praising the efforts of people participating in the 75 Hard Challenge, it has also received a lot of criticism for being rigid, toxic, and generally unhealthy. According to Cosmopolitan, challenges like this can really interfere with one's relationship with diet and exercise in a negative way. They interviewed licensed clinical social worker and therapist Ayana Ali and she had some warnings for those ready to try the 75 Day Hard challenge.
Article continues below advertisement
Cosmopolitan writes, "'Diets that severely restrict food often result in the creation of a negative relationship between individuals and how they nourish themselves,' says Ali. It works like this: When you categorize foods as "bad" or "cheat foods" and avoid them, you may crave those foods more intensely. And once you eat them, 'you will likely overindulge and subsequently drown in guilt and shame for having consumed so much of it,' says Ali. That can set you up for a disordered cycle of bingeing and restriction."
So while the challenge may sound intriguing due to how tough and intense its guidelines are, there could be some really negative and toxic side effects to giving it a try.