Woman Directs Traffic With a Big Stick to Keep AAA Employee Safe
A flat tire can be very scary, especially if it happens on the side of a busy highway. Luckily AAA can save the day but what if you had to help?
I have terrible luck when it comes to cars. I got my first car at the age of 17 and it was exactly what I wanted: a 1988 Volkswagen Jetta. Four months into our relationship, I was rear ended at an intersection. Because I was a teenager, I had an old box of apple juice in the trunk. Why did I have that? Who can say. Kids are gross and weird. Did you know that old apple juice can smell like alcohol? That's what police on the scene thought, and they couldn't open my trunk to confirm it was juice.
Article continues below advertisement
That was the first of many vehicular incidents I've had in my life including but not limited to, breaking down on the New Jersey Turnpike. That is literally the worst place that can happen. In fact, being trapped on the side of a busy highway with a busted car is absolutely terrifying. For one woman who got a flat tire on a similar road, the AAA tow truck driver made it fun when he asked her to help direct traffic. Wielding a big stick, she obliged. Could you handle this much responsibility?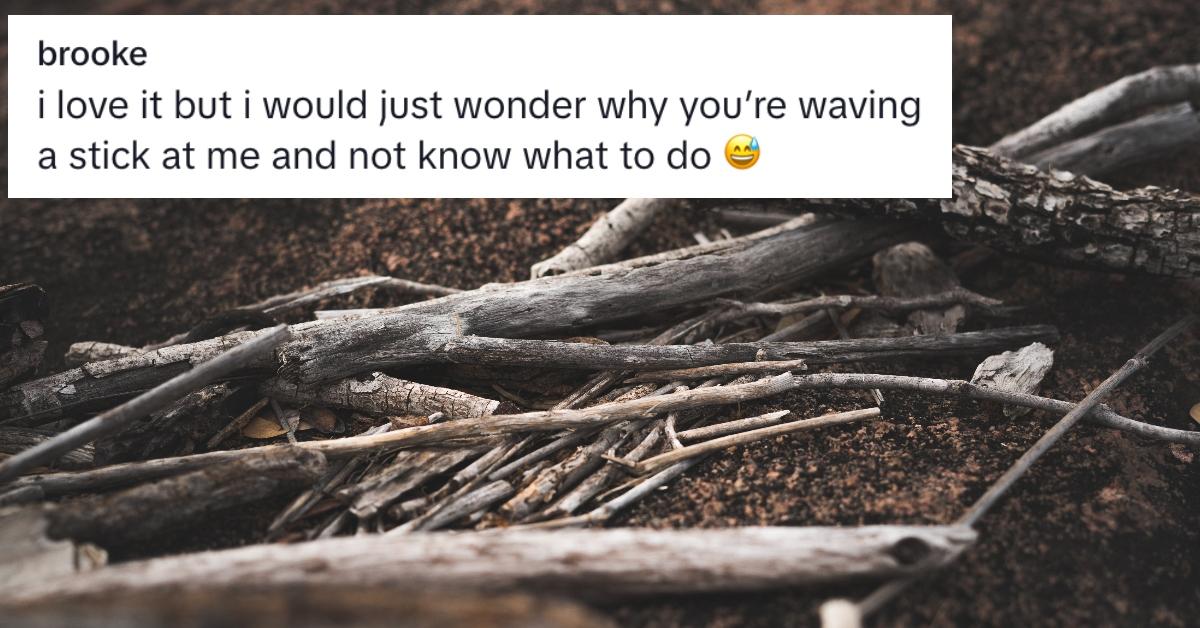 Article continues below advertisement
Direct traffic softly and carry a big stick.
Margo, who goes by @summargo on TikTok, sadly got a flat tire on a Dallas highway. Thankfully no one was hurt. Naturally she turned to AAA for assistance. I remember when I got my first AAA card. I really felt like an adult in that moment. Also, using tiny trash bags for my tiny trashcan instead of old grocery bags also makes me feel like a grownup. It's the little things.
Not only is standing on the side of a highway as cars drive by an upsetting experience, but two young women calling AAA can also be scary. So, it's nice when the driver put everyone at ease by giving Margo's friend a task.
Article continues below advertisement
In all likelihood, the flat tire was on the road side of the vehicle which is pretty dangerous for the AAA employee or anyone really. Not to get too dark, but in August 2023 a person "assisting with a disabled car was struck during a crash and knocked over the I-395 bridge," in Baltimore, per CBS News. They did not make it.
Article continues below advertisement
It makes total sense that the AAA employee would ask Margo and her friend to gently urge cars to move away from their stranded vehicle. As great as Margo's friend was, and she really put some sassy effort into this, the real star was the stick she used.
Article continues below advertisement
Like one commenter, I was curious about the stick's origin story. In fact moving forward, we're referring to this incident as StickTok. I can't see any foliage, so it stands to reason that the stick belonged to the AAA driver or Margo and her pal.
The AAA driver has undoubtedly used the stick to solicit the help of customers in the past, so he might keep it in his tow truck. I do have one wild theory as to why it could belong to Margo and her friend.
Article continues below advertisement
The Texas Renaissance Festival kicks off in October, a mere two weeks after this StickTok dropped. Perhaps these maidens are huge fans, and planned on making the three hour drive from Dallas to Todd Mission, Texas to attend. As someone who worked at a Renaissance festival for three years in the 1990s, and still attends one annually, a walking stick is very common.
Article continues below advertisement
That might sound farfetched, but that's only because some people are wholly unaware of how committed Renaissance festival attendees are. The costumes can get very intense. This is probably just wishful thinking on my part. I simply can't stop encouraging people to go to a Renaissance festival at least one time in their lives.
All jokes aside, this was actually a very kind thing to do. A woman by the name of Jayden jumped into the comments to give some insight into how helpful this really is. "As a towing family who does AAA calls, thank you for helping keeping us safe! This seems small, but it's really big!" As I said, it really is the little things.