Lyft Driver Conveniently "Remembers" He has a Flat Tire After Seeing Customer Walk Outside
A TikToker suggested they were discriminated against after a Lyft driver "remembered" they had a flat tire upon seeing them at pick up.
A Black member of the military, Ricky Williams (@rickywilliams303) posted a now-viral TikTok of a Lyft driver telling him to get out of his car, stating that his ride would be canceled. The TikToker noted that the driver, upon seeing him, suddenly said that he couldn't give him a ride because his car had a flat tire.
Article continues below advertisement
When Ricky asked which tire was flat the man became increasingly aggressive and charged toward Ricky, screaming at him to get away from his vehicle. Ricky kept pressing the man, asking him what the issue was but the man kept telling him to leave and step away from his vehicle until he ultimately drove away.
A text overlay on Ricky's TikTok reads: "Throwback to when my Lyft driver saw me come outside and all of a sudden had a 'flat' tire." He writes in a caption for the video, "Man I just wanted a ride home."
Article continues below advertisement
In the video, Ricky can be heard saying, "Where's the flat tire?" after the driver tells him that he won't be able to give him a ride. "The-the thing is on it's telling me I've got a [unintelligible] tire somewhere..."
"What thing?" Ricky asks.
The driver then gets out of his vehicle and the tone in his voice changes, "I'm gonna tell you one time if you don't get the god damn hell outta my car."
Article continues below advertisement

He then begins screaming at Ricky, "You better get the f*** away from my car...or I'll call the cops on you."
"Call the cops," Ricky says.
"You must be crazy standing in front of somebody's car."
"What are you talking about bro you're my Lyft driver. I didn't do s*** to you," Ricky says.
Article continues below advertisement

The driver responds, "I'm not your Lyft driver no more."
"What do you mean you're not my Lyft driver anymore?" Ricky asks.
At this point in the video the driver then waves Ricky off and returns to his seat, "You can film it all you want [it doesn't] make any difference."
Article continues below advertisement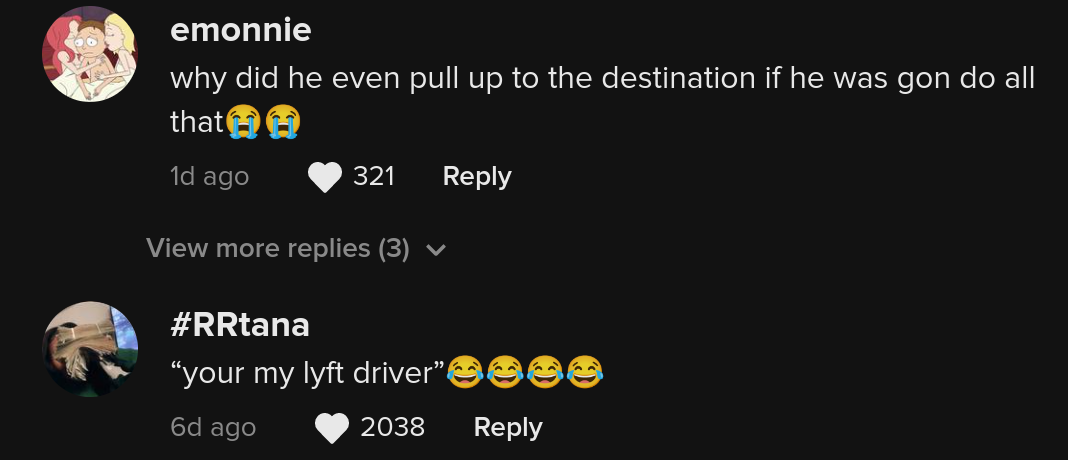 Ricky continues talking to the man, "You just ran up on me for no f***ing reason."
"Shut up!" the driver screams as she shuts the door to his vehicle and begins pulling out.
Many TikTokers surmised that the driver's reluctance had to do with the fact that he was a Black male.
Article continues below advertisement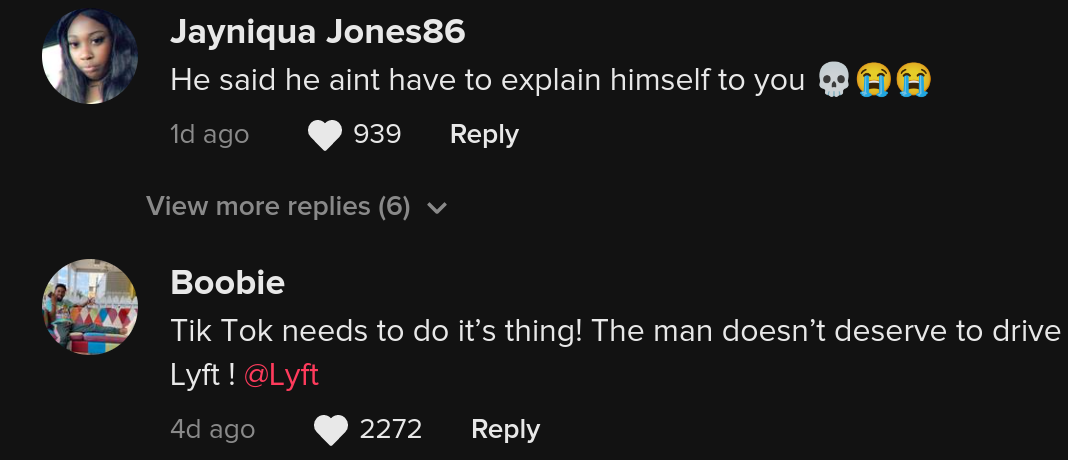 While TikTokers expressed their sympathy with Ricky's situation, many said that it was best he didn't drive with the man anyway as they believed his safety would've been compromised riding with the driver who exhibited a sudden shift in temperament at the first sight of Ricky.
Article continues below advertisement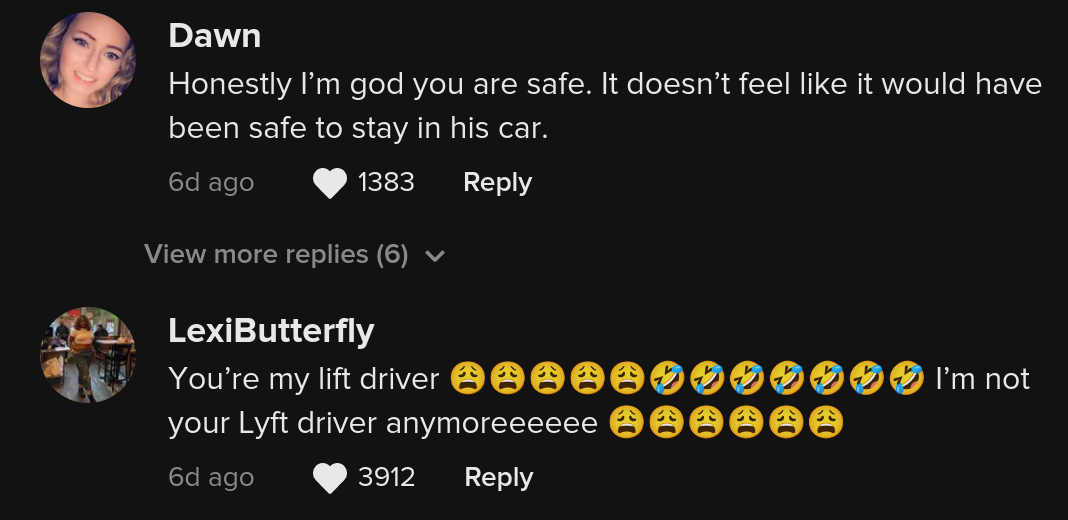 Others said that it wasn't worth Ricky's time to be arguing with the man in the first place and he should've simply let him drive away, and then there were some who tagged Lyft in the comments section and asked for the ride-sharing application to locate the driver and get him banned from the platform.
Article continues below advertisement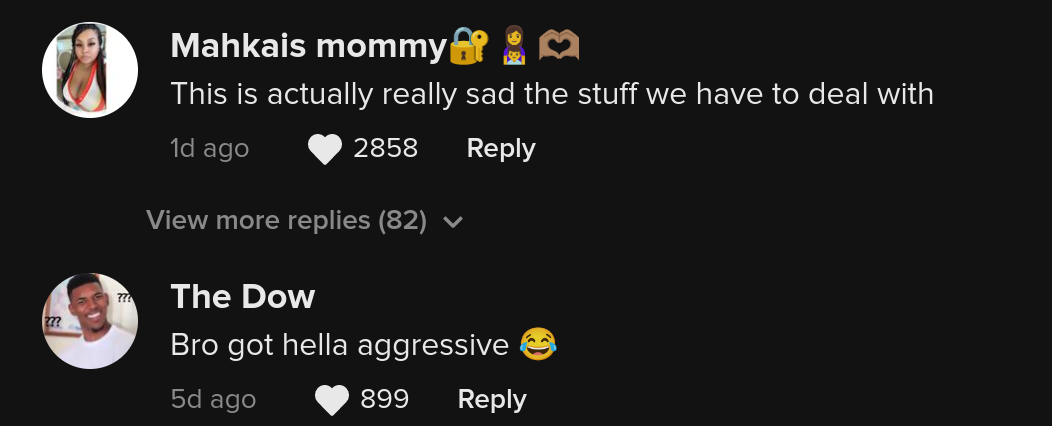 Lyft has clear anti-discrimination policies posted to its official website. The company states that any type of discrimination based on the qualifiers listed as part of its policy will immediately result in deactivation.
Article continues below advertisement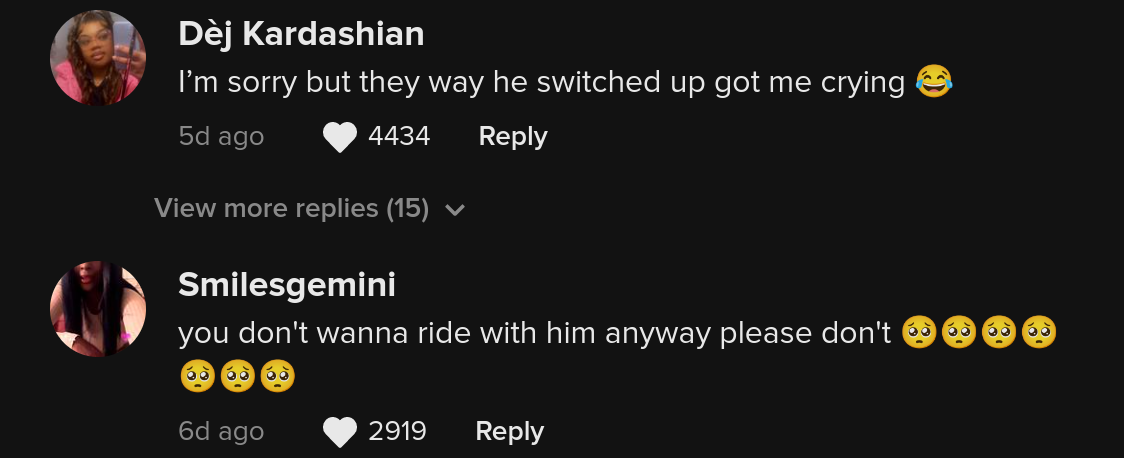 "Discrimination against riders or drivers isn't tolerated on the Lyft platform. Reports of discrimination based on any of the following can result in account deactivation:
color
national origin
religion
gender, gender identity or expression
physical or mental disability (including the refusal of service animals or mobility devices)
medical condition
marital status
age
sexual orientation"
Article continues below advertisement

In May of 2022 a Lyft driver refused to pick up a passenger who seemed thankful that he was a "normal...white...guy" who spoke "English." The driver canceled the ride and told the customer to get out of the car because the comment they made was "inappropriate."