What Exactly Is an "Academic Weapon"? The TikTok Trend, Explained
What exactly is an "academic weapon"? The TikTok trend was started by Penn State University Student Bradley Kraut — here's what we know!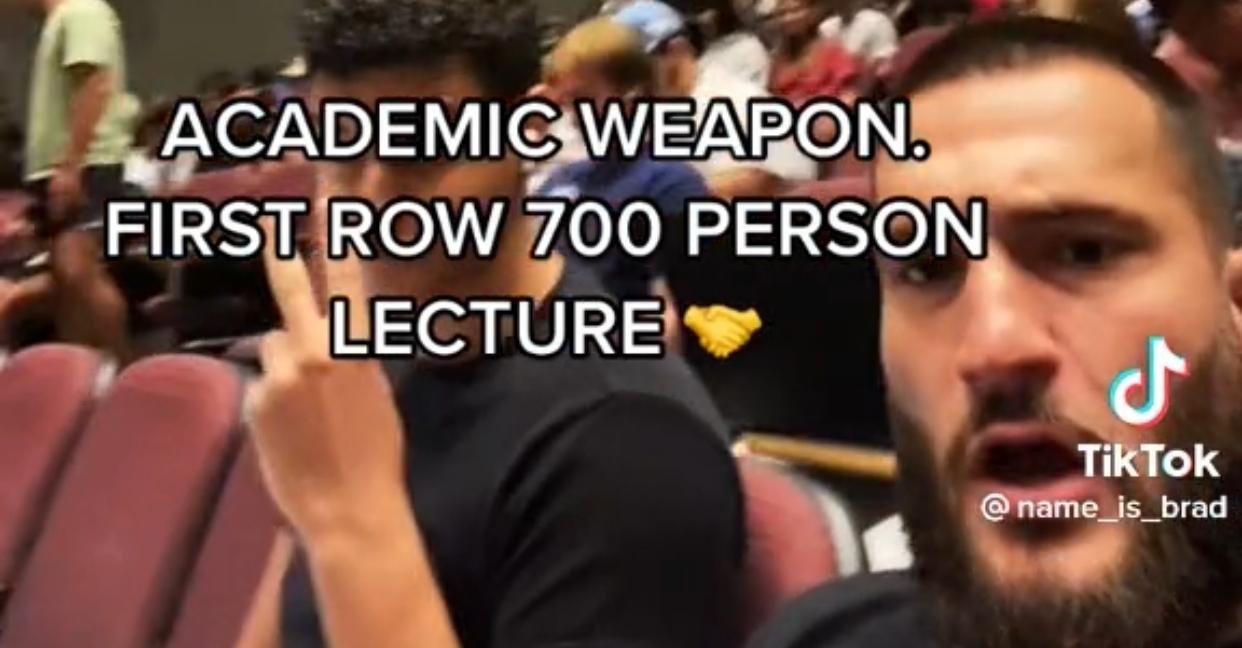 There's a TikTok trend that proves that the internet is undefeated. In a now-viral video with more than 1 million likes as of this writing, one user gave college students the study hack they didn't know they needed.
Article continues below advertisement
So, what is the academic weapon trend on TikTok? Keep reading for all the details.
Article continues below advertisement
Why is "academic weapon" trending on TikTok?
Penn State University's Bradley Kraut (@name_is_brad) — a senior majoring in public relations — is the latest social media star to become TikTok famous with a following of more than 500,000 users to date.
The 21-year-old's profile became popular after he shared his secret to nailing the semester. According to him, the key is to become a "lethal academic weapon." Which, for him, is having a hard-core bro-down in the front of the classroom.
He said in the clip, "We are [in the] first row in a 700-person class. Let's go!"
In the comments, users teased that Brad was the first person to have courtside seats in a classroom, and we see no lies. "The alpha-ization of learning might be the greatest thing I've ever witnessed," someone said in a reply with more than 1,000 likes.
Article continues below advertisement
Others took to the comment section to thank Brad for his service. "Hope yall know this guy is the only reason im passing any of my classes," another user joked.
While Brad's passion for higher learning is heart-warming, we must admit that this wasn't the life-changing advice we were looking for. Following the clip's viral success, dozens of other users used the audio to share their own life hacks — though, some were more helpful than others.
Article continues below advertisement
What exactly is the "academic weapon" trend on TikTok?
Academic weapons aren't born, they're made through hard work and procrastination. The hashtag has more than 1.8 million views and counting, as several others have chimed in on the hilarious trend.
One user wrote in a TikTok video, "Me after spending four hours doing math homework that should have taken me 30 minutes." Another TikToker joked, "When you don't have the energy to finish your assignment but have the energy to write the saddest most sympathy-begging email to your professor."
And we can totally relate.
Not long after Brad's video went viral, he dropped merch that featured his viral phrase. In the past, Brad said he wants to raise the nation's GPA and inspire students through his viral content.