Woman Inadvertently Announces She's Pregnant at Her Sister's Wedding, but It's Really Not Her Fault
This bride is upset her sister didn't apologize for accidentally revealing her pregnancy, which she desperately tried to keep under wraps.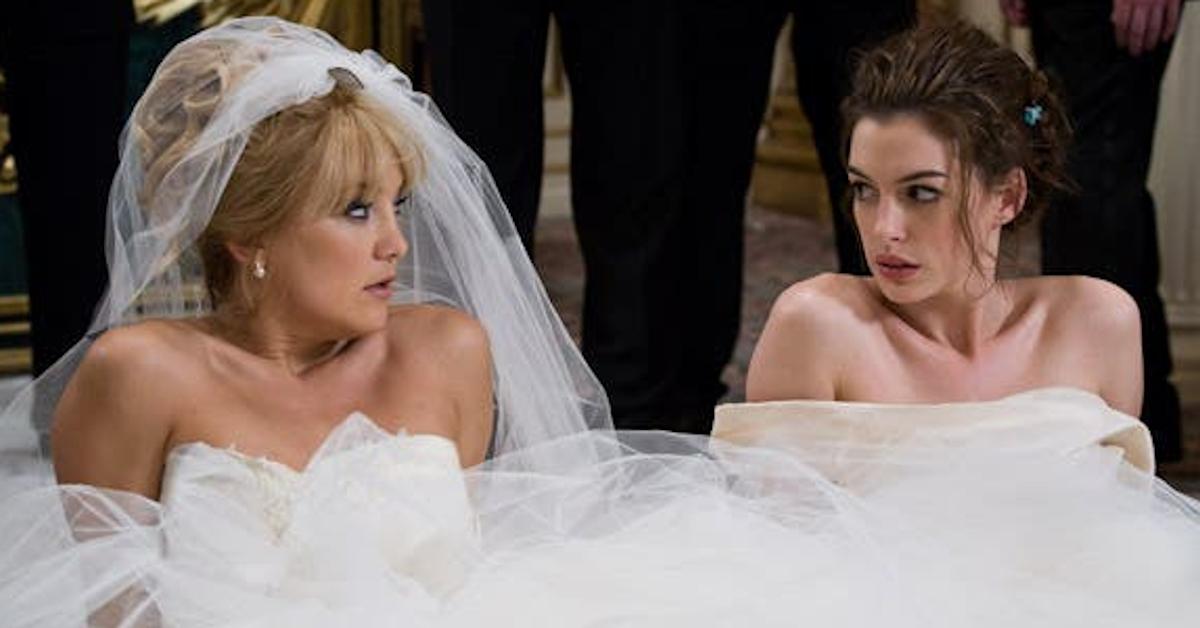 People get kind of crazy when it comes to their weddings, which is understandable. For many, it's the "one day" where everything is about them, and a moment that they've been dreaming about all of their lives. It's also a highly stressful affair that requires months and months of careful planning for just about every detail: from the finances, to the venue, to the seating arrangements, to the food, to the clothing ... everything.
Article continues below advertisement
So it would make total sense why someone would want to keep any other major announcements during that special day to a minimum in order to make sure that the spotlight is on them. Call it selfish, but it's their wedding, right? Like maybe avoid proposing to someone at a friend's wedding, or, if you found out you're pregnant, not going nuts and telling everyone you are.
On the surface, it might seem like this pregnant woman was in the wrong for letting it slip during her sister's wedding that she was with child. However, when you consider the circumstances behind the pregnancy and the wedding celebration, it's hard to blame her. Still, she was a bit conflicted about the whole thing and wanted to ask Reddit's AITA sub if she was, indeed, the a-hole for accidentally revealing she had a bun in the oven.
Article continues below advertisement

By her own admission, OP says that both she and her sister have a very competitive relationship that they mutually agreed was unhealthy, and decided to try and be as loving and supportive of one another as possible. For six months, things seemed to be going good — until the day of OP's sister's wedding. I know, timing, right?
The thing is, OP was a little over four months pregnant when she attended the wedding.
Article continues below advertisement
Her sister, understandably, wanted the wedding to be about her and didn't want everyone going up to OP and asking about her baby. So OP obliged her sister when she requested she wear a loose dress so people wouldn't see her baby bump. For a while, things were going as planned. But then the questions about why she wasn't drinking champagne started rolling in from her father of all people.
Dad asked if she was pregnant, and she told him she was, but not to tell anyone.
That's where the trouble began.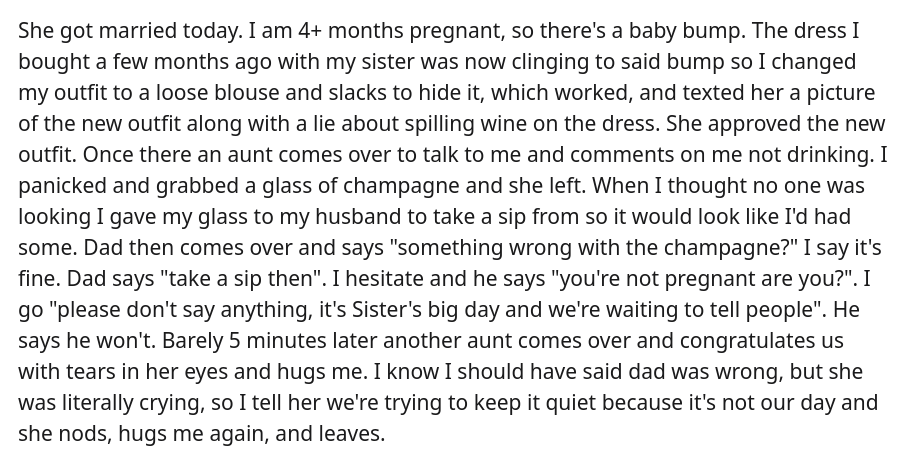 Article continues below advertisement
Her father made it seem like he was on the same page and OF COURSE he wouldn't tell anyone that she was pregnant because, as she said, it was her sister's big day. But then her aunt approached her and congratulated her on the baby. Then other guests quickly discovered she was pregnant and everyone was going up to OP to tell her how happy they were for her — which is literally what both she and her sister didn't want to happen.
Cue the angry glares from her sister who was upset that she wasn't the star of the show. OP went and tried to make it right with her, but the bride wasn't having it. She told OP that it was probably best that she leave the wedding with her husband altogether, so they did. Kind of an extreme measure, but tensions were high.
Article continues below advertisement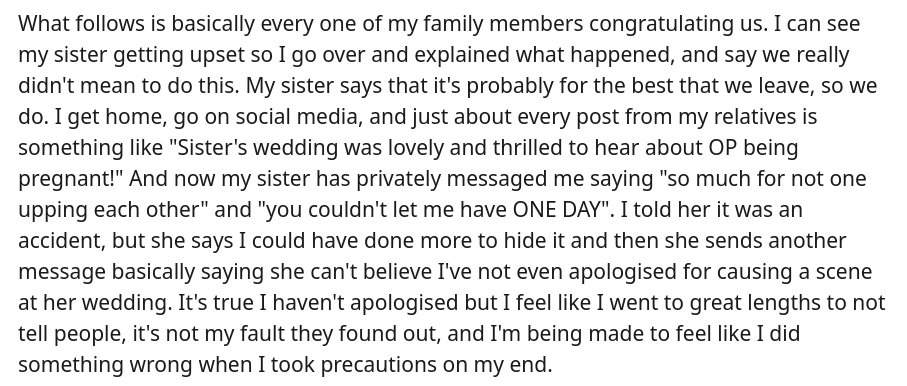 OP's sister was still highly upset with her until after the wedding, and even reached out to her, blasting her for not even apologizing. OP didn't feel the need to say sorry, as it wasn't her fault and she "went to great lengths to not tell people." She also mentioned she was planning on keeping the pregnancy a secret until after her sister went on her honeymoon anyway, because she suffered a miscarriage previously.
Article continues below advertisement
While the majority of people agreed that she wasn't an a-hole for "accidentally" letting it slip that she was pregnant, many people took issue with the fact that she wouldn't apologize to her sister, and that she was insisting on acting in a spiteful way for not doing so.

Article continues below advertisement


Article continues below advertisement

What do you think? Is it OP's fault at all? Should she have just lied through her teeth to others like some Redditors suggested? Or was it all a misunderstanding that could've been avoided?
If I were OP's sister, I'd get on the mic and thank everybody for coming to my wedding, but to give it up to her sis for getting pregnant. It'd make her way more endearing, instead of just causing a bad scene.