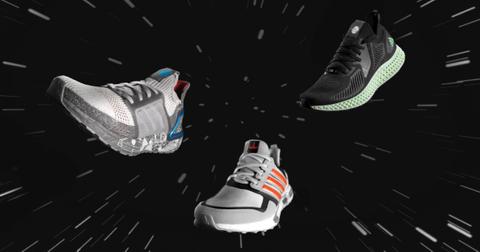 Adidas Reveals 'Star Wars' Shoes Inspired by the X-Wing, Millennium Falcon, and Death Star
By Abi Travis
We might still be several weeks away from the new Star Wars movie's release date, but that doesn't mean we can't dress the part of a superfan. If you truly want to let the world know you love the franchise, you can style yourself in Star Wars gear from head to toe. But you're probably gonna need some help from the Adidas x Star Wars collection. We've got all the info on the amazingly cool kicks right here.
The Adidas Star Wars shoes are seriously out of this world.
We're pretty sure that putting them on would help you complete the Kessel Run in less than 12 parsecs (if parsecs were a unit of time, that is). Back in October, Adidas announced they'd be collaborating with LucasFilm in order to bring about the Adidas x Star Wars 2019 Collection. And fans of both footwear and the Force rejoiced.
The Adidas x Star Wars Collection features three different packs.
Each pack celebrates a different element of the Star Wars universe. The first pack was released on Nov. 1 and featured Lightsaber-themed shoes. Each pair of shoes was "inspired by the unbreakable bond between a Jedi and their lightsaber." The shoes feature a glowing UV midsole and details in Aurebesh (the Galactic Basic writing system). You can rep either the Dark Side or the Light with blue, green, red, and purple options.
The second Adidas x Star Wars pack is inspired by space battles.
The space battle pack launches Thursday, Nov. 21, and it features shoes inspired by the X-Wing, the Millennium Falcon, and the Death Star. Adidas is updating three models for the collection: the UltraBOOST S&L, UltraBOOST 19 and Alphaedge 4D.
The UltraBOOST S&L is being updated with a new, X-Wing inspired design. It features a gray and orange colorway, glow-in-the-dark elements, metallic stripes, and graphics of the ship itself on the sole. Each heel tab features iconic quotes like "Stay on Target" and "The Force Will Be With You, Always."
If you want to show off your love for the Millennium Falcon (and who doesn't?), you'll want to consider the UltraBOOST 19. This shoe also features Star Wars-y phrases like "Jump to Lightspeed" and Han's famous "Never Tell Me the Odds."
Lastly, the second pack in the Adidas x Star Wars collection features a shoe that's all about the Death Star — the Alphaedge 4D. It features an awesome black-and-green colorway and iconic quotes on the heel tab. On this shoe, the heel tabs read "That's No Moon" and "The Power of the Dark Side."
In other words, there are a lot of shoe options for the Star Wars fan. Whether you jog, play basketball, or just plan on going to the movie theater, your feet can now rep your favorite film franchise.