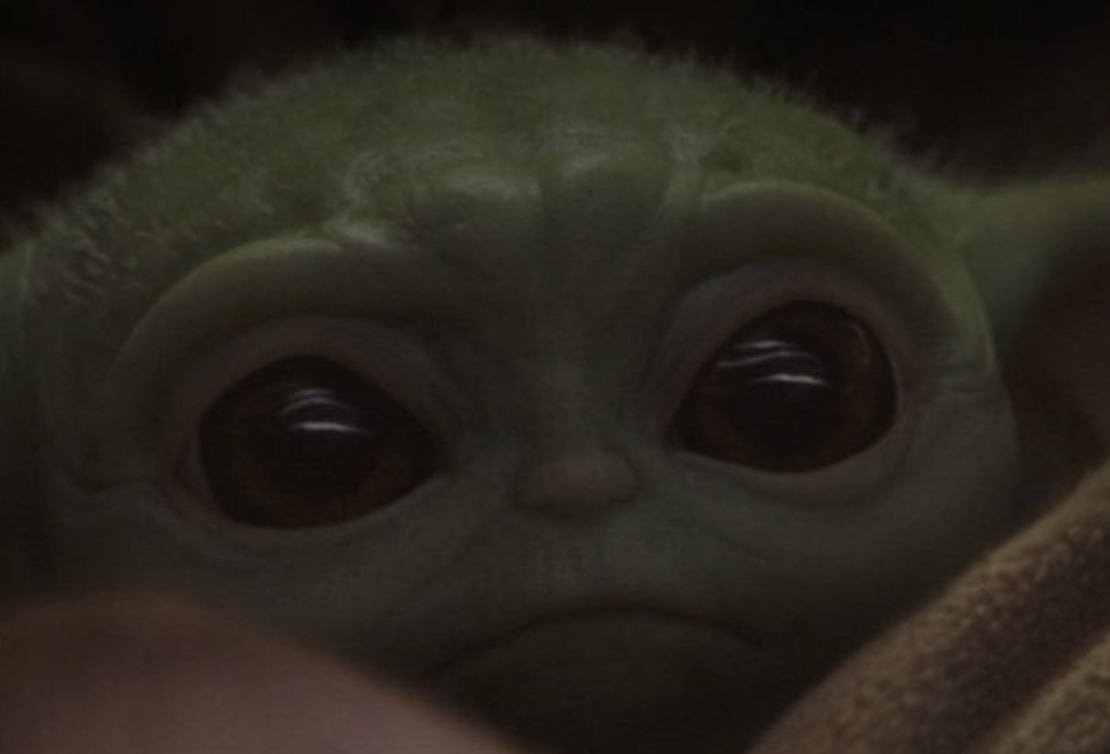 Baby Yoda Could Be the Most Important Character on 'The Mandalorian'
Today, the TV gods blessed us with Disney+, and with it, the new series The Mandalorian. The Mandalorian is the first Star Wars show ever, so it's a pretty big deal. The new series, which takes place in a galaxy far, far away (five years after Return of the Jedi and 25 years before The Force Awakens) follows the Mandalorian, a lone bounty hunter (played by Pedro Pascal).
Article continues below advertisement
While there are many new characters we are introduced to (and going to be introduced to), one that we're maybe the most curious about is Baby Yoda.
Who's Baby Yoda?
Baby Yoda (not Yoda as a baby, but a baby version of his species) appears in The Mandalorian, which is probably very important since the only other Yoda-like creature (aside from Yoda himself, who died in Return of the Jedi) we've seen in the Star Wars franchise is Yaddle, a female Yoda who was introduced in the Star Wars prequels. She served on the Jedi Council, and died. We know virtually nothing about the Yoda species, so hopefully The Mandalorian explores it.
Article continues below advertisement
We do know that both Yoda and Yaddle possessed Jedi powers, so it's possible that all of the Yoda species is capable of being Jedis (or not). We'll get to that later.
Article continues below advertisement
In The Mandalorian, the bounty hunter is on a mission to find his target, only knowing his last location and that he's 50 years old. He comes across his target (and so does droid IG-11, voiced by Taika Waititi) only to realize that it's a baby: the Baby Yoda. Most likely Baby Yoda is rare and special, since the Mandalorian kills IG-11 in order to save him (we also know that the Mandalorian is an orphan himself, so he clearly didn't have it in him to kill an abandoned child).
Article continues below advertisement
This sets the Mandalorian up to be a traitor to the Imperials, which is bad news for the Mandalorian, and even worse news for Baby Yoda...or is it? If Baby Yoda is strong with The Force, then he could be a very key player in what's going to happen in The Mandalorian. Maybe that's why the scientist is so interested in obtaining Baby Yoda (does he want to experiment on him? Try to extract The Force?). We must! Keep! Baby Yoda! Safe!
We'll most likely learn more in upcoming episodes of The Mandalorian, which you can stream on Disney+. And yes, we totally hope that we can buy Baby Yoda merch for the holidays this year, because who wouldn't want a Baby Yoda plush or tree ornament in their lives?! The next episode airs Friday, November 15.