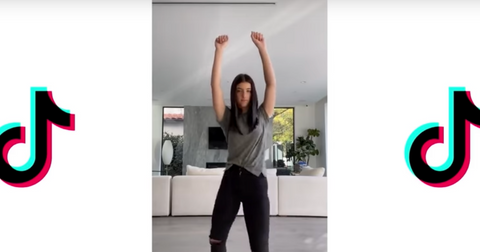 "The Ahi Challenge" Is the Latest Dance Trend Taking Over TikTok
By Katie Garrity

Updated
If you just figured out how to do the "Renegade" dance that took over TikTok, we're sorry to tell you that it's already gone and forgotten. The youths have come up with something new called "The Ahi Challenge."
If we're looking on the bright side, the dance looks a lot easier than some of the other dance trends on the popular social platform. You just need to make sure that your hips are in proper working order. Time to watch some old Shakira music videos and get to work!
The "Ahi Challenge" spread like wildfire in just a few days.
The "Ahi Challenge" is the latest dance to go viral on TikTok, with over 3.8 million videos created and 1.5 billion views for videos with the hashtag #ahichallenge.
The #ahichallenge is a 14-second dance video choreographed by a popular TikTok creator, @elrodcontreras. His video currently has 8.5 million views and 1.1 million likes since it was first posted. Rod currently boasts 5.5 million TikTok followers.
Once Charli D'Amelio got a hold of the dance, the challenge went viral.
The video Charli uploaded doing the dance gained over 8 million likes. And since then, videos tagged with the hashtag #ahichallenge have garnered over 1.5 billion views, and over 3.7 million TikTok videos have been created with the "Ahi Challenge" song.
This isn't the first time Charli has taken a challenge and blew it up. The "Renegade Challenge," the "Get Busy Challenge," and the "Shuffle Challenge" all took off because of TikTok royalty like Charli D'Amelio trying it out and setting the trend. After Charli got a hold of it, the "Ahi Challenge" was being done in malls, on escalators, and in bedrooms around the world and even by a few celebrities, including This is Us stars Susan Kelechi Watson and Sterling K. Brown.
What's the song is in the "Ahi Challenge"?
The catchy beat that graces the viral craze of the Ahi Challenge is by artist Nfasis and his song "Tra Tra." The song now has over 8 million plays on Spotify, and the original music video has 2.1 million views. They have also updated the name of the video to "Nfasis - Tra Tra (Video Oficial) Ahí Challenge" because why not take advantage of this viral craze? Smart marketing move!
The 14-second clip of the song that appears in the TikTok videos features the following lyrics in Spanish: "Pónteme de espalda / Ahí / Ahí / Ahí" which translate in English to: "Put your back against mine / there / there / there." Nfasis even posted his own take on the challenge, featuring Lele Pons on his Instagram.
The steps to the "Ahi Challenge" are pretty easy.
As the music starts, wait for the beat as it hits three times, then swing your hips side to side. Once the beat starts over, move your hands up above your head, then repeat, but place your hands behind your head.
Also, in proper TikTok fashion, a good tongue stick-out with a wink is also okay. Now loosen up those hips and get to dancing!