"Drink at Your Own Risk" — Airbnb Host's Bizarre Kitchen Rules Get Slammed Online
An Airbnb guest showed off some bizarre, and long-winded kitchen rules posted by a host renting out a space on the app.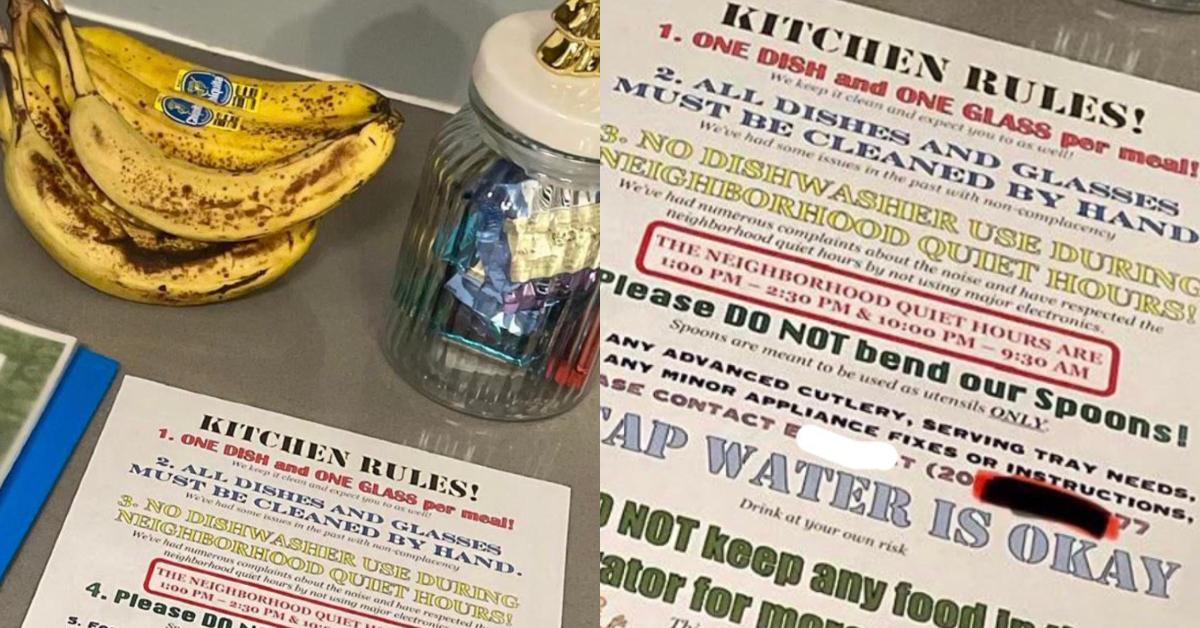 If you're going on vacation and don't want to walk on eggshells wherever you're booking accommodations to stay in, then you might want to steer clear of Airbnbs owned by hosts who expect their guests to adhere to very strict rules.
Article continues below advertisement
And if you've never been unfortunate enough to book one such location it can be summed up in one word pretty well: frustrating. Constantly worrying about whether or not you're going to accidentally violate one of these rules can be a major pain in the butt, and then there's the miniature panic attack you'll have before check-out time to ensure that you've ticked all of the boxes left to you by the Airbnb host.
This means that you have even less time to spend on the property and enjoy your vacation because you'll have to set aside time on your check-out day to abide by all of the rules put forth by the host.
Article continues below advertisement
Reddit user @randomredditguy94 uploaded a viral photo on the platform delineating some of the weird kitchen rules they encountered during a recent stay they had at an Airbnb.
The host placed a comprehensive, handy-dandy printout in the kitchen area telling guests of the dos-and-don'ts of residing in their domicile temporarily.
Article continues below advertisement
The one glaring trait that should be addressed from the get-go is the usage of multiple fonts on the rules sheet: it doesn't seem like the Airbnb host is a fan of visual consistency, or, judging by some of their stipulations, general normal human living.
To save you from the visual assault that is this schizophrenically-designed sheet of paper, here's a rundown of all the rules listed on it:
One dish and one glass per meal
All dishes and glasses must be cleaned by hand.
No dishwasher use during neighborhood quiet hours, which are from 1-2:30 pm and 10 pm-9:30 am
Article continues below advertisement
No spoon bending
A phone number people must call in advance to get access to "advanced cutlery"
While the tap water is okay, guests are told to nevertheless drink it at their own "risk."
Food's not allowed to stay in the refrigerator for more than 16 hours (for sanitary reasons)

Article continues below advertisement
A number of Redditors expressed their confusion upon seeing the printed-out rules. One person said that they were getting "mixed messages" upon reading the remark about tap water being "okay to drink," but in the same sentence being told to drink it at their own risk.
Others lampooned the design choices for the sheet, while some tried to wrap their heads around whatever the heck "advanced cutlery" is.
Article continues below advertisement
One person asked just what in the world could be happening to the spoons at the Airbnb, to which one Reddit user simply quipped, "heroin."

Article continues below advertisement
Another Redditor went viral on the popular social media platform after posting a lengthy blog to the site's r/travel sub delineating why they will never book via Airbnb again and urged others to follow suit.
Their main grievances with the app boiled down to three key factors: the first being the lack of decent customer/guest service from hosts. They cited that many of the units they've come across are apartments that haven't been rented out yet, leaving them ill-equipped for comfortable stays.
Article continues below advertisement
They went on to say that addressing grievances with hosts and Airbnb isn't exactly a smooth process, stating that hosts don't take accountability for any of the problems guests experience during their stays and that reps from the application basically tell them that there's nothing they can do to solve their issues.

Article continues below advertisement
The third biggest factor was price: highlighting that in some parts of the world, the cost of Airbnbs is 5-6x the amount of a standard monthly rent in the area. At that point, it'd probably just be best for someone to get a hotel.
What do you think? Do you enjoy staying at Airbnbs? Or have you, like others, have soured on booking places through the application altogether?