TikToker Makes Horrifying Discovery Right After Checking into Their Airbnb
A man shared his "dreadful" experience with Airbnb in a throwback video during a 2019 trip he took to Denmark.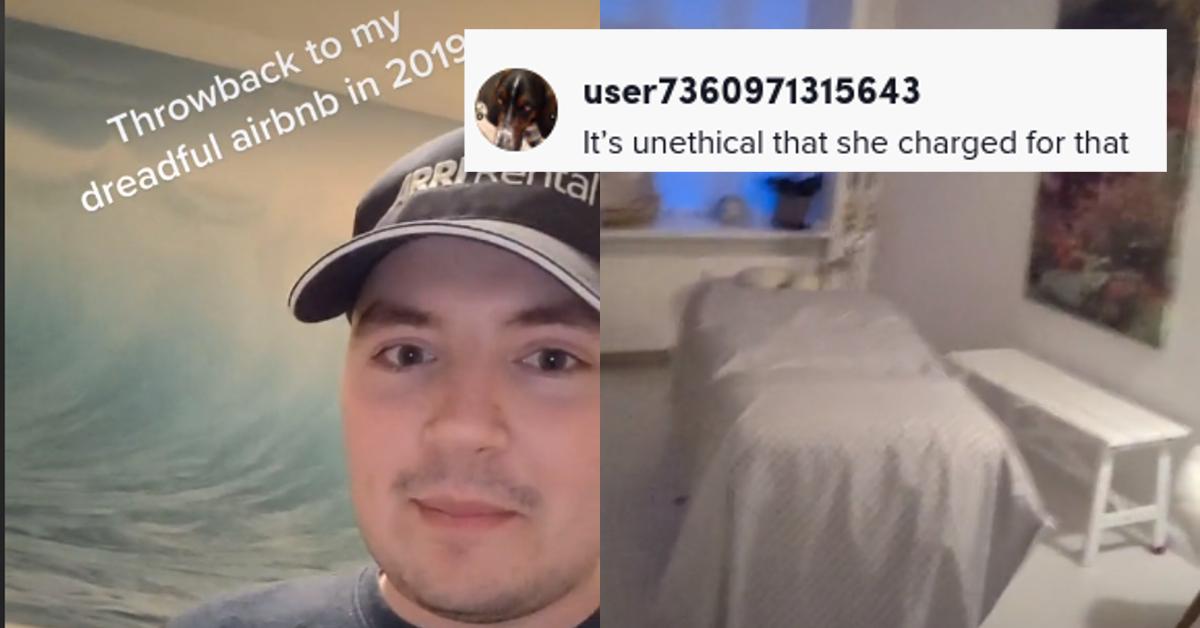 Traveling abroad can be really stressful, especially if you're booking a room in a person's house through a service like Airbnb. While there are plenty of "horror" stories on the internet regarding the platform, like folks finding hidden cameras in their rooms, or even receipts for spying equipment, there are also tons of instances where not a single thing goes wrong and both host and guest walk away from their respective booking experiences with nothing but smiles.
Article continues below advertisement
But that doesn't mean that these less-than-ideal scenarios occur, leaving folks who are strangers in a strange land face-to-face with some truly bizarre living accommodations.
This is precisely what happened to a gentleman named Eryk Sawicki, who uploaded a throwback video he took showing off the Airbnb he booked while on a trip to Copenhagen, Denmark.
First, it should be mentioned that Eryk doesn't just launch into an invective of everything wrong with his Airbnb right off the bat but instead elects to single out all of the strange "features" of the unit he booked.
Like most travel horror stories, Eryk's begins with a tortuous journey to Copenhagen that took way longer than it should have.
Article continues below advertisement
When he arrives at the Airbnb, however, he's instantly greeted to a near pitch-black room, with no idea on how to turn on the lights. The video is set to the Curb Your Enthusiasm theme and as the clip progresses, it becomes even more and more evident that there is no better soundtrack to this comedy of errors he was subjected to.
Article continues below advertisement
The lack of decent lighting is just the tip of the iceberg, seemingly out-of-place curtains, when pulled back in the room, revealed that the room he booked actually doubled as a massage parlor, complete with a chair and everything.
His first clue that there was something amiss with the Airbnb is that the outside window featured a Buddha statue and a television screen pointed towards to exterior. The door, again, looks like something akin to what one would find in a business.

Article continues below advertisement
The woman who Eryk booked the Airbnb with also messaged the man to tell him that the bathroom didn't have a drain and he just assumed that he was dealing with a "wet room" because she also said that she left him a bucket. When he went into the bathroom he saw that while there was a toilet, the bucket was situated directly beneath the sink.
What he also noticed was that there was no shower inside the bathroom. However, the sink did detach to turn into a manipulative faucet head. As Eryk said, it seemed that his hostess expected him to stand in the bucket and then use the faucet head to clean himself off.
Article continues below advertisement

Then he attempted to get to the bottom of the light switch situation and began texting back-and-forth with the hostess in order get illuminate his strange temporary living situation.
Article continues below advertisement

She directed him to a series of different switches that all turned on lights, but not ones in the "living" room area: just the exterior along with the kitchen/massage parlor area.
Article continues below advertisement

It turns out that the switch he sought was situated right behind a mirror that was simply leaning against the wall. Upon finding the switch, it became apparent why the hostess beat around the bush in telling him where it was. That's because it was jutting right out of the sheet rock and looked like a fire hazard waiting to happen.
Article continues below advertisement

To Eryk's credit, he appears to keep his composure as he goes through all of the irregularities of the room he booked on Airbnb. Eryk did say that the Airbnb had a bedroom that was "comfy and cozy" but he just forgot to show it off in the video, probably because he was distracted by the fact that there was a massage table one and a half steps away from an electric kettle and kitchen sink.
Article continues below advertisement

Some folks couldn't believe that he decided to stay in the Airbnb and simply didn't file a claim with the platform and book a hotel somewhere else, like the Steel House.
According to Eryk, he did get a refund, however, it wasn't through the application: "I ended up getting a refund through my bank because Airbnb didn't see anything wrong with it."
Article continues below advertisement

Others kept making jokes about the fact that he was sniffling in the video, quipping that the "train" he was referring to in the clip was actually the cocaine express, something that he denies.
Some commenters stated that the accommodations were so dreadful that Eryk should've been paid by the host to stay there.
Article continues below advertisement

What did you think of Eryk's misadventure in Copenhagen? Have you ever had any gnarly Airbnb experiences that you would rather forget? Or have all of them been more or less great? Or do you not even risk it and just try to find a traditional hotel with a lobby and corporate customer service number you could interact with if you ever have an issue?