Woman Deals With an Airplane Foot Creeper, Gets Her Legroom Back
In a viral social post, a woman shows how she deals with an airplane foot creeper who is violating her personal space. Details here.
Picture it: You're boarding a flight, checking in with a flight attendant, and finally making your way to your assigned seat. As per usual, you have limited space to store your carry-on item under your seat or in the cabin, and space is limited to rest your arms.
Not to mention, depending on your height, legroom may just be an issue. But of course, you hope for the best and anticipate a smooth flight.
Article continues below advertisement
With that in mind, the last thing anyone would expect is for someone to violate your personal space. However, one TikTok user shared that she dealt with an airplane foot creeper. And instead of making a scene, she decided to take creative action. Here's the full scoop.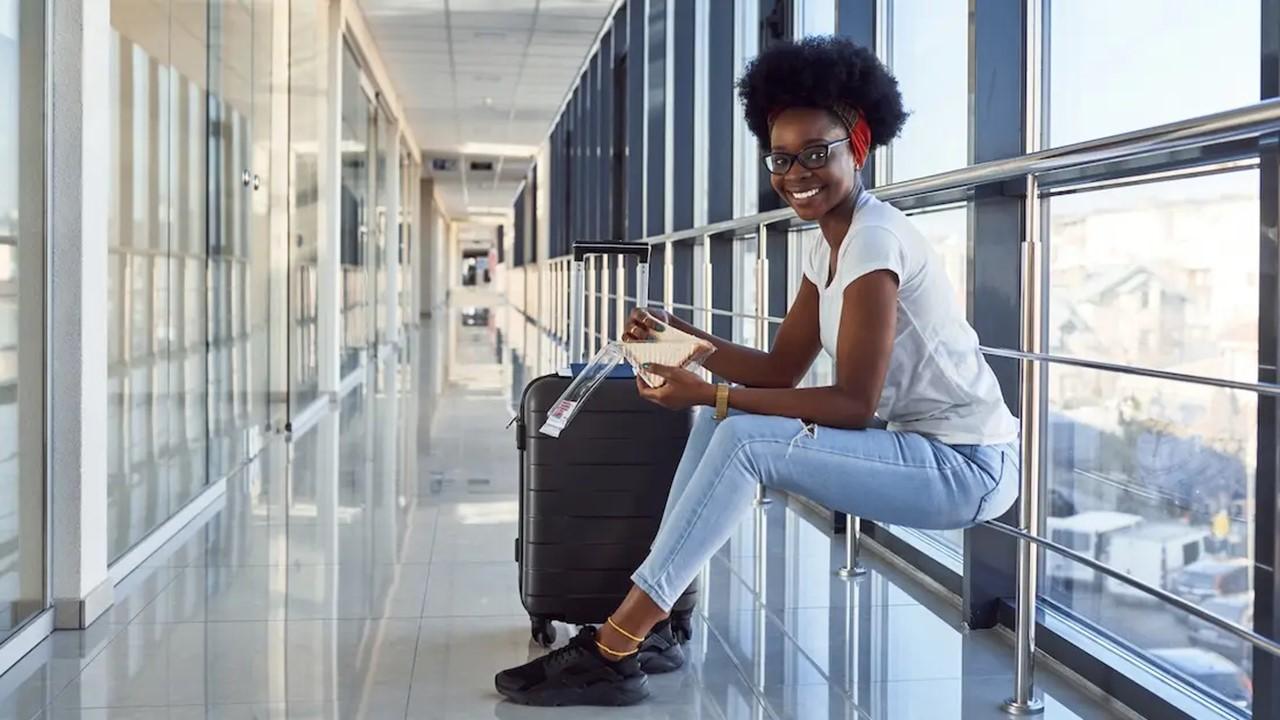 Article continues below advertisement
A woman on TikTok shared an encounter with an airplane foot creeper.
More legroom, please! In a July 21, 2023, TikTok post, creator @starandshontwins shared her interesting experience with an airplane foot creeper.
"Airplanes need to have more legroom," the creator captioned the video.
As the video begins, the creator asks folks if they've also encountered this situation while showing her and another person's feet in her leg space. Many users can probably relate.
Article continues below advertisement
The creator, who is wearing black and white Converse sneakers, had her space violated by a person wearing brown sandals with a blue manicure. As the video continued, the person wearing the brown sandal is attempting to play footsie with the creator.
Article continues below advertisement
Interestingly, the creator makes a bothered face before taking action. She held up her blue water bottle and proceeded to pour out the contents on the floor at her leg space. The minute the liquid (which we presume to be water) hits the person's feet, they quickly draw their feet out of the creator's legroom.
Article continues below advertisement
TikTok users admire how the creator handled her airplane foot creeper.
Truth be told, there is no argument worth having on an airplane. For starters, some folks don't know how to see the error in their ways. On the other hand, some issues can escalate and no one is trying to end up on a no-fly list.
That said, TikTok users are aligned with how the creator decided to deal with her situation. In fact, some folks share that they may have done worse. All of them could definitely relate to the foot creeper issue.
Article continues below advertisement
"The way her foot slithered back like a snake going into a cave," one user commented.
"Nah because why is their foot reaching so far in?" another user shared.
"I would've stomped like I saw a bug," another person chimed in.
Article continues below advertisement
Truth be told, this all goes back to airplane etiquette — some people have it and others don't. In no way, shape, or form is it acceptable to violate another person's space on an airplane.
And while we understand wanting to stretch your legs, there is a difference between stretching and trying to play footsie with a stranger. It's weird and quite uncomfortable to experience. Not to mention, it's grounds for someone to start a verbal confrontation over.
So for the sake of fellow travelers, please make it a point to respect other folks' personal space.