Woman Cautions Against Buying "Bubbled" Meat Packages at The Grocery Store
An Aldi shopper cautioned folks against buying "bubbled" packets of chicken from the supermarket, citing temperature fluctuations as a concern.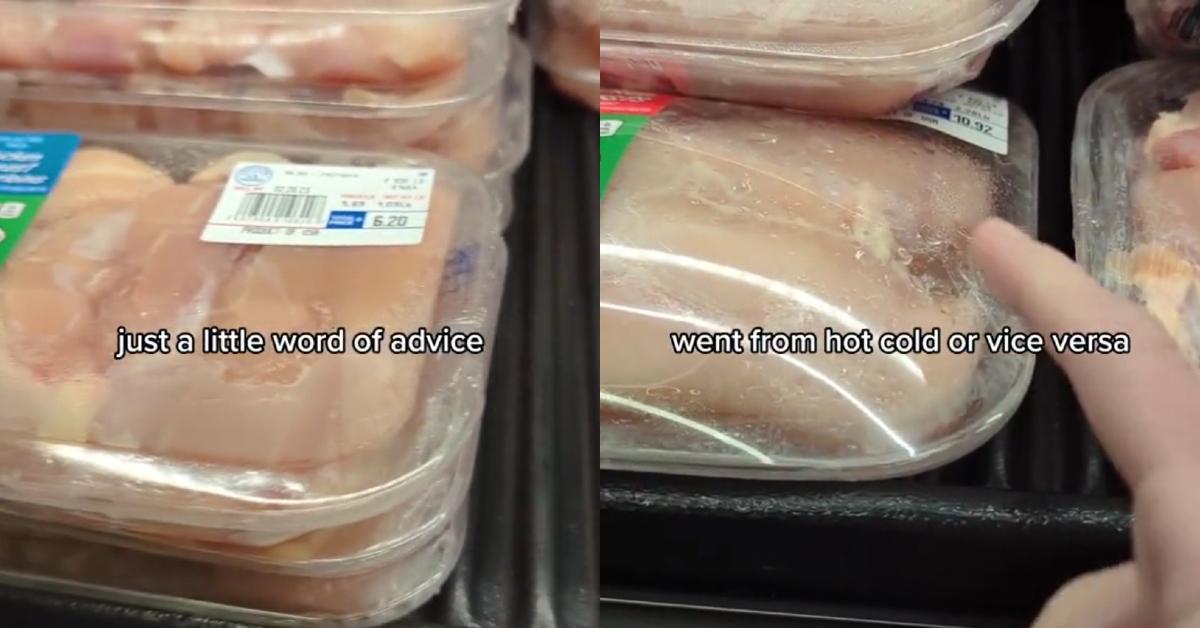 An Aldi shopper went viral on TikTok after showing the difference between two different packets of chicken, highlighting a visible trait customers should keep an eye on when they're purchasing foods at grocery stores.
Article continues below advertisement
A TikToker who goes by Brittany S (@brittself20) on the popular social media platform uploaded a clip of herself in the meat section of an Aldi store, cautioning folks against purchasing "bubbled" plastic chicken packaging.
Brittany says in the video: "Just a little word of advice when you are shopping for meat and you can actually see the meat through the package. Feel it, that's good."
Article continues below advertisement
She shows off the package that she says is the kind of chicken that you want: the plastic is wrapped in such a way that customers can feel its texture in the packaging.
Article continues below advertisement
She then transitions the camera to show off the type of chicken she would advise against purchasing from supermarkets: those in "bubble" wrapped style plastic, which prevents shoppers from being able to press through and feel the chicken breasts they're buying.

Article continues below advertisement
But it's not the "feel" of the chicken that's of a concern, but rather the fluctuations in temperature Brittany tells shoppers they need to look out for.
Brittany continues, "But if it's bubbled up like this, that means that it is changed temperatures too quickly went from hot to cold or vice versa so always avoid the meat that is bubbled up like this."
Article continues below advertisement

This isn't the first time a TikToker claimed that swollen packaging may be unsafe for folks to eat. Maneet Kaur, an English food product developer (@minsmeals) says in a video showing off a "bubbled" package, telling people the food inside is unsafe for consumption.
Article continues below advertisement
She says in her clip: "Both of these products are in date, but this one pack has blown and that basically means that the film is spongy to touch … That means there is bacteria inside this pack of food now, even though the packaging says it is in date, it is not safe to eat.
Article continues below advertisement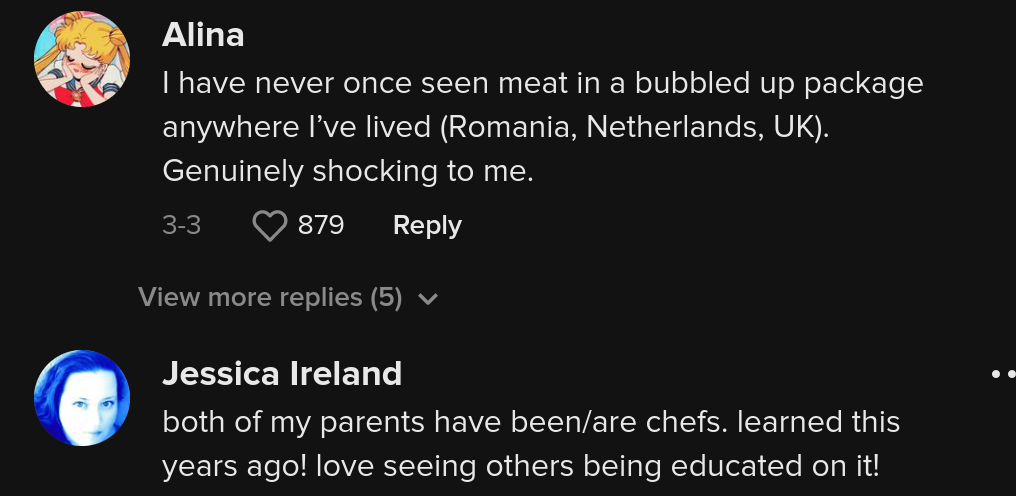 Article continues below advertisement
Meredith indicated that there could be a number of meat/poultry products packaged in "MAP" which stands for "modified atmosphere packaging," which injects "inert gases" that are used to "extend the shelf life" of foods.
This same phenomenon can be seen in bags of chips, which many shoppers may think are filled with "air." This is not the case: special gases are put inside of chip bags that help to keep the salty treats crisper for longer, plus provide an extra cushion for its contents to move about during shipping to prevent the contents from breaking down into little bits.
Article continues below advertisement

There were still many other TikTokers who agreed with Brittany's post, however, they said that folks should stay away from bubbled packaging: "That goes for lettuce, milk cartons, etc. Stay away from any food that is bubbled up."
Someone who said they were a former Aldi employee commented that the way the chicken was stacked in the refrigerator section of the store wasn't done properly: "Also coming from a former 2yr Aldi employee, those meat packages should only be stacked 2 high to maintain the temp"