Gymnasts Simone Biles and Alec Yoder's Friendship Started on Twitter!
Alec Yoder and Simone Biles have an 8-year-long friendship and will be competing in the 2021 Summer Olympic Games together. Here's how they met.
It was recently announced that Simone Biles has officially qualified for every women's gymnastics event at the 2021 Summer Olympic Games and is on track to win six gold medals.
Luckily for Simone, one of her closest friends will be meeting her in Tokyo to not only cheer her on but to compete for a gold medal of his own.
Article continues below advertisement
Simone's BFF Alec Yoder is set to make his Olympic debut representing the U.S.A. as an individual athlete on the U.S. Men's Gymnastics Team.
So, what do we know about the 24-year-old gymnast and how did his friendship with the GOAT Simone begin? Keep reading to find out!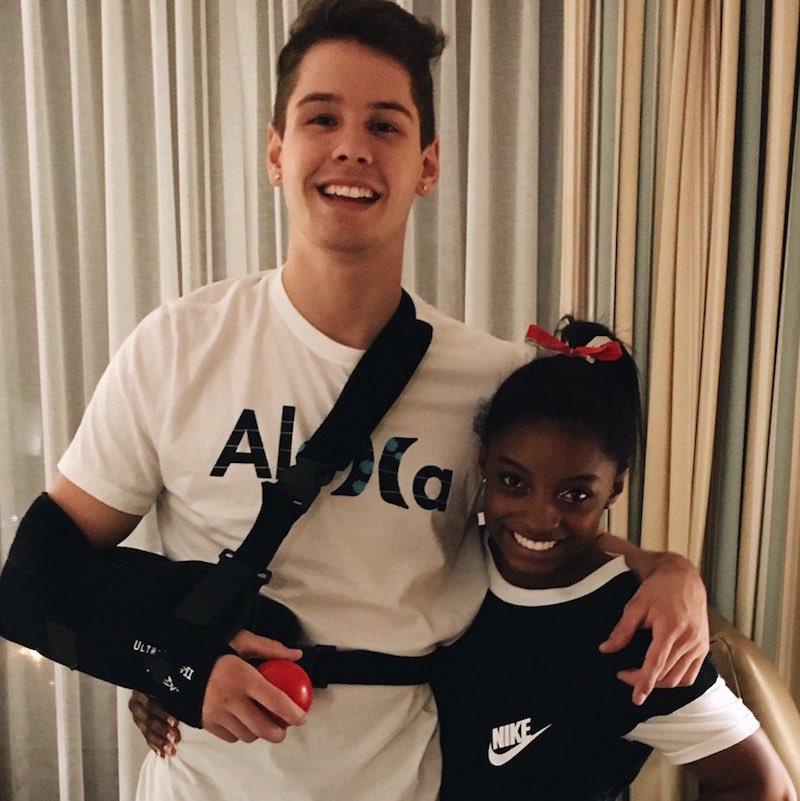 Article continues below advertisement
Simone Biles and Alec Yoder met on Twitter!
Championships may come and go, but friendships are forever. At least, that's the case for Simone and Alec, who are cheering each other on all the way to the finish line.
According to the tumbling BFFs, they first met on Twitter in 2013, and they've been besties ever since.
In an interview with the Indy Star, Alec opened up about how grateful he is to have a friend that's in the same line of work.
"She'll understand what I'm talking about, and I can understand what she's talking about. It's something we have in common, for sure," he shared.
Alec said that Simone is like a sister, and for Simone, the feeling is mutual. "To me it's nice to have a best friend that's as nice and as cool as she is," Alex added. "She's definitely a likeable person that everyone loves."
Article continues below advertisement
Just like Simone, Alex began gymnastics at a young age.
The Indianapolis-born athlete began training at only 4 years old, after being enrolled in a "mommy and me" gymnastics class.
All his years of hard work paid off when he joined the U.S. Men's Junior National Team in 2013. The following year, Alec won the all-around title at the 2014 Men's Junior Olympic Men's Nationals.
Article continues below advertisement
Alec went on to compete in the 2014 Youth Olympic Games in China, where he won a bronze medal in the boys' individual all-around.
Since then, Alec has competed and won several championships, leading him to the 2021 Olympics.
Alec almost didn't make it to the 2021 Summer Olympics due to an injury.
Initially, Alec was excluded from the men's national team due to an injury that prevented him from competing in all six events.
Luckily, a last-minute rule-change put Alec in the running to become the first American to win a medal in the pommel horse in two decades.
Article continues below advertisement
"If I make an Olympic final, I'm not swinging to get fourth. I'm going to swing, and I'm going to swing to be perfect," he told the Indianapolis Star. "I'm going to do everything I can to win an Olympic medal. I'm looking for a great routine, not a good one."
We have a feeling that both U.S. gymnasts will be leaving Tokyo with at least one Olympic medal around their necks.