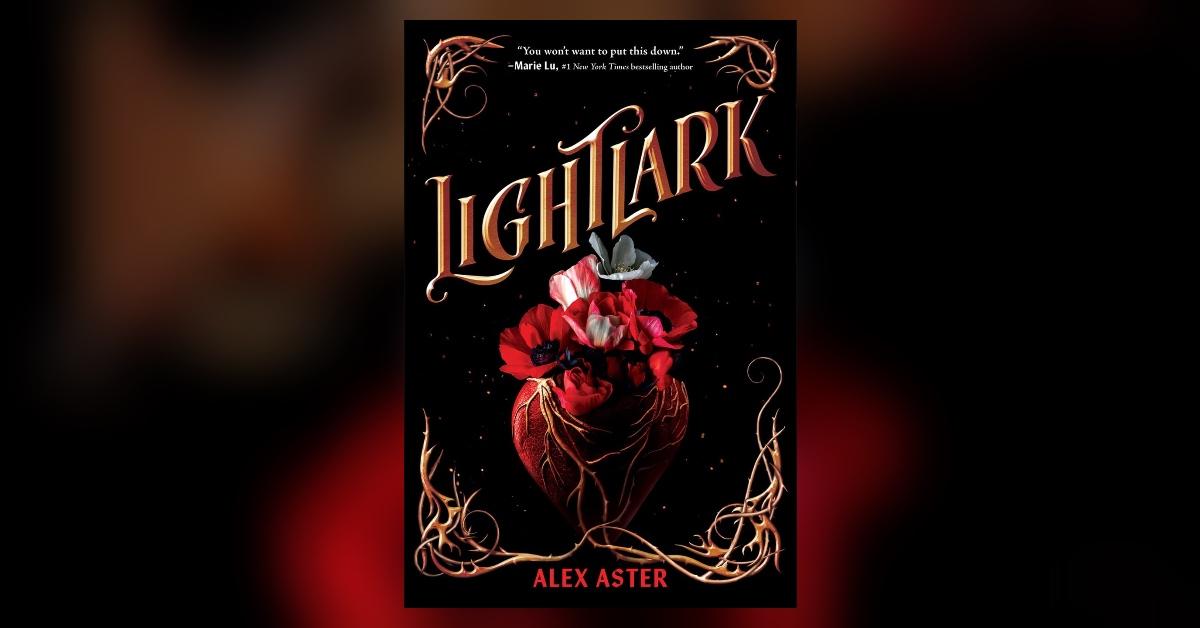 Alex Aster's Book 'Lightlark' Is Generating Drama on BookTok — What We Know
The phenomenon known as #BookTok on TikTok has been a fast path to success for several authors. Olivie Blake, who wrote The Atlas Six, became an overnight sensation and secured a publishing deal following the book's skyrocket to popularity on the app. Others like Colleen Hoover have raced to the top of Barnes & Noble sales for the same reason.
Article continues below advertisement
Another book that has risen to popularity recently is Alex Aster's Lightlark, which has been pitched as A Court of Thorns and Roses meets The Hunger Games. While initial hype for the book was through the roof, recently, it seems the popularity of the novel has taken a turn.
Here's what you need to know about the Alex Aster Lightlark BookTok drama.
Article continues below advertisement
What is the BookTok drama with Alex Aster's 'Lightlark'?
Alex Aster started her journey on the TikTok app as the author of a middle-grade novel called Curse of the Night Witch, which received a Kirkus Star in 2020. She also released a debut single, "Divine," which was used as a sound by Queen of TikTok Addison Rae the same year. But Alex's biggest accomplishment arrived in March 2020, when a viral clip advertising her first YA novel, Lightlark, went viral on BookTok.
The video, which has since racked up 364,000 likes and millions of views, scored Alex a six-figure book deal with Amulet Books. Lightlark follows a competition between six rulers in a fantasy realm, each of whom is afflicted by a curse. They know one must die for the others to survive. The main character, Isla Crown, is cursed to kill anyone she falls in love with and must navigate relationships and fight for her own survival.
Article continues below advertisement
Fans were immediately drawn in by the intriguing premise, and Alex's videos following the book deal detailed her road to publishing. Some of her videos detail how one of her exes printed out a chapter to make fun of it and how her first agent dropped her two years ago before she made it big.
Article continues below advertisement
Many of Alex's videos promise readers certain tropes and "spice" or sexual content in the book. Some videos tease snippets of the book itself. In one video, Alex writes, "I think readers are really going to love the high stakes mystery, powers, and plot twists in my book," and then adds, "The dark-haired morally grey enemy who says things like, 'I'm not sure what I enjoy more ... seeing the way you grip a sword or the way that dress grips you.'"
Article continues below advertisement
The excitement surrounding Lightlark came to a head in July 2022 when Alex announced on TikTok that Universal Pictures had acquired the rights to Lightlark and were creating a movie based on the book with the producers of Twilight.
Readers were initially excited when early copies, or Advanced Reader Copies (ARCs) of Lightlark became available through e-book platforms such as Netgalley and Edelweiss. However, this excitement quickly turned to an onslaught of derision when reviews for the book began pouring in on the book-rating app Goodreads.
Article continues below advertisement
One review writes, "Over half the tropes the author kept posting about [aren't] even in the book. We all knew this book was a red flag once we saw her constantly marketing her YA book as spicy, right??"
Another wrote, "I found it lacking in plot, and the main character was a disappointment. It seems the author was just rushing to get to the plot twist, which is fair, it was a great plot twist, but there's a whole 300 pages before the plot twist that needed to be a main focus."
Article continues below advertisement
Is Alex Aster an industry plant?
Immediately following the news of Alex's film deal combined with her book cover unveiling on a billboard in Times Square, many social media users were quick to accuse her of being an "industry plant." Authors like Victoria Aveyard swiftly refuted those arguments, as publishing does not function the way that other industries do, thus the term "industry plant" is rendered inaccurate.
Article continues below advertisement
However, suspicion about Alex's seemingly overnight success did provoke some to research her further. Alex's twin sister is Daniella Pierson, who was featured in a Forbes article in 2022 for being worth over $200 million and founding a mental health startup Wondermind with Selena Gomez. At 19, Daniella also founded the female-led newsletter company The Newsette, which is currently worth $40 million, per Forbes.
Article continues below advertisement
Daniella claims in her Forbes article that she took out a $15,000 loan from her parents to start the company, which she has since paid back. Many users suspect that Alex, who has claimed on TikTok she has not taken money from her family to fund her book career, actually has a fair amount of support from them.
Alex did address some of the comments on TikTok, writing in the comments section of a recent video, "I am proud that I had/used zero connections in the publishing/film industry. Just cold emails. I did have the privilege of writing mostly while I was in school. And was able to live with family after school while having a job. I'm also Latinx/indigenous but white-passing. And I have no student debt. I am also on my partner's health insurance. All these made struggling more comfortable!"
Some reviewers on platforms like Goodreads have been accused of "review bombing" the book due to disappointment with the false TikTok advertisement and personal vendettas against the author. It's important to note that readers should read the book for themselves before drawing conclusions about the author or the story.
Lightlark will be published on Aug. 23, 2022.