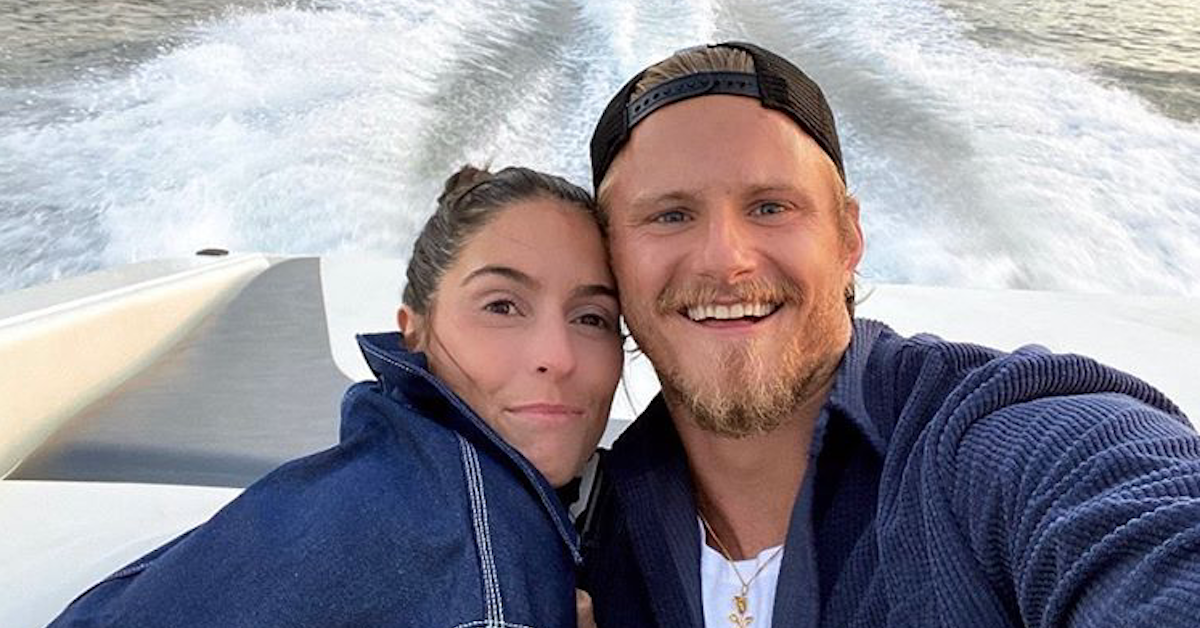 Who Is Alexander Ludwig's New Girlfriend? Meet the Canadian Beauty
Sorry ladies! The Hunger Games' Alexander Ludwig has a new girlfriend, judging from the many adorable posts on both of their social media accounts, and her name is Lauren Dear!
At some point over the summer, the two began to appear on each other's Instagram pages in cute outdoorsy pictures, beach moments, and enjoying some outdoor food and beverages in Savannah, Georgia.
Article continues below advertisement
So, who is Alexander Ludwig's girlfriend, Lauren, and who has the Canadian Bjorn actor dated before? Keep reading to learn more about the Vikings star.
Article continues below advertisement
Who is Alexander Ludwig's girlfriend?
Back in September, the Canadian actor took to his Instagram stories to post a short video of him sneaking up on his girl, who also happens to be from Canada's Vancouver area.
"Was it worth ruining our relationship? Probably not.... But did I win? Oh yes," Alexander, 28, wrote in his video, seemingly confirming that the two were indeed an item — in case the rather intimate and cuddly photos of the two stunners didn't do it already.
Article continues below advertisement
In August, the Vikings star sparked some relationship rumors after commenting "love you" in one of her Instagram pics. It quickly came to light that the two were in the early days of a budding relationships.
According to Lauren's LinkedIn page, the gorgeous brunette is a marketing campaign manager at a Los Angeles-based fine jewelry brand.
Article continues below advertisement
She's previously worked in marketing at other brands and agencies, including an influencer management and marketing agency that she co-founded back in 2017.
"It's us again, being cute and stuff," Lauren captioned a recent pic of her and Alexander in a cornfield.
Judging from her snaps, the pair have traveled extensively through Canada and the States over the summer and have taken in some serious sights. The two spent a romantic evening on the Pendrell Sound, where they seem to have caught an aurora borealis moment, and traveled through lakes and beaches along British Columbia and Georgia.
Article continues below advertisement
Who has Alexander Ludwig dated before?
One of the reasons all eyes were on Alexander and Lauren is because fans last thought that he was in a relationship with his Vikings co-star Kristy Dawn Dinsmore. Neither of them confirmed a split after last posing together for Instagram back in January alongside Snoop Dogg.
Article continues below advertisement
Alexander and Kristy had met on the set of the fifth season of the historical epic, when Kristy joined the cast as shieldmaiden Amma, who journeyed with Alexander's Bjorn in an effort to dethrone their rival, Ivar the Boneless (Alex Høgh Andersen).
"It was one of the greatest gifts of my life to get to work with my woman [Kristy Dawn Dinsmore] over the past two years on #Vikings," Alexander wrote when Kristy's shieldmaiden character was introduced.
"I love this character and everything you bring to it. CONGRATULATIONS Baby!," he continued. Neither he nor Kristy have publicly addressed the split, though Kristy looks like she is enjoying her best single life in Vancouver, British Columbia.
"Fall... I love you like the relationships I've had; Seasonal, spicy, and a bit spooky," she captioned a recent photo of herself enjoying a warm drink.