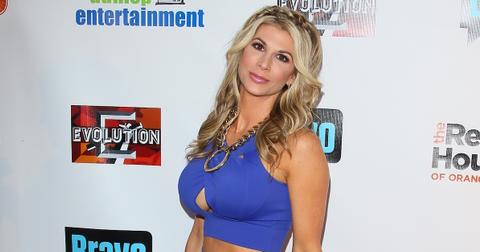 Alexis Bellino Is Back on 'RHOC' and She's Introducing Her New Boyfriend
By Shannon Raphael
Longtime fans of Bravo's The Real Housewives of Orange County will remember Alexis Bellino, who was a full-time cast member on Seasons 5 through 8 of the show. The blonde bombshell reality starlet, dubbed "Jesus jugs" by co-star Tamra Barney was married to Jim Bellino, and she often stressed her pecking order of "God first, marriage second, and kids third."
Following her stint on the show, Alexis went through a public divorce, but she's since been dating someone new. She's set to appear on the Oct. 8 episode of RHOC when she meets with Emily Simpson to discuss the trials of her marriage and her new relationship.
Who is Alexis Bellino's boyfriend? We've got the scoop on her relationship, and the heartbreaking divorce she just went through.
Who is Alexis Bellino's boyfriend?
More than eight months after Jim Bellino announced his intentions to divorce Alexis, she went public with her serious boyfriend Andy Bohn on social media during Super Bowl weekend, even using the hashtag, "he is my forever." Alexis immediately went on the defense about her beau, saying that he was technically still married, but that he was in the process of getting a divorce. Since announcing her new relationship, Alexis has shared many photos of Andrew online.
The 42-year-old has even expressed a desire to have a child with Andy in the future, so it's clear that Alexis is in it for the long haul with him. But, his soon-to-be ex-wife isn't too thrilled about how public the former RHOC star is with her husband online. Andy's ex-wife, Andrea Bohn, released a statement through a crisis manager, Richard Harlow, to Us Weekly in March.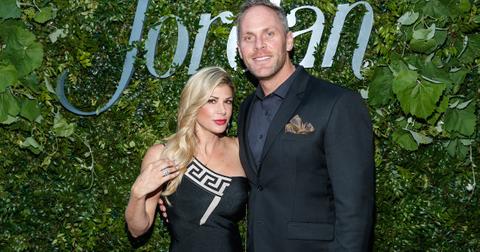 "In response to the comments to Ms. Bellino's very public display of her relationship with my husband, I am feeling forced to make a plea of respect for the children involved. My marriage to Andrew was filled with both happy and challenging times, which led us to marriage counseling as recently as January," Andrea's statement said. "It became quite apparent our marriage was beyond reconciliation with Ms. Bellino's Instagram post on Super Bowl Sunday."
"As a recent divorcee and mother herself, I am sure Ms. Bellino meant no harm to myself or my children with that, or subsequent posts. However, they have been a source of additional pain to an already difficult situation. My hope is that all adults involved can be considerate of the children Andrew and I share when taking to social media," Andrea continued.
Alexis herself can understand Andrea's sentiment about divorce, as her battle with Jim raged on for months.
Alexis' divorce from Jim Bellino wasn't easy.
In the teaser trailer for the Oct. 8 RHOC episode, Alexis meets with Emily Simpson for a meal to talk about what she's been up to.
Emily herself has been dealing with marital issues with husband Shane Simpson, as he's been dedicating all of his time to studying for the Bar exam (which he ended up failing). Some fans think that Emily meets with Alexis to learn more about the possibility of getting a divorce herself. "Divorce sucks. It's not easy," Alexis said. "There just comes a time when you realize it's time to move on."
Alexis and Jim were married for 13 years when Jim filed for divorce in June of 2018. The former couple share three kids together: son James and twin daughters Melania and Mackenna. Many of Alexis' castmates were not fans of Jim's during the time that the couple was featured on the show. Tamra Judge, in particular, was outspoken about finding Jim "crusty."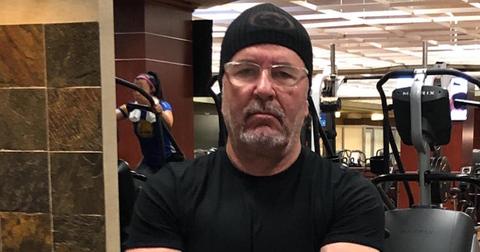 Jim ended up suing Tamra and Shannon Storms Beador for $1 million for "defamatory" comments that they made against him about the closing of his trampoline parks. While Shannon's case has been dismissed, it appears as though Tamra's case is still active.
See Alexis make her triumphant RHOC return when the show airs on Tuesdays at 9 p.m. on Bravo. She'll also be on the upcoming season of Marriage Boot Camp: Family Edition on WE TV on Oct. 11.