Target Customer Reveals How She Was Almost Scammed Out of $800 for Baby Formula
A woman shared her nerve-wracking discovery that she was scammed out of $800 at Target, and the lengths she went through to get her cash back.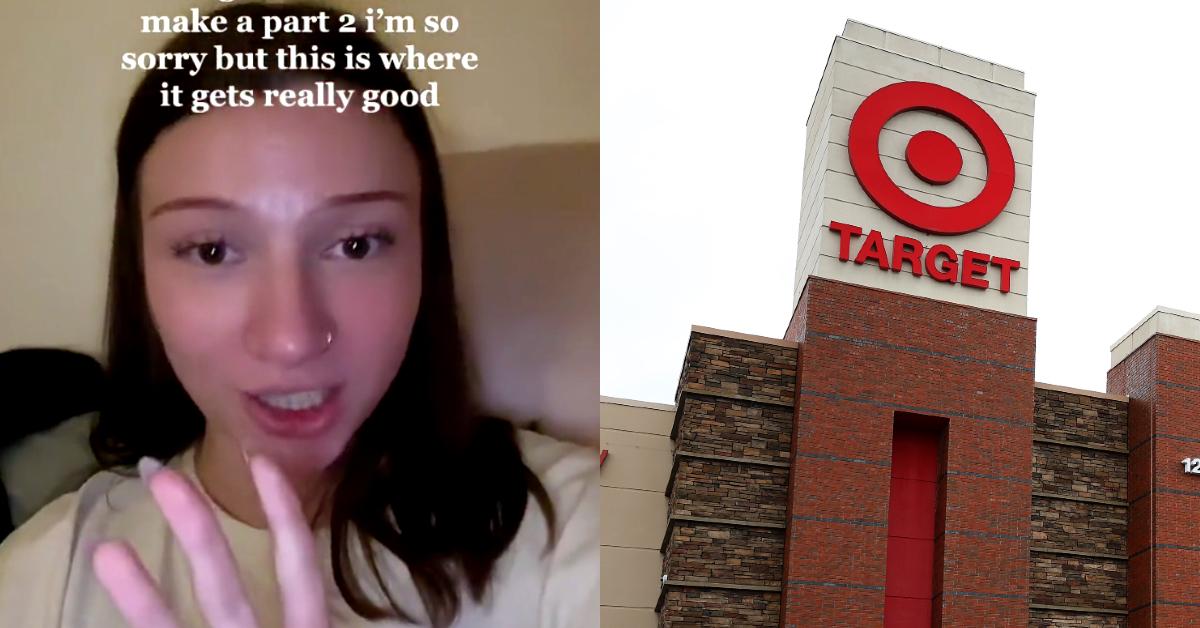 A Target customer named Ariana (@arianatomlinson2323) posted a viral series of videos on TikTok warning shoppers to be leery of customers who approach them with a "sob story" about needing baby stuff.
Article continues below advertisement
She says that she and her boyfriend were hoodwinked by a woman who said she needed some baby formula, which somehow turned into a massive shopping spree that culminated in a wild chase that saw both her and her partner chasing the woman down in an attempt to get their money back.
Ariana says in the initial video: "The most insane thing that I've ever experienced happened to me today at Target if you shop at Target please listen to this because I almost got scammed out of $800."
Article continues below advertisement
She goes on to detail what happened: "This lady was in the aisles while I was trying on like a bikini or something and she asked my boyfriend if he could buy her formula, like baby formula. And he came up to me and was like hey this lady's asking for baby formula, like I'm gonna go help her out."
Article continues below advertisement
It seems like an innocent enough request and one that would tug at the heartstrings of anyone: who doesn't want to help a mother feed her infant? Ariana went on, "Oh I'll help her too we walk out this lady has an entire basket full of formula. Me and him don't have any kids or anything, so we're not really aware of the prices of formulas, it was like 5 cans."
Ariana and her boyfriend were about to find out just how expensive baby formula can be. "It was like 5 cans and we thought that it would be like a little pricey but nothing crazy. So as she's telling us her little sob story she has 3 kids she's a single mom she has to send her kids back to Bulgaria with her f----- mom I don't even know [and as] she's saying this she's loading up the cart with other things."
Article continues below advertisement
It would appear that the woman was attempting to try and keep the conversation going with Ariana and her boyfriend and hoped she could add a ton of items to the shopping cart in an attempt to sneak more items into her order. "I'm trying to migrate us over to self-checkout because I'm like okay this is gonna be a little bit pricey."
Ariana was successful in "migrating" her and the lady over to the self-checkout aisle. "We start scanning things the numbers are getting pretty high. Okay and she's trying to distract me she was like talking to me about her kids and whatever and then she's like oh can I give you my phone number so that I can pay you back. I get paid on Friday."
Article continues below advertisement
Ariana goes on to say that "this was not the first time" the lady offered her her phone number during their conversation, either. "I was like no, no it's okay you know act of kindness whatever. So she gives me her phone number I let her do it because I see the number going up and I'm like you know what, my birthday's coming up I cannot afford this."
"She gives me her phone number and I call it, and then she was like oh I got it her phone did not light up, her phone did not ring. There wasn't a sound, there wasn't a vibration. Nothing. That should have been a red flag to me but I was like oh that was a little weird whatever."
Article continues below advertisement
By the time all of the items were finished being rung up, Ariana looked over at the total amount and saw that the lady put $800 worth of products in the cart with the full expectation that the TikToker and her significant other would pay for it. "$800 worth of baby stuff."
"So at this point my heart is in my butthole like I cannot afford to pay this much my boyfriend is looking like he just saw a ghost. But we didn't want to seem like a------ and say never mind put it all back. So, we paid for it."
Article continues below advertisement
After processing the transaction, Ariana goes to grab the receipt out of the machine, but says that as she was doing so, "I'm like this is a scam. This is a scam she's gonna return it all and get the money. Before I could say anything my boyfriend had already handed her the receipt and we started walking away."
Despite knowing that they both probably got hoodwinked she says, "I was literally shaking almost crying and I was like we just got scammed. She's gonna go return all that for the money and you could tell that he had the same realization and we were like frantically trying to figure out what to do and the only thing that I thought was, don't let her leave the store with that receipt, because she's gonna be able to return it all."
Article continues below advertisement
Ariana detailed then how they went about trying to reverse their fortunes, "So then my boyfriend went over and smooth talked whatever, got the receipt and she got a picture of it, but he got the receipt. And we're standing in like the little kids aisle, and we're like what the f--- do we do?"
They questioned whether or not to report it as a fraudulent charge or talk to the manager. "I was like, I'm just gonna go talk to the guest services people the worst that'll happen is they'll say they can't help us. So I go over, my voice is literally shaking like I am almost in tears, and I'm like I think we just got scammed. I don't know if you guys can help us, what should we do?"
Article continues below advertisement
The plot thickens, however: "While we're at guest services, the lady is standing at the front staring at us, and then also, there's a lady right next to us at like the other guest services register she has a cart full of baby stuff that she's returning and they look very alike. Anyways I explain the entire situation to this lady, the lady next to us is listening to everything."
Article continues below advertisement
In a follow up video, Ariana completes her story, stating that the lady standing beside them at the guest services register was speaking the same language as the scammer they encountered. She went on to say that the Target employee behind the counter told her that there was no way they could help her unless she had the items with her.
Not knowing what to do, her and her boyfriend went into the parking lot to sit in their car, when they saw the lady standing next to them in line at Target at guest services who was attempting to return a bunch of of baby items. She then pulled up to the car and snapped a photo of the woman's license plate.
Article continues below advertisement
She then followed the lady outside of the store, who she said was speeding away in a minivan. It was at that moment that another minivan, similar to the one Ariana was following, began speeding out of the store as well.
Ariana soon found herself chasing these women, stating that the silver minivan was trying to slow her down from catching up to the gold one. After running several stop signs and red lights, she managed to catch up to the woman, who ultimately pulled over to the side of the road.
Article continues below advertisement
At that point, her boyfriend go out of the car to go and talk to the woman to explain to her that they needed the products back so that they could pay their rent, however, before he could do so, Ariana says that the woman opened her window and dropped the Target bag full of stuff outside of her vehicle onto the road.
Article continues below advertisement
He wasn't sure if the bag contained all of the items after he grabbed it and ran back into the car, and she told him to check the receipt as she drove to follow the woman (she sped off.) While the woman in the gold minivan managed to get away from them, it turns out she gave over everything she attempted to swindle from them in the store, save for two items: ice cream and Clorox wipes.
She said that she was ultimately able to return all of the items after going back to the store and speaking to the same manager who had originally assisted her and her boyfriend.
Ariana ended her story with a warning to folks who were approached by folks in Target asking folks to buy them baby stuff.