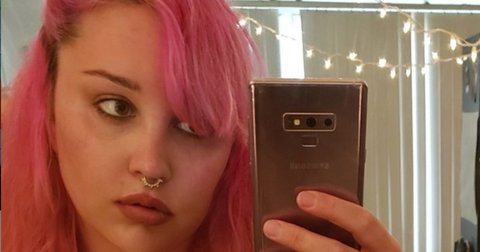 Amanda Bynes Has a New Face Tattoo
By Sara Belcher
Former child star Amanda Bynes has been trying to keep it very low lately, living at her parents' house while putting her life together post-rehab. But while taking some time for herself, she shared a rare selfie on her new Instagram account — debuting some new face ink with it.
That's right — Amanda Bynes just shared her new face tattoo to add to her collection she already has.
Amanda Bynes' new face tattoo is of a heart.
Amanda only has 11 photos on her Instagram feed, and her debut snapshot showed off her newly pink hair and a septum piercing.
In the photo, posted on Dec. 31, it shows her now-faded pink hair tied back to show off a slightly-lopsided heart tattooed on her cheek. She has her septum piercing in, and it looks like her family is sitting at a table in the background.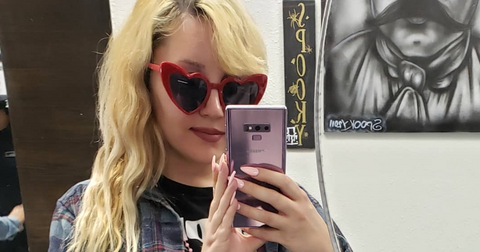 She only captioned the photo with the alien emoji, and comments are disabled on the photo (like on most of her posts). She did not reveal when or where she got the tattoo done, or if it's even permanent, but she previously shared a photo of herself at Atomic Tattoo & Body Piercing from before she died her hair pink.
Amanda has had at least two other tattoos.
This is the first tattoo that Amanda has debuted during her sober days, but it isn't her first tattoo overall. Previously, Amanda showed off an angel wings tattoo on her forearm and some Hebrew writing. After she checked out of rehab the first time in 2014, it appeared that she had begun the removal process for the angel wings tattoo, stepping out with the tattoo mostly faded.
It's unclear if she decided to keep her Hebrew tattoo after rehab, or if that one is gone too. In another photo shared on Instagram, an indiscernible tattoo is visible on the side of her right calf.
Amanda recently checked herself out of a sober-living facility.
She initially went to rehab in 2013, after starting a fire in a stranger's driveway and being placed on a psychiatric hold after the incident. She was released from rehab in 2014 and diagnosed with schizophrenia.
After her release from rehab, Amanda attended the California Fashion Institute of Design and Merchandising, where she graduated with an associate's degree and then was on track to receive her bachelor's.
At the beginning of 2019, though, Amanda checked herself into a mental health facility for a stress-related relapse, where she reportedly received drug addiction treatment as well, though claimed she was still sober.
"Those days of experimenting [with substances] are long over," she told Paper at the time. "I'm not sad about it and I don't miss it because I really feel ashamed of how those substances made me act. When I was off of them, I was completely back to normal and immediately realized what I had done — it was like an alien had literally invaded my body. That is such a strange feeling."
She checked herself out of the sober living facility in mid-December and has been living with her parents since.