Amazon Employees Ask for a Raise, Get Grilled Cheese Sandwiches Instead
An Amazon employee went viral on TikTok after uploading a video of the company handing out grilled cheese sandwiches to workers instead of raises.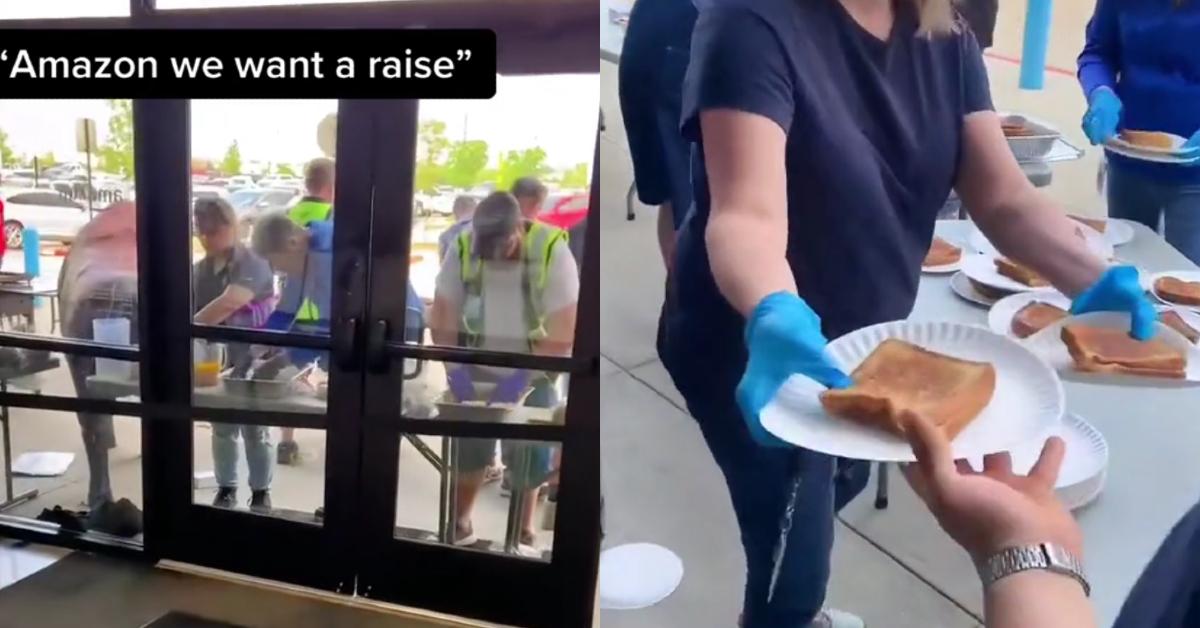 Article continues below advertisement
And a recent viral clip uploaded by @phantazmaclips only seems to fuel the fire of the ongoing narrative of employees being fed up with the company, as it purportedly shows the business handing off grilled cheese sandwiches to workers, instead of giving them raises.
In the video, Amazon employees can be seen walking outside of what appears to be an employment facility, lining up to receive their food. "Amazon we want a raise," a text overlay in the video reads.
Article continues below advertisement
A follow-up overlay says: "Amazon: We can do one better," as a song plays in the background where a man can be heard singing: "I don't understand this, grilled cheese Obama sandwich. My heart can't stand this damage if I eat this..." and then the video cuts out as the TikToker takes a sandwich being handed out to them."
Article continues below advertisement
In October 2022, per Amazon, "Average hourly pay for employees in customer fulfillment and transportation" increased "from $18 per hour to more than $19 per hour, with employees earning between $16 and $26 per hour depending on their position and location in the U.S."

Article continues below advertisement
Companies Market Cap states that Amazon's current valuation is $1.097 trillion, which could be a huge contributing factor as to why so many people are questioning in the comments section of @phantazmaclips' why the retailer can't afford to give raises to its workforce, as the TikToker claimed.

Article continues below advertisement
One viewer who saw the post said: "Amazon acts like they're not a gazillion dollar company"
Another wrote: "not even pizza man amazon really hates their employees"
Someone else remarked, "no tomato soup?!?! *tosses table"

Article continues below advertisement
There were some TikTok users who said that they wouldn't have stood for receiving the sandwich as they would've been so insulted they simply would refuse to work for the company any longer: "Bruh, i wouldve clocked out and went home"

Article continues below advertisement
Others simply thought that Amazon was being cheap: "Costed a whole $60 to make lunch"
There's no shortage of social media posts from folks who lampoon companies that, despite raking in significant profits, outright refuse to up wages.

Article continues below advertisement
Like this other post from TikToker @feloniousfalafel who sarcastically says that employees should be "ashamed of themselves" for expecting a $2/hr wage from a company that pulled in $1.6 billion in profits who pay their CEO a $5 million a year salary.
He writes in a text overlay for the post: "Apparently, management doesn't get sarcasm bc they threw me a pizza party" to which one commenter quipped, "Knowing your worth these days gets you hated"